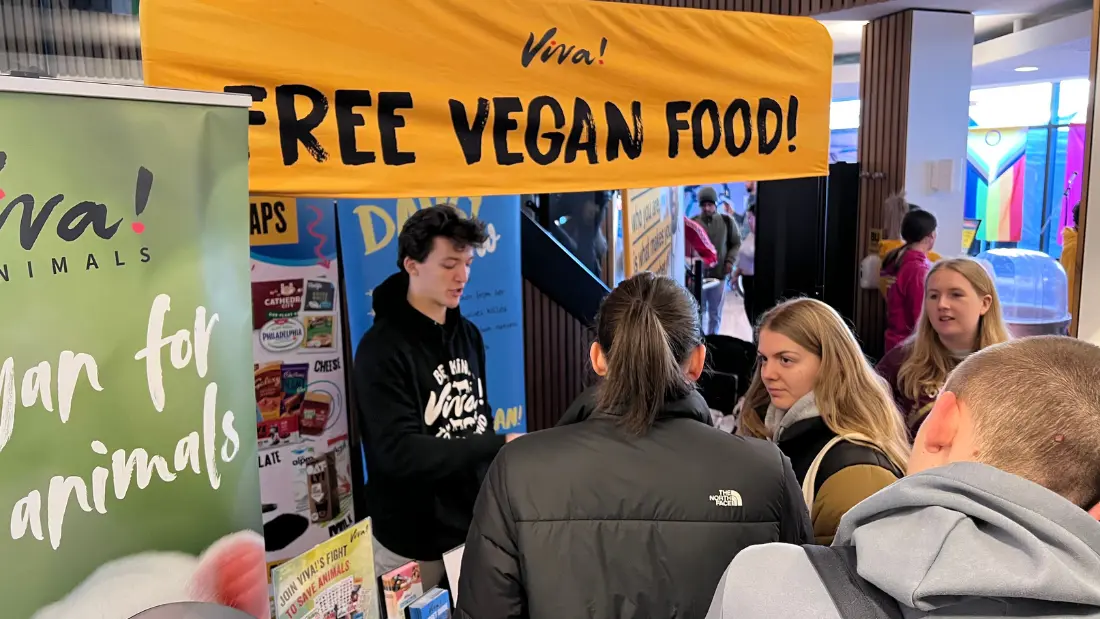 Viva!'s University Outreach aims to raise awareness of the suffering of animals exploited by humans, the environmental impact of animal products and the benefits of a vegan lifestyle at universities. Students are consistently shown to be one of the demographics most open to going vegan and Viva! is utilising the university vegan societies across the country to reach out to universities nationwide.
The inaugural year of Viva!'s work with universities was 2019, where we worked with 10 different institutions. We helped King's College London achieve a no-beef ban, engaged with more than 3,000 students face-to-face during our Viva!shake tour, and have given workshops on effective activism as well as used our Virtual Reality headsets at five more universities.
In 2021, our Big 3 campaign (on chicken, cheese, and chocolate) involved several days at Freshers' Fairs at the Universities of Oxford, Reading, Southampton and Portsmouth, helping 2,500 students think more positively about veganism along the way.
Still, the Viva! Freshers' Tour of 2022 was the most exciting yet! In September and October this year, we handed out 7,000 samples of free vegan cookies in Bristol, Bath, Cardiff, Reading, and Oxford and showed students the many merits of a vegan lifestyle. We also had volunteers from Vegan Societies at Cambridge, UCL, Aberystwyth, Glasgow, and many other institutions of higher education up and down the country handing out Viva! materials, talking about our latest Eating the Earth campaign, and spreading the message of veganism.
It's been a huge success to the start of our university campaigns! Keep your eyes peeled for announcements about Refreshers' Fairs at the start of 2023, as well as the fourth annual Freshers' Tour that will happen later in the year.
If you would like to work with Viva! in the future at your university, please fill in our contact form below.
Scroll up