Convenience Foods & Easy Recipes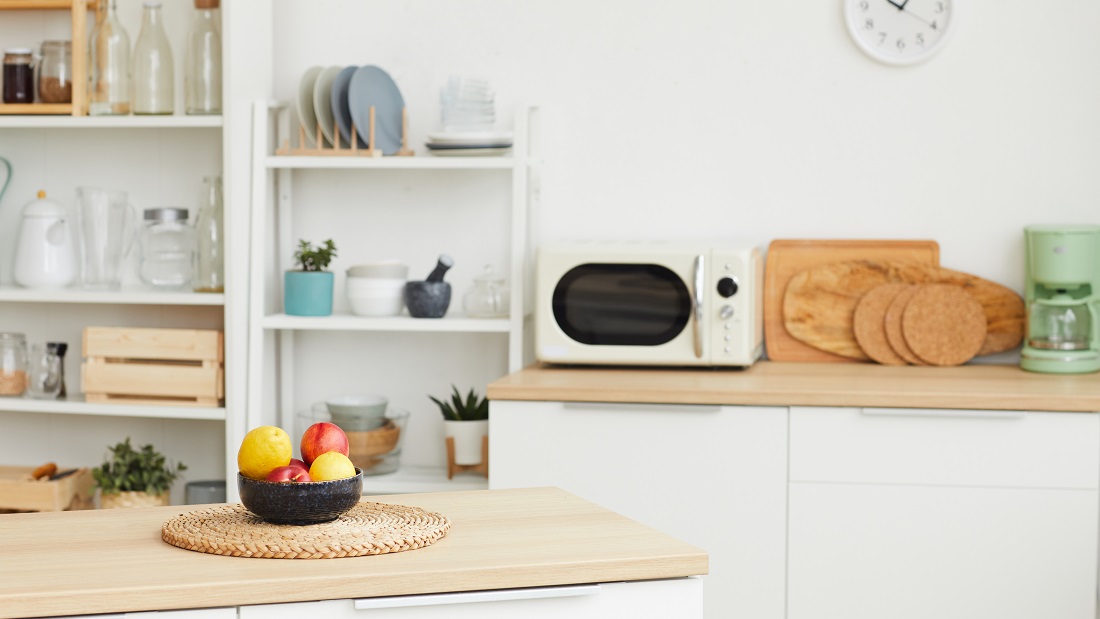 We're here to dispel the myth that eating vegan is inconvenient. If you don't like cooking or find yourself short of time, don't worry. The major supermarkets have an ever-increasing array of instant vegan meals now on offer, and we've got oodles of recipes for super-speedy convenience dishes. It's just as easy to throw basic supermarket ingredients together on a vegan diet, as on a non-vegan one. Quick meals and convenience food can also be healthy and nourishing, so there's no need to miss out just because you're time-poor or don't enjoy cooking.
Viva! has lots of resources to help you cut down on your kitchen time! Try our Can't Cook Won't Cook programme for quick, easy and healthy recipes and download our free 30 Day Vegan app (or the desktop version) to receive inspiration for breakfast, lunch and dinner. The app also provides hints, tips and codes to unlock gifts from the Viva! shop.
We have a whole section dedicated to almost instant meals on the Vegan Recipe Club app and website, along with healthy and easy meals for shed-loads of inspiration!
Even though it's always possible to make meals based on very simple ingredients, there are some useful bits of equipment to have in the kitchen in order to broaden your choices and make life even easier.
There are lots of ways to cheat your way to a tasty meal when you don't have much time and it's useful to have certain ingredients to hand in the kitchen to make this even easier.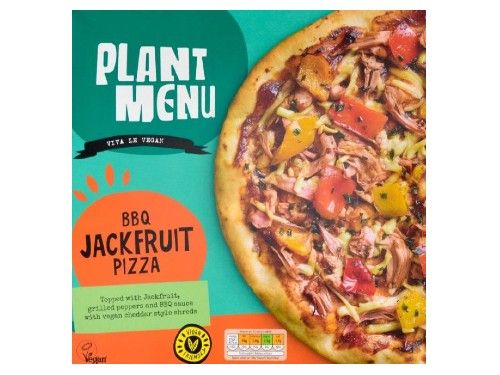 Aldi Pizza
There are three different flavours (jackfruit, spicy cauliflower and 'bacon' and mushroom), they're affordable, they have a soft doughy base, a really good amount of 'cheese' and are nicely flavoured. The 'bacon' is delicious too. Watch out because they sell out really fast!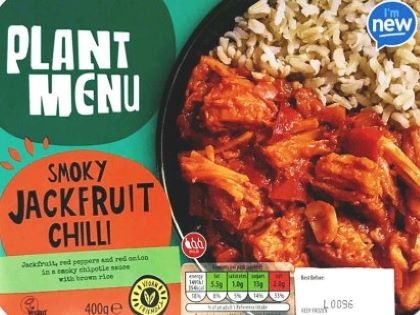 Aldi Jackfruit Chilli
We like this one because it isn't too sweet, good smoky flavour, generous with the jackfruit, good value for money and easy to make.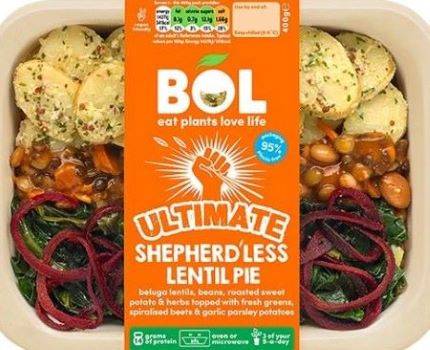 Bol Ultimate Shepherd'less Lentil Pie
The Bol range is excellent and this Shepherd'less Lentil Pie is one of our favourites. It's got a mild flavour but is still really tasty. There's a really great combination of tomato, lentil and veggies with perfect seasoning. An added bonus is that the Bol range use recyclable packaging made from 95% sugarcane.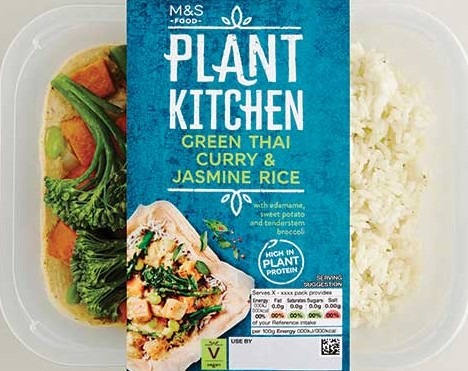 M&S Plant Kitchen Green Thai Curry & Jasmine Rice
The whole of the M&S Plant Kitchen range is delicious. It's got the M&S quality you'd expect and this Thai curry is no exception. It's got a creamy, coconutty sauce which is full of flavour and also vegetables! Tastes like a homemade meal and definitely not a ready meal so it gets the full thumbs up from us.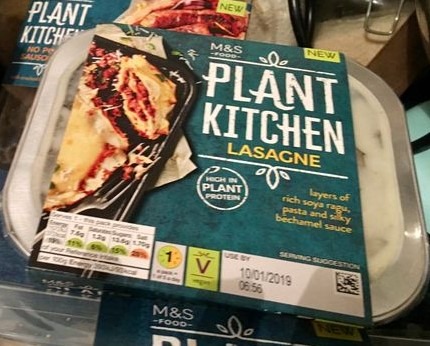 M&S Plant Kitchen Vegan Lasagne
Whilst a ready-made lasagne is never going to be the same as a homemade version, this is a very good attempt by M&S. It has the right amount of creaminess and cheesiness and the 'mince' has good texture. If you fancy that kind of mid-week comfort food without the fuss then this is a really good, solid option.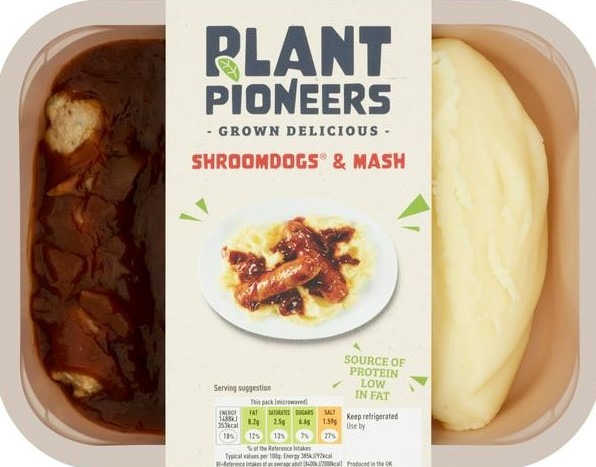 Sainsbury's Plant Pioneers Shroomdogs and Mash
We love this ready meal because it's a traditional, hearty dish and very tasty too. This was the only one like it out of all the supermarket offerings – we recommend!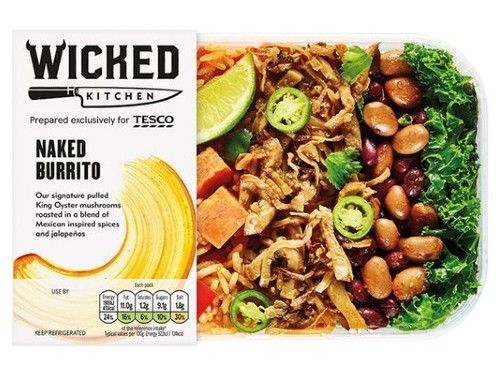 Tesco Wicked Kitchen Naked Burrito
With a mix of refried beans, pulled marinated oyster mushrooms, rice, kale and mixed veg, the flavours are great in this burrito! It's tasty and got good texture, with a little bit of heat. This is a nice option when you're short of time and need something on the go.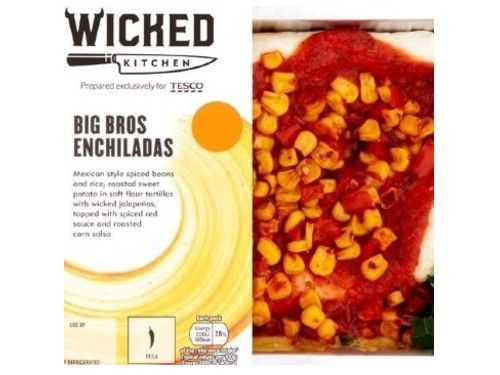 Tesco Wicked Kitchen Big Bros Enchiladas
With Mexican style spiced beans, rice, sweet potato, jalapenos, tomato sauce, sweetcorn and pepper salsa, this ready meal is filling and has really good flavour. Serve with a dollop of vegan sour cream or Oatly Oat Fraiche and a handful of nachos for an extra treat.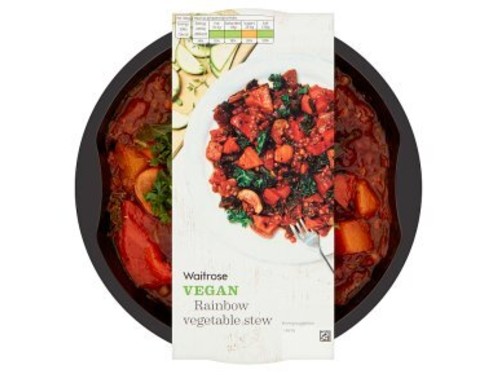 Waitrose Vegan Rainbow Vegetable Stew
This stew is full of vegetables and it's also very colourful! The squash and lentils are nicely filling and the other veg includes beetroot, kale, courgette and carrot. The red wine, tomato puree and spices add a nice depth of flavour and richness to the dish – we recommend!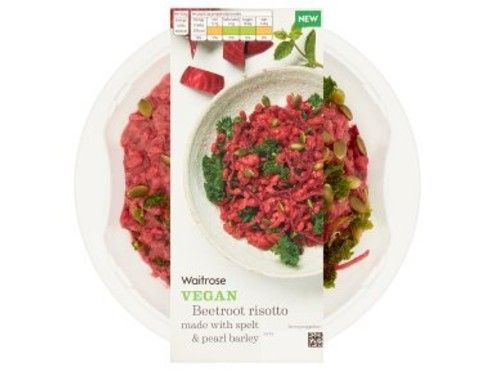 Waitrose Vegan Beetroot Risotto
This is great when you fancy a risotto but without the hassle. Made with spelt and pearl barley with the addition of beetroot, this is a healthier choice when it comes to convenience food. We like the freshness of the mint in this dish too!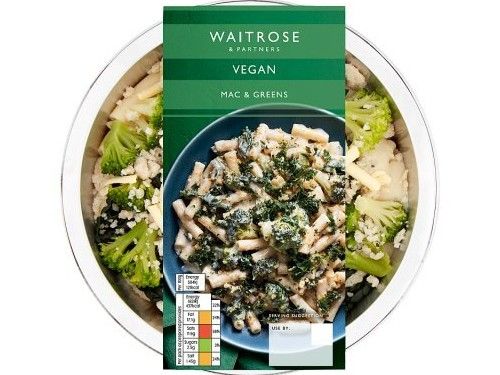 Waitrose Vegan Mac and Greens (also available from Ocado)
The classic pasta dish with some healthy, tasty ingredients including kale, broccoli, onion, garlic and plenty of herbs. Fabulous if you're missing cheese!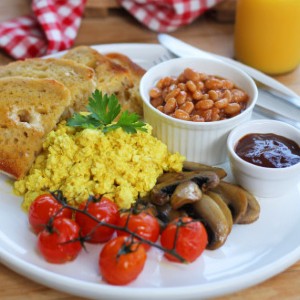 Super-fast Scrambled Tofu
So fast, easy and delicious! Silken tofu is super healthy, full of protein and other goodies as well as making a very creamy scramble.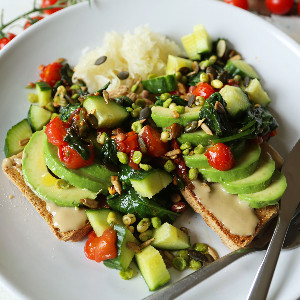 Toast with all the Good Stuff
This is such a simple recipe and perfect for when you're short of time, want something healthy and would like to use everything up in the fridge!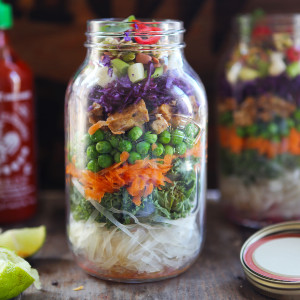 Vegan DIY (healthy) Pot Noodle
These pots are a revelation! Healthy, super easy and really tasty! Perfect for office lunches; just bung everything in the jar, add boiling water and you're good to go!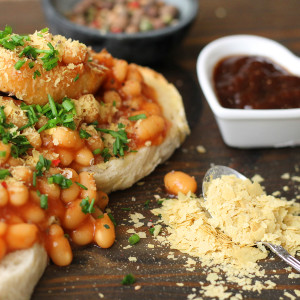 Baked Beans on Toast With Options
This old British favourite couldn't be easier! But we have suggested a few variations that might be new to some of you…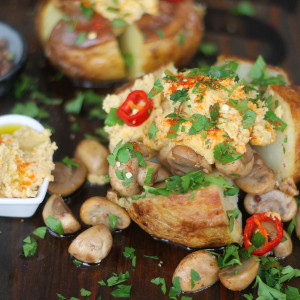 Baked Potato with assorted fillings
This is for those of you who are too busy to cook – for this meal at least!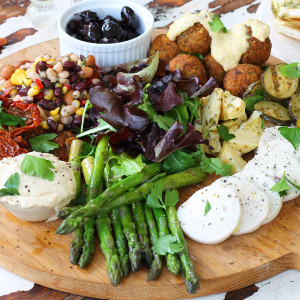 Antipasti Dinner
This is simple, no-cook and absolutely delicious. It's open to lots of variations, depending on budget, preferences and availability.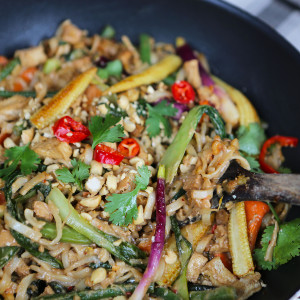 One Pot Pad Thai
One pot, lots of yummy ingredients, ready in 10 minutes… need we say more!?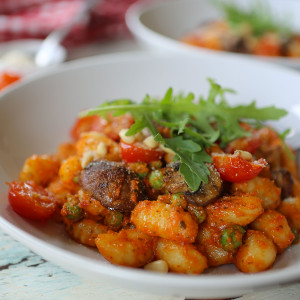 Instant Gnocchi (supermarket style)
This is such a quick recipe (5-10 minutes) and can be easily adapted depending on what veg you fancy. Grab a jar of free-from pesto (eg Sacla, Aldi, Meridian, Asda Free-From, Tesco Free-From, Providence Deli) and you're good to go!
You might also like...
Scroll up