Outreach hosts and supporters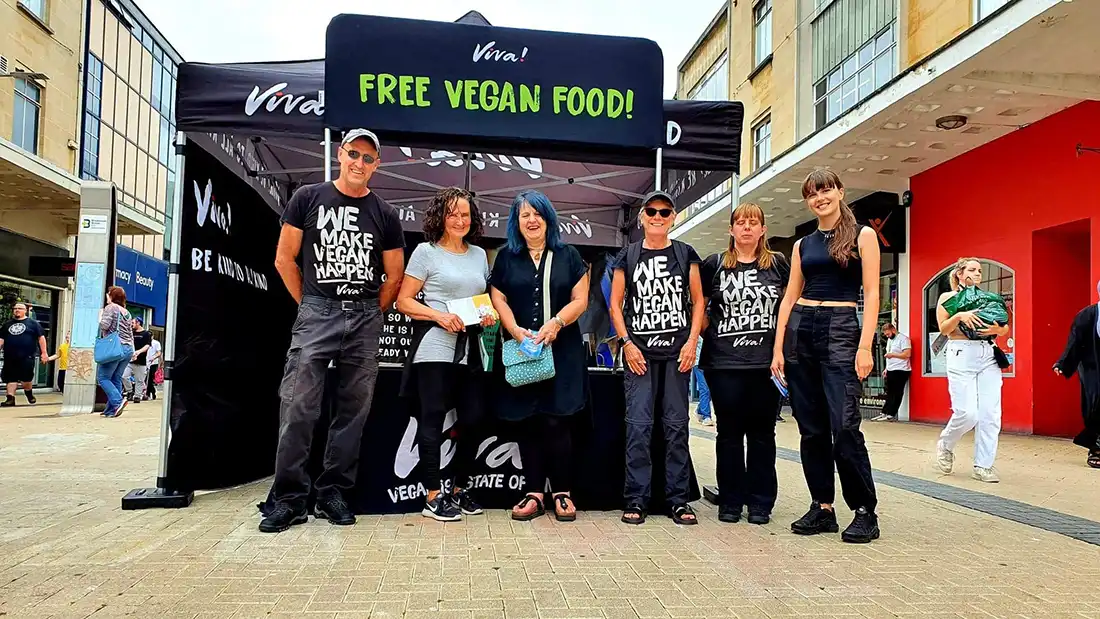 Would you like to host or support regular outreach events on your local high street and become part of our outreach network? Viva! will support you every step of the way. We'll provide all the leaflets and posters you need, training and ongoing mentorship; including how to attract other local activists to your events, how to promote your event on social media and most importantly, we'll support you as you gain in confidence, by providing tips on how to engage the public and how to manage tricky conversations. By educating the public about the truth behind factory farming and showing people how great vegan food is, we can help more people become vegan and ultimately save more animals' lives.
Testimonials:
"Volunteering gives me a feeling that I can make a difference. Being out there is like planting a seed, helping the public to start to think about the meat and dairy industry in a different way. Whether they make a change today or in the future. It's a great way to help people connect with what they are eating and be more aware of what is happening to the animals, their health and the planet" – Tom
At Viva! we engage, educate and promote change in the general public, by being non-confrontational but also by provoking thought and insight into the realities of the meat and dairy industries. Viva! have produced lots of resources that can inspire individuals to start to think differently and some which can offer practical support and advice too, through health guides, V7 and V30 programmes and the Vegan Recipe Club. By increasing the number of outreach hosts and supporters we have and by extending our outreach network we can reach more people and build a stronger vegan community.
Please download a copy of our guide to learn about Viva!'s approach to outreach, how to start a conversation and how to deal with common objections as to why people think it is too hard to transition to veganism.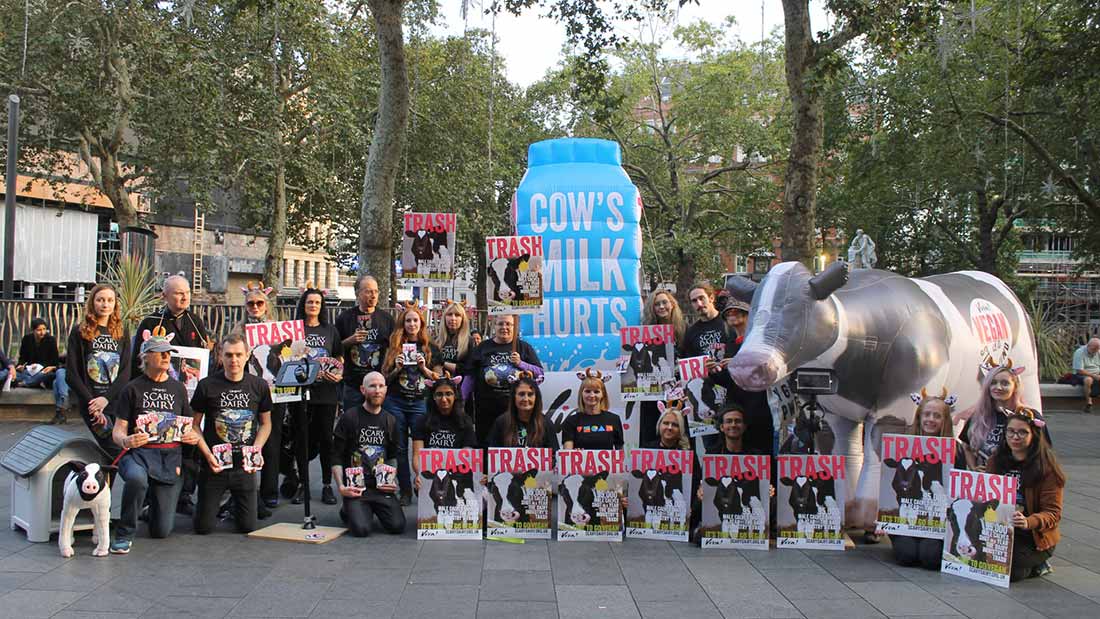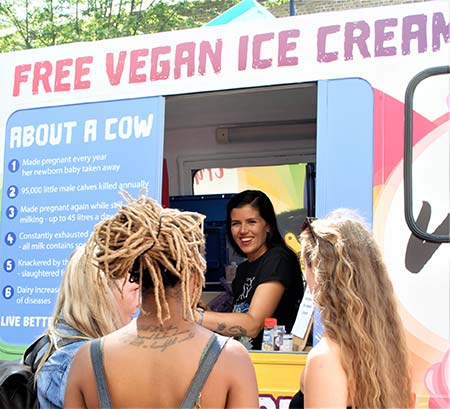 Leaflets and posters. We can send you leaflets in bulk, along with posters and other materials. Take a look at what leaflets and posters we have available. You will need to provide a table and a black tablecloth, but if this is difficult discuss with Viva!.
Free food giveaways. You may like to consider enticing people to your stall by offering tasty vegan food such as cheese and crackers, ice-cream, yoghurts or chocolate. Viva! has a budget available for food samples so your outreach events can attract even more people.  You will need to be aware of allergies and the food area needs to be hygienic – food handlers will need to use nitrile gloves which are vegan and use biodegradable plates, tubs or cups.
A good location. Somewhere where there is good footfall is key. Avoid obstructing any public signs, shop doorways, fire exits or pedestrian walkways, also consider emergency vehicle access and parking for you near the event.
Advertising your event and attracting other activists to join your event. Social media is a good way of attracting activists in your area and you may find that the same people like to come and support you regularly at your events.
Permissions and permits. If you are hosting an event on public land, it is unlikely that you will need a permit, however it is always best to check with your local council.  There may be some paperwork to complete online, so early application is advisable.
Making your event noticeable.

Posters and placards.You can make your own or you can order Viva! designs by contacting campaignorders@viva.org.uk.
Someone dressed in a costume.
Using interesting props or acting out a simple scene.
Using hashtags on social media. This is also a great way to promote your event and get people involved.
Wearing distinctive t-shirts.Viva! have a wide variety of t-shirts available through their online shop. This is such a simple and effective way of attracting attention with ease! Ask about discounts.

After the event Be mindful of taking litter away with you. Post Viva! any donations that you may have collected and remember that Viva! are always keen to hear how your events went. You can drop Viva! an email and send any pictures you take that could be used on their social media or in their magazine Viva!Life.
Some additional tips

Remind yourself of the facts.By reading the leaflets you will feel more confident when talking to the public about your event. There is more in-depth information on each campaign on Viva!'s website. If there is anything that you can't answer you can pass on Viva!'s contact details. You will also have lots of information in the leaflets. You do not have to be an expert.
Avoid confrontation by allowing yourself to withdraw – politely. Occasionally you may encounter a challenging personality, keep an eye out for each other at the event and maybe have a signal to show others if you need a bit of support.
A couple of activists got together in 2020 in central Bristol. They wanted to provide an unashamedly vegan information point, where people could come and ask questions like 'what is all the fuss about veganism?', 'I am vegetarian and would like to transition, where do I start?' and 'why am I seeing all these vegan products in my local supermarket?'.
The two activists started to host their stall in the centre of Broadmead a couple of times a month. They regularly gave out at least 200 leaflets and introduced free vegan cheese tasters which increased interest in the stall. Now there are at least 8 regular supporters who feel they can give a voice to their passion, which meets the public where they currently are. The hosts organise the events, post them and then do a small write up after on social media. Viva! are there to support them and provide any help they need!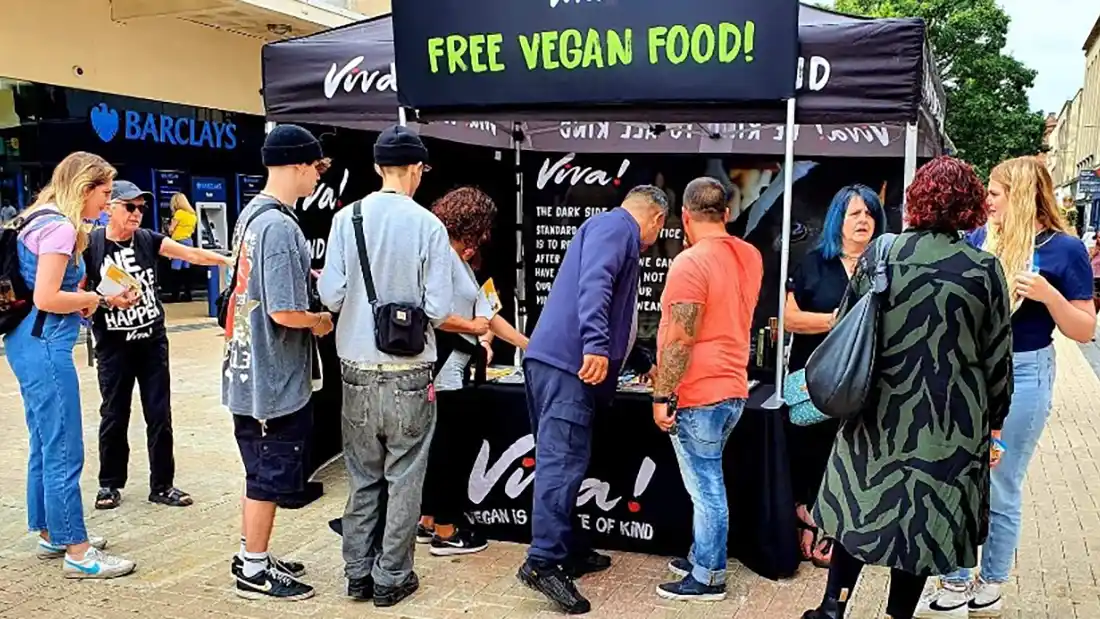 Testimonials:
"I personally feel when I volunteer, I can show people that vegans can be anybody and can be happy and passionate and normal! I think so many people think that vegans are extreme or that being vegan is too hard. I just want to have some good conversations and explain how veganism has improved my own life" – Skye
If you already run monthly Viva! stalls and need to order more / new materials, please fill in this form and we can arrange for these to be sent to you.
If you feel being an outreach host or supporter in your area is something you would like to do, or you would simply like to talk to someone to find out a bit more about what is involved and what help is available, please email outreach@viva.org.uk or fill in the below form:
Scroll up