minute reading time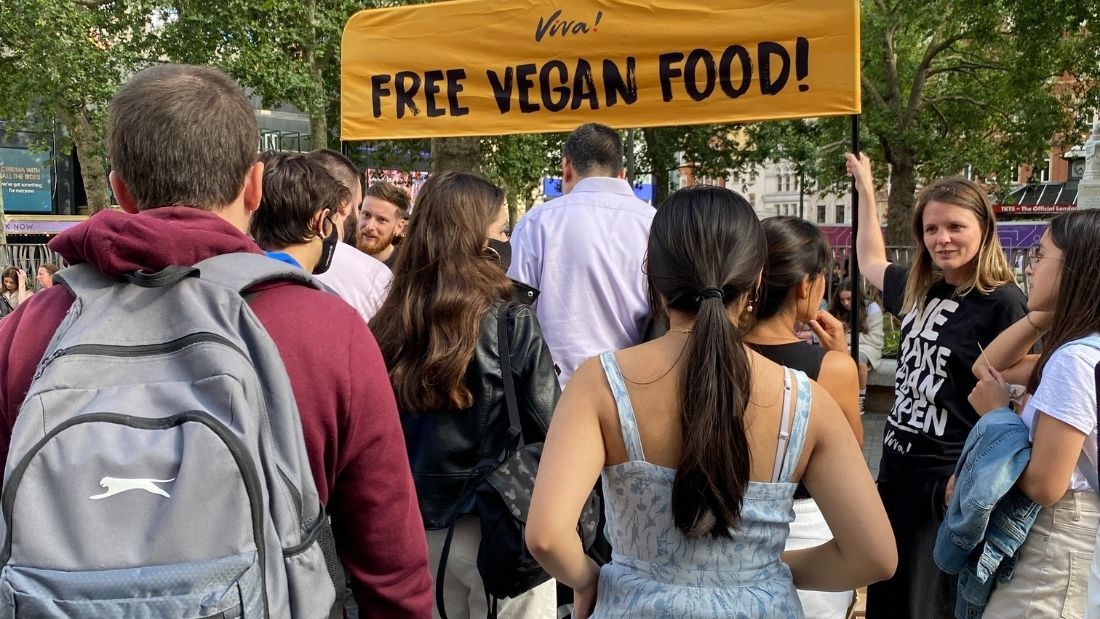 'I'd go vegan but I love chicken / cheese / chocolate too much…'
How many times have you heard those words? How many times have you spoken to someone who is aware of the environmental, ethical and health issues surrounding animal agriculture, but says that they just cannot give up cheese, or they're a chocoholic, or they can't live without chicken?
We've called these obstacles 'The big 3′ – animal products that repeatedly come up as the reason not to go vegan – and we dedicated much of August, September and October to showing the public that these big three just don't work as an excuse any more!
In the last few years, delicious, cruelty-free options for chicken, cheese and chocolate have exploded. Equipped with Taste & Glory chicken bites, Applewood's smoky vegan cheddar, VBites' cheesy beans and Vego's delicious pralines, the Viva! team headed off to London, St Albans, Slough, Luton, Oxford and Taunton to show the public that they don't have to choose between ethics or taste.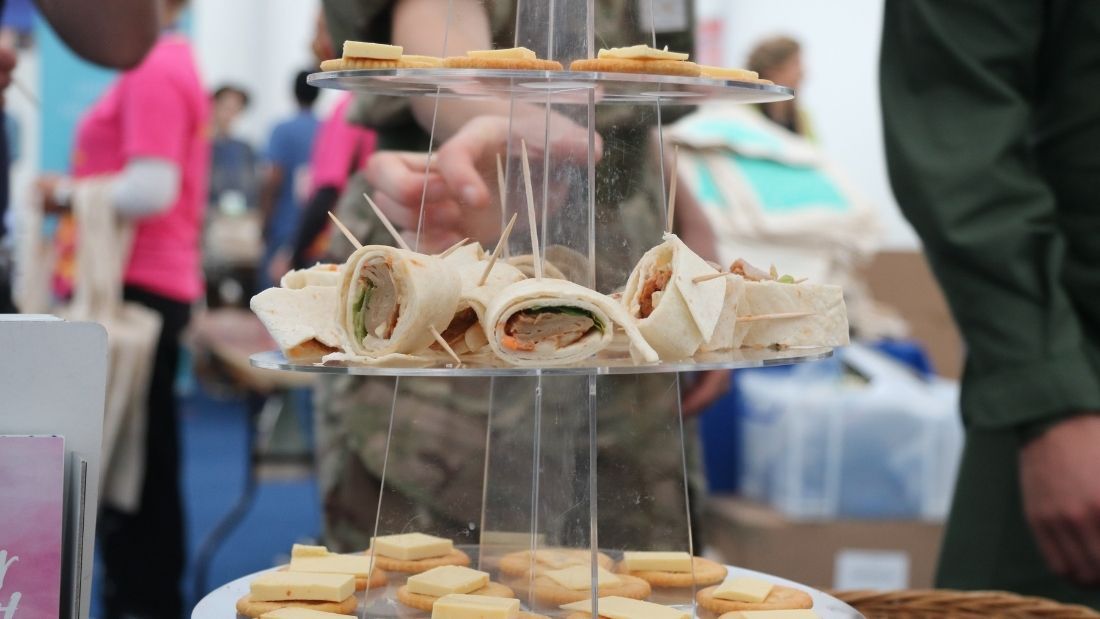 Across the six towns, we handed out hundreds of samples and spoke to more than 1,500 people about the reality of chicken and dairy farming. More and more people are ditching red meat as awareness around its devastating environmental impact grows. However, a lot of people just switch from red meat to white meat with the intention of protecting the planet. Sadly, this swap to white meat leads to more animal deaths and continued environmental degradation. We showed people the reality of how chickens – arguably the most abused animal on the planet – are farmed, the fact that chicken meat is still more damaging than vegan foods and that there are so many tasty alternatives out there today. We'd like to say a huge thank you to Taste & Glory for their generosity in supporting this campaign. 
We also attended four university fresher fairs to engage with students on the truth behind chicken and dairy. We visited the University of Reading and the University of Oxford for two days each, as well as one day at the University of Southampton and the University of Portsmouth.
The 18-34 year old demographic consistently ranks as one of the age groups most concerned about the planet, and most willing to do something about it. Fresher fairs are the perfect opportunity for us to engage with students and raise awareness of the benefits of veganism, as these young adults leave their parents' homes and realise they need to start feeding themselves!
We engaged with 2,500 students in total, many of whom were already thinking about veganism but needed a bit of encouragement. Many students expressed doubt over the virtues of vegan cheese – it still has a really bad reputation among meat-eaters! – but almost everyone was wowed by Applewood's vegan cheddar, while everyone said that Vego's pralines tasted 'just like chocolate'. We encountered hundreds of vegetarians, so it was brilliant to be able to discuss the ethics of dairy and egg farming while also raising awareness that dairy has a devastating impact on our planet.
A lot of students were worried about the potential costs of eating as a vegan, but the team was there to reassure students that a healthy, varied vegan diet can actually save you money when you factor in the cheapness of staples such as beans and grains. We also had our handy Student Guide to Eating Vegan leaflets, with over 2,000 students eagerly taking one home.
It was so amazing to see so many students sign up to our V7 challenge, with many students acknowledging that they knew it was the right thing to do but just didn't know where to begin. Lots of students were also grateful to learn about our free Vegan Recipe Club, providing you with thousands of delicious, tried-and-tested recipes and now available on your smartphone's app store.
Viva! would like to say a huge thank you to London, St Albans, Slough, Luton, Oxford and Taunton as well as the universities of Reading, Southampton, Portsmouth and Oxford. We'd also like to thank all of the brilliant volunteers who gave their time to help make each and every event a success. 
Get all the practical help you need from our Going Vegan section. You can also find lots of delicious vegan recipes by visiting our Vegan Recipe Club or challenge yourself to try vegan for a week with our V7 meal plan!