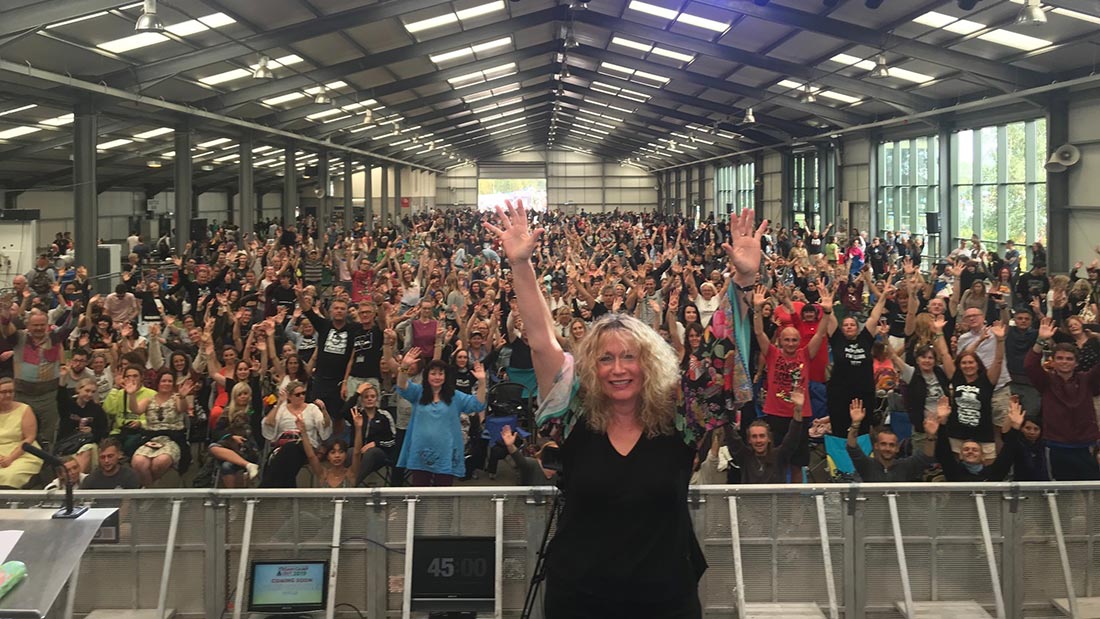 Viva! speakers offer many talks for various audiences. You can watch some of them here, on our YouTube channel or you can request one of the speakers to give a talk at your event. Read some of the comments from people whose lives have been changed by one of the talks we have given. Our Food & Cookery team can also offer cookery demos.
If you'd like to contact us to request a talk or cookery demo, please email talks(@)viva.org.uk or call the office at 0117 944 1000.
Talks by Juliet Gellatley, BSc Zoology, Dip CNM, Founder & Director of Viva!, Nutritional Therapist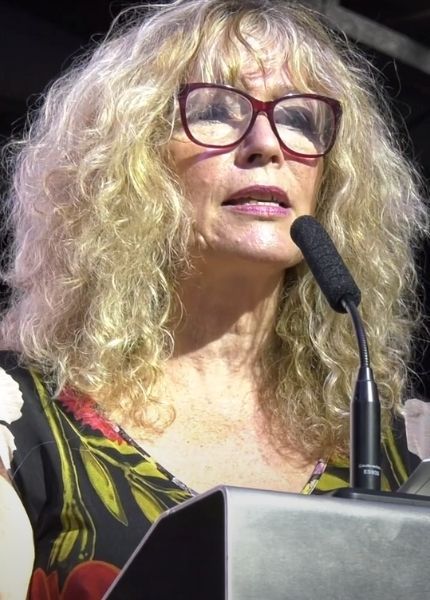 Juliet is a very experienced and entertaining speaker. She has given many hundreds of talks to many different organisations (from the Women's Institute and Rotary Clubs to youth clubs), at special events (keynote speaker at the inauguration of a Mayor to annual meeting of Institute of Jainology, House of Commons), to schools, universities and at countless exhibitions and festivals
Why You Don't Need Dairy
Juliet's compelling talk, Why You Don't Need Dairy, asks: is it natural to consume milk after weaning? Indeed is it natural to consume cow's (or goat's) milk at all? What is the life of a dairy cow and how does this link to our health? Why has dairy been linked to cancers? How do growth hormones and oestrogen in milk affect us? What are the dangers of milk protein and saturated fats? Do we – and especially our children – need calcium from dairy? If not, where should we obtain it and how do we ensure we have strong bones?
Mood Food
Mood Food explores why what you eat affects your mood, a view of yourself and the world. Why going vegan helps you beat the blues!
Why the links between mental health and what we eat are so strong
What does it mean to really live healthily?
What do our brains need in order to thrive?
Why do some foods make us happy and some make us irritable and anxious?
How to feel more energetic!
Four fifths of the UK population claim to be low on energy. Even more say they become impatient too quickly. Our nation takes over 800 million anti-depressants p.a. There are many factors involved but when you are feeling low, anxious or irritable, or your memory isn't what it should be, do you ever question the role of your diet?
Juliet explores the role of food in our mood. She explains what nutrients are needed to make 'happy hormones', good munchies for motivation and the best brain boosters. She explains why meat and dairy can drag you down and fruit can make you well, fruity! A fascinating insight into the impact of food on mind and soul!
SWINE!
Screening of SWINE the movie (18 minutes), an exciting thriller-documentary; followed by a talk by Juliet. She talks from the heart about Viva! Investigations and asks Are We Sleepwalking into a Superbug pandemic?
Would you pay the ultimate price to save the lives of millions?
About SWINE!: Rumours of a recent mutation in the MRSA super bug infecting the UK pig population has prompted Guard-Media journalist Jack Tomlins to go undercover in a pig farm. His search for the truth leads him to make a shocking discovery. Everything hangs in the balance as Jack tries to tell the world what he has seen. The film is written and directed by Damien Clarkson and Robbie Lockie of Growing Box and made for Viva!. The film investigates the misuse of antibiotics in factory farms, revealing some shocking truths about the increasing ineffectiveness of the world's most important antibiotics due to standard farming practices.
Wheat-Eaters or Meat-Eaters?
Juliet tackles the myths that we are 'meant' to eat meat and dairy, after all that's the way we're designed, isn't it? Have we got the anatomy of a carnivore/omnivore or of a plant-eater? And why does it matter? She explores what really is a healthy diet with a fun quiz – find out how near or far you are from the perfect diet!
Saving the World with Your Knife and Fork
Almost every one of the world's exploding environmental catastrophes has its roots on the dinner plate! Juliet explores how grazing for meat and dairy animals and growing vast areas of soya and other animal feed are inexorably destroying planet Earth. And she offers the solution: change your diet – change the world!
You Are What You Eat!
Digestion problems are running rife in the UK! How does going vegetarian or vegan affect digestion? Is meat hard to digest and why. What do animal products do to our digestive organs? What makes cancers of the stomach or colon more likely? Does what we eat affect other digestive disorders such as ulcers and reflux? Learn about your amazing liver! Why is liver health connected to your mood? Do detoxes work? Are 'bad' foods such as meat, dairy and alcohol ever good? Find out this and, of course, more in a fascinating talk.
Menopause Madness
Are you a hostage to hormones? 60-70 per cent of British women experience menopausal symptoms, with many feeling unable to tell their partners. Don't suffer in silence, seek help. Juliet explores what eases menopausal symptoms safely and asks does a vegan diet help? Do 'natural' supplements work – Juliet shows what science reveals. And controversial HRT – is the hype on its lack of safety fair?
Take the Health Challenge!
What does a healthy diet really mean? Do we need any meat? What about fish? Any fat? Is sugar all bad? And alcohol – the good news about red wine! Should we be eating more raw? Or cooked? Are we meant to be omnivore, vegetarian or vegan? What's the evidence? What do you eat and how could you make easy improvements? How to eat for energy!
Why You Don't Need Meat!
What is the natural diet of a human? What foods help us thrive with maximum energy and vitality and why? Do we have an inherent need for meat in our diet? When did our species start to eat meat and how does this relate to our health today?
Meat is linked to many chronic diseases including various types of cancer, heart disease, stroke and diabetes type II. Juliet explores why this is the case, explaining recent health studies in an entertaining style. She looks at the nutrients in meat and explains their impact on the human body. Juliet also explains how to have a healthy diet without meat and invites you to join in a fun quiz about your own diet!
The Big Benefits of Going Meat-Free
Meat is a major cause of many chronic diseases including various types of cancer, heart disease, stroke, food poisoning and diabetes type II. Juliet explores why this is the case, explaining recent health studies in an entertaining style.
Going meat-free not only has big benefits for your health – but also for the planet and for animals. Juliet explores the positive impact of going meat-free. She also explains how to have a healthy diet without meat and invites you to join in a fun quiz about your own diet!
I Don't Want Cancer…
Or diabetes, heart disease, Alzheimer's… so what should I eat?
What's all the fuss about a vegan diet? Why are so many people changing? Do we need meat or dairy? What are we 'meant' to eat?  Juliet will explore what really is a healthy diet, what are the benefits of going vegan and you can find out how near or far you are from the perfect diet! Free nutrition guide given in this talk!
The Soya Story
Is soya a superfood or health risk? It's hard to decide what to believe – some praise it as a super-bean, others warn against it. Find out what the latest scientific research says and whether there's any truth to the tabloid claims!
30 Day Vegan
Viva! runs an incredibly successful and free 30 Day Vegan programme to help people make the switch to a healthier, happier and kinder diet. An informative and fun talk to discuss ways to go and stay vegan and how easy and rewarding it is. Sign up to go vegan for a month at 30 Day Vegan.
Vegan Life Hacks
Whether you're thinking about becoming a vegan or you've been one for a while and need to update your know-how, this talk is for you. Answers to tricky questions, science bites and practical tips – it's all there! I've done all the hard work so you don't have to! This talk will show you how to make the most of your vegan lifestyle and have fun with it.
Lovegan
A succinct look at why veganism is exploding in the UK!
Bring Hope to Millions
The magical story of the rescue of Hope and her three week old piglets and how the became iconic symbols for their sisters and brothers locked in factory farms.  A popular talk which shares some of Viva!'s investigations and campaign techniques and ultimately brings a message of hope…
The Dark Side of Dairy
Cows produce milk to feed their babies – just like humans. It flows for the best part of a year and then stops. More milk requires more babies. That's the reality of dairy farming – the visible, obvious side of the industry. But there is another, cruel, much darker side to dairy which few see and even fewer know about. A fascinating and moving talk that'll give you plenty of food for thought.
Bird Brain
Chickens have long been maligned as 'stupid' animals; scientists, however, now say that chickens are smart with advanced thinking skills – able to plan ahead, communicate precise information and feel empathy.
Yet, chicken farming is the epitome of life is cheap. The numbers are crazy, close to one billion little lives wiped out each year in the UK alone. People celebrate the smartness of wild birds yet dismiss chickens as being unintelligent, worthless. Hear about crafty hens such as 007, affectionate hens like Lucy – and the natural life of their living ancestors and what they tell us about how we farm chickens today.
Why We Thrive on Vegan Diets
With an increasing amount of interest in vegan diets, there's a fast growing body of research confirming that humans thrive on a vegan diet. This talk explains why and how vegan diets make us healthier and reduce the risks of many diseases. Whether you're just curious or been vegan for years, this talk is for everyone and gives you a bundle of useful information to take home. With the new The Incredible Vegan Health Report available at this talk.
Dairy, Beef and Bullshit
Juliet outlines three main examples of how society is hoodwinked by the meat and dairy industries. What major myths abound, why are they accepted and why are we encouraged to keep on consuming products that destroy the planet, our health and the animals?
Talks by Tony Wardle, Associate Director of Viva!, Viva!Life Editor and Author of Diet of Disaster and POD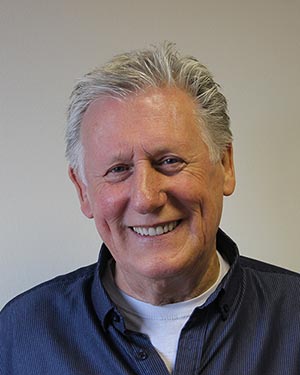 Saving the World with your Knife and Fork
A fascinating insight into the state of our planet and how what we eat affects it. How meat-eating is central to the world's most pressing environmental problems – and what you can do about it.
Dairy, Beef and Bullshit
Eating meat and milk is a main cause of the degenerative diseases that kill most of us. It also destroys the global environment. And yet we're encouraged to keep on consuming – why?
Talks by Laura Hellwig, Managing Director & Head of Campaigns, Viva!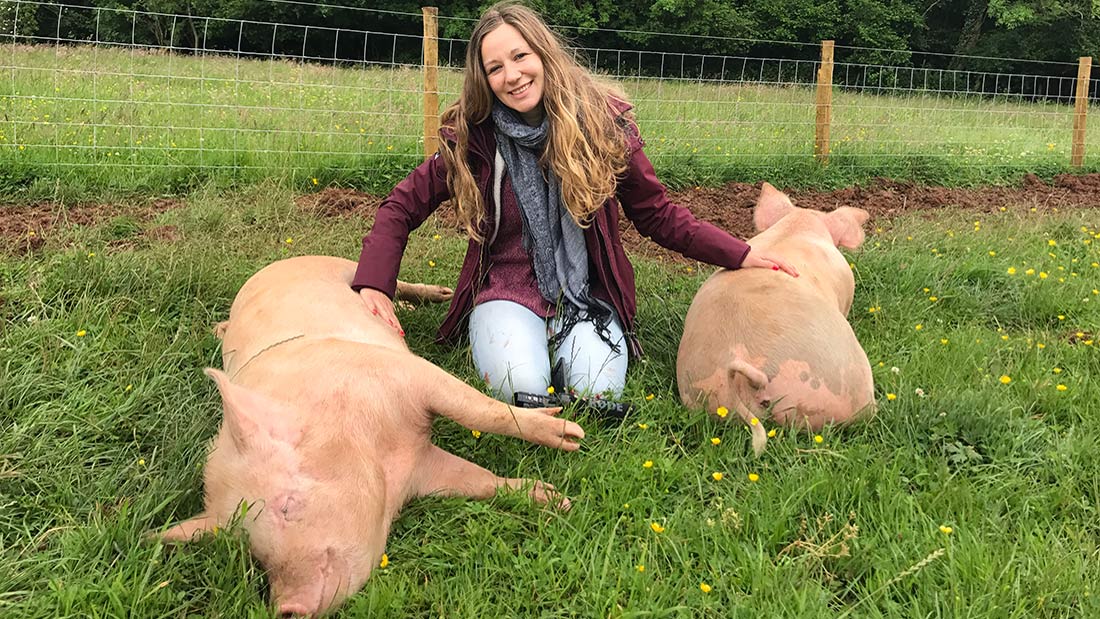 Undercover for Animals
Viva! has been at the forefront of undercover investigations for the last 25 years. Hear, first-hand, from one of our investigators how we tirelessly fight for animals by exposing the horrendous conditions on British factory farms. Watch footage the meat, dairy and egg industry doesn't want you to see! They know everyone who learns the truth about the barbaric conditions the industry tries to hide will change what they buy. We will tell you how Viva!'s undercover investigation changes the view of the public on British high street and beyond.
Talks by Jasmine Clark, Environment Campaigner, Viva!

The Single Biggest Action for our Planet
Everyone knows that our planet is in crisis, but it can be hard to know what to do about it. In this talk, Jasmine examines the Oxford University's landmark analysis of agriculture; the most comprehensive research on agriculture to date. She discusses the emphatic conclusion of this research: that going vegan is 'the single biggest way' to reduce our individual impact on the planet. Jasmine explains why animal products are disproportionately damaging to the environment and how individuals really can make a difference for our world.
Scroll up