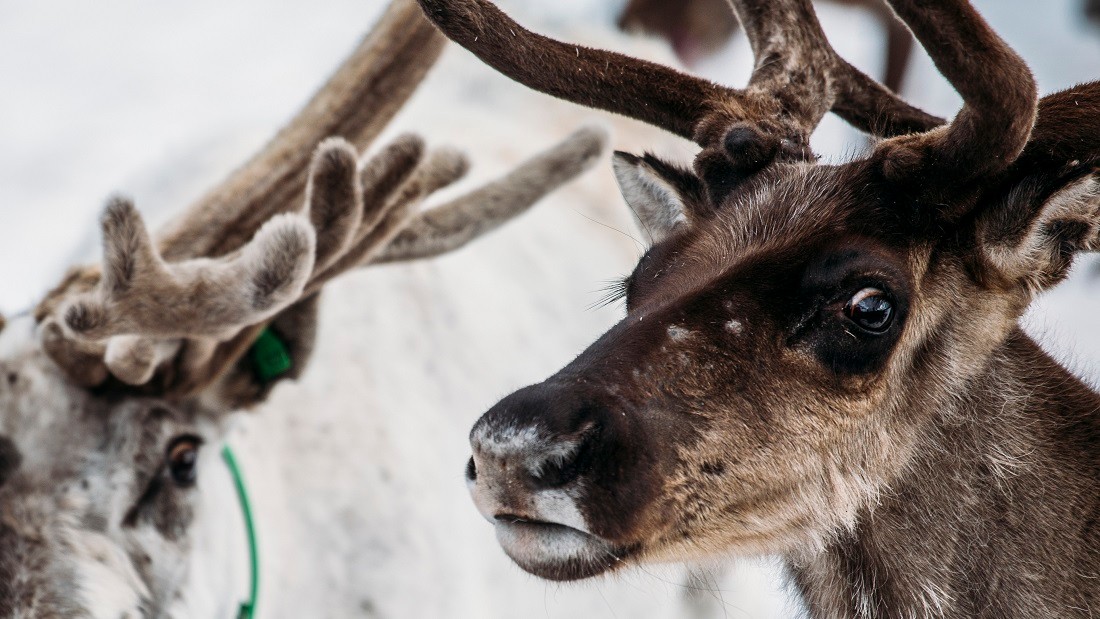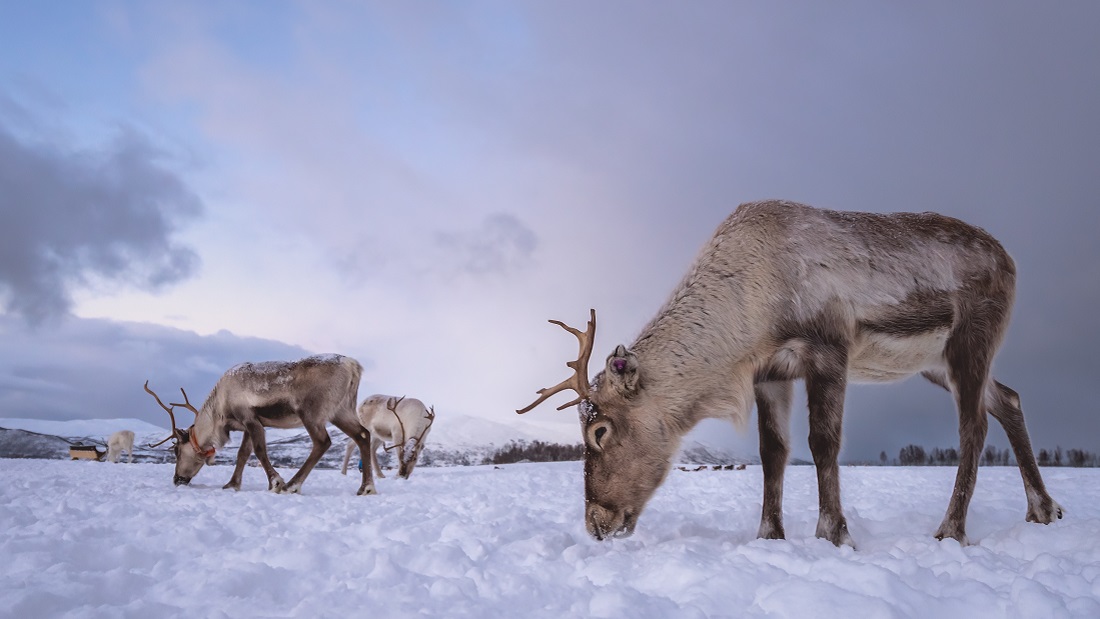 Although now designated as a 'species of least concern' by the WWF, reindeer were listed as 'vulnerable' and on the IUCN Red List as recently as 2015, due to a rapid decline of 40 per cent of their population over the past three decades.1Bradford, A. 2016. Facts About Reindeer. Available at: https://www.livescience.com/56310-reindeer-facts.html [Accessed 15 July 2020].
Woodland reindeer, also known as caribou, remain at high risk of extinction in Canada. The number of Canadian reindeer and caribou has plunged 81 per cent in a decade due to habitat loss and poaching.2Elmer & Quartz. 2013. Rudolph the Red-Nosed Cash Cow: Inside the Economics of Reindeer Farming. Available at: https://www.theatlantic.com/business/archive/2013/12/rudolph-the-red-nosed-cash-cow-inside-the-economics-of-reindeer-farming/282644/3Moucarry, M. 2017. Why Rudolph the Reindeer really has a red nose! Available at: https://www.greenpeace.org/canada/en/story/678/why-rudolph-the-reindeer-really-has-a-red-nose/#:~:text=%E2%80%9CWhen%20reindeer%20are%20feeding%2C%20their,of%20this%20strong%20blood%20%EF%AC%82ow. [Accessed 15 July 2020].
Major factors that have contributed to reindeer decline all over the world include climate change, which affects their natural food sources and habitats; over-industrialisation of their natural roaming ranges; and poaching.
According to research, the number of reindeer in Siberia has plummeted in recent decades, largely due to climate change creating heavy rain in autumn, which traps the reindeer's winter fodder under a thick layer of ice crust.4University of Oxford. 2016. Reindeer deaths in the Arctic linked with retreating sea ice. Available at: https://www.ox.ac.uk/news/2016-11-16-reindeer-deaths-arctic-linked-retreating-sea-ice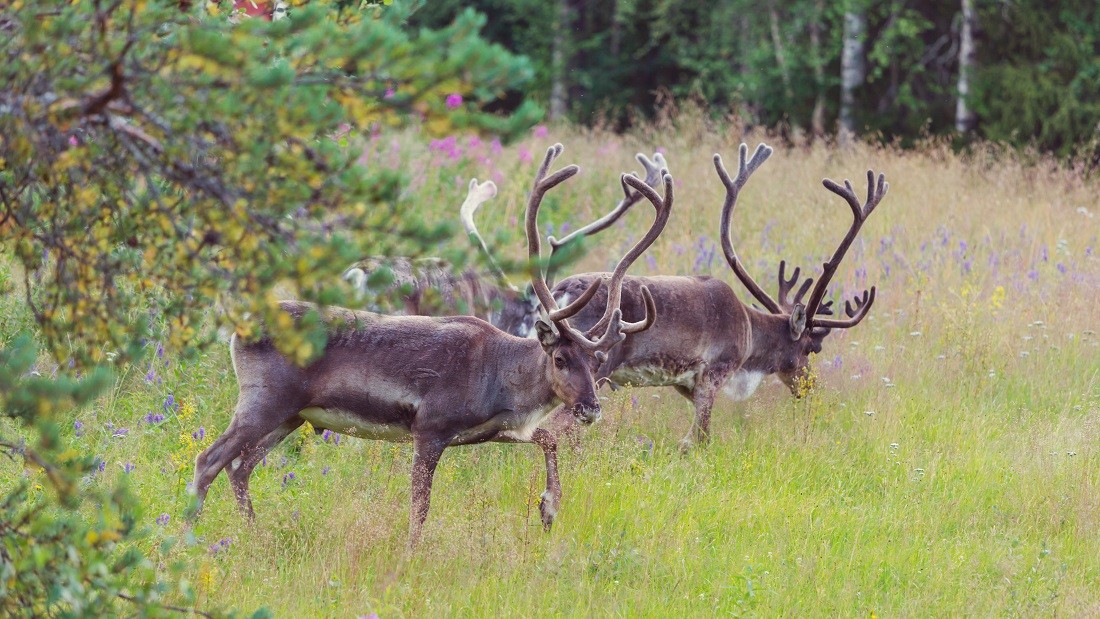 For hundreds of years, reindeer have been hunted and farmed by Arctic communities. Traditionally, it was for their meat and fat, skins for clothing, bedding and tents, sinews for sewing and antlers for tools.
Reindeer meat continues to be eaten in Scandinavia, Russia and in Canada, where the caribou meat industry is worth $100 million a year.1WWF. 2017. Mass poaching of wild reindeer uncovered in Russia. Available at: https://wwf.panda.org/?298452/Mass%252Dpoaching%252Dof%252Dwild%252Dreindeer%252Duncovered%252Din%252DRussia Reindeer also continue to be used for their hides, which are made into rugs and other decorative items for people's homes.
Traditionally, the farming of reindeer was small scale with maximum quotas to protect sustainable population numbers. Now, however, farming methods are becoming increasingly industrialised.
In Sweden and Siberia, reindeer herders use snowmobiles, helicopters and motorbikes to herd terrified reindeer onto trucks for transport to slaughterhouses. An investigation by the World Society For the Protection of Animals (WSPA) in 2010 revealed reindeer are hurt in these large-scale captures as they panic and accidentally gore each other with their antlers, or get their heads' trapped whilst being forced into slaughter trucks. Evidence of neglect and starvation prior to slaughter and illegal slaughter methods were also uncovered.2WSPA, 2010. Holiday Cruelty: WSPA Investigation Exposes Harsh Reality of Reindeer Slaughter. Available at: https://www.prnewswire.com/news-releases/holiday-cruelty-wspa-investigation-exposes-harsh-reality-of-reindeer-slaughter-111370549.html
Reindeer are increasingly used for entertainment at Christmas events and fairs in North America and Europe. Mostly, they are kept on farms throughout the rest of the year and are rented out for parades and other public events at Christmas time.3Elmer & Quartz. 2013. Rudolph the Red-Nosed Cash Cow: Inside the Economics of Reindeer Farming. Available at: https://www.theatlantic.com/business/archive/2013/12/rudolph-the-red-nosed-cash-cow-inside-the-economics-of-reindeer-farming/282644/
Over the past two decades, Viva! has campaigned against the sale of reindeer meat in the UK.
2008: Ikea sells reindeer salami
In 2008, Swedish furniture giant Ikea began selling reindeer salami in its UK stores. Viva! publicly slammed them, exposing the suffering and trauma that Scandinavian reindeer  endure.
Our campaign, published in The Independent and The Daily Mail, highlighted the fact that traditional methods of hunting in Nordic countries have given way to large scale methods that cause the reindeer extreme physical and mental distress, such as using motor vehicles and helicopters for herding these almost wild animals. Handling methods also include lassoing, technique which causes physical and mental stress, which can lead to muscle wastage.
Previous Campaigns Manager, Justin Kerswell, said:
"We are very concerned about the exploitation of wild animals for meat.
 "As well as being chased from the land and air, once they are caught, their misery doesn't end there. In Sweden, some reindeer face a gruelling journey of up to 600 miles to the slaughterhouse where they face anything but a humane end.
"More than 70 per cent of reindeer slaughtered for meat are calves that have grazed during the summer, which means they never even get to see snow.
"Whether you celebrate Christmas or not, no one can justify this torment for just a bit or twisted festive fun"
2010: Harvey Nichols, Fortnum & Mason and Lidl started selling 'novelty' reindeer meat.
In 2010, upmarket supermarkets Harvey Nichols and Fortnum & Mason, and budget supermarket Lidl, started selling reindeer meat in their Christmas ranges, mainly sourced from Siberia.
Once again, Viva! campaigned against them for the same animal welfare reasons and our comments were published in The Grocer, the Metro, and the Guardian.
As a result of negative press, public backlash and Viva!'s campaigning, Lidl withdrew their reindeer steaks from their Christmas range in 2011.
Unfortunately, in 2014 Lidl began selling reindeer meat again and once again, Viva! mounted a campaign against them.
The Daily Mail reported on it, highlighting not only the suffering caused to the reindeer, but also our concerns around sustaining wild populations, and the destruction of large wild predators such as wolves.
In Siberia, bounties are often put on wolves and in many areas there are calls for their localised extinction in order to protect reindeer farming.
"Lidl is destroying the magic of Christmas by selling dead reindeer," said Viva!'s previous campaigns manager Justin Kerswell. "What they term 'luxury cuisine' belies the truth behind an industry that exists to exploit wild animals.
"What Lidl aren't telling their customers is that to put reindeer meat on British shelves, other wild animals are systematically being hunted,trapped or shot."
Similar to reindeer in Sweden, we highlighted that Siberian reindeer were also often herded by snowmobiles and helicopters and lassoing was also being used.
Viva!'s campaign was successful and Lidl and other major supermarkets have stopped selling reindeer meat in the UK but it is still sold in some independent butchers.
Our campaign against reindeer meat is another example of major supermarkets treating  meat from wild animals as nothing more than a 'novelty', ignoring the animal welfare and environmental consequences. The sale of exotic meats can have a devastating impact on wild animal populations and all for the sake of a curio at a dinner party. The only way to end the suffering of animals, whether farmed or wild, is to go vegan.
Scroll up