How to organise a vegan fair or festival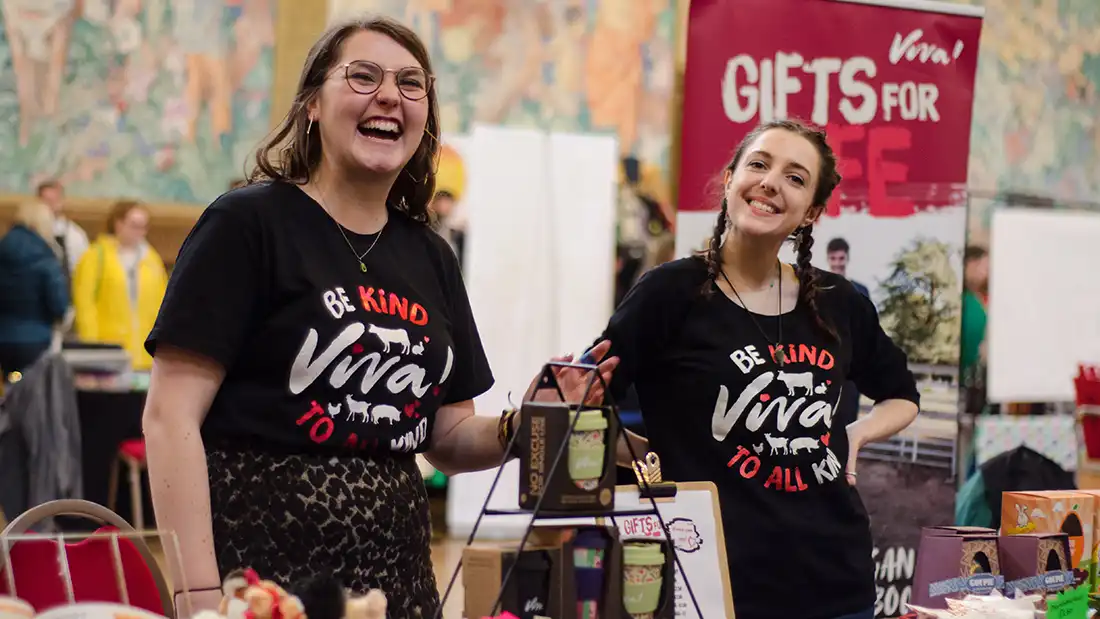 Unless you are a celebrity, national TV documentary maker, or national media journalist, vegan festivals are one of the best forms of activism to influence people and create new vegans in just a single day or weekend. As many as seven per cent (Viva! Bristol Christmas Vegan Festival 2019) to 13 per cent (Viva! Birmingham Vegan Festival 2019) of attendees go vegan as a result of them, while 69 to 90 per cent of attendees to three Viva! Fests in 2019, stated they would reduce consumption of animals or go vegetarian as a result of them.
No form of vegan activism can educate people in such a broad way as scores of vegan food, stalls, talks, films, cookery demos, free food samples, free recipe booklets and other literature can.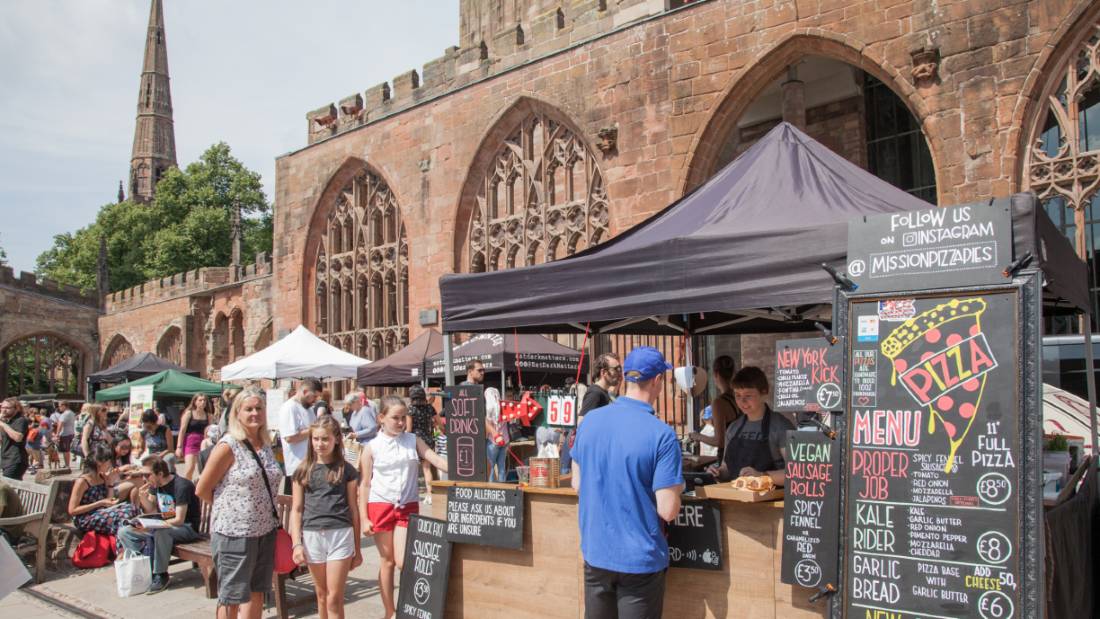 Try to find a venue which is:
In a town or city centre
Near to the train, bus and coach stations
In or close to the main shopping area
On a busy street, so you can get good passing trade on the day
Disabled friendly
It is not always possible to get an ideal venue which fits all of the above criteria, but book the venue which is as close to them as possible.
If there is a nearby vegetarian or vegan pub or bar, you can always ask them to be a second venue, and to organise a vegan beer festival, or even a vegan beer, cider and wine festival as part of your event. Not only is this an extra attraction but it helps to educate people about a subject many vegans do not understand well – which drinks are suitable for vegans. You can find out here which ones are vegan here: www.barnivore.com.
If you like, you can also book a venue which has its own alcohol licence, or which allows stallholders to get a one or two-day TENS licence from the local council to sell alcohol.
Also make sure to find out:
Absolutely all of the costs of the venue before you book, including the size of any deposit they require, as well as any electricity charges, which the vast majority of the smaller venues do not have
If the venue can cope with your electricity needs for your caterers in particular
If they have a charity hire rate for charity events
If they allow outside caterers and if they allow live cooking on trestle tables, with electricity, or in a kitchen. Venues do not like cooking with gas or naked flames on tables, for obvious fire hazard reasons, but caterers might be able to use gas in a venue kitchen
What level of food hygiene certificate the venue requires, as caterers tend not to have higher than level 2
If you can use any outdoor areas for food vans, stalls in gazebos or marquees, talks and films in marquees, music on a covered stage, and any other outdoor attractions you can think of
A venue which allows you to have indoor or outdoor children's activities is always useful, as parents like to explore the event while their children are being kept safely and securely entertained.
You also need a venue with a live music licence if you plan to have music at your event, and with the relevant licence for DJ's if you want to have those.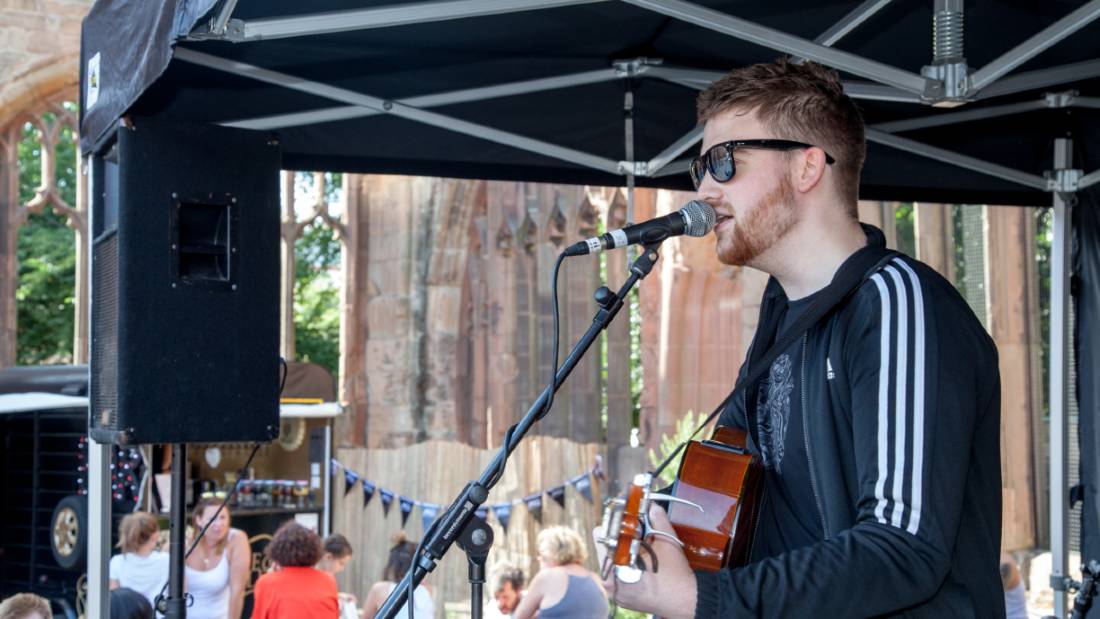 Make sure to be certain how many stalls you can fit into the venue. It's important to leave space between stalls for the public to walk around without overcrowding, and allow for a cafe area, so people can enjoy eating and drinking while sitting down. If they enjoy the event, they will come again.
You also need to check with your local council if they require you to pay a market licence. The vast majority don't, but a few do, Manchester and Sheffield for example, and they can stop your event if you have not paid. Charity events may get a much cheaper rate.
If you have not done a vegan fair or festival before, it's best to book a small venue the first time. You can increase the size of your venue and event each time you do one, as you gradually learn how to organise events, and as your potential stallholder mailing list increases. Church halls, community centres, Friends Meeting Houses and schools are good cheap options for first time events, as are venues which have flea markets and jumble sales.
Here are a list of potential venues by region to help you on the road to organising a festival in your area.
Try not to pick a date which clashes with other vegan festivals or fairs near you, as fewer people may come to both events, and as both events will have fewer stallholders if you do. Try not to clash with any big festivals (vegan or not), unless they are at the other end of the country, as otherwise it will reduce the numbers of stalls at both events.
Try not to pick a date which is very close to another vegan festival or fair in the same city or town, as that can also reduce the turnout of both events. Make sure your event is at least a month apart from other local events. You can avoid such clashes by looking at the below calendars before you book your venue. You need to check all of them to be more or less sure you are not clashing. A few small event organisers don't post their events on any of these sites, but the vast majority of them do:
Once you have checked that your event does not clash with others, and you have booked the venue, you can send all of the event details, including the website (if you have one) and the Facebook page to the above calendars. Unless it is very small, or you book your venue less than three months before the event, which is in any case unwise as you need six months or more to organise a new one properly, you may also get your event in the Viva!, Animal Aid and Vegan Society quarterly magazine event listings.
If you are doing a large event, which will attract stallholders from a long distance, it is best to avoid December to February because of the danger of snow and ice stopping stallholders, cookery demonstrators, and speakers getting there. However, December to February is fine for small fairs with just local stalls, speakers and cookery demonstrators.
April to October events are best, particularly for large festivals, as winter storms can have a much bigger impact on the turnout than ordinary rain, as they can disrupt train services, for example.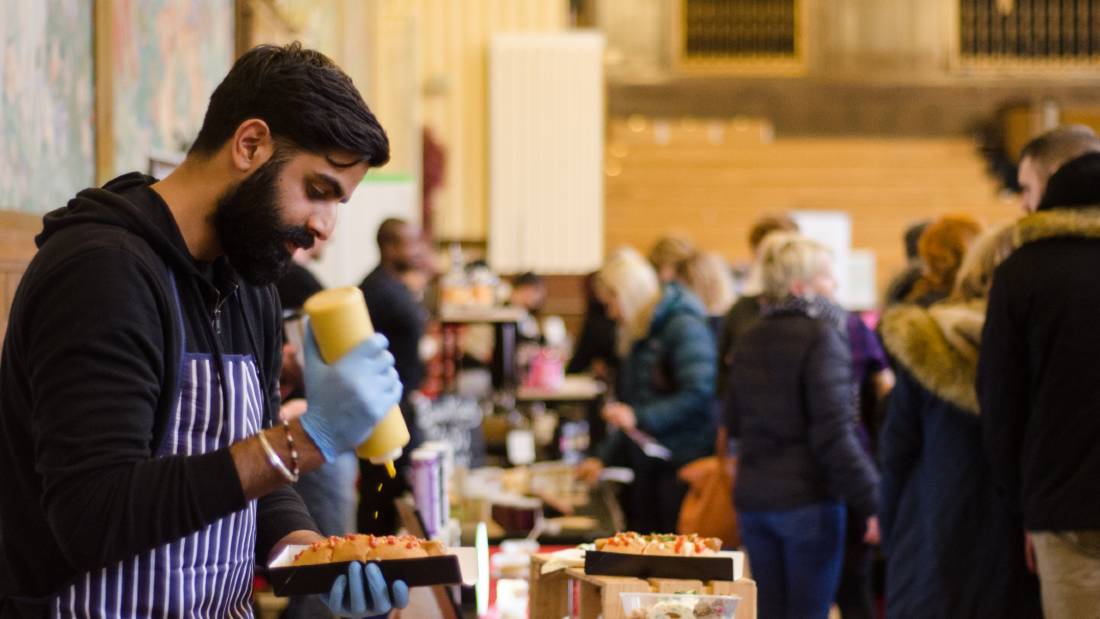 If you are doing these events for the first time, you can always invite stallholders from the events nearest to you, and then gradually build up your mailing list over time, and of course you can invite all of the local vegan and vegetarian/vegan businesses, animal rights groups, animal rescue centres and health food shops, as well as all of the national vegan and animal rights groups, who sometimes recruit local volunteers to run stalls at small fairs (they only send their paid staff to big festivals).
Find out which stalls need electricity and make a map of the venue's plug points.
Invite stallholders to sponsor your event, which helps to pay for your leaflets, posters, Facebook ads, and other publicity costs.
You can offer a much higher rate to be on all of the leaflets and posters, as well as in Facebook posts, and on the website (if you have one) as well as a lower rate to be on just the Facebook and the website.
You can also ask Animal Aid, the US vegan group VegFund (who sponsor some UK events and are keen to sponsor more), and the Vegan Society for sponsorship. Be aware that you have to submit your Vegan Society sponsorship application form before the quarterly meetings at which they decide which events to sponsor, which is one of the reasons you need six months or more to do a new event.
VegFund sponsorship can involve far more money than you will get from any UK group, but you have to fill out a long application form, send them photos of your event alongside other information about it. If they think it's a good application, they will offer you a payment, which you should receive before the event if you apply well in advance.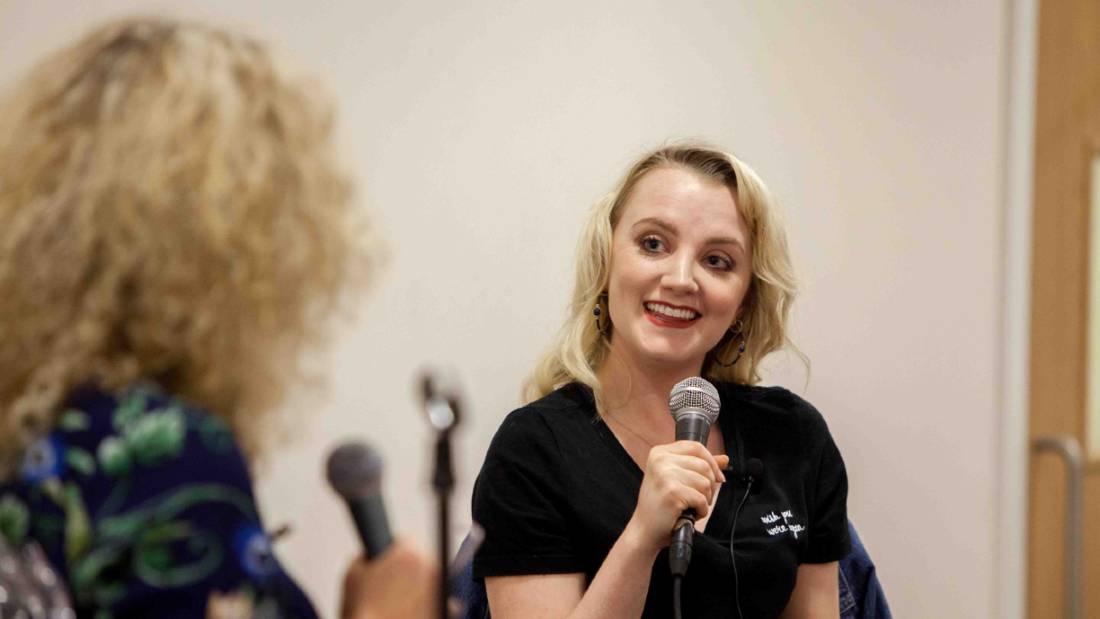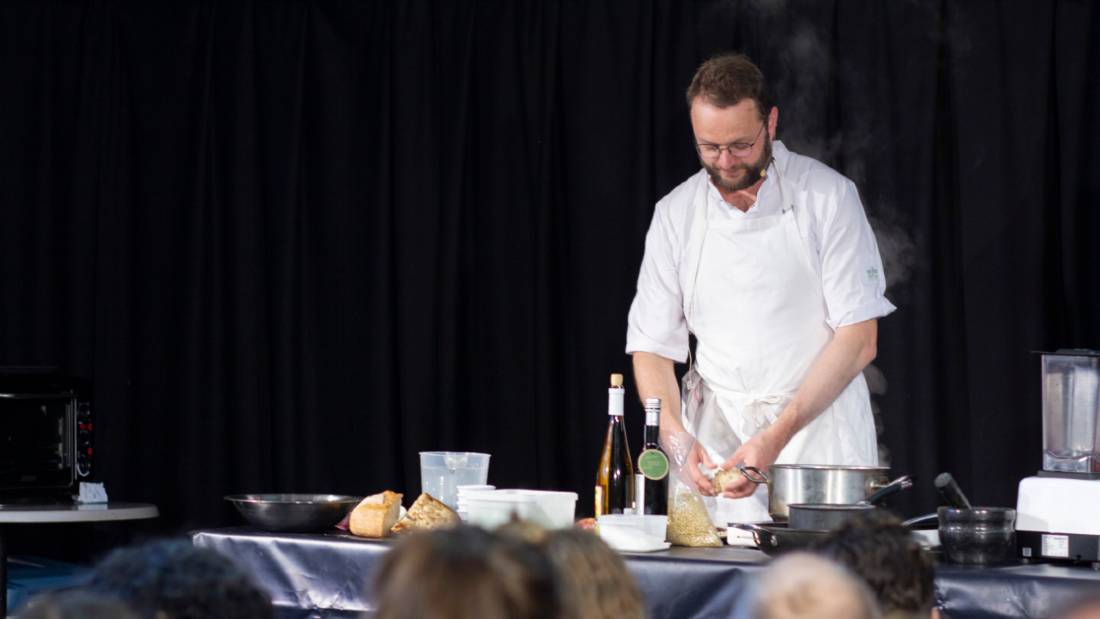 Ask your stallholders, local vegan businesses and local vegan and animal rights groups if they would like to do a talk or cookery demonstration.
For bigger events, ask national vegan and animal rights groups to do talks and cookery demonstrations.
Make sure any travelling expenses are agreed when you arrange the talk or demonstration.
If you have to hire some or all of the tables or marquees for your event, ask local furniture and marquee hire companies for marquee and six-foot trestle table quotes, and get these hired as soon as you book the venue. If you try to do this at the last minute, companies may not be able to provide them, particularly on busy holiday weekends when there are a lot of events.
Check that your venue can store the marquee and tables from the Friday when companies like to deliver, to the Monday when they like to collect (Sunday collection is sometimes possible, so check that with the company and venue too). Find out when you hire, when the company will deliver and collect, and then confirm the days and times over a week before the event.
Also check if the venue will let you set up the tables and marquees the day/night before the event, so you know they can be set up in time, as you will have a lot to do on the morning of your event.
If you need to hire a marquee, please bear in mind that they can take the hire company several hours to set up.
Make sure to have all of the right audio-visual equipment for talks and films (screen, projector, HDMI and VGI laptop cables, and possibly laptop, though it is better to ask speakers to bring their own), and someone who knows how to set up and work the AV.
Some venues have in house AV, so make sure to ask them if they do, and how much it costs.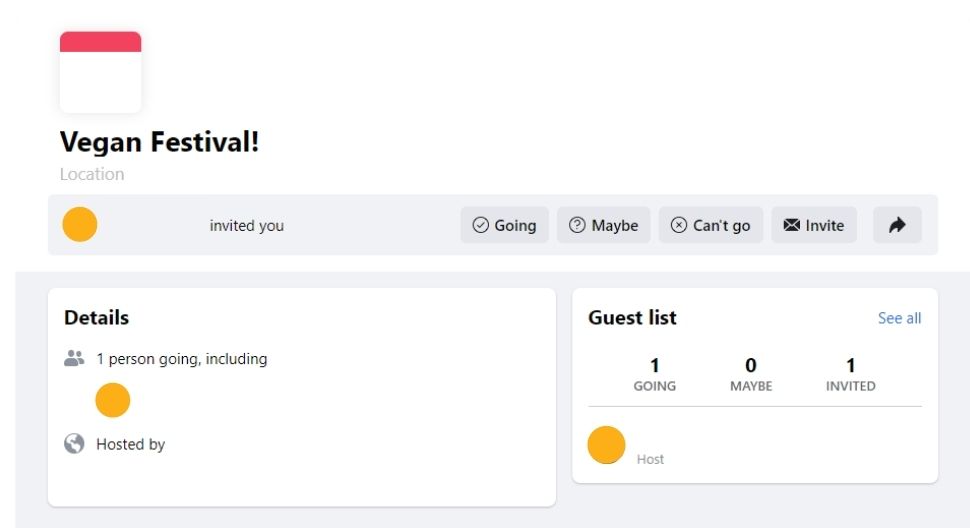 There are a range of ways of promoting your event, and to maximise your turnout, it is best to use all of the ones you can.
Leaflets and posters
If you do not have someone to design them, these can be designed and printed cheaply, and delivered to your home, all in under 2 weeks, by Vegan Print near Blackpool, one of the cheapest design and printing services in the UK. They guarantee your flyers and posters will be printed with vegetable based ink, not the animal based ink some printers use.
A lot of UK vegan festivals and fairs use this company because they will design and print vegan festival programmes very cheaply, if you need lots for a large event.
The number of leaflets can range from 10,000 for a very small local fair with say 10 stalls, to hundreds of thousands in the case of the biggest festivals. The number of posters can also range from 50 to 1000 or more, depending on the size of the event.
Try to get your promotional material into all of the local vegan, vegetarian, vegan-friendly and health food shops and eateries as well as into every other local shop, cafe, restaurant, takeaway, library, community centre, pub, bar, nightclub, taxi office etc. Basically any place which will allow people to put up posters and/or leave flyers.
If you are organising a large event, you may want to try to get them into all of the above places within as much as a 50 mile radius from your venue.
If you know a student at a local university or college, you could also get flyers into university halls of residence and student unions, and posters onto student union, university department and college noticeboards.
If you are aiming your event heavily at students, who, according to the US group Vegan Outreach, have been shown to be far more open to vegetarianism or veganism than the general public, make sure of course that your event is in term time.
Door to door flyering is also very useful, particularly if you can find lots of volunteers to help.
Leafletting at vegan street stalls can be very useful, as most of the people who stop at these stalls are vegetarians, who come in large numbers to vegan events, and are often looking for information to help them to convert.
Make sure your leaflets and posters say "Find us on Facebook", with the Facebook symbol, and include all of the key event information, including the full website address and street address, including the postcode.
Put photos of appetising vegan meals on your leaflets and posters, as that has been shown to improve turnout.
Make sure that it is very clear to anyone who sees your leaflets or posters that they are for a vegan event. Putting the word "vegan" in small type, or in a paragraph of information, can lead to people not understanding that the flyer/poster is for a vegan event.
Facebook page and website
Unless you are organising a large event, you are best off with just a Facebook page.
Make sure all of the local vegan, vegetarian, animal rights, animal rescue centre and health food shop Facebook pages know about it, as well as all such places which do not have Facebook pages.
Make sure to ask everyone on your Facebook to invite all of their friends when you get close to the event.
Big festivals can also of course have Twitter accounts, and YouTube channels, as well as websites.
Make all advertising, printed or online, colourful, attractive and easy to read.
Facebook advertisements
Facebook ads are essential for big festivals, who can spend £1000 or more on a series of ads, and can sometimes be helpful for smaller events too. They are worth the money you pay for your two-line advert and photo of, for example, cute animals or appetising food, to get posted on all of the Facebook pages with particular key words like vegan, vegetarian and animal rights, within the radius you specify from the city or town the venue is in.
Wait until three months before your event before running one or more ads.
You can also use the city or town your event is in as a keyword for your ads, so they appear on all of the local Facebook pages. If your event is free entry, and in a small town, organisers' surveys have found that you can get lots of omnivores and vegetarians turning up, as there are fewer things to do in small towns compared to big cities.
Library displays
Email all of the local libraries and ask if you can do a "vegetarian/vegan" recipes and nutrition display for two weeks to a month, for example. Often they will say yes, and you can then ask Animal Aid, the Vegan Society, PETA, Animal Equality and Viva! for vegan recipe and nutrition booklets and leaflets. You can put plenty of your event flyers in among the other literature, You can arrange to collect any leftover literature after the display ends.
Free food stalls
These can attract a lot of people if you do them on a busy street, so make big, laminated, weather proof signs saying that you are giving out FREE VEGAN CHOCOLATE, FREE VEGAN ICE CREAM, FREE VEGAN FOOD, etc. You can then give event and general vegan leaflets to all of the interested, and usually vegetarian people, who approach you. Pick a street where there is shelter from rain if you can.
Banners in prominent places
If your venue is on a busy street, banners can be a very useful way to publicise your event, if your venue allows you to put them up outside.
You can also ask local vegan, vegetarian and health food businesses if you can put up a banner outside their shop, café or restaurant.
If your council gives you permission, you can also affix a banner to railings at busy places like roundabouts.
Please be aware that fly posting can lead to you being prosecuted, so you need to get council permission to put banners up in public places which are not owned by your venue or a local vegan business.
Magazine ads
It is only worth advertising in a national vegan, vegetarian, or animal rights magazines if your event is big enough for people to want to travel to it from a long distance.
Press releases
For a small fair, you need to send all of the local newspapers, magazines, radio stations, and news websites a press release two weeks before the event.
For bigger events you can send out more than one press release, with the last one being two weeks before.
Try to keep it to one page or less, as journalists don't have time for long ones. Keep your paragraphs very short, as long paragraphs are less likely to be read properly, add a photo, perhaps of the organisers in animal costumes outside the venue, or of cute animals, or of appetising looking food which an event caterer will be selling, explain clearly what will be at the event, and include its Facebook and website addresses. Include all of your contact details, as the local media may want to ask you questions for an article, feature or interview.
People love free stuff so make sure to stress anything free which the public can get at the event, and highlight all the fun that can be had at the event including the nice food and drink they can buy or try, the availability of alcohol, and any other things the media can report, such as speed dating events etc.
Also make sure to mention any local businesses or groups who will be doing a stall or giving a talk or cookery demo at the event, as local newspapers like to write about them.
Extra info about the growth of veganism or vegan celebrities (check that online claims about them are backed up with proper evidence, like an interview with the person concerned, a statement on their website, or on a national vegan group's website) can go at the end of your press release under a "Note to editors" heading. Local media may realise that such facts will interest their readers or listeners.
Make sure that your press release reads well, and of course that there are no spelling mistakes or other errors.
Free food
Ask all of your potential stallholders if they can provide free food samples and company literature for your event. These are a good way to promote veganism, to attract people to your event, and to help vegan companies to get more customers. Make sure to send companies your Facebook page and website (if you have one), when you ask for samples.
Volunteers
Make sure to start asking on the event Facebook page for volunteers over a month in advance, and also ask your friends, fellow activists and relatives. Send the volunteers a rota and your full contact details two weeks before the event, with the times when the volunteers will be needed for their various roles. These might include: setting up the event, clearing up after the event, working on the door, collecting litter, giving out your flyers in the street on the day of the event, going out in animal costumes with those leafleting on the day of the event, running talks, cookery demos and films rooms (and making sure the AV equipment is not stolen), working as traffic marshals, running the children's room and so on.
Appoint one or more person to coordinate the volunteers on the day of the event.
Print out copies of the volunteers' rota for the door table and all organisers.
Stallholders, speakers, cookery demonstrators, musicians and DJ's info
Make sure to send all of these people all of the information they need for the event two weeks in advance. This might include: the location of their stall if it is a big event with a stall plan; parking details, including the nearest car parks to the venue, and their prices (both of which are on Parkopedia); the time stallholders can unload from; where they can unload; the address and postcode of the venue; the time and location of their talk, cookery demo, gig or DJ set; all of your contact info; any venue regulations they need to know; the need to bring extensions leads and plug adaptors; what to do with their rubbish, and so on.
Try to space out caterers if there is any possibility your venue might not have a good enough electricity supply for them to be close together, or you will blow fuses. Try to keep popular caterers away from other stalls, in a cafe area perhaps, so people do not queue for that caterer's food in front of other stalls.
Set up the marquee, the tables (with stall names on them) and chairs, as early as the venue will allow – two days in advance if you are lucky
Set up the cafe area tables and chairs as early as the venue will allow
Set up the talks, films and cookery room(s), and the children's area, as well as any music stage, as early as the venue will allow you to
Put out the free food and drink on the morning of the event, with the product packaging and any company literature next to the plates of food and cups of drink
Set up the door table, get a float the day before the event or earlier, and put that and the cash tin on the door table just before you open the doors, as well as the hand stamps, which allow people to come back into the event a second or third time
Make sure to have plenty of rubbish bags under or by the door table for litter collectors and stalls
Put any programmes on the door table to hand out as people come in
Put laminated, weather proof signs outside the venue telling people that there is a vegan fair or festival on that day. Stick them to wooden boards, or they may blow over in the wind
Put lots of signs up inside telling people where the talks room is, children's area, and so on. The further apart rooms are, the more signs you need. Programmes can include venue maps, but people don't read programmes very closely a lot of the time, so you need lots of signs everywhere
Scroll up