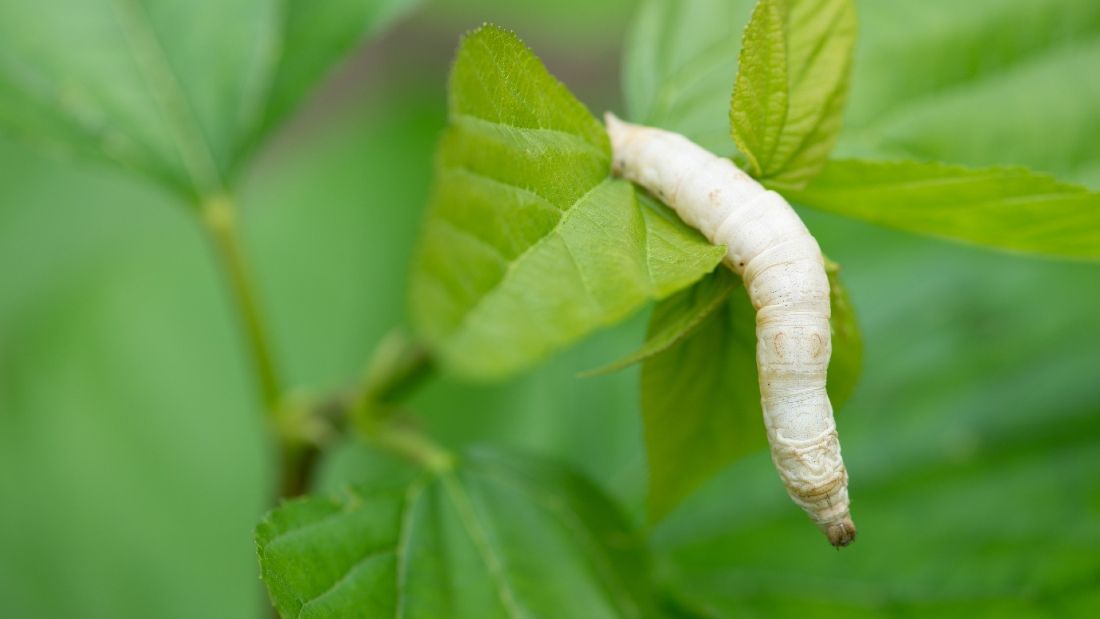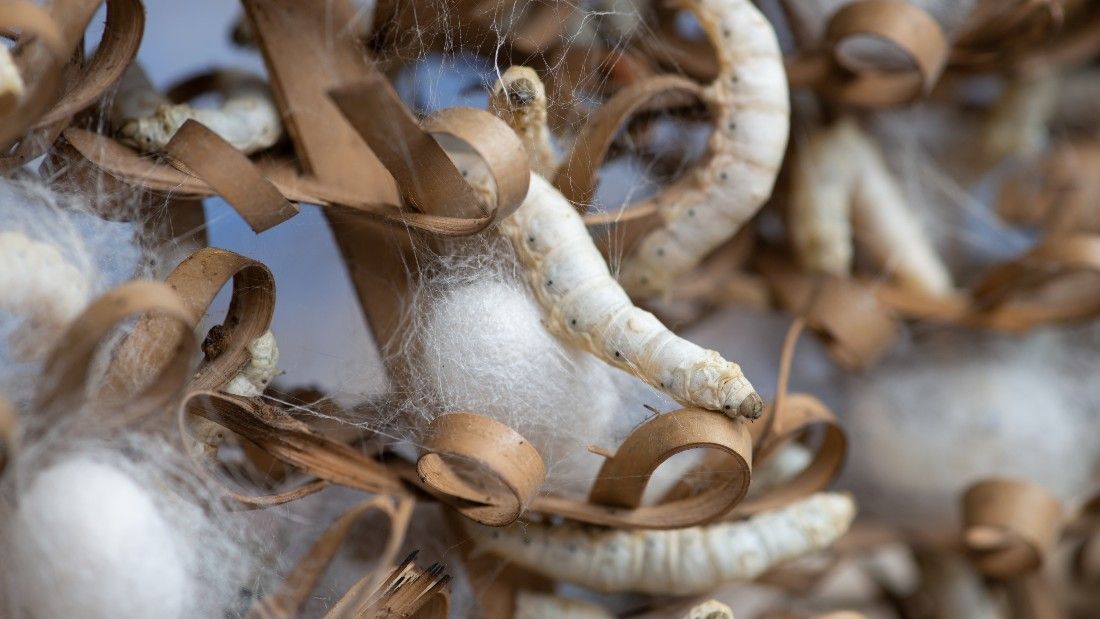 Silk is an extremely thin, strong, thread-like fibre produced by certain insects and spiders in order to build cocoons and webs. In commercial use, silk is almost entirely derived from the cocoons of domesticated silkworms [Bombyx mori].1Petruzzello, M. 2019. 'Silk' Britannica. Available at: britannica.com/topic/silk [Accessed March 2020].
Silkworms naturally build their cocoons as caterpillars, and then break their way through the cocoon wall once they have transformed into adult moths. They do this by first releasing a fluid called cocoonase to partially dissolve the silk and the sericin (gummy outer residue), and then dig their way out with their claws. This process (pupation) occurs within a cocoon that is made of one continuous white or yellow strand of silk averaging about 1400 metres long.2FAO. Chapter 3 'Cocoon Quality and Classification'. Available at fao.org/3/x2099e/x2099e04.htm#3.3 [Accessed March 2020]. This filament is preserved intact for commercial use by killing the pupa with hot air or steam3Rodriguez, E. 2020. 'Silkworm moth'. Britannica. Available at britannica.com/animal/silkworm-moth [Accessed March 2020]. or submerging the cocoons (with the pupae alive inside) into vats of boiling water. The thread is then unwound in one long strand in a process called "reeling". Despite the extraordinary length of thread from each cocoon, it costs the lives of approximately 15 silkworms to produce a single gram of silk, and 10,000 lives to produce a single sari.4Lin, D. 2020. 'Why Vegans Don't Wear Silk', Thought Co. Available at thoughtco.com/why-vegans-dont-wear-silk-127729 [Accessed March 2020].
Silk thread is typically woven into fabric and used primarily to make lightweight blouses, saris, dresses, scarves, sarongs, suits, ties, underwear and pyjamas. It is also widely used by the textile industry for sheets, pillowcases and other soft furnishings; including artificial flowers.
In the fabric industry, silk is produced on a commercial scale by breeding silkworms on intensive moth farms. Once the silkworms have carefully constructed their cocoons (encasing themselves inside) they are killed.
Exploiting these creatures via genetic manipulation and intensive breeding, and then killing them so that we can use something they produce, isn't congruent with Viva!'s definition of veganism:
"Vegans don't eat, wear or use anything from animals — whether from land animals (meat, dairy, eggs, honey, shellac, leather, fur etc) or from water animals (fish, prawns, crab, lobster etc). Vegans also exclude, as far as is practicable, all forms of animal exploitation and cruelty."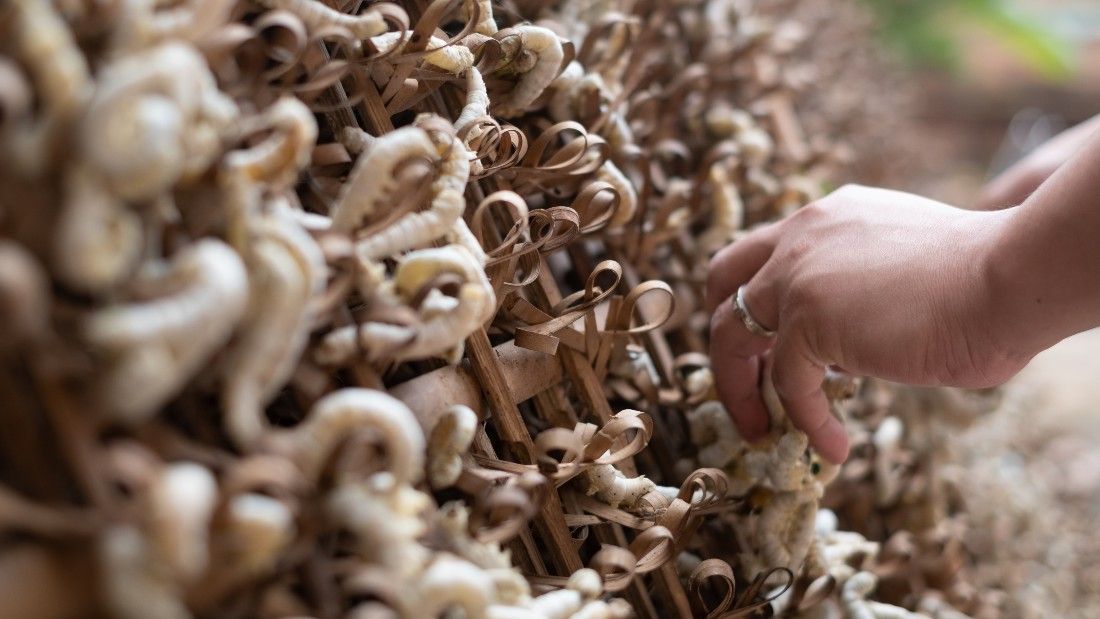 You may have heard of the term "Ahimsa silk" or "Peace silk" which describes silk that sellers claim doesn't harm the silkworm in its production.
Ahimsa silk is made from the cocoon of either the Bombyx mori silkworm or the Eri silkworm [Samia ricini], and is often referred to as "Bombyx peace" silk or "Eri peace" silk. Instead of breaking through its cocoon to hatch like the Bombyx silk moth, the Eri silk caterpillar doesn't fully encase itself in its cocoon but instead leaves a small opening at the bottom through which it can emerge as a silk moth.
Both silkworms are still farmed, and, just like other domesticated farmed animals, are bred for silk production, at the cost of their own health and well-being. The raw silk produced from the hatched cocoons of the Bombyx mori moths has to be degummed, carded, combed, cut to length, and then spun like cotton or wool. The cocoon is too damaged by the hatching process to be able to unreel it and is therefore regarded as an inferior grade of silk yarn and is not commercially viable on a large scale. Once hatched, the adult moths cannot fly (domesticated silk moths have had the flight instinct bred out of them) and will only survive for around 5 days; just long enough for them to mate and lay (on average) 200-500 eggs. The same would be true of moths in large commercial operations, but they are killed before reaching adulthood.1Wells, C. 2012. "Why Vegans Don't Use Silk", Gentle World. Available at gentleworld.org/do-vegans-use-silk/ [Accessed March 2020].
Producers often claim Ahimsa Silk is wild-harvested rather than farmed, although this seems very unlikely as it would be an extremely unreliable source of income for them. Some traditional Sericulturists (silk producers) claim that this is a fraud and that most Eri cocoons are actually cut open and the pupa removed by hand and, whilst some may be left to emerge naturally, they are also used as a food source for local people; and the pupae occasionally used for fertilizer.2Cook, M. 'Ahimsa (Peace) Silk; Why I Think it Doesn't Add Up', Worm Spit. Available at wormspit.com/peacesilk.htm [Accessed March 2020]. Clearly, neither of these supposedly harmless methods of Ahimsa silk production really deliver on that promise.
No. The only (entirely optional) standard which is ever applied to silk in the UK is the Oeko Tex Standard 100. This is a generic textile standard which can apply to any fabric and is used only to prove the absence of specific chemicals and heavy metals.3Oeko-Tex. 'Standard 100 by Oeko-Tex'. Available at oeko-tex.com/en/our-standards/standard-100-by-oeko-tex [Accessed March 2020].
Nylon and polyester are vegan synthetic materials which can be made to resemble silk, and are fairly widely and cheaply available, but it is worth bearing in mind that the production of these materials can involve lots of chemical processing, dyes and finishes; so aren't necessarily eco-friendly options. Even rayon – which is made from cellulose, a natural fibre from wood pulp – can be subject to the same environmental processing concerns. Lyocell and modal are fibres are types of rayon which use chemicals during the production process but are free from harmful solvents and the processes are closed-loop (meaning that the chemicals are captured and reused over and over again). To ensure the wood pulp comes from a sustainable source, check that it is manufactured in North America or Europe. Alternatively, tencel is a certified form of lyocell that is guaranteed to be made from sustainable wood pulp.
Soysilk is a silk-like fabric that is manufactured from the soya residue left over from tofu production. However, it does use formaldehyde in the production process, which is a known carcinogen.
The reality is that currently there may not be a perfect, vegan, eco-friendly, sustainable and affordable alternative to silk on the market -nor, in fact, is silk itself any of those things. However, a huge amount of investment and research is underway by companies competing to develop innovative, sustainable and eco-friendly materials on a commercial scale, like Microsilk by Bolt Threads. This is made from a fermentation process, combining yeast, sugar and water. Once the protein is formed, scientists isolate it, purify it and then spin it. In March 2017, the company introduced a tie collection, which was its first commercially available product.1Pantry, N. 2020. 'These Sumptuous New Vegan Textiles Replace Down, Silk & Leather—& Are Biodegradable' Peaceful Dumpling. Available at peacefuldumpling.com/vegan-textiles-down-silk-leather-biodegradable [Accessed March 2020].
There is also an innovative silk-like fabric being produced by Italian company Orange Fiber, which claims to be the "world's first and only brand to produce a patented material from citrus juice by-products, repurposing them to create beautiful, sensorial materials".2Orange Fiber. 'Fabrics'. Available at orangefiber.it/en/fabrics/ [Accessed March 2020].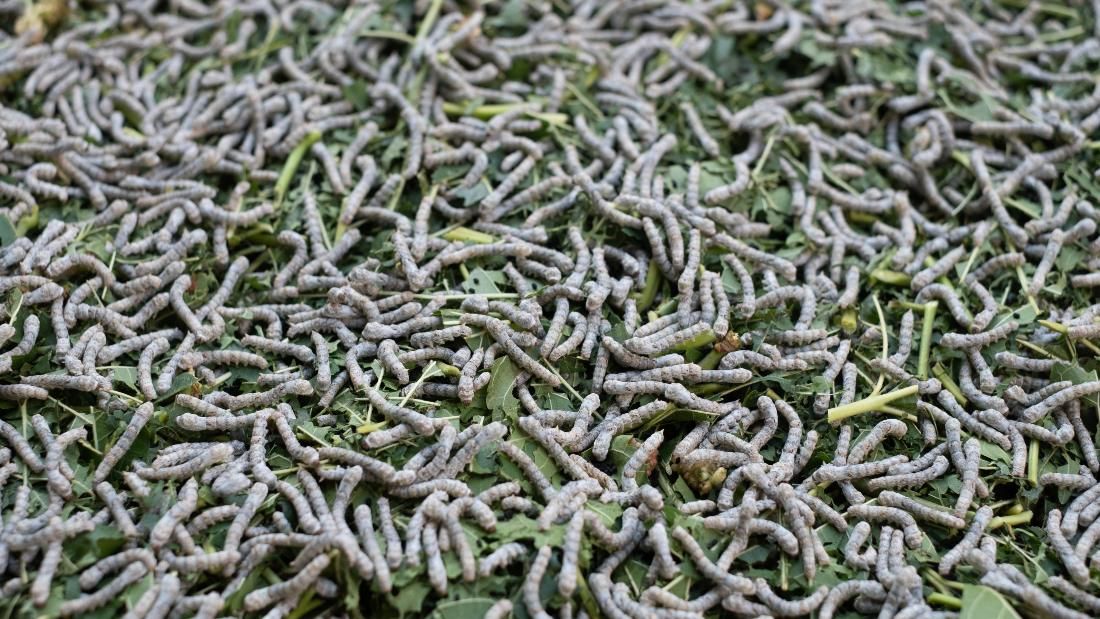 Silkworms are the world's only truly domesticated insect, having been bred and selected for thousands of years, mainly for quality of silk (colour, strength, volume), but also to increase their size in order to accommodate larger silk glands, and for ease of rearing. The worms in their current state could never survive in the wild, since they have no chemical or physical defences to protect them from predators. The larvae (the worms) are white and soft-bodied (no camouflage or spines) and the imagos (adults) are fat-bodied and totally flightless (Bombyx mori can still be cross-bred with Bombyx mandarina (the wild ancestor) though, which still flies around eating mulberry in China and Japan).1Cook, M. 'Serving the Tiny Masters: adventures in home sericulture', Worm Spit. Available at wormspit.com/tinymasters.htm [Accessed March 2020].
So, to summarise: intensive farming; genetic manipulation; boiling, steaming or "stifling" (baking) silkworms alive; chemical "degumming" baths; and toxic dyes and finishes. Doesn't sound like a very natural or environmentally-friendly process to us!
You might also like...
Scroll up