Thank you for considering organising an event! It takes a bit of planning but is highly rewarding. Here are all the best tips to make sure that your event is a success!
What will I need?
Leaflets and posters. We can send you leaflets in bulk, along with posters and other materials. Take a look at what leaflets and posters we have available.
Table and tablecloth.
Guides and other information resources. We offer a discounted rate on any of our guides which are bought in bulk, these are great for attracting attention, giving information and raising money.
Volunteer badges. For Viva! specific stalls we can provide volunteer badges so you can be a part of the Viva! team.

When you know what you need, contact campaignorders@viva.org.uk or call 0117 944 1000 to order any leaflets and posters or simply ask for more information. Let us know if you would like a collection tin, discounted guides or volunteer badges for the day!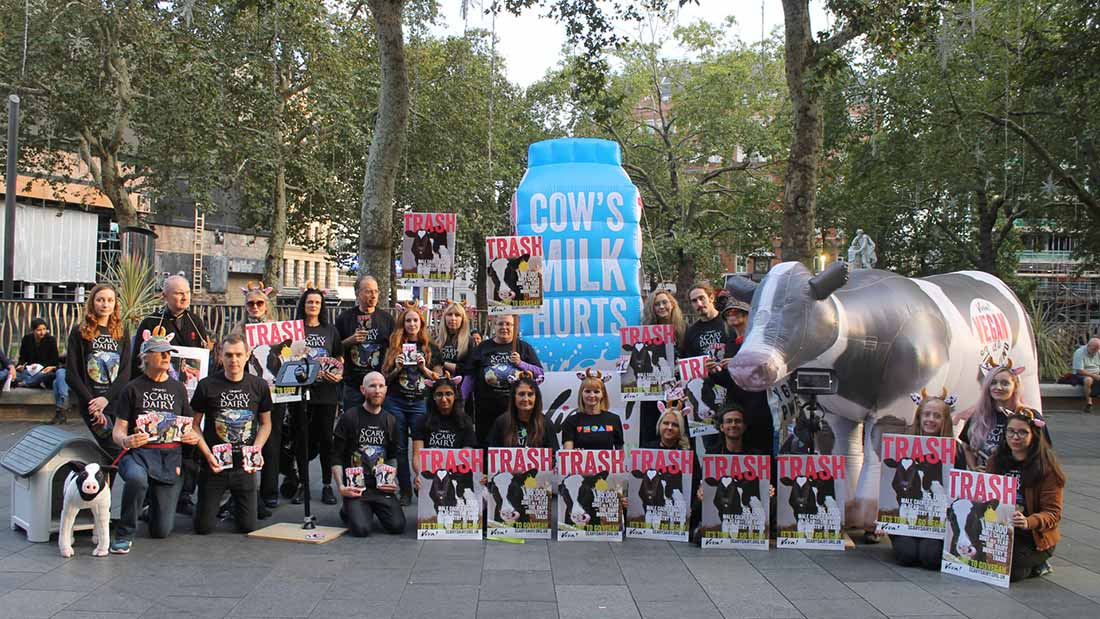 Permissions and Permits
If you are on foot and on public land, you most likely won't need a permit. However, it's best to check as some places don't allow even leaflet distribution. If you are on te land, you will need permission from the owner to be there.
If you'd like to hold a stall with a table, you will need a permit from the local council. Every council has different rules so you need to contact them (they usually have permit applications online) and allow ideally more than eight weeks for the paperwork to be sorted out. Some councils work faster than others!
Setting up
Location is key! Try and find a place which is sheltered from direct sunlight or more likely the wind and rain. Make sure you aren't obstructing any shop doorways, fire exits or pedestrian walkways.
Make sure your stall looks approachable and eye-catching!
Help on the Day
It's best to have a small group of people, at least three, to make things manageable. You may be busy talking to the members of public or distributing leaflets so the more volunteers you have the better.
Thankfully there are usually lots of activist groups to offer a helping hand. You can find your local group here.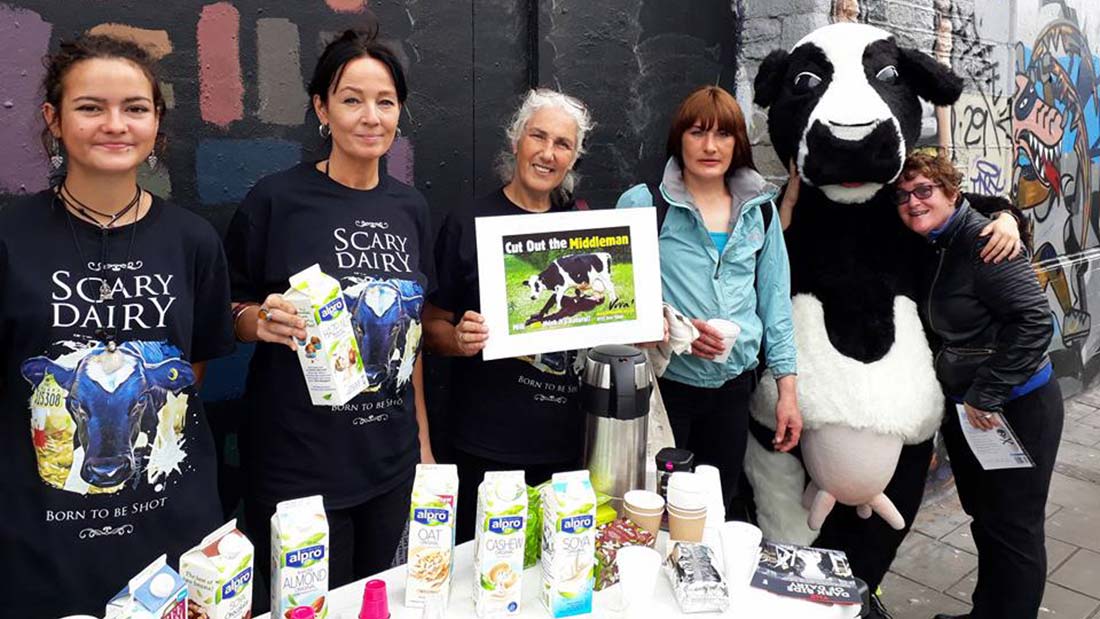 Attracting Attention
There are a number of different ways to make your event noticeable. It can be through:
Posters and placards. You can make your own or Viva! ones can be ordered by contacting campaignorders@viva.org.uk.
Someone dressed in a costume.
Using interesting props or acting out a simple scene.
Using hashtags on social media. This is also a great way to promote your event and get people involved.
Wearing distinctive t-shirts. Viva! have a wide variety of t-shirts available through our online shop. This is such a simple and effective way of attracting attention with ease!
Vegan product tastings. Product tastings have been proven to be very popular; dairy-free chocolate, plant milks, ice cream, vegan cheese on crackers all go down a treat! These need to be hygienic so you'll need nitrile gloves (just like latex/surgical gloves but vegan) for serving and biodegradable plates, tubs or cups.
You can also contact your local newspaper. Let them know about what you're doing as they are often interested in covering events. We can send you a sample press release to help you get it right.
After the Stall
Make sure you leave the place spotless with no leaflets on the ground and no rubbish. Post Viva! any donations that you may have. We are always keen to hear how your events went, drop us an email and send us any pictures you take and we might feature you on social media or in our magazine, Viva!Life.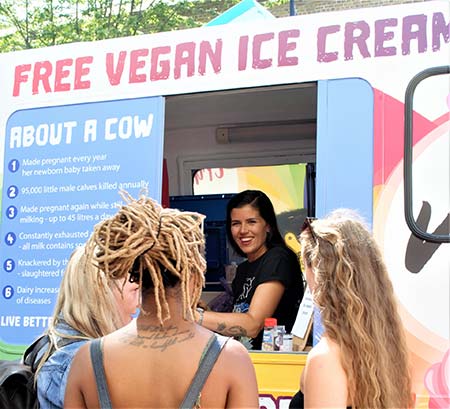 Top Tips
Stay calm and civil. Occasionally you may encounter a challenging personality but remember to maintain a level-headed attitude when confronted with silly arguments.
Remind yourself of the facts. By reading the leaflets you will feel confident when talking to the public about your street stall. We also have more in depth information on each campaign on our website. If there is anything that you can't answer, pass on Viva!'s contact details and we can get back to them.
Have fun! These events bring lots of like minded people together and help to spread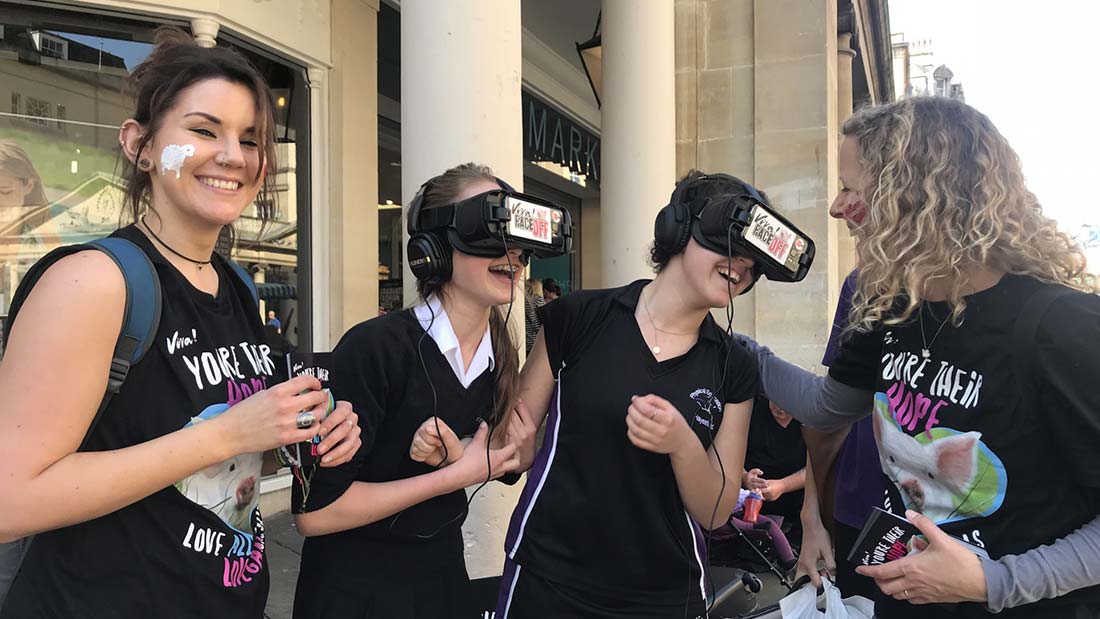 Scroll up