Dave and Lizzie's Walk For Hope
Newsflash:  Dave and Lizzie have announced that they have had to end their Walk for Hope a little bit early, due to injury. They had already completed 568 miles out of 750 – an amazing achievement!
Thank you to everyone who donated to Dave and Lizzie's amazing feat to raise money for Viva!'s lifesaving campaigns. They asked that everyone continues to support Viva! with a donation in recognition for what they achieved.
Before the accident, Dave and Lizzie joined us a vigil outside Hogwood Farm in Warwickshire. They were so inspired that they organised their own five day vigil with Warwickshire Animal Save, which has just been completed. They continue to be dedicated and much cherished supporters of our work and will be joining us for our Scary Dairy Week of Action!

The Story
On 1 June 2017, Dave Lewis and Lizzie Riordan set off on an epic three month 750 mile walk across the UK to raise awareness of the plight of animals in factory farms and slaughter houses across the UK; and to raise funds for Viva!'s campaigns that investigate cruelty, expose industrial farming and inspire people to take action.
And, as if a gruelling 750 miles isn't enough, Dave has a broken back and was doing the whole walk on crutches!
Dave and Lizzie heard about Viva! rescuing the mother pig, Hope Apple Blossom, and her six babies from slaughter, who are now safe for life at Dean Farm Sanctuary. They also watched Viva!'s Face Off investigations of British pig farms and wanted to help us stop the cruelty. Lizzie only went vegan five months ago – no slow transition but more a eureka moment after chatting to her friend at a party. She asked him what was his secret to being so full of energy and he replied "I'm vegan!" Lizzie told us: "As soon as I became aware of what happened inside factory farms and slaughterhouses across the UK, something changed inside me. I saw the dark side of humanity, and I knew I could no longer be a part of it. Thank goodness Hope and her piglets have been liberated but her brothers and sisters continue to suffer. I am proud to be supporting Viva! in their quest to expose the cruelty and suffering endemic in our food system.  It really doesn't have to be like this."
Dave told us: "I am doing this walk to raise awareness of the pain, misery and suffering that is inflicted on countless innocent beings that directly results from people choosing to eat animals.  Hope and her young family are very fortunate to have been rescued from a life of incarceration that can only be described as hell on earth.  Whilst her brothers and sisters continue to endure the terrible things that human beings inflict on them in the name of taste I will continue to fight for their liberation.  I am thrilled to be supporting Viva! in their efforts to raise awareness of the dreadful conditions that are the norm in factory farms across the land."
The Route
The walk began in Bodmin, Cornwall and the plan was to finish in London. Along the way they visited a number of the UK's Save groups.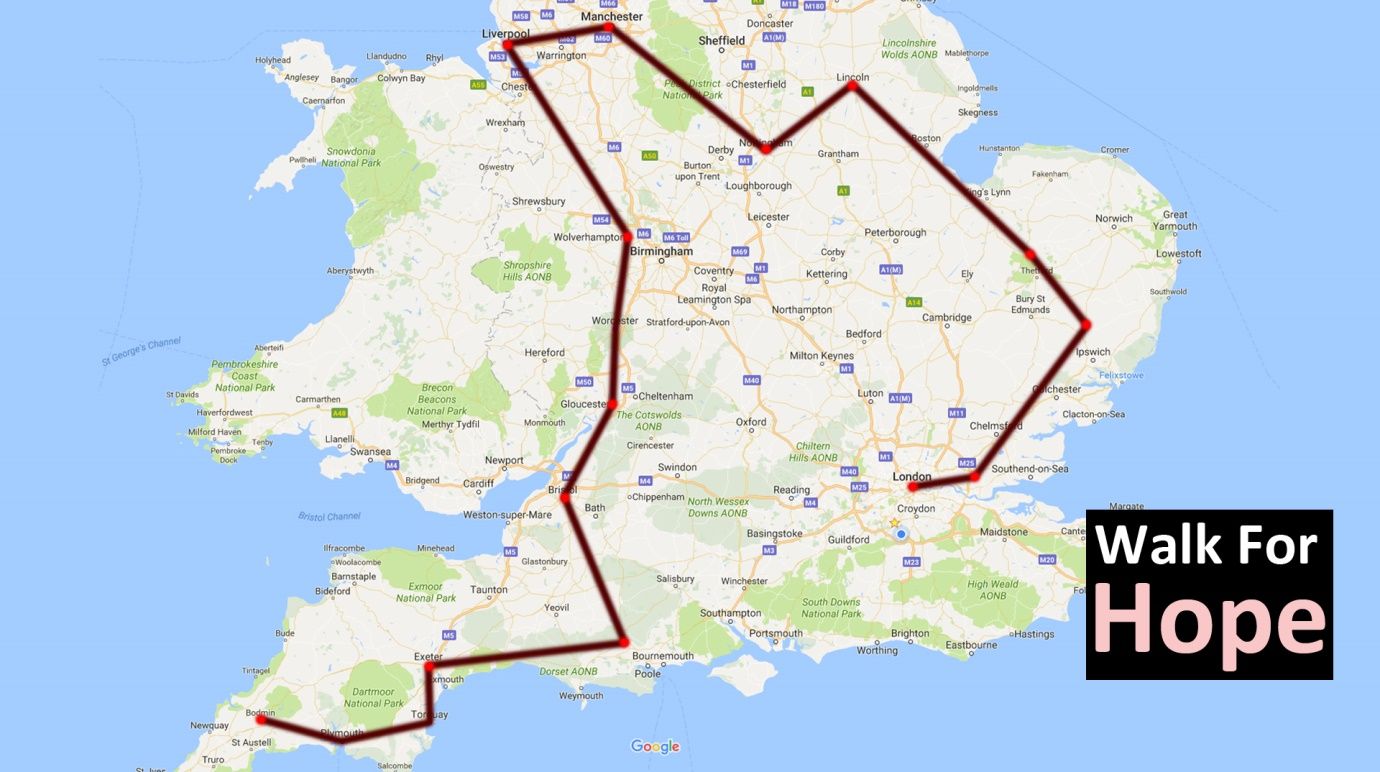 Dave and Lizzie embarked on this colossal journey with no training and are settled (if that's the right word!) at about 15 miles a day. They are very lovely, bright, humorous people (they needed to be!) and have been overwhelmed by people's generosity at putting them up en route and walking with them for sections.
Please donate to Viva! to support what Dave and Lizzie achieved and raise funds for Viva!'s campaigns to give animals hope.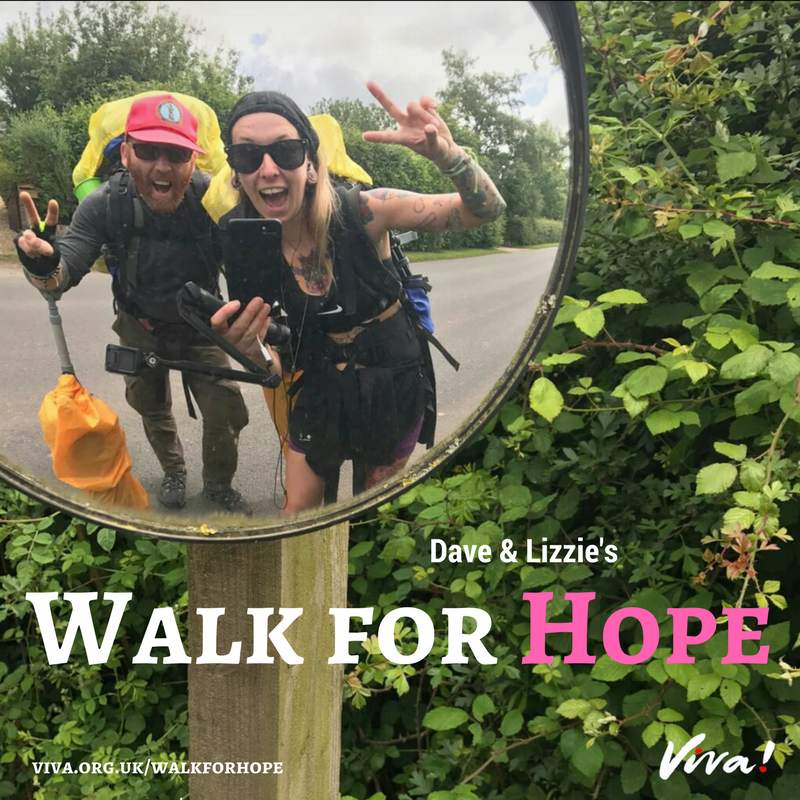 Scroll up