Success! Thanks to your support, we raised £41,239!
This crowdfunding campaign has now ended.
Gaynor Jalowiecki – £5
We need to all pull together to make sure this is shown. Such an important opportunity.
Dawn Darling – £10
Amazing! Go Viva!
Naomi Andrews – £10
Great that we can do something small to potentially make a huge difference for the cause!
Paul Hughes – £5
Thank you Viva! for bringing this message of compassion for other living beings to a mass audience.
This Christmas, we are doing something radical. We're raising funds to broadcast our first vegan TV advert, 'Takeaway the Meat', on Channel 4. 
Last month, we successfully fundraised enough money to create and produce the advert. We were overwhelmed with the response from our supporters and want to say a huge thank you to everyone who donated. This wouldn't have been possible without you.
Working with a top film production company has enabled us to create a high-quality TV advert, which will capture the attention of everyone who sees it.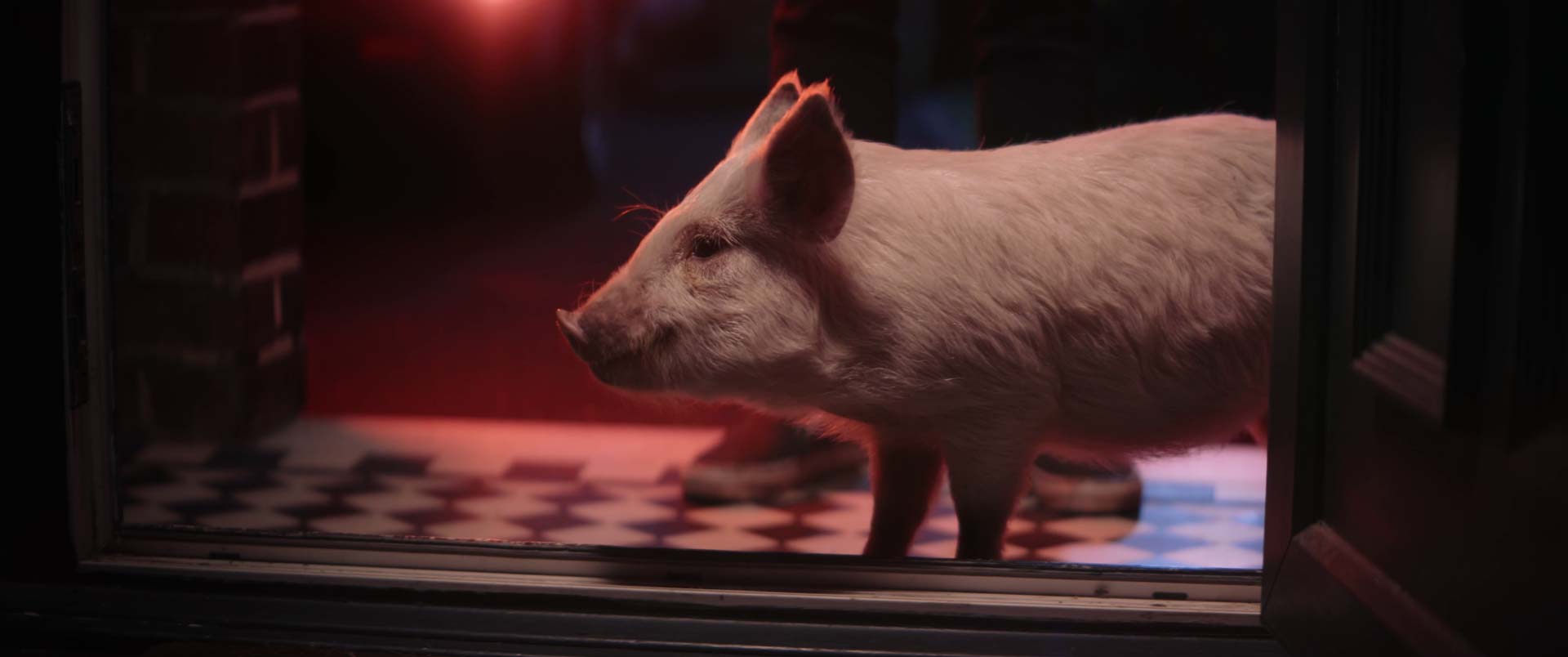 What is the advert?
Viva!'s new TV advert follows the journey of an everyday meat-eating couple as they decide which takeaway meal to order. Snuggled up on their sofa, with their beloved dog, they choose pulled pork from the food delivery app 'Just Meat'.
Hungry in anticipation of their meaty meal, the couple race to the door when the delivery driver rings the bell. Upon opening the door, the couple are shocked to find an adorable little piglet on their doorstep and the delivery driver brandishing a butcher's knife announcing: "Just Meat, delivered fresh to your door." Gob-smacked and confused, the couple don't know what to do. Surely, they won't kill the cute little piggy?
The advert encourages the public to make the connection between the animals they choose to keep as companions and the ones that are destined for their dinner table. Viewers are invited to consider the morality of eating meat, helping them to make the connection between animals and food. The solution? Try vegan of course!
The advert will be broadcast just before Valentine's Day on Channel 4 and its associated networks.
What next?
Now we have created the TV advert, we are launching this crowdfunder to cover broadcasting costs so the advert can be aired on Channel 4 and its associated networks. This will help us to realise the critical part of creating an advert: getting it aired on national television, where we can reach millions of people!
We are aiming to raise £40,000 which will allow us to reach over 4 million people. Viva! has also secured match-funding from a generous donor, which will take the total to £80,000 and allow us to reach a whopping 8 million people…. but there's more! We have also secured an additional grant from Channel 4 which will double the total again to £160,000, enabling the TV advert to then be shared with a staggering 16 million viewers!
£40,000 raised will become £160,000
Now is the time to be a part of this incredible opportunity to reach millions of meat reducers; TV advertising is the best way for us to do this
Like you, we want everyone to go vegan. That is why we need you to help us deliver this advert at a time when people need to hear this message the most.
Please help us takeaway the meat and donate to the campaign today!
Founder and director of Viva!, Juliet Gellatley, explains the significance of this campaign:
"To be a catalyst for change we recognise that we must stay ahead of the curve with our messaging, to have the biggest impact and reach as many people as possible. By broadcasting our first ever vegan TV advert on mainstream television, we're hopeful we can give veganism the airtime it needs!

"Our crowdfunding aim is to reach £40,000. Once we reach this a generous donor has agreed to match-fund, taking the total to a whopping £80,000! Channel 4 has also offered Viva! a grant which will double this total again, allowing us to reach a staggering 16 million viewers.

"Most people in the UK despise cruelty to animals, yet simply don't make the connection between animal cruelty and what is on their plate. If we can encourage people to think about what they consume, at a time when delicious vegan alternatives are widely available, we can play a part – on a national scale – in helping to change mindsets and save animals.

"In addition to the shocking brutality forced upon animals farmed for food, the animal agriculture industry is wreaking havoc across our planet. It is the leading driver of wildlife loss and releases more greenhouse gases than the entire world's transport sector.

"With delicious vegan alternatives widely available, there has never been an easier, tastier or more important time to go vegan."
Premium rewards for supporters who donate the following:
| | |
| --- | --- |
| £1000+ | Visit to the beautiful Dean Farm Animal Sanctuary, Chepstow, along with Viva!'s founder & director and campaigns manager (subject to your availability for given dates). |
| £3000+ | Visit to the stunning Dean Farm Animal Sanctuary, Chepstow, plus a meal with Viva! founder & director, Comms Manager and Campaigns Manager (subject to your availability for given dates). |
We've hit our target!
7 Jan 2022
We've done it! We are officially over the £40,000 which means we have hit our target. Thank you to everyone who donated to this campaign or helped spread the word.
With a few days left of the campaign still, can you help us push toward £50,000? The more we raise, the longer we can air our ad, and the more people we will reach! Please donate or share this campaign today if you haven't already. Thank you!
Conor
Crowdfunding Team, Viva!
---
We're so close to hitting our target!
6 Jan 2022
What a start to the year! We are within touching distance of our £40,000 target and we still have over 4 days to go until our crowdfunder comes to an end.
This is an incredible opportunity to reach millions of people with our vegan message on mainstream TV. Please help us smash our target by donating or sharing our campaign today – the more we raise, the more people we can reach!
Conor
Crowdfunding Team, Viva!
---

16 Dec 2021
That's right! We have now raised over £20,000 meaning we're over halfway to reaching our target – this is close! Please, keep driving this so we can reach millions of people with our vegan message!
We'll make it, I swear!
Conor
Crowdfunding Team, Viva!
---
We've reached our first target!
6 Dec 2021
We're over £10K, which means we've reached our first target and we are one step closer to reaching our goal. Thank you to everyone who has donated so far. Please share this campaign on your socials and help us reach our next milestone of £15K!
Conor
Crowdfunding Team, Viva!
---
Already over £5K!
1 Dec 2021
So far, so good! We raised over £4K within hours of going live and, at the time of writing, are well on our way to £6K. Thank you so much to more than 200 of you who have donated so far.
We still have a long way to go until our vegan message can be seen by millions of people. Please, if you haven't already, and can, donate today and share this campaign with your friends and family. Let's reach £10K by the end of the week! We can do this, but not without your support and generosity.
Thank you so much for all that you do.
Conor
Crowdfunding Team, Viva!
---
We've launched!
30 Nov 2021
Here it is – our new crowdfunding campaign to fund the broadcasting of Takeaway the Meat, one of the UK's first ever vegan TV adverts. We're so excited to share this campaign with you. It's going to be huge, and we're so glad you can join us. Let's veganise the UK.
If you have any questions, take a look at our FAQs or email us at info@viva.org.uk!
Conor
Crowdfunding Team, Viva!
Where exactly will my money go?
We will use all funds raised to broadcast the ad nationwide on Channel 4 and its associated platforms. We will only use the funds for this purpose.
How is this fundraising regulated?
Fundraising is regulated by the Fundraising Regulator – an independent, non-statutory body that regulates fundraising across the charitable sector in England, Wales and Northern Ireland.
We also comply with the Commission's guidance on charity fundraising which sets out 6 principles to help comply with legal duties.
You can find out more information here: Fundraising legally and responsibly – GOV.UK (www.gov.uk)
What happens if you don't meet your target?
Any funds raised will go towards ensuring we can air our advert on Channel 4 and its associated networks. If we don't meet our target of £40,000 it simply means that we will air the TV Ad to a reduced audience size.
Here is a full breakdown of the numbers we can reach for the different amounts raised.
| | |
| --- | --- |
| Total Raised | Number of People Reached |
| £40,000 | 4.1 million |
| £80,000 | 8.2 million |
| £160,000 | 16.4 million |

What happens if you exceed your target?
The same applies – if we exceed our target, we will have more scope to reach higher audience numbers!
How long will the ad run for?
That depends on how much we raise. If we reach our target, the advert will be aired for two weeks across Channel 4 and associated networks.
Which channels will it air on?
Channel 4 and a selection of its associated networks which includes E4, More 4, 4Music Channels, HGTV, Eden, Dave, Really, W, All 4 on demand player. Full channel list to be confirmed.
How do the match-funding and grant work?
An anonymous donor has kindly agreed to match fund the total we raise from this crowdfunder, up to a total of £40,000. Simply, if we raise £40,000, they will donate £40,000 bringing our total up to £80,000. As part of their Greenhouse fund, Channel 4 have also agreed to match our final total. £80,000 will mean we receive £160,000!
Any funds we raise will essentially be quadrupled!
When will the ad air? What time will it be on?
The ad will air in February 2022. The times are yet to be determined.
Thank you to everyone who donated! The names of our supporters will be updated here each day.
| | | |
| --- | --- | --- |
| Name | Amount | Message |
| Anonymous | £50 | |
| Liz Bielok | £10 | No matter how much you can afford to donate it all helps. Let's get the message of caring for all animals to as many people as possible. If only 1% of those who see the advert go vegan (or even vegetarian) then what a success it will be. |
| Anonymous | £10 | |
| Anonymous | £20 | |
| Anonymous | £100 | |
| Susan Buckley | £10 | |
| Maria Mcmahon | £25 | You people at viva do the real work donating is the least I could do thank you for your hard work |
| Anonymous | £10 | |
| Anonymous | £10 | |
| Jackie Webley | £10 | |
| Anonymous | £25 | |
| Antonia Omirou | £10 | We will win this! |
| Anonymous | £25 | |
| Anonymous | £10 | |
| Anonymous | £5 | |
| Anonymous | £25 | |
| Anonymous | £50 | |
| Anonymous | £5 | |
| Tasvi Shah | £100 | Amazing!! Good luck |
| lilian dell | £25 | Support Team for the animals – the animal charity I trust the most. |
| Anonymous | £50 | |
| Anonymous | £25 | |
| Anonymous | £15 | |
| Anonymous | £50 | |
| Anonymous | £20 | |
| paul hughes | £5 | Thank you Viva! for bringing this message of compassion for other living beings to a mass audience. |
| Anonymous | £50 | |
| Anonymous | £20 | |
| Anonymous | £20 | |
| Anonymous | £25 | |
| Anonymous | £5 | |
| Anonymous | £20 | |
| Anonymous | £10 | |
| Anonymous | £25 | |
| Aisha Perrott | £10 | Well done guys! |
| Anonymous | £25 | |
| Alison Storer | £10 | |
| Anonymous | £10 | |
| Elaine Willingham | £20 | |
| Simon Jenkins | £10 | |
| Anonymous | £10 | |
| Anonymous | £5 | |
| Claire Hunt | £5 | |
| Anonymous | £25 | |
| Anonymous | £10 | |
| Anonymous | £500 | |
| Anonymous | £10 | |
| Lorna Spencer | £10 | For your health, your children and the planet |
| Anonymous | £25 | |
| Naomi Andrews | £10 | Great that we can do something small to potentially make a huge difference for the cause! |
| Pat Smith | £10 | |
| Anonymous | £15 | |
| Lucy Perkins | £10 | Very powerful message which should hit home |
| Anonymous | £20 | |
| Gaynor Jalowiecki | £25 | We need to all pull together to make sure this is shown. Such an important opportunity. |
| Anonymous | £25 | |
| Anonymous | £10 | |
| Virginia Bell | £10 | |
| Dixe Wills | £20 | |
| Anonymous | £25 | |
| Richard Ross | £100 | A great idea! |
| Anonymous | £25 | |
| Anonymous | £10 | |
| Dawn Darling | £10 | Amazing! Go Viva! |
| Julie Flook | £5 | |
| Anonymous | £25 | |
| Anonymous | £5 | |
| Jana Reinhardt | £25 | Thank you viva for continuing to fight for animals |
| Anonymous | £50 | |
| Anonymous | £25 | |
| Terence boldero | £10 | Please help spread the message of love for all animals. Because all animals deserve love! |
| Anonymous | £5 | |
| Anonymous | £25 | |
| Anonymous | £10 | |
| Julie Williams | £25 | |
| Ray Valentine | £10 | |
| Anonymous | £25 | |
| Anonymous | £5 | |
| Anonymous | £25 | |
| Anonymous | £10 | |
| Anonymous | £25 | |
| Anonymous | £40 | |
| Clare Rooney | £5 | |
| Susan Butler | £10 | |
| Anonymous | £10 | |
| Anonymous | £100 | |
| Anonymous | £100 | |
| Anonymous | £10 | |
| Cornel Simons | £5 | |
| George Bray | £5 | If the world knew how animals are treated from birth to the slaughterhouse millions would be vegan already. Be kind, always! |
| Anonymous | £10 | |
| Anonymous | £20 | |
| Josh Morris | £6 | Great work viva and Fantastic work from channel 4 |
| Anonymous | £8 | |
| Barbara Slaska | £50 | Animals suffer pain and terror just as we do. |
| Anonymous | £25 | |
| Gemma Annan | £10 | |
| Lina Alvare | £5 | |
| Anonymous | £5 | |
| Anonymous | £25 | |
| Anonymous | £25 | |
| Anonymous | £5 | |
| Anonymous | £25 | |
| Anonymous | £10 | |
| Selena Gaunt | £25 | |
| Anonymous | £22 | |
| Anonymous | £5 | |
| Steven Yorke | £10 | Great work! |
| Callum Rose | £20 | Horrible advert, good work 😉 |
| Iris Fuchs | £10 | Would you be ok if your dog or cat is abused and slaughtered? Pigs have feelings no less |
| Anonymous | £5 | |
| Anonymous | £5 | |
| Deborah Dodd | £10 | |
| Anonymous | £25 | |
| Anonymous | £25 | |
| Anonymous | £5 | |
| Anonymous | £10 | |
| Anonymous | £10 | |
| Anonymous | £10 | |
| Anonymous | £10 | |
| Steve Bradbury | £100 | For the animals. |
| Anonymous | £5 | |
| Anonymous | £5 | |
| Joanna Gerken | £10 | |
| emlyn busby | £3 | |
| Anonymous | £5 | |
| Anonymous | £50 | |
| Anonymous | £25 | |
| Anonymous | £10 | |
| Anonymous | £25 | |
| Jane Coomby | £10 | |
| Anonymous | £50 | |
| Anonymous | £5 | |
| Anonymous | £40 | |
| Anonymous | £20 | |
| Anonymous | £10 | |
| Anonymous | £5 | |
| Anonymous | £10 | |
| Michelle Hayward | £25 | |
| Anonymous | £10 | |
| Anonymous | £50 | |
| Anonymous | £10 | |
| Anonymous | £10 | |
| Carmine McLean | £5 | |
| Anonymous | £5 | |
| Valerie Crawford | £50 | |
| Rosemarie Richardson | £25 | Reduce exploitative land use – go vegan ! |
| Sarah Carrs | £10 | I have just donated to VIVA for this amazing advert!! |
| Anonymous | £10 | |
| Anonymous | £10 | |
| Sally Miles | £10 | |
| Mark Baker | £10 | |
| Graeme Smith | £5 | Every little helps,my donation is small but if every supporter who's able did so it would make such a difference |
| Anonymous | £25 | |
| Anonymous | £50 | |
| Anonymous | £100 | |
| Anonymous | £25 | |
| Anonymous | £25 | |
| Anonymous | £25 | |
| Anonymous | £10 | |
| Anonymous | £25 | |
| Anonymous | £25 | |
| Anonymous | £5 | |
| Anonymous | £25 | |
| Anonymous | £25 | |
| Frank Winfield | £10 | Please support this appeal |
| Anonymous | £10 | |
| Anonymous | £25 | |
| Anonymous | £5 | |
| Anonymous | £25 | |
| Anonymous | £25 | |
| Paul Kent | £25 | Our animal friends need a voice, let's give them a loud one. |
| Dominique Fokkens | £25 | |
| Sarah Warren | £10 | |
| Anonymous | £25 | |
| Raj Sahota | £100 | As people tuck into meat millions of poor defenseless animals are abducted in appalling conditions and brutally murdered in fear unimaginable. Stop eating meat. You would not eat your cat or dog or horse, so just change your heart and mind. |
| Thomas Warburton | £25 | Go for it!! Get the messages out to people about what they are really eating and how it gets to them. |
| Anonymous | £5 | |
| Anonymous | £15 | |
| Anonymous | £15 | |
| Rachael Milton-Parry | £50 | Go Vegan peeps, its the only way! And easier than what you think! Bring on the Veg! |
| Anonymous | £20 | |
| Malcolm Sutton | £20 | |
| Anita Dar | £10 | |
| Anonymous | £20 | |
| Anonymous | £10 | |
| Trish Matthews | £5 | |
| Nicola Algar | £20 | It sickens me to think of the sheer terror and pain these poor animals must go through and none of it is necessary. Please help, GO VEGAN NOW! |
| Kate Strong | £50 | Powerful. Thank you viva! |
| Anonymous | £5 | |
| Anonymous | £50 | |
| Anonymous | £50 | |
| Anonymous | £10 | |
| Viv Johnson | £5 | |
| Stella Goddard | £25 | Hope the message gets through that if it's not something you would do yourself, why expect others to do it for you? Stop killing animals, have a heart and go vegan! |
| Anonymous | £5 | |
| Anonymous | £25 | |
| Anonymous | £10 | |
| Anonymous | £25 | |
| Anonymous | £5 | |
| Anonymous | £25 | |
| Anonymous | £3 | |
| Anonymous | £10 | |
| Si O'Connor | £10 | |
| DG Owen | £5 | Great idea! |
| Marta Dennison | £5 | Great advert. Hope it makes it to national tv |
| Anonymous | £10 | |
| Tim Styles | £10 | |
| Anonymous | £5 | |
| Judith Martin | £25 | |
| Abby-lee Rees | £5 | |
| Adrienne Cartledge | £5 | It's about time the sheeple stopped being brainwashed by usual adverts and started being told the truth. |
| Anonymous | £5 | |
| Anonymous | £10 | |
| Jean Morris | £10 | I want to live in a world where humans stop exploiting and abusing animal beings |
| allan grote | £25 | |
| Anonymous | £50 | |
| Anonymous | £5 | |
| Anonymous | £25 | |
| Anonymous | £5 | |
| Anonymous | £10 | |
| Sara Still | £10 | |
| Tara Clarkr | £5 | |
| Anonymous | £10 | |
| June Bryant | £15 | This advert will certainly get people thinking. Hopefully many lives will be saved |
| Anonymous | £25 | |
| Nicola Riley | £20 | I hope with everything in me that this ad strikes a chord with all that see it. |
| Maureen (Mo) Dawson | £10 | |
| Anonymous | £25 | |
| Thibault Drevon | £10 | Help the piggies for Christmas. |
| Anonymous | £10 | |
| Martin Fraser | £10 | Be Kind |
| Anonymous | £10 | |
| Jazz Wardle | £25 | go vegan |
| David Walker | £100 | Good luck |
| Emily Mast | £5 | Everyone should connect their food to where it comes from and at what cost. |
| Anonymous | £20 | |
| Nick Kelly | £25 | Great work Viva! |
| Barry Hodson | £100 | |
| Anonymous | £5 | |
| Marcus Caisey | £25 | I thought this ad was going to be longer but it really is so simple. Most people are so disconnected from where their food comes and hypocritical about how they treat different types of animals (pets vs farmed) |
| Anonymous | £25 | |
| Dawn Gardiner | £5 | |
| Anonymous | £10 | |
| Fiona Russell | £25 | |
| Anonymous | £25 | |
| Anonymous | £10 | |
| naomi spencer | £100 | Please donate what you can – the chance to have your donation quadrupled is too good to miss, and let's help make this Christmas a happier one for billions of living creatures by leaving them off the menu. |
| Mark Gregory | £10 | |
| James Hooper | £20 | |
| Anonymous | £20 | |
| Celia Forsyth | £5 | Well done Viva |
| Anonymous | £5 | |
| Anonymous | £20 | |
| Mehmoona Gul | £10 | For the animals. |
| Anonymous | £10 | |
| Anonymous | £20 | |
| Peter Cheshire | £25 | Go for it, let's make this happen, every £1 helps |
| Tabitha Mayall | £150 | |
| Peter Cheshire | £25 | Let's make this happen, if you can only afford £1 please donate it. |
| Anonymous | £20 | |
| Anonymous | £10 | |
| Anonymous | £25 | |
| Anonymous | £5 | |
| Anonymous | £5 | |
| Laura-Jayne Ireton | £5 | |
| Claire Fittes | £10 | |
| Mick Bahler | £1000 | So excited about this |
| Anonymous | £10 | |
| marguerita johnson | £25 | help to make the animals live better lives |
| Anonymous | £5 | |
| Christopher Gunn | £200 | Grateful to be able to contribute to this amazing advert |
| Anonymous | £50 | |
| Anonymous | £25 | |
| Anonymous | £25 | |
| Anonymous | £5 | |
| Anonymous | £5 | |
| Anonymous | £100 | |
| Anonymous | £25 | |
| Anonymous | £5 | |
| Anonymous | £20 | |
| Michelle Baena | £50 | I want to educate people on the truth. Please, stop listen, watch. |
| Anonymous | £5 | |
| Anonymous | £10 | |
| Anonymous | £100 | |
| Anonymous | £25 | |
| Anonymous | £5 | |
| Lucy Mcnamee | £10 | Positive actions add up… 🙂 |
| James Lammyman | £10 | |
| Anonymous | £10 | |
| Valentino Stamerra | £25 | I don't have a lot of money but the animals in these prisons don't even have freedom. I will contribute what little I have so that we can come closer to a vegan world. |
| Anonymous | £10 | |
| Julia Turner | £25 | We don't need to eat meat so let's just stop! |
| Margaret Howard | £10 | |
| Anonymous | £20 | |
| Anonymous | £20 | |
| Anonymous | £50 | |
| Anonymous | £10 | |
| Anonymous | £100 | |
| Siemon Dijkstra | £20 | |
| Jo Paul Amit | £100 | Millions of people absolutely must watch this. It's incredible! |
| Anonymous | £5 | |
| Pauline Hammond | £25 | This ad promoting veganism is by far the best and out to reach a larger audience than anything we could have ever done handing out leaflets on the streets. Well done Viva . |
| Anonymous | £25 | |
| Krisztina Belafalvy | £25 | |
| Julie West | £10 | |
| Gregor Macgregor | £10 | Viva always do the right thing. |
| Lynda Dobson | £20 | So many people cannot make the connection between pet animals and the ones killed for food; they need it spelling out for them and Viva! is prepared to do this. |
| Mandy Bell | £5 | Great work, Viva! |
| Anonymous | £15 | |
| Anonymous | £25 | |
| Anonymous | £10 | |
| Anonymous | £5 | |
| Anonymous | £5 | |
| Anonymous | £25 | |
| Anonymous | £10 | |
| Michael Pattinson | £10 | This is such a good cause |
| Anonymous | £10 | |
| Anonymous | £50 | |
| Anonymous | £10 | |
| Anonymous | £25 | |
| mark ord | £10 | |
| Anonymous | £5 | |
| Jacqui Jones | £10 | Fantastic! The advert conveys an important ethical message in ways that are compelling and relatable. |
| Anonymous | £50 | |
| Anonymous | £50 | |
| Anonymous | £5 | |
| Zoe Edden | £20 | |
| Anonymous | £3 | |
| Anonymous | £25 | |
| Carrie Sumner | £20 | Goodwill for ALL, don't eat animals at Christmas or any other time |
| Mandy Cotter | £10 | Every person who chooses plant based helps animals and the planet. |
| pauline hodson | £20 | £20 gets Viva £80 |
| Anonymous | £5 | |
| Louise Green | £10 | |
| Anonymous | £25 | |
| annette bishop | £25 | Please support this fantastic advert |
| Karen Ashdown | £5 | I love animals – I don't eat them. I support this fundraising to encourage more people to say this |
| Anonymous | £5 | |
| Olivia Caraian | £5 | |
| Anonymous | £5 | |
| Janice Pinnington | £10 | The advert says it all. If we had to kill the animals in order to eat meat we would all definately go VEGAN!! |
| Sue Barker | £100 | Lets make our vision of all people choosing to be vegan for the animals a reality. We can do this. |
| Thomas Larmour | £25 | Thumbs up, Viva! |
| Lynn Large | £5 | |
| Mary Anderson | £50 | Hoping you can reach this target & enable millions to be reached to make this move to veganism for the sake of the animals, the planet & human decency. |
| Ella Gilbert | £5 | This is all I can afford right now, but this needs to be shared with as many people as possible!! Plus, every little helps 🙂 |
| Ella Gilbert | £5 | This is all I can afford right now but this message needs to be heard, plus every little helps!! |
| arshad makhdum | £25 | Here is to a world without murder on a plate. |
| Liisa Markkanen | £3 | Have a heart this Christmas and please help Viva with this mammoth TV advert campaign! üíö'ô• |
| Anonymous | £15 | |
| Anonymous | £10 | |
| Anonymous | £5 | |
| Janette Fry | £50 | |
| Anonymous | £10 | |
| Kerry Thackaberry | £20 | |
| Annie Robinson | £5 | Please help to promote a more caring and compassionate world for all living creatures. Thank you Viva for all you do. |
| Satyam Patel | £25 | Let's do this! |
| Jacob Sanders | £20 | |
| Paul Crouch | £10 | |
| Anonymous | £20 | |
| Pauline Williams | £10 | |
| Deborah Kemp | £20 | Please donate to this fantastic cause |
| Laura Atkins | £25 | |
| Anonymous | £10 | |
| Anonymous | £10 | |
| Gina Pike | £10 | Great news |
| Anonymous | £10 | |
| Maureen Butterfield | £5 | |
| Anonymous | £10 | |
| Anonymous | £5 | |
| Tim Usher | £20 | |
| libi pedder | £20 | So proud of you Viva! |
| Anonymous | £5 | |
| Mark Musgrave | £20 | Go viva! Plant based is the future! |
| Pam Taylor | £10 | Food without death- go vegan! |
| Anonymous | £75 | |
| CHRIS BURTON | £30 | Thank you Viva! for the animals xxxx |
| Anonymous | £10 | |
| Anonymous | £10 | |
| Anonymous | £10 | |
| Anonymous | £10 | |
| Anonymous | £25 | |
| Anonymous | £5 | |
| Anonymous | £25 | |
| Anonymous | £25 | |
| Anonymous | £20 | |
| Anonymous | £5 | |
| Anonymous | £5 | |
| Anonymous | £10 | |
| Richard Hutchins | £25 | |
| Anonymous | £10 | |
| Robert Watts | £10 | |
| Jane Barker | £10 | |
| Stuart Lockwood | £100 | |
| Paul Boreham | £20 | |
| Peta Cole | £25 | I have no words. The livestock industry is disgusting! |
| Paul Holroyd | £10 | Up the vegans! |
| Anonymous | £20 | |
| Anonymous | £25 | |
| Anonymous | £5 | |
| Anonymous | £100 | |
| Esme Vincent | £20 | |
| Anonymous | £25 | |
| Anonymous | £20 | |
| Anonymous | £25 | |
| Anonymous | £25 | |
| Anonymous | £10 | |
| Anonymous | £25 | |
| Anonymous | £10 | |
| Anonymous | £5 | |
| Anonymous | £5 | |
| Charlotte Britton-Stevens | £5 | |
| Anonymous | £25 | |
| Anonymous | £50 | |
| Anonymous | £25 | |
| Anonymous | £5 | |
| Anonymous | £10 | |
| Anonymous | £25 | |
| Anonymous | £5 | |
| Anonymous | £25 | |
| Anonymous | £25 | |
| emma king | £10 | |
| Edward McDaid | £10 | Please consider veganism. |
| Anonymous | £100 | |
| Anonymous | £25 | |
| Josephine Lovinger | £50 | Why eat animals when you can have a much healthier diet by eating Plant Food – why do animals have to die for us? They don't! |
| Anonymous | £10 | |
| Ali Twigg | £20 | Vegan: for you, for the animals, for the planet. |
| Wendy Jones | £10 | I donate monthly too, every penny will help to end unimaginable suffering. Love you Viva. |
| Romina Accorroni | £25 | |
| Anonymous | £25 | |
| Vera Dumbleton | £10 | |
| Anonymous | £5 | |
| Anonymous | £20 | |
| Anonymous | £10 | |
| Stuart Bodgers | £25 | |
| Anonymous | £10 | |
| Robin Russell | £100 | |
| Peter Larke | £10 | Until people can see where their meal comes from they won'Äôt think about a change to a plant based diet. |
| Anonymous | £10 | |
| Katy Hudson | £20 | Please donate these adverts can help save animal lives. |
| Rachael Cann | £10 | |
| Anonymous | £5 | |
| Anonymous | £5 | |
| ME Dawson | £10 | The plight of animals must be advertised x |
| Anonymous | £10 | |
| Anonymous | £20 | |
| Jonathan Mallie | £11 | Good to see an advertisement promote animal welfare |
| Anonymous | £10 | |
| David Grimsell | £15 | People must make the connection between their purchases and the suffering and slaughter of farm animals. |
| Anonymous | £5 | |
| Paula Mankelow | £40 | Wishing you the best of luck to raise all the money needed! |
| Anonymous | £20 | |
| Anonymous | £100 | |
| Anonymous | £10 | |
| Anonymous | £10 | |
| Melanie Rowe | £10 | Let's spread the word far and wide – The future is Vegan. |
| Anonymous | £10 | |
| Anonymous | £15 | |
| Chris Dhondee | £10 | Go vegan everybody!!! |
| Anonymous | £33 | |
| Jenny McQueen | £50 | Time to go animal free! Awesome ad Viva! |
| Anonymous | £20 | |
| Renata Bartoli, PhD | £25 | Do the right thing. You don't eat a cat or a dog, so why another animal. We all feel joy and pain the same. |
| Anonymous | £50 | |
| Anonymous | £50 | |
| Anonymous | £20 | |
| Stephanie Greatorex | £5 | Love all of the amazing work that you do and love this advert. Let's get it out there!! No donation is ever too small if every supporter donates. |
| Anonymous | £10 | |
| Fran Hutcheon | £25 | |
| Anonymous | £10 | |
| STEPHEN WELBOURN | £3 | |
| Anonymous | £5 | |
| Anonymous | £5 | |
| Anonymous | £10 | |
| Anonymous | £10 | |
| Anonymous | £20 | |
| Anonymous | £20 | |
| Anonymous | £25 | |
| Anonymous | £10 | |
| Anonymous | £10 | |
| Anonymous | £10 | |
| Mike & Margaret Wingfield | £25 | It is time to think of your childrens future |
| Deborah Dalgleish | £10 | |
| Anonymous | £10 | |
| Anonymous | £5 | |
| maggi simpson | £10 | |
| Anonymous | £25 | |
| Anonymous | £25 | |
| Anonymous | £10 | |
| Anonymous | £10 | |
| Tell Cabrera | £10 | |
| Anonymous | £20 | |
| Anonymous | £10 | |
| Alfred Steed | £10 | Blessed to be part of this movement |
| Anonymous | £10 | |
| Anonymous | £10 | |
| Dorienne Robinson | £10 | |
| Anonymous | £25 | |
| Anonymous | £50 | |
| Anonymous | £50 | |
| Anonymous | £25 | |
| Debbie Andrews | £10 | We can all make a difference. |
| Anonymous | £25 | |
| Mehmoona Gul | £10 | For the animals |
| Anonymous | £5 | |
| Katy Poynter | £50 | Brilliant advert, I hope it makes people think a little more for their heart! Thank you for your important work! 🙂 |
| maggi simpson | £10 | |
| Gina Shaw | £10 | Brilliant advert. Good luck x |
| Hilary Hall | £20 | |
| Chris Aram | £10 | |
| John GRIFFITHS | £375 | |
| Anonymous | £10 | |
| Anonymous | £10 | |
| Anonymous | £5 | |
| Anonymous | £10 | |
| Owen Pl√ºnkett | £10 | This is a good cause. We need less people to eat meat |
| Joyce Wilson | £5 | |
| Joyce Wilson | £5 | |
| Anonymous | £15 | |
| Anonymous | £25 | |
| Anonymous | £20 | |
| Mac Glashan | £25 | |
| Claire Goody | £25 | Making people think about their choices and make a direct link between their food and the living breathing animal it came from is key. These kinds of ads should be mainstream knowing what we know about meat consumption and its impact on the planet. |
| Nathasja Engelstjerne | £25 | |
| Anonymous | £120 | |
| Anonymous | £100 | |
| Lyn Salter | £5 | Let put a stop to this vile cruelty to all these wonderful creatures. |
| Anonymous | £25 | |
| Anonymous | £10 | |
| Anonymous | £10 | |
| Anonymous | £50 | |
| David Chapman | £20 | |
| Anonymous | £25 | |
| Anonymous | £300 | |
| Anonymous | £10 | |
| UK Bearings Ltd. | £100 | Good work hope it helps to reduce animal slaughter and suffering – worldwide , Trevor: UKB |
| Gaynor Perkins | £25 | We absolutely have to wake up to treating animals as sentient beings and give them a decent life with access to fresh air, food, water and kindness – which includes us going vegetarian or vegan and sparing animals the suffering of being killed for meat. |
| Clare Wignall | £10 | Please help stop the killing of innocent sentient beings who want to live. Thank you. |
| Anonymous | £10 | |
| Carole Cowley | £50 | Meat is murder of innocent beings/babies!! Go vegan to put an end to this cruelty…now!! Thankyou xx |
| Carole Cowley | £50 | Meat is Murder of innocent beings/babies. Become vegan to get this evil stopped. Clear your conscience. |
| Anonymous | £10 | |
| Anonymous | £600 | |
| Anonymous | £1000 | |
| Troy Cabrera | £25 | |
| Anonymous | £10 | |
| Joanne Dynan | £10 | Good luck. For the animals. |
| Josephine Lovinger | £50 | |
| Jane R | £10 | |
| Anonymous | £10 | |
| Anonymous | £25 | |
| Bronwyn Slater | £50 | |
| Anonymous | £10 | |
| Anonymous | £10 | |
| Eleri Ware | £10 | |
| Anonymous | £25 | |
| George Placidly-Cox | £200 | In gratitude to VIVA! George and Lizzie, 14 Gifts – Gloucester. |
| Anonymous | £20 | |
| Susan Garnett | £25 | |
| Ian Harbour | £10 | All life is precious. Go Vegan! |
| Anonymous | £25 | |
| Isobel Wallington | £25 | This would be truly amazing. Go vegan! |
| Anonymous | £5 | |
| Anonymous | £10 | |
| Anonymous | £20 | |
| Anonymous | £20 | |
| Anonymous | £5 | |
| Louise and Ronnie | £100 | Great ad. No doubt that a lot of people will go vegan because of this. |
| Anonymous | £25 | |
| Anonymous | £10 | |
| John Gatehouse | £15 | All life is precious. Go vegan. And save this beautiful planet. |
| Martin Barlow | £740 | |
| Anonymous | £5 | |
| Helen Blackburn | £5 | Go vegan for the animals. We don't need to kill to eat well. |
| Tim Messom | £5 | No brainer. Animals and planet. Come on. |
| Anonymous | £10 | |
| John Gullick | £100 | |
| Anonymous | £10 | |
| Liv Sissons | £10 | |
| Anonymous | £25 | |
| Mary Cowan | £5 | |
| Peter Kruk | £5 | |
| Anonymous | £10 | |
| Anonymous | £5 | |
| Donna Lewis | £5 | |
| Anonymous | £5 | |
| Rebecca Nushi | £50 | Please donate now! Congrats to Viva – the advert is fab xxx |
| Anonymous | £740 | |
| Anonymous | £100 | |
| Samantha Fairley | £25 | Viva la vegan revolution! |
| Anonymous | £3 | |
| Anonymous | £5 | |
| Anonymous | £10 | |
| Philip Buckley | £10 | |
| Anonymous | £10 | |
| Anonymous | £10 | |
| Anonymous | £10 | |
| Anonymous | £25 | |
| Lakhbir Kaur | £5 | |
| Anonymous | £10 | |
| Anonymous | £10 | |
| Anonymous | £10 | |
| Anonymous | £20 | |
| Anonymous | £25 | |
| Anonymous | £5 | |
| George Barker | £20 | Help stop this carnage now. Give all animals a merry Christmas and peaceful new year. Ditch the meat. |
| Anonymous | £1000 | |
| Anonymous | £25 | |
| Anonymous | £50 | |
| Anonymous | £25 | |
| David Bethell | £25 | |
| Denise Long | £20 | This is a real opportunity to reach thousands of people who may never have given a thought to what the meat on their plate signifies |
| Bernard Thomas | £5 | |
| Anonymous | £20 | |
| Sally Williams | £25 | |
| Anonymous | £20 | |
| Anonymous | £10 | |
| Anonymous | £10 | |
| Anonymous | £10 | |
| Joy Morris | £25 | |
| Anonymous | £10 | |
| Anonymous | £25 | |
| Anonymous | £10 | |
| Anonymous | £5 | |
| Anonymous | £25 | |
| Anonymous | £5 | |
| phil simons | £10 | Together, lets make a difference |
| Anonymous | £15 | |
| Anonymous | £10 | |
| Anonymous | £5 | |
| Stephanie McCarthy | £10 | |
| Anonymous | £10 | |
| Charlie Kinsella | £5 | |
| Anonymous | £10 | |
| Anonymous | £3720.72 | |
| Pauline Williams | £10 | |
| Sally Taylor | £10 | |
| Anonymous | £5 | |
| Anonymous | £20 | |
| Anonymous | £10 | |
| Anonymous | £5 | |
| Anonymous | £100 | |
| Debbie Andrews | £20 | It would be great to get the advert on TV. |
| Charlie Kinsella | £95 | |
| Anonymous | £5 | |
| Anonymous | £25 | |
| Anonymous | £25 | |
| Anonymous | £10 | |
| Bob Walker | £10 | |
| Sharon Squire | £50 | Spreading the message far and wide x |
| Anonymous | £200 | |
| Anonymous | £25 | |
| jane Lillie | £25 | Very few people actually want to harm or kill animals, they just pay other people to do it for them. If everyone had to kill and butcher their own meat, more people would be vegan. |
| Anonymous | £50 | |
| Anonymous | £5 | |
| mark gillono | £75 | "In violent crimes committed publicly, there are three roles acted out: that of the perpetrator, that of the victim, and that of the bystander. It is well known that perpetrators hope bystanders will be silent and look the other way so they can successfully continue their hurtful actions, and that victims hope the bystanders will speak up, act, get involved, and do something to stop or discourage perpetrators from their harmful actions. With regard to eating animal foods, there are many perpetrators and victims and just a few bystanders. The perpetrators always encourage each other and regard the bystanders with suspicion and hostility, and the victims' voices cannot be heard. We, the bystanders, must encourage each other to speak up."-Will Tuttle |
| Anonymous | £5 | |
| Anonymous | £10 | |
| Yvonne Fisher | £5 | Animals are sentient beings. Let'Äôs have compassion for ALL living creatures. |
| Anonymous | £5 | |
| Anonymous | £10 | |
| Anonymous | £5 | |
| Lynn Fox | £20 | Please think of what you are eating |
| Anonymous | £10 | |
| Anonymous | £25 | |
| Anonymous | £5 | |
| Anonymous | £20 | |
| Anonymous | £5 | |
| Anonymous | £10 | |
| Susan Hughes | £25 | Please keep donating. The world needs to see this advert. |
| Anonymous | £20 | |
| Anonymous | £25 | |
| Andy and Sue Watson | £5 | Viva la Viva |
| Anonymous | £10 | |
| Anonymous | £10 | |
| Anonymous | £10 | |
| Victoria Hatch | £10 | |
| Cheryl Moore | £5 | A must see for every non-vegan. Maybe then they will see the connection |
| Anonymous | £5 | |
| David Rainford | £5 | |
| Anonymous | £10 | |
| Anonymous | £25 | |
| Lindsay Fleetwood | £10 | Great Ad, well done |
| Anonymous | £5 | |
| Neil &Karen Cussons | £20 | Please donate and stop this barbaric cruelty now! |
| Anonymous | £20 | |
| Anonymous | £25 | |
| Lydia Kirk | £10 | |
| Robert Clarke | £25 | |
| Anonymous | £25 | |
| Martyn Ford | £10 | |
| Anonymous | £100 | |
| Anonymous | £20 | |
| Gary Beeston | £25 | Thank you Viva for speaking up for the voiceless. Keep up the great work and hopefully one day we'll live in a world where animals aren't exploited. |
| Richard Bucknell | £120 | Great advert, really hope the message gets across |
| Anonymous | £10 | |
| Anonymous | £50 | |
| NINA CRANE | £10 | Some people don't give a toss about animals so will never change but some just need to be reminded that it's a living, sentient creature just like their pets. |
| Anonymous | £25 | |
| Anonymous | £10 | |
| Sarah Warren | £10 | |
| Anonymous | £50 | |
| Karen Hamilton | £20 | Let's open everyone's eyes to the truth and save lives |
| Anonymous | £10 | |
| Anonymous | £5 | |
| Anonymous | £30 | |
| Anonymous | £20 | |
| Anonymous | £25 | |
| Anonymous | £40 | |
| Amanda Lovell | £15 | Have a cruelty free Christmas! |
| Anonymous | £3 | |
| Anonymous | £25 | |
| Martyn Ford | £10 | |
| Anonymous | £100 | |
| Anonymous | £20 | |
| Gary Beeston | £25 | Thank you Viva for speaking up for the voiceless. Keep up the great work and hopefully one day we'Äôll live in a world where animals aren'Äôt exploited. |
| Richard Bucknell | £120 | Great advert, really hope the message gets across |
| Anonymous | £10 | |
| Anonymous | £50 | |
| NINA CRANE | £10 | Some people don't give a toss about animals so will never change but some just need to be reminded that it's a living, sentient creature just like their pets. |
| Victoria Hatch | £10 | |
| Anonymous | £5 | |
| Anonymous | £10 | |
| Anonymous | £25 | |
| Lindsay Fleetwood | £10 | Great Ad, well done |
| Anonymous | £5 | |
| Neil &Karen Cussons | £20 | Please donate and stop this barbaric cruelty now! |
| Anonymous | £20 | |
| Anonymous | £25 | |
| Lydia Kirk | £10 | |
| Robert Clarke | £25 | |
| Anonymous | £5 | |
| Anonymous | £20 | |
| Anonymous | £10 | |
| Anonymous | £5 | |
| Anonymous | £100 | |
| Debbie Andrews | £20 | It would be great to get the advert on TV. |
| Charlie Kinsella | £95 | |
| Anonymous | £5 | |
| Anonymous | £25 | |
| Anonymous | £25 | |
| Catriona Ashley | £10 | |
| Anonymous | £5 | |
| Swati Chauhan | £10 | It's time for the change, it's time to liberate the animals, it's time to save our planet. We, the People, have the power to do all this so please donate, share & spread the message. |
| Laura Ramsbottom | £5 | |
| Antonia Coleman-Harvey | £10 | |
| Anonymous | £3 | |
| Anonymous | £20 | |
| Filippo Carella | £5 | |
| Jenniann Davies | £5 | |
| Anonymous | £25 | |
| Nic Elgar | £10 | |
| Nicholas Parkinson | £10 | |
| Tegan Frances | £50 | Please donate if you can! |
| Jade Bennett | £10 | Amazing work and cause! |
| Anonymous | £100 | |
| Norman Veitch | £25 | You either respect animals or you don't. If you won't discriminate between different people, then don't discriminate between different animals. |
| KAREN Eaves | £15 | |
| Anonymous | £10 | |
| Anonymous | £20 | |
| Michael Morgan | £25 | We need to get this message out there, to educate the blind masses. Thank you Viva! |
| Anne Sanders | £10 | |
| Anonymous | £5 | |
| Anonymous | £10 | |
| Anonymous | £25 | |
| Anonymous | £10 | |
| Anonymous | £20 | |
| Anonymous | £10 | |
| Anonymous | £5 | |
| Anonymous | £3 | |
| Anonymous | £5 | |
| Diane Kilgour | £100 | Keep up your amazing work xxx |
| Anonymous | £10 | |
| Anonymous | £15 | |
| Anonymous | £10 | |
| Anonymous | £5 | |
| Anonymous | £5 | |
| Anonymous | £10 | |
| Anonymous | £10 | |
| Rebecca Shelley | £25 | I really really hope this can be shown on national TV. People need to make the connection. |
| Anonymous | £3000 | |
| Jakub Solich | £25 | Kuba |
| Anonymous | £25 | |
| Anonymous | £25 | |
| Shelley Harlock | £10 | |
| Adriana Caruso | £25 | We need changing' |
| Anonymous | £25 | |
| Cathryn Bostock | £5 | |
| Gina Groom | £25 | Brilliant idea. I hope this touches people's hearts. For the animals. |
| Dee Weaverr | £25 | 0 |
| Anne Manon | £25 | Every little bit helps. We need to change the way people view meat and bring an end to cruel farming practices. |
| Anonymous | £5 | |
| Anonymous | £3000 | |
| Anonymous | £250 | |
| Anonymous | £10 | |
| Anonymous | £5 | |
| Mark Barnwell | £20 | |
| Anonymous | £5 | |
| Anonymous | £10 | |
| Anonymous | £10 | |
| Deborah Pollinger | £25 | |
| Anonymous | £50 | |
| Nigel White | £25 | |
| Anonymous | £100 | |
| Nadine Tyshynski | £25 | |
| Mark Turner | £20 | Please respect life! |
| Anonymous | £5 | |
| Anna Pearce-Gimblett | £10 | |
| Anonymous | £5 | |
| Spike Atkinson | £10 | Any future that we can look forward to, and be proud of, must be vegan. I only wish I could give more. |
| Trevor Staines | £25 | Can't wait to see the advert on C4! |
| Anonymous | £10 | |
| Linda Badham | £5 | |
| Anonymous | £10 | |
| Anonymous | £3000 | |
| Anonymous | £100 | |
| Anonymous | £5 | |
| Leo Nicholas | £5 | |
| Anonymous | £10 | |
| Anonymous | £50 | |
| Sue Nuttall | £5 | Good luck, you have my backing to help save the animals from this cruel world and people, go vegan |
| Anonymous | £10 | |
| Anonymous | £50 | |
| Anonymous | £1050 | |
| Anonymous | £3 | |
| Anonymous | £25 | |
| Anonymous | £5 | |
| Christopher Penford | £10 | Big change is coming and it's so exciting! |
| Francesca Parisi | £50 | Let's all donate to this wonderful cause! |
| Terri McFadzean | £20 | |
| Rachelle Aaronson | £5 | So Brilliant that this important message /visually created Ad will be aired on a major T.V Channel |
| Anonymous | £3 | |
| Anonymous | £15 | |
| Rosie Pearson | £100 | |
| Julie Jenkins | £10 | Giving what I can to help the animals wish it was more but tiny amounts add up so give what you can. |
| Michael Morgan | £25 | |
| Rowena Field | £15 | What a fantastic opportunity to reach millions with such a clear message. May the benefits ripple on and on and on ……… |
| Anonymous | £25 | |
| Anonymous | £25 | |
| Deb O'Connor | £20 | |
| Valeria Rinaldi | £5 | |
| Beth Kennedy | £3 | |
| Anonymous | £25 | |
| Anonymous | £5 | |
| Anonymous | £10 | |
| Anonymous | £10 | |
| Anonymous | £25 | |
| Anonymous | £25 | |
| Clare Andrews | £25 | Great advert, Go Viva! |
| Christine Ham | £25 | Me and my sister Jen want to help Viva make thousands of people think about going vegan which is why we donated, thank you for all you do. |
| Anonymous | £10 | |
| Carrie Leach | £10 | |
| Anonymous | £6 | |
| Anonymous | £25 | |
| Anonymous | £20 | |
| Anonymous | £20 | |
| Anonymous | £100 | |
| Mac G | £50 | |
| Anonymous | £25 | |
| Rupert Pitt | £10 | Great cause.Help animals. |
| Pat Smith | £10 | |
| Anonymous | £5 | |
| Anonymous | £5 | |
| Anonymous | £10 | |
| Janice Pinnington | £10 | Please everyone help VIVA reach their target so lots of people can see this advert which really hits home the message of eating meat! |
| Anonymous | £20 | |
| Anonymous | £50 | |
| Anonymous | £10 | |
| Lynsey Clayton | £10 | Let's get the vegan message out there! |
| Lily Shaw | £10 | |
| Anonymous | £15 | |
| Elizabeth A McDermott | £5 | |
| Charis Flavell | £25 | |
| Mark Johnson | £20 | I am donating some more now for the second time as this ad is so critical for getting people away for abusing animals for the sake of meat; plant based is the way forward; health wise and cruelty free. Go Vegan now ! – Mark – World Animals Voice. |
| Manish Bhagat | £50 | |
| Anonymous | £30 | |
| Anonymous | £10 | |
| Anonymous | £20 | |
| Anonymous | £10 | |
| Anonymous | £25 | |
| Kay Lockie | £25 | |
| Zoe Ann Cooper | £5 | |
| Sally Mighell | £20 | |
| Anonymous | £25 | |
| natalie smith | £25 | People need to know the truth about where their meat comes from |
| Nick Hull | £50 | |
| Anonymous | £10 | |
| Anonymous | £20 | |
| Anonymous | £10 | |
| Anonymous | £20 | |
| Anonymous | £10 | |
| Anonymous | £5 | |
| Charlie Kinsella | £50 | |
| Anonymous | £1075 | |
| Anonymous | £5 | |
| Anonymous | £25 | |
| Katie Charles | £5 | |
| Anonymous | £100 | |
| Anonymous | £5 | |
| Shaun Crittenden | £35 | Go vegan, for the animals |
| Deborah Brewer | £15 | |
| Anonymous | £5 | |
| Anonymous | £50 | |
| Anonymous | £5 | |
| Filipa Dobos | £5 | It's never too late to make the right choices. Choose vegan! |
| Sandra Francis | £5 | |
| Anonymous | £25 | |
| Anonymous | £20 | |
| Anonymous | £10 | |
| Anonymous | £10 | |
| Anonymous | £25 | |
| Ms Abercrombie | £25 | |
| Anonymous | £20 | |
| Anonymous | £20 | |
| Anonymous | £10 | |
| Anonymous | £5 | |
| Anonymous | £20 | |
| Stuart Matthews | £10 | |
| Glynis Hunter | £20 | |
| Anonymous | £20 | |
| Anonymous | £25 | |
| Debra Giulietti | £50 | Let's get this on tv |
| Anonymous | £10 | |
| Anonymous | £1000 | |
| Anonymous | £10 | |
| Anonymous | £5 | |
| Anthony Carpendale | £25 | |
| Michael Newnham | £25 | I really hope Viva makes their target. They do such amazing work, and I love the ad. |
| Mila Palma | £10 | |
| Anonymous | £10 | |
| Anonymous | £20 | |
| Anonymous | £10 | |
| Anonymous | £25 | |
| Pauline Williams | £10 | |
| Alexi Topp | £5 | Please donate anything you can. |
| Anonymous | £5 | |
| Anonymous | £20 | |
| Anonymous | £25 | |
| Nathan Roche | £7 | For the animals, for the planet |
| Anonymous | £25 | |
| Diane Priestley | £10 | Congratulations Viva! on this hight impact TV ad that says so much so quickly to really make people think about the savagery inflicted on innocent animals for food. |
| Tracy Battensby | £3 | Good luck with the advert. |
| Anonymous | £15 | |
| Caroline Walshaw | £10 | |
| Anonymous | £10 | |
| Nitin Mehta | £100 | Please publish Jain Animal Sanctuary not Nitin Mehta |
| Anonymous | £10 | |
| Debbie Kenny | £50 | Thank you for all you do for the animals, and the planet! |
| Anonymous | £10 | |
| Anonymous | £40 | |
| Pauline Roberts | £10 | |
| Sharon Hanley-Hewitt | £10 | |
| Claire Walsh | £25 | Let's all help Viva! with whatever we can afford to expose the hidden suffering of the animals people eat every day. Let's help give those animals a face, expose their pain and bring this diabolical brutality to an end and consign this horrific suffering to history. Thank you and well done Viva! for your vital work and campaigns for farmed animals. |
| Anonymous | £10 | |
| Joanne Dynan | £10 | Well done Viva and everyone who donated. Till they're all free. |
| Anonymous | £3 | |
| Samantha Wilford | £5 | Well done Viva. Keep up the good work. Can't wait to see this advert on the TV. |
| Anonymous | £10 | |
| Anonymous | £3 | |
| Darren Anderson | £25 | |
| Anonymous | £25 | |
| Alan Neale | £25 | |
| Anonymous | £25 | |
| Anonymous | £10 | |
| Anonymous | £5 | |
| Anonymous | £20 | |
| Anonymous | £25 | |
| Anonymous | £10 | |
| Marcus Emmerson | £25 | Fantastic work!!! |
Scroll up