minute reading time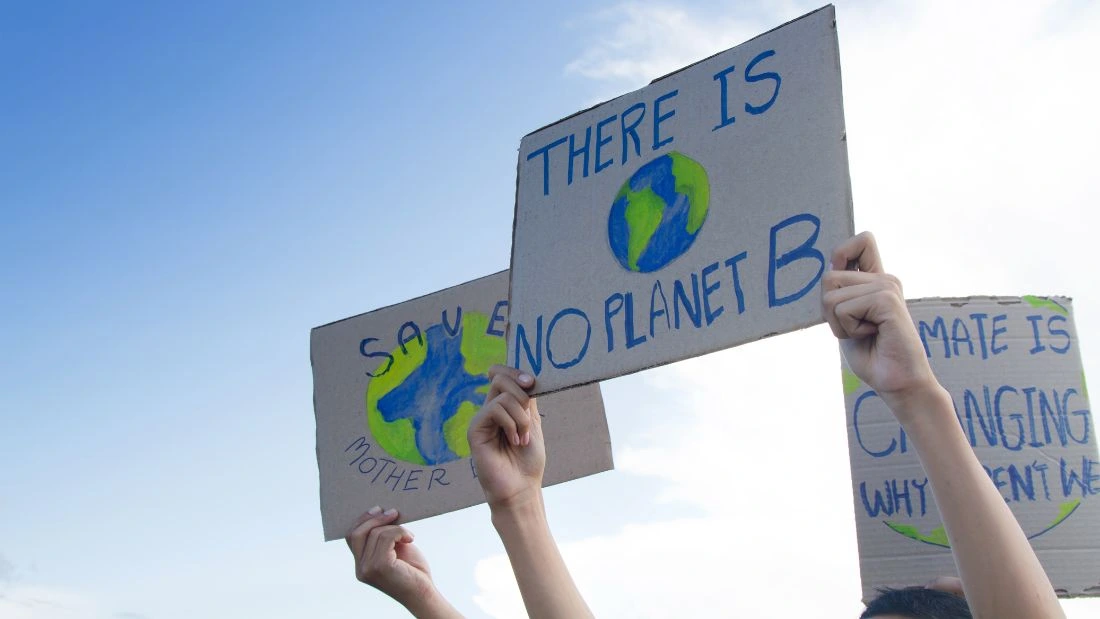 "Humanity has a choice: cooperate or perish. It is either a Climate Solidarity Pact – or a Collective Suicide Pact."
These were the harrowing remarks from the UN Secretary-General, António Guterres, who opened the COP27 climate conference held in Egypt this November. Over the last two weeks, world leaders have been attempting to discuss the solutions and responses to the climate crisis. Decisions that will either be pivotal in securing a liveable and just future for all or set the world on a path to ecological and societal destruction.
This year saw the introduction of the conferences first every Food Systems Pavilion, so it did initially look like the tide could be turning on acknowledging the role that agriculture, specifically animal agriculture, plays in climate breakdown.
With bated breath the talks came to a close on Friday – and despite stark warnings from countless experts, academics, activists and communities across the world that action needs taking now or never, the COP27 conclusions fall disastrously short of the decisions the world needs in order to combat the climate crisis. Any lingering hopes of political will to limit warming to under 1.5 degrees Celsius above preindustrial levels have been dashed. Fossil fuels are still on the world's agenda. Talks on the detrimental impacts of animal agriculture were slim and any discussions of dietary transition were completely left off the table. With animal agriculture being responsible for around 20 per cent of the world's emissions this omission is a deadly decision.
Insufficient Pledges
Frankly, this doesn't come as much of a surprise. Just prior to the start of the talks a UN Climate Change report highlighted that the combined climate pledges of the 193 Parties under the Paris Agreement were insufficient to limit warming global temperature rise to 1.5 degrees, beyond which we will be tipped into catastrophic and potentially irreversible climate impacts. The report predicted that instead these promises put the world on track for around 2.5 degrees warming by the end of the century.
Another recent analysis of the pledges, this time by international think-tank Chatham House, found that out of the 193 signatories, only 12 nations name emissions from farmed animals, two mention dietary change, and none mention reduction of livestock production. In fact, the report found that since 1992 the production of animal products has increased globally and is expected to continue rising substantially up to 2050 – "increasing the likelihood of further loss of pristine habitats and carbon sinks particularly in tropical areas". Experts stress that by 2030, globally emissions must be halved – this cannot be achieved with the continued growth and support of meat, dairy, fish and egg production.
Meat and Dairy Off the Agenda
Unfortunately, it seems that supporting the transition from meat and dairy-based diets to vegan ones was not on the agenda for our world governments. Instead, focus was given to adaptive 'solutions' that support continued livestock production. Such as, promoting feed additives that make farmed animals less gassy or investing in absurd technology that captures cows' methane emissions. The latest analysis from the Institute for Agriculture and Trade Policy and Changing Markets Foundation found that the combined methane emissions of 15 of the world's largest meat and dairy companies equate to more than 80 per cent of the European Union's entire methane footprint. Given that methane traps 80 times more heat than carbon dioxide over a 20-year period, if governments really want to take tackling the climate crisis seriously, putting an end to meat, dairy, fish and egg production is the only way forward.
Looking at the current draft COP27 text, there is no direct reference to animal agriculture, unlike energy, fossil fuels and fossil fuel subsidises, although this has also been criticised for only mentioning the phase down of unabated coal power, rather than expanding to all fossil fuels.
The declaration does note "the importance of ensuring the integrity of all ecosystems, including in forests, the ocean and the cryosphere, and the protection of biodiversity, recognised by some cultures as Mother Earth, and also noting the importance of 'climate justice', when taking action to address climate change". With animal agriculture the main driver behind habitat and biodiversity loss, this cannot be done if we don't address what we eat. Given that a vegan diet is the single biggest way to reduce your impact on planet earth, animal agriculture must be given a key place on the declaration; just as fossil fuels have been.
And to add insult to injury – meat and dairy were still served at the conference, despite being heavily criticised in the past.
Climate Crisis is a Human Rights Issue
Fundamentally, the climate crisis is a human rights issue. By refusing to break ties with livestock industries and holding on to these antiquated systems based on animal suffering, government leaders are also endangering people's lives. In the IPCC's latest Impacts, Adaptation and Vulnerability report it estimated that already 3.5 billion people are highly vulnerable to the impacts of the climate crisis.
One good thing to come out of these climate talks is the agreed Loss and Damage fund, which promises to finance rebuilding of poorer, vulnerable countries that have contributed the least to the crisis yet are being hit worse by the increasingly severe impacts of the climate crisis. But without also acknowledging all the systems that are driving these impacts and working towards dismantling them, we will continue to fall short of combating the climate crisis and achieving climate justice for communities world-wide.
Time to Take Action
Theoretically, reports show that we can still meet the target of 1.5 degrees. But theory is redundant if targeted action at the most polluting industries is not present – and as this COP27 has shown we are not getting there politically. At Viva! we will continue to run our crucial awareness campaigns and support people-powered action to create lasting change. We will continue to support individuals on their journey to veganism through programmes such as V7 and Viva!'s Vegan Recipe Club. We will keep supporting UK farmers transition to a more sustainable plant-based farming system through Viva! Farming. Together we will fight to build a better tomorrow for our planet and humanity, even if governments aren't willing to do so.
Learn more about our environment campaigns: Vegan Now and Eating the Earth.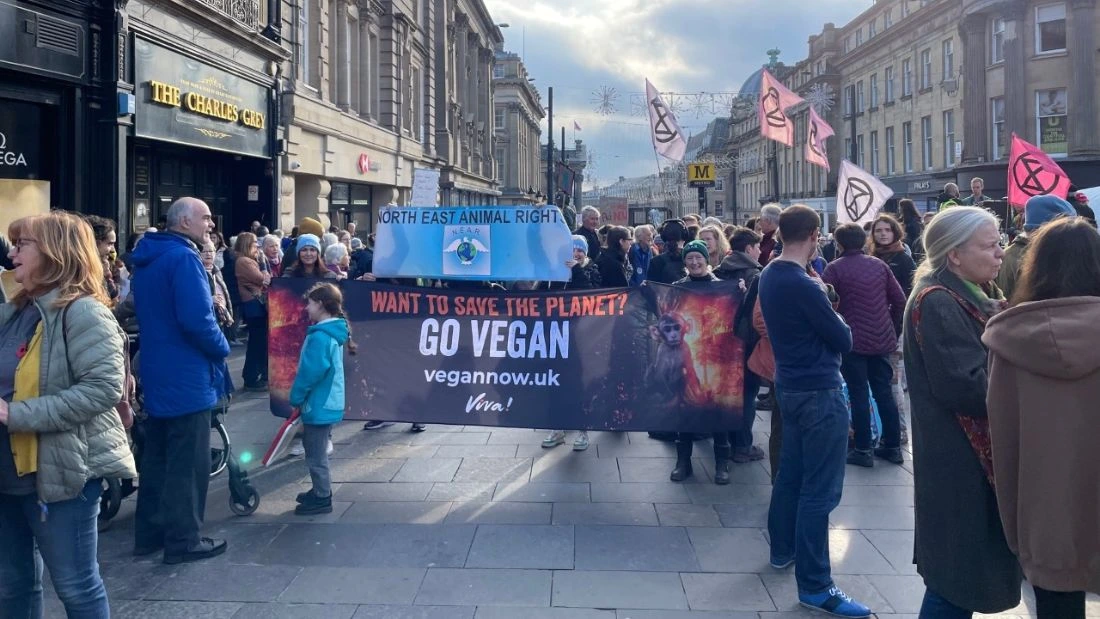 Viva! supporters taking to the streets during COP27 to raise awareness that we need to go vegan to save the planet.
You might also like...