Viva!'s demand to include plant-based diets in COP28 climate commitments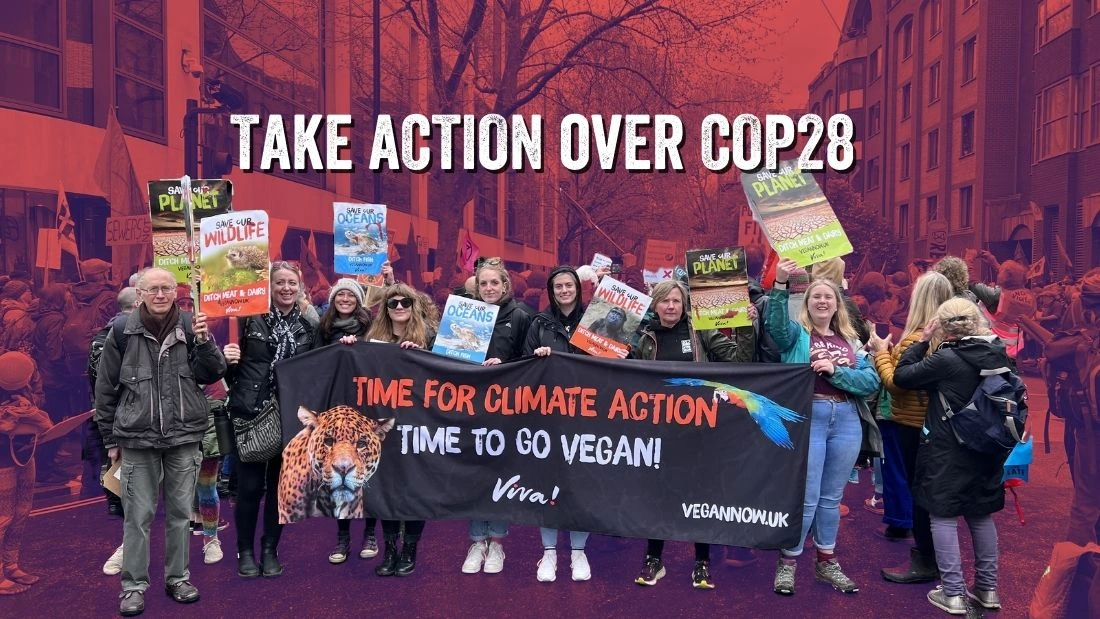 The UK Government is falling dangerously short on their climate and biodiversity commitments.
Demand for meat, dairy, fish and eggs is the number one driver of wildlife loss, is fuelling the climate crisis, and threatening humanity's own existence. Yet given the devastating impact it has on the planet, there is no mention of dietary change in our environment and climate targets.
Continued inaction will kill millions of people and animals, wild and farmed, around the world. That's why Viva! is taking action over COP28, the annual United Nations Climate Change Conference, to bring attention to our Government's apathy to the climate breakdown and the central role our diets play.
We will be calling on the UK Government and others in power to put the topic of diet on the table and finally recognise plant-based food's crucial role within our environmental commitments.
Viva!'s demo on Parliament Square
Order a climate demo pack

Nowhere. Not in the UK's latest Net Zero Strategy. Not in any of the UK's pledges to the Paris Climate Agreement, the legally binding international treaty on climate change. In fact, only two countries out of the 193 signatories include any mention of dietary change. This avoidance is not just a UK problem – it's global. The Intergovernmental Panel on Climate Change's (IPCC) Sixth Assessment Report, viewed by many as the final warning for climate action, omits mentioning the needed shift to plant-based diets, instead focusing on possible ways to increase sustainable agricultural intensification and diets. Scientists agree, this simply won't be enough to avert disaster.
The Conference of the Parties (COP) is the annual United Nations Climate Change Conference where world leaders come together to discuss the supposed 'solutions' to tackling the climate crisis and its impacts. In previous years, the key solution – a transition to plant-based diets – has been omitted.
Our leaders are governing the death of humanity. Without a healthy planet, we have no future. Our world is burning, wildlife is on the brink of extinction and people are dying because of climate inaction.
We need to take a stand.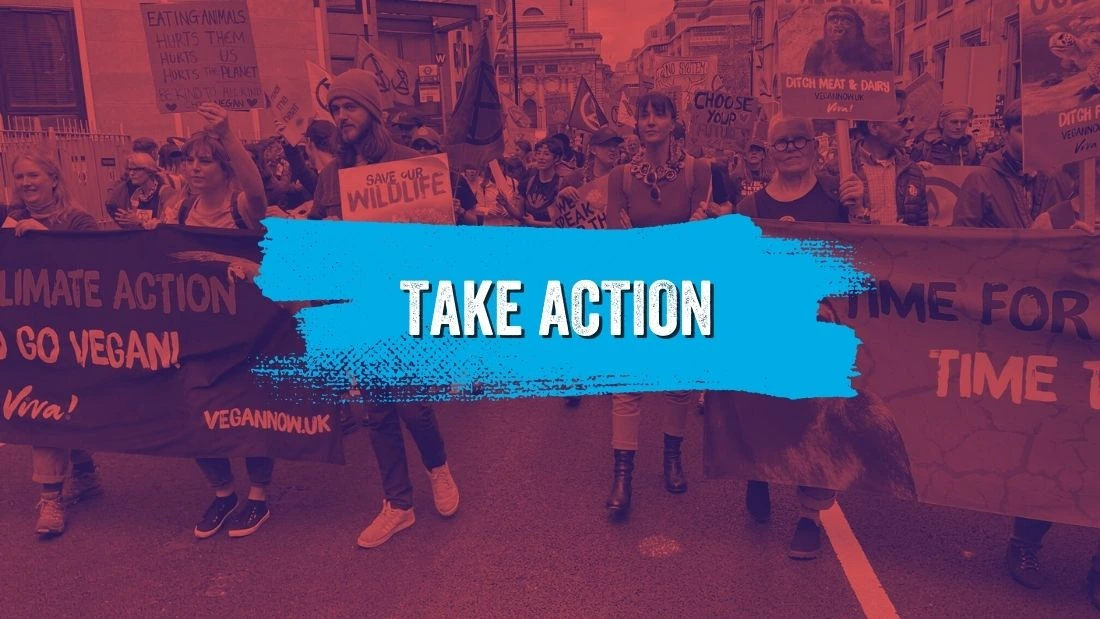 Spotted – Rishi Sunak Eating the Earth
Ahead of the COP28 climate conference, Viva! took to Parliament Square to tell our world leaders to STOP EATING THE EARTH.
On Saturday 25 November, Rishi Sunak was spotted greedily devouring the planet, representing our Government's failure to include vegan diets as part of the solution in climate pledges. As blood oozed from our dying earth, Viva! supporters held our banners high against the backdrop of the Houses of Parliament, demanding that world leaders "Stop Eating the Earth" in order to save our planet and wildlife.
Viva!'s demand was clear: put the topic of diet on the table and finally recognise plant-based food's crucial role within our environmental commitments.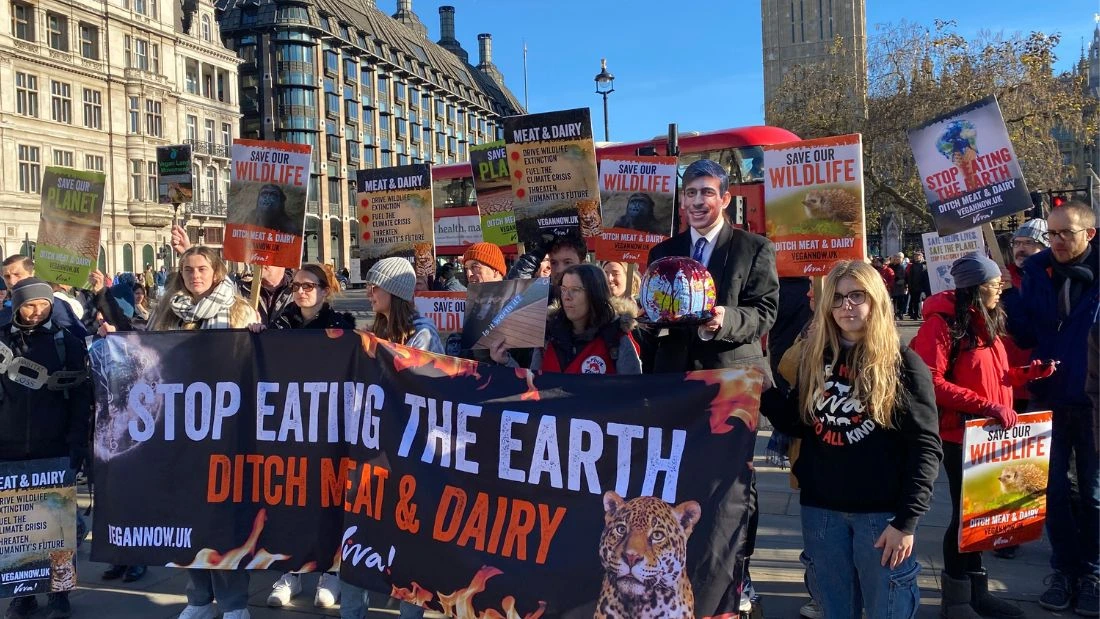 Order a Viva! demo pack and join a local action
COP28 is being held over 30 November to 12 December 2023. Take action in your local area as part of a local COP28 rally or hold your own event or stall.
Complete the form below to order your demo pack. Our demo pack contains all the materials you need to make an impact including posters and leaflets. Please get your demo pack order in at least 10 days before your planned event to ensure it arrives on time.
If you would like any more information, please email campaigns@viva.org.uk or call 0117 944 1000, 9am to 5pm Mon-Fri.
UK COP28 Actions to Join
We will be updating this section regularly. Stay tuned for actions to join.
National COP28 demos and rallies to join in with on 9 December, 2023
Southampton, 12:45pm to 5pm, Guildhall square
Cardiff, 12pm, Cardiff Law Courts, Cathays Park, Cardiff, CF10 3PG GB
Durham, 10am, Cathedral, Palace Green, Durham City
Leeds, 11am, Leeds Briggate, Leeds Briggate, LS1 6HF
Portsmouth, 12pm to 2pm, D-Day Museum, Clarence Esplanade, Portsmouth, PO5 3NT GB
London, 12pm, outside BP HQ, St James's Square, London, SW1Y 4LE GB
Bournemouth, 11am, Bournemouth Pier Approach, Bournemouth, BH2 5AA
Brighton, 11am, Jubilee Square, Brighton, BN1 1EG GB
Swansea, 12pm, Castle Square, Castle Square, Swansea, SA1 3PP GB
Portsmouth, 12pm to 2pm, D-Day Museum, Clarence Esplanade, Portsmouth, PO5 3NT GB
Edinburgh, 12:30pm, outside Scottish Parliament, Scottish Parliament, Edinburgh, EH99 1SP GB
Durham, 10am, Durham Cathedral, Durham Cathedral, Durham, DH1 3EH GB
Nottingham, 11am, Trinity Square, Trinity Square, Nottingham, NG1 4AF GB
Sheffield, 12pm, Devonshire Green, Devonshire Street, Sheffield, S1 4GT GB
Plymouth, 12pm, Jigsaw Park & Gardens, Eastlake Street, Plymouth, PL1 1QH GB
Newcastle, 12:45pm, Civic Centre, Barras Bridge, Newcastle upon Tyne, NE1 8QH GB
Bangor, 2:30pm, outside the Pontio Building,Pontio, Deiniol Rd , Bangor, LL57 2TQ
Clynfyw Farm, 9:30am, Clynfyw, Boncarth, SA37 0HF
Wimborne Minster, 11am, Crown Mead, Wimborne Minster, BH21 1HH
Shrewsbury, 11am, gather at the bottom, Wyle Cop, Shrewsbury, SY1 1XJ
Manchester, 11am, Victoria Statue, Piccadilly Gardens, Manchester, M1 1RG
Leicester, 12pm, Clock Tower, The Clock Tower, East Gates, Leicester, LE1 5YA
Belfast, 1pm, Writer's Square, Writer's Square, Belfast, BT12GQ
Harborough, 1pm, The Old Grammar School, 40 The Square, Market Harborough , Market Harborough, LE16 7PA
Race to Zero Rallies, 6 December 2o23, Carmarthenshire/Pembrokeshire/Ceredigion, West Wales, SA31 1JP/SY23 3UE/SA61 1TP
Know of a COP28 event that's not listed? Let us know! Email campaigns@viva.org.uk
The climate crisis will only continue to worsen if governments continue to sit idly by and not address what's on our plates and the difference it can make. Together, we have the power to enact change. Veganism is the only viable green future – join Viva! in taking a stand over COP28.
Scroll up