Why Carbon Footprints Must be Included on Menus
Demand for meat, dairy, fish and eggs is destroying the planet. Animal agriculture is rooted in almost every single issue within the climate crisis, it is the leading cause for global heating, deforestation, land use change, wildlife loss, and air pollution.
Essentially – eating an animal product–based diet has a substantially higher negative impact on the planet than vegan alternatives, as Joseph Poore, climate researcher at the University of Oxford states "A vegan diet is probably the single biggest way to reduce your impact on planet Earth." 
Carbon Counting on Menus
To raise awareness of the urgency to switch to a vegan diet for the health of the planet, Viva! has partnered with My Emissions to support Bristol restaurant, The Canteen, in calculating the carbon footprint of their menus to help consumers make an informed choice – which will invariably mean choosing vegan options.
We are calling on the Government to make it a legal requirement for restaurants across the country to do the same. As seen with calories becoming mandatory on the menus of cafes, restaurants and takeaways in England with more than 250 employees, the Government can implement industry wide rules to inform people on their eating habits. Given the urgency of the climate and wildlife extinction crises, the Government needs to step-in and take meaningful action.  
E

ating just one beef burger can generate as much as 3.05kg CO2e1

Calculations based on the average patty containing 125g of UK beef collected within 150 miles of production.

per serving – that's the equivalent of driving the average UK petrol car for over 10 miles – compared to just 0.3kg CO2e2

Calculations based on the average patty containing 125g of beef meat substitute collected within 150 miles of production.

from

a

vegan alternative

.
Urge the Government to prioritise carbon footprints on menus
What we choose to eat makes a huge difference to the planet. For every environmental metric, including carbon emissions, land use and water use, choosing the vegan option is substantially more beneficial. Just take a look at the top 10 UK meals estimated CO₂ produced per meal as a meat meal versus the vegan version. Vegan wins every time!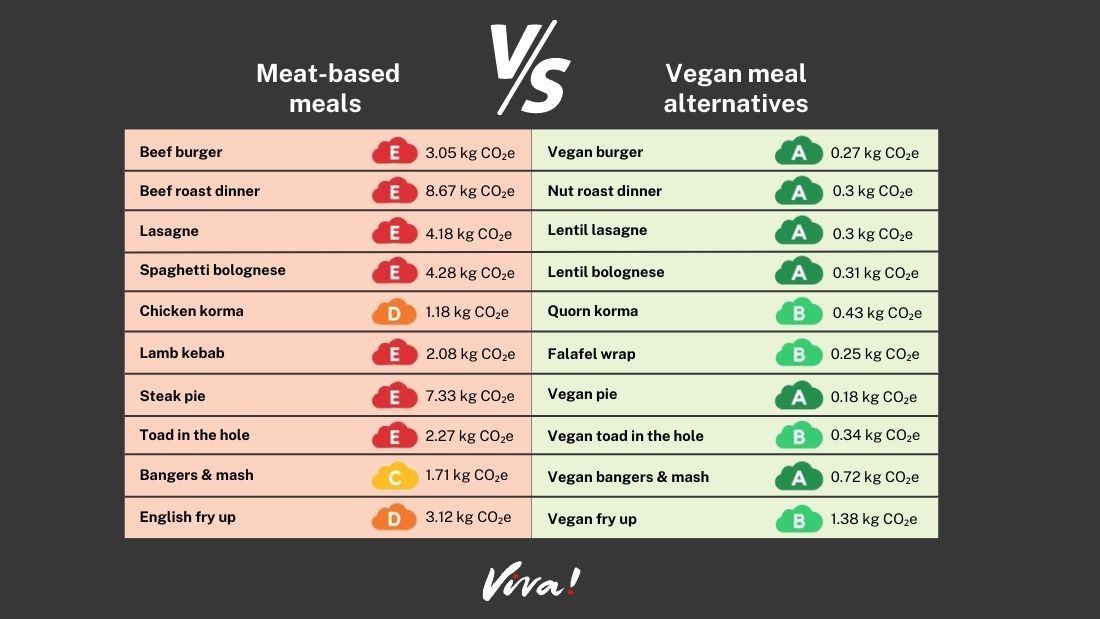 Let's bring our focus back to Bristol eateries where Viva! has launched this restaurant trial. Looking at the amount of emissions that animal products produce at some of Bristol more meatier establishments, it demonstrates just how damaging meat-based menus are.
Steak of the Art
400 g rump steak: 17.33 kg CO₂e. Labelled as a Very High carbon footprint by My Emissions
500 g Chateaubriand: 21.67 kg CO₂e. Labelled as a Very High carbon footprint by My Emissions
The Ox Bristol
The Ox Steak House Burger with a 60 oz (170 g) beef patty: 7.37 kg CO₂e. Labelled as a Very High carbon footprint by My Emissions
10 oz Sirloin Steak (283 g): 1.23 kg CO₂e. Labelled as a Very High carbon footprint by My Emissions
*These are estimates of the carbon emissions produced for the animal-based component of these meals, using My Emissions online food calculator.
My Emissions work with food businesses to provide a simple and intuitive carbon label that makes it easy to see whether a product has a low or high carbon footprint. They also offer a free easy–to–use food carbon footprint calculator, to inform you of the climate impact of your food, meals or a recipe.
Calculate your own food footprint here.  

Vegan for the Planet
Switching to a vegan diet is the single most impactful way to reduce your carbon footprint. If everyone around the world became vegan, greenhouse gas emissions would reduce by two-thirds while still providing enough food for everyone! Alongside reduced carbon emissions there are numerous environmental benefits of switching to a vegan diet, including: 
Up to 74 per cent less land would be required to feed the UK population if we all went vegan

 

This would free up crucial land for carbon storage, essential for climate crisis mitigation, and reduce the pressures on the world's 

wildlife and biodiversity

, essential for humanity's survival

 

Help prevent the sixth mass extinction. Animal agriculture is the leading cause of wildlife life loss

 

Vastly lower air pollution of which animal agriculture is the single biggest cause of in Europe

 

Alleviate 

water pressure.

Animal-based foods have a much larger water footprint than plant-based foods, with beef topping the scale, with one-third of the water use in animal agriculture used in the beef cattle sector

 

Help the health of the of the world's oceans. Factory farms, which produce the majority of the UK's meat, dairy and eggs, are responsible for more than 500 nitrogen-flooded dead zones around the world's oceans, essentially suffocating marine life

 
Learn more about how going vegan can save the planet, wildlife and secure a healthy future for humanity, and how you can take action, through our environment campaigns, such as Vegan Now!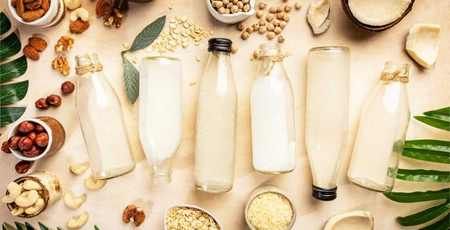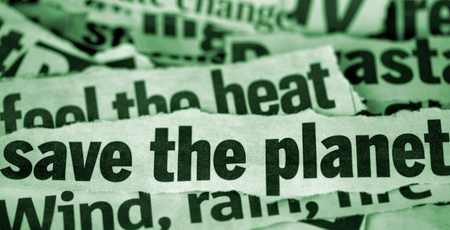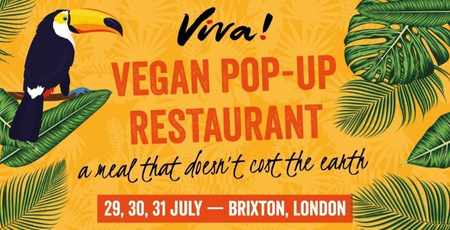 Viva's Vegan Pop-up Restaurant
Experience a meal that doesn't cost the earth at Viva!'s Vegan Pop-up Restaurant launching our new environment campaign: Eating the Earth!
Start Y

our

Vegan Journey!

 
It really couldn't be simpler to go vegan. Not only will you be helping the planet, but you'll also be supporting your own health and helping put an end to animal cruelty and suffering. To help you make the switch, take our V7 programme – a brilliant way to test the waters of veganism. V7 is Viva!'s free vegan meal plan for a week. By signing up you will receive daily emails providing you with mouth-watering meal plans for breakfast, lunch and dinner each day, alongside nutritional advice and top vegan tips.  
Also explore our lifestyle pages to show how positive and easy it is to go vegan!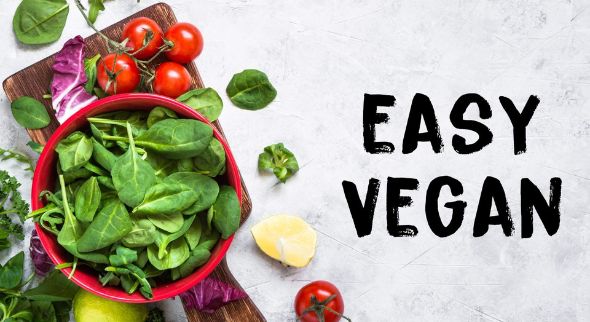 Easy Vegan
All of our vegan recipe resources, tips and advice on one easily-accessible page. Joining the vegan revolution has never been so simple!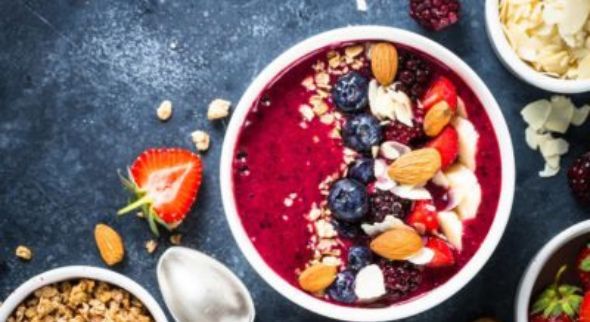 Veganism 101
So, you've decided to go vegan – that's amazing! Your decision will help reduce animal suffering, protect the planet, save others and improve your own health. We have everything you need to get started.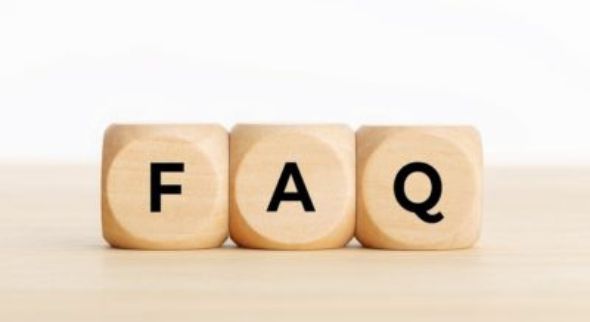 Vegan FAQs
Where do you get your protein? Is honey vegan? All of your questions about veganism answered in one easy place.
Overall, the campaign reached an outstanding 372 million people through social and media reach, with more than 20 pieces of earned media coverage and many more syndicated articles, totalling 92 articles across regional, national, trade and broadcast media.
BBC Radio 4 – (estimated reach 10 million)
MSN Ireland (estimated reach

843,441,645

)
Daily Mail – (estimated reach

346,682,322

)
Independent – (estimated reach

72,400,587

)
Euro News – (estimated reach

22,869,156

)
The Straits Times – (estimated reach

20,517,859

)
Raw Story – (estimated reach

18,926,846

)
Yahoo! News UK & Ireland – (estimated reach

7,414,000

)
Bristol Live – (estimated reach of 2,156,130)
Bristol post (print edition)
Vegan Food and Living – (estimated reach 263,000)
Plant Based News – (estimated reach of 200,000)
The Best of Bristol – estimated reach of about 200,000
Big Hospitality – (estimated reach 189,000)
Bristol Live – Twitter (156,600 followers)
Ujima Radio breakfast show – 30,000 estimated reach
Food Fitness Flora – Instagram 116,000 followers
Eat Drink Sleep – (estimated reach of 2,700) – they've also shared on Twitter (3,419 followers)
Scroll up