Media release published at September 3, 2015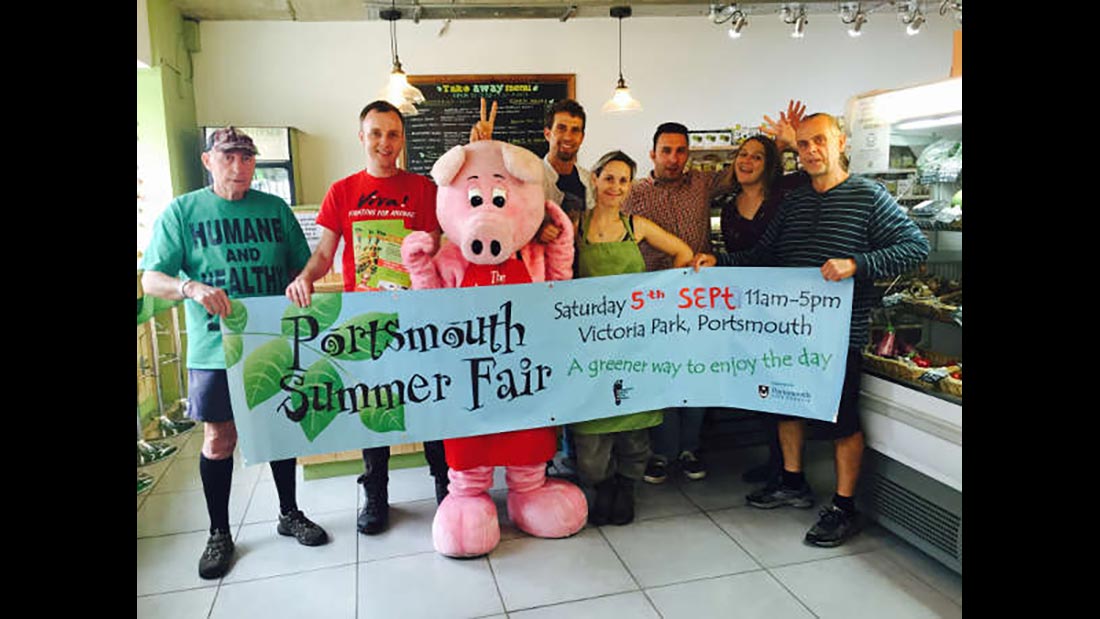 Viva! supporter and local legend Mike Maybury will be opening Viva!'s Incredible Vegan Roadshow this coming Saturday at Portsmouth's Guildhall by cutting a ribbon and welcoming visitors. He will be joined by Viva! mascot Piggles.
Photo call earlier this week at Southsea's all-vegan shop Wild Thyme. Organised by Viva! and Portsmouth Climate Action Network, whose Summer Fayre is happening the same day a few minutes' walk away from Viva!'s Roadshow. Mike Maybury is on the far left of the photo and Viva! mascot Piggles in the centre.
Mike Maybury says says: "I've been given the honour of opening this Viva! Roadshow because, having been a vegetarian all my adult life, I celebrated my 80th birthday recently, as reported in The News.
In the '60's I opened 9 Health Food Stores in this area. Such stores were opened, from the beginning of the 20th Century, by keen vegetarians, to spread humane ideas. Most of my stores are still open.
Now, in the 21st Century, we welcome vegans, vegetarians and enquirers to the Viva! Roadshow today."
Everything you ever wanted to know about going, being or staying vegan (or moving in that direction) will be on tap at the Portsmouth Guildhall, Guildhall Square, Portsmouth PO1 2AB on Saturday, September 5, 2015, from 10.30am to 4pm – and it's all free! Organised by charity Viva!, entry is free; a whole range of delicious food tastings are free; and all the advice you could ever want on changing your diet or improving your health is also free.
A brilliant and welcoming family day out, there will be cookery demonstrations, talks, veggie stalls, competitions, cruelty-free fashion, beauty products, vegan food products, books, information and campaign news.  And free nutritional advice will be available all day.
The Portsmouth event follows the success of the 35 roadshows the group have held across the UK since October 2004, which have been attended by over 60,000 people. A third of those attending the shows were meat eaters looking for help in cutting down their intake. Viva!'s Roadshows have helped thousands of people go vegetarian and vegan, or cut down on their meat, and have been credited with saving millions of animals' lives.
The event will be running concurrently with the Portsmouth Summer Fair (organised by Portsmouth Climate Action Network), which is taking place on the same day in Victoria Park (adjacent to the Guildhall).
Viva! is an animal and environmental campaigning charity that carries out undercover investigations to expose animal abuse, which is often featured in national and international press.
"This is essentially a fun day out which is a celebration of vegan and veggie living", says Juliet Gellatley, director of Viva!.  "For the increasing numbers of people who want to find out more about improving their health, saving animals and protecting the environment, this is an upbeat event which will entertain and help."
ENDS information:
The Incredible Vegan Roadshow is organised by Viva! and sponsored by Cocoafeliz, Dean Farm Trust, Hempish, Badger's Dairy & Egg Free, Bute Island, Vegfest and The Portsmouth Climate Action Network.
To find out more, and for media and competition opportunities, contact Justin Kerswell or Claire Morley on 0117 944 1000 or email claire@viva.org.uk. For further competition opportunities, recipes or feature ideas visit www.viva.org.uk/portsmouth