Media release published at August 18, 2019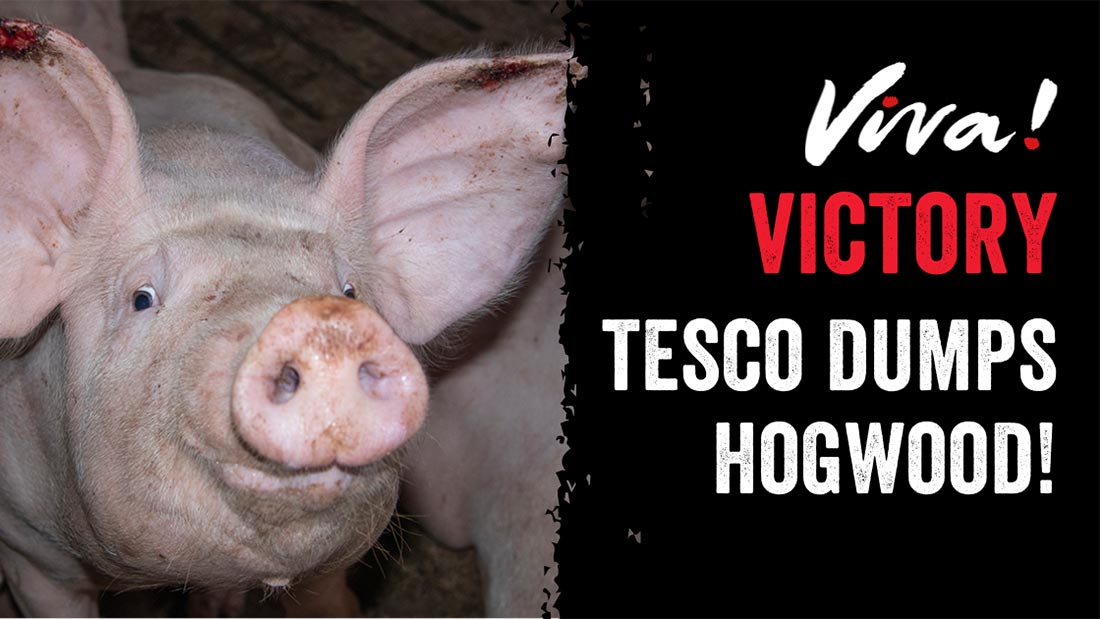 Animal welfare group Viva! are celebrating their latest victory as supermarket giant Tesco drops Hogwood Farm as a supplier, following a third investigation by Viva! Earlier this week, Red Tractor suspended Hogwood's certification in response to the hidden camera footage obtained by Viva!
HOGWOOD TIMELINE 2017 – 2019
Viva! investigated Hogwood Pig Farm, Warwickshire, for the first time in 2017. The disturbing footage revealed the widespread neglect and abuse of pigs, including overcrowding, filthy and barren conditions, sick animals left untreated and animals abandoned to die. Viva! found piles of pig bones dumped on land registered to Hogwood Farm, some skulls still with ear tags
Viva! returned to Hogwood in 2018. In difficult-to-watch scenes, a pig that had been dumped in a gangway was cannibalised alive by others, her entire body trembling
Despite appalling conditions revealed inside Hogwood in 2017 and 2018, Tesco refused to drop it as a supplier – reassuring customers that it takes animal welfare 'extremely seriously' and that it expects producers to meet 'stringent, industry-leading requirements'
In January 2019, Channel 4 Dispatches aired a documentary called The Truth About Vegans which featured the owner of Hogwood Farm, claiming that his farm is "better than most nursing homes"
Viva! returned to Hogwood in July 2019 – the third consecutive year – this time with hidden cameras. Little has changed despite persistent reassurances from Red Tractor, Tesco, Trading Standards and the Animal and Plant Health Agency
The 2019 investigation footage shows piglets kicked and thrown by farm workers, terrified pigs struck with metal riding crops and hand tools, confined pigs being painfully injected and dead pigs dumped into rotting piles. Shockingly, pigs were still being brutally bitten and bullied by others, unable to escape the constant attacks
On July 16 2019, in response to the Viva! investigation footage, Red Tractor suspended Hogwood's certification whilst pending further inspections. Shortly afterwards, Tesco – in direct response to footage obtained by Viva! – stopped accepting all supplies from Hogwood Farm
2019 INVESTIGATION AND VICTORY
Viva! have published disturbing undercover footage taken inside Hogwood Pig Farm in Warwickshire. The footage shows systematic animal abuse and extreme cases of animal suffering, including piglets being roughly handled and hit by farm workers and one pig being brutally attacked and bitten by others.
This investigation is the third consecutive investigation of Hogwood Farm. In previous years, Hogwood hit the headlines with cases of severe overcrowding, pigs covered in excreta, and barren, filthy conditions and dead pigs left to rot amongst the living. Most shockingly, one piglet was being eaten alive.
Now, following continued campaigning by Viva! over three consecutive years, supermarket giant Tesco and food assurance scheme Red Tractor have dropped Hogwood Farm.
In a statement to the Mail on Sunday, Tesco branded the footage "distressing and unacceptable" and claimed that Hogwood Farm is "well below our high animal welfare standards", stating that the farm would be dropped with immediate effect.
Juliet Gellatley, Viva! founder and director explains the importance of this decision:
"This news is a huge victory! We cannot express how much this decision means for us, all our amazing supporters, and the thousands of pigs trapped inside Hogwood Farm.
The atrocious animal cruelty that my colleagues and I witnessed on Hogwood Farm will never be forgotten. Over the past two years, there has been complete inaction by industry bodies, with meaningless assurances that they are working to improve standards. But finally, with this undeniable evidence, animal welfare has come before profit.
Since our first investigation, the farm owners have invested thousands of pounds into increasing security at Hogwood. Rather than improve conditions for these poor animals, they invested in making it more difficult for the public to see the truth. But Viva! persevered and the final investigation showed all the assurances by industry bodies were false; Hogwood is an abysmal hell hole where cruelty is endemic.
Although we congratulate Tesco and Red Tractor on finally making the right decision, I can't help but question why it is routinely left to vegan campaigning groups like Viva! to expose the abuse taking place on farms. And why it took three years of investigations for Tesco to act. Factory farming is an inherently cruel business and we hope that this exposé shows that assurance schemes like Red Tractor cannot be trusted. If you oppose animal cruelty, the best thing you can do is go vegan.
Finally, I want to thank all our fabulous supporters for campaigning with us for three years running; for springing into action at short notice after each investigation! Together, we have achieved this hard won and important victory. Congratulations everyone."
ENDS information: 
For media interviews and opportunities, contact Roisin McAuley, PR & Marketing Manager on 0117 944 1000 or (out of hours) 07804830994 or email roisin@viva.org.uk