Media release published at January 24, 2018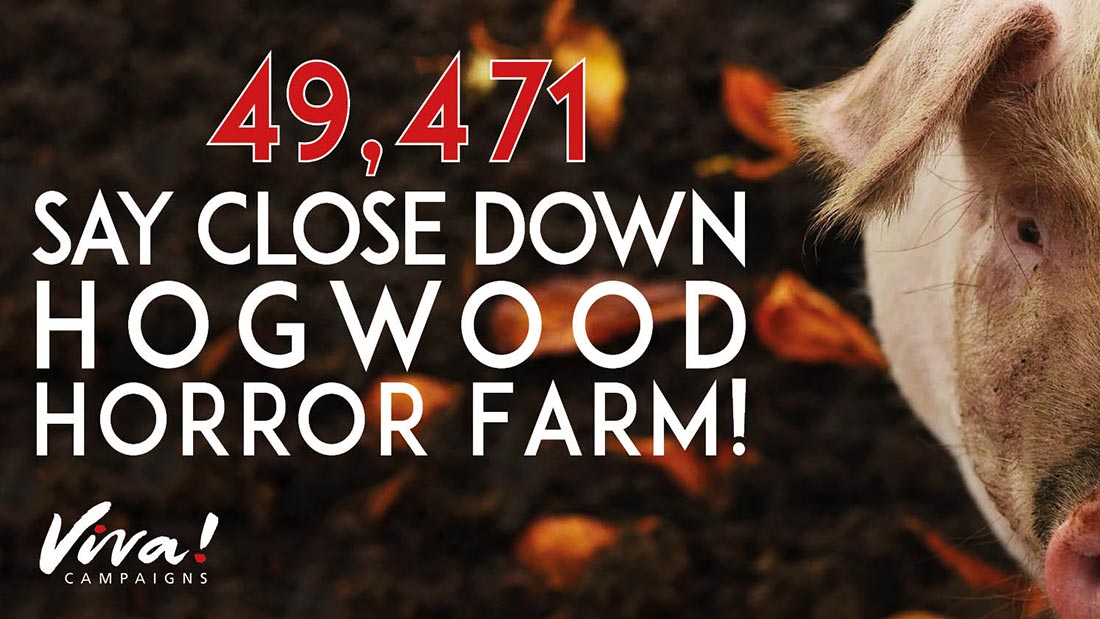 •    The farm supplies meat to Tesco and is Red Tractor Approved
•    Government and industry are failing to effectively protect the welfare of factory farmed animals
•    Video footage from the original investigation can be viewed here: https://www.youtube.com/watch?v=PeJemNLPAwI 
On Wednesday 24 January at 1pm representatives from Viva! Campaigns will visit the Animal and Plant Health Agency  office in Worcestershire, where they will hand in the 49,500 petition signatures they've collected since their initial investigation. Signatures have been collected from outraged individuals across the country, from vegans and meat-eaters alike, demanding the government close the farm down.
In 2017, vegan organisation, Viva! Campaigns, exposed widespread animal abuse and cruelty at Hogwood pig farm, Warwickshire.  The farm, which housed over 15,000 pigs, displayed shockingly squalid conditions and the scale of atrocities found has sparked public outrage.
Viva! Campaigns released undercover footage taken from inside Hogwood Farm. The footage shows extreme overcrowding inside vast, barren sheds housing thousands of pigs, routine tail mutilations, cruel farrowing crates, filthy and waterlogged floors, sick and dying pigs left in a gangway and shed, no meaningful environmental stimulation and piles of decaying and maggot-infested piglets left to rot in a wheelbarrow.
Despite the shocking nature of the findings, Viva! Campaigns suspects that some will still be considered legal. Farming, it seems, has degenerated to such a degree that the abhorrent treatment of animals has become the norm. In 2016, there were only 31 animal welfare convictions in Britain and, as in 2015, these were mainly for 'visible animals'. In other words, sheep and cattle housed outside. This disturbing lack of prosecutions points to a failure by the UK government to treat the welfare of animals on factory farms with the seriousness it deserves.
Viva! Campaigns submitted a detailed report of their discoveries at Hogwood Farm, authenticated with dated images, to the government's APHA shortly after their visit. Despite providing indisputable evidence of animal welfare issues, APHA have failed to respond to Viva!'s report.
In the past, Viva! Campaigns have submitted countless reports of unnecessary suffering and cruelty to APHA on a range of British farms – and rarely received a response. At best, APHA acknowledge receipt of the information but never anything more than that.  APHA claim that they cannot comment on ongoing prosecutions.
Following the Sunday Mirror's exposé of Hogwood Farm in June, Viva! Campaigns discovered Hogwood Farm supplies pig meat to British supermarket giant Tesco. Viva! Campaigns have since launched a petition demanding that due to the serious animal cruelty and neglect brought to light, the APHA needs to close this farm down.
Shortly after discovering Hogwood Farm supplies Tesco, Viva! organised a nationwide Day of Action, their biggest ever, demanding that Tesco dump Hogwood Farm as a supplier. Supporters gathered outside stores across the country, handing out flyers and petitions to Tesco customers.
Since then the organisation's campaign has continued to gain momentum and more signatures. Six months later Viva! are still awaiting a response from APHA.
The animal welfare organisation claim that APHA has inadequately investigated widespread and serious animal welfare issues on factory farms reported to them. They claim APHA are more concerned with protecting farmers' profit than investigating our reports of serious animal welfare breaches.
Founder & Director of Viva!, Juliet Gellatley, who investigated the conditions at the farm herself describes why the farm needs to be closed:
"Our initial investigation of Hogwood Farm exposed widespread abuse in a disgustingly dirty 'Red Tractor Approved' factory farm. Inside this hell hole we filmed cannibalism, sick dying pigs and wheelbarrows full of dead rotting animals. 
These pigs have endured a life of suffering and misery at the hands of the farmer. The sheds in which they live are covered in excreta and filth, creating a breeding ground for bacteria. 
The idea that Britain has the highest animal welfare standards is a farce. Hogwood Farm epitomises everything that is wrong with factory farming. The conditions found at Hogwood have been sanctioned by government – something has to change.  Considering that over 90% of pigs in the UK are factory farmed, this is an issue that cannot be ignored."
The abhorrent findings at Hogwood and the low number of prosecutions indicate that the protection of animals on factory farms has no priority and yet the public is still being spun the line that we have the 'best animal welfare in the world'. The British government must hold Hogwood accountable for its wrongdoings towards pigs and stop sweeping animal cruelty and abuse under the carpet.