Media release published at November 20, 2018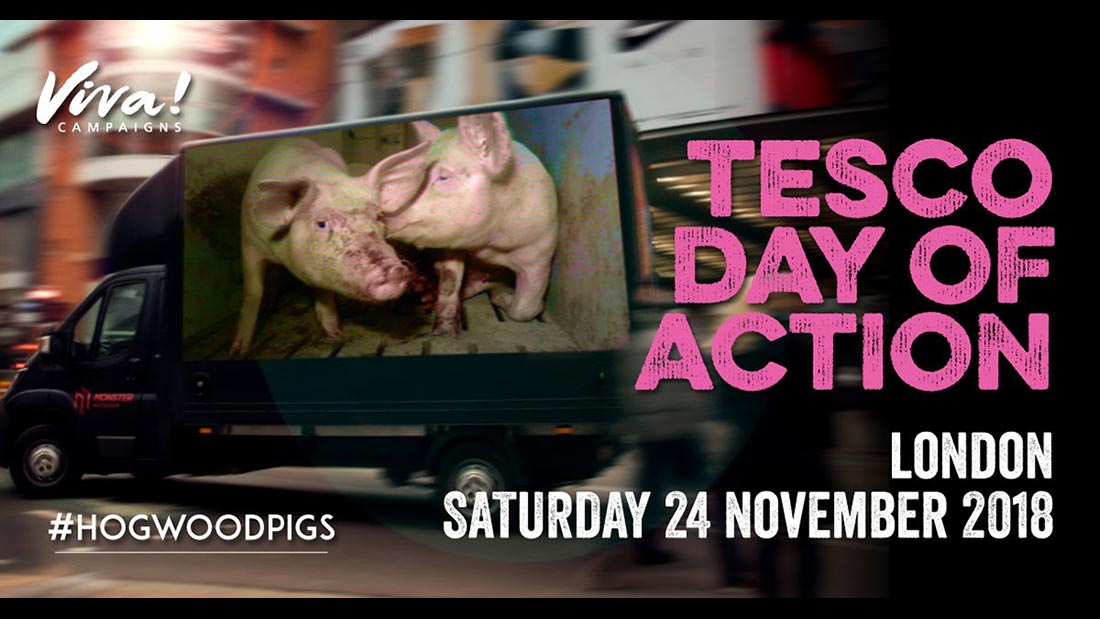 On Saturday 24 November animal welfare charity Viva! is holding a peaceful demonstration outside two Tesco superstores in London. The event follows their two-year investigation of Hogwood farm and Nationwide Day of Action against Tesco.
Earlier this year, Hogwood Farm hit the headlines once again, after Viva! Campaigns published their second undercover investigation exposing the disturbing abuse of factory farmed pigs. The footage showed horrific scenes of animal suffering; extreme overcrowding, filthy barren sheds, sick and dying animals dumped in gangways with no access to food or water and – most disturbingly – one pig being eaten alive.
Viva! reported the farm to the government's Animal and Plant Health Agency, Trading Standards, RSPCA and Tesco. Despite the Hogwood petition gaining over 77,000 signatures from Tesco consumers and indisputable evidence showing clear animal welfare breaches, Hogwood continues to supply Tesco and carry the Red Tractor seal of approval.
Animal activists are coming together on Saturday 24 November to show Tesco, Red Tractor and Hogwood farm that they haven't forgotten about the barbaric condition that these pigs endure.
Viva! will broadcast the shocking investigation footage from their massive video van, featuring two eight-square-metre screens and one four-square-metre screen. Vegan activists will hand out leaflets and encourage the public to watch their 3D virtual reality footage, allowing them to experience the conditions on Hogwood farm first-hand.
The Day of Action will be targeting:
Tesco Superstore Hammersmith, 180 Shepherds Bush Rd, Hammersmith, London W6 7NL




11 am – 1 pm

Tesco Superstore Kensington, W Cromwell Rd, Kensington, London W14 8P




2 pm – 4 pm
Laura Hellwig, Viva! Campaigner said:
"Our second investigation shows that the conditions on Hogwood farm are getting worse, with one little piglet visibly shaking as she was being eaten alive. Despite our tireless campaigning to put an end to the extreme animal abuse at Hogwood Horror Farm, Tesco continues to deny that there are any animal welfare issues and refused to drop the farm as a supplier.
This is why we are taking our campaign to two of the biggest Tesco stores in the UK. Consumers have the right to know where their pig meat is coming from and this is the best way to have our voices heard. We are sending Tesco a clear message: do the right thing and drop Hogwood Farm."
The investigation video and petition can be viewed at viva.org.uk/hogwood.
ENDS information:
For interviews or quotes please contact Roisin McAuley on roisin@viva.org.uk or call 0117 944 1000.
Laura Hellwig will be managing the event, please call her on 07481 485618 to arrange interviews or photo opportunities.