Media release published at July 28, 2022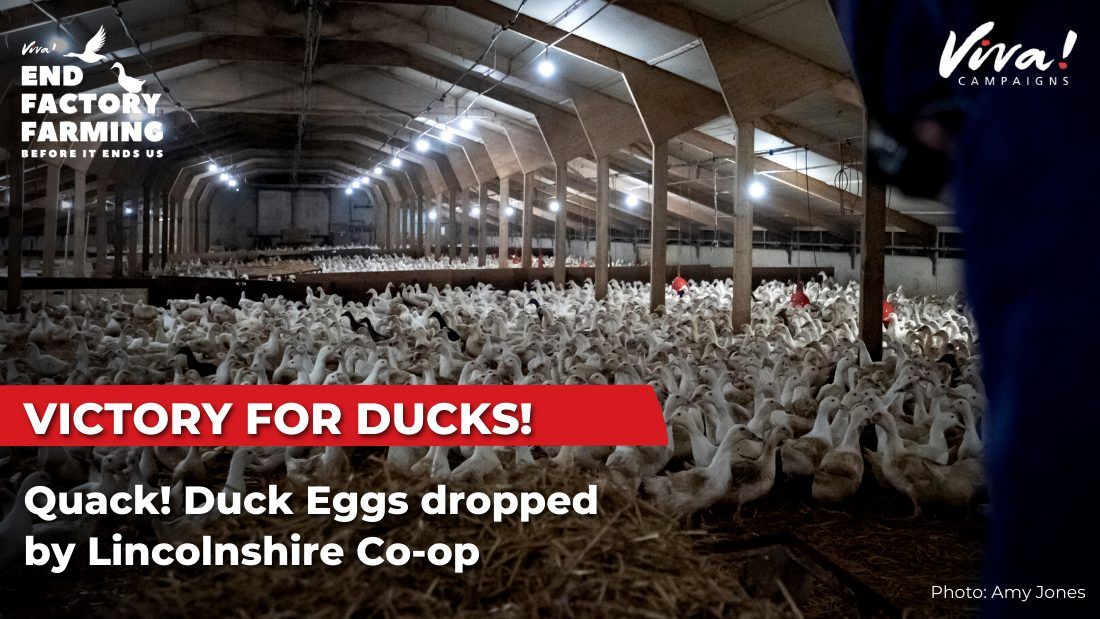 26 July 2022: The UK's leading vegan campaigning charity Viva! is today congratulating Lincolnshire Co-op after its decision to permanently drop Quack! Duck Eggs. Quack! Duck Eggs is the brand name of eggs that come from Field Farm in Lincolnshire, which made headlines earlier this year when a Viva! investigation exposed systemic animal abuse.
Investigators for Viva! Campaigns attended the farm numerous times between February and April this year and found ducks housed in appalling conditions. Ducks were cruelly denied access to water for preening and bathing and forced to live on ankle-deep layers of sodden litter – covered in their own faeces. In addition, there were multiple instances of farm waste being illegally dumped; sick and lame ducks left to suffer in pain; and workers brutally killing birds by dislocating their necks.
What's more, male ducks (drakes) were found present throughout the barns and seen repetitively mating with female ducks. This inevitably results in fertilised eggs being sold in supermarkets as food. A similar instance was recently reported across news outlets after customers hatched live ducks from supermarket duck eggs supplied by Stonegate – who also purchase eggs from Field Farm.
Lincolnshire Co-op was made aware of the investigation findings after Viva! released the details in May 2022. The supermarket initially responded by suspending sales of Quack! Duck Eggs. However, on 21 July 2022 they confirmed they had undertaken a commercial review and decided to delist them as a supplier.
Laura Hellwig, Managing Director of Viva!, commented: "Viva! is absolutely delighted that the Lincolnshire Co-op has responded quickly and positively to our investigation. The supermarket suspended Quack! Duck Eggs initially due to the investigation's findings, and has now dropped them for good. This is absolutely the right decision, not only for consumers who are being sold lies about the welfare standards of the farm, but also for the poor ducks. I hope that other companies involved in the egg distribution chain take note of this and also decide to ditch Field Farm for good. For consumers who don't want to be complicit in the many animal abuses involved in farming, the solution is simple: go vegan."