Media release published at April 22, 2021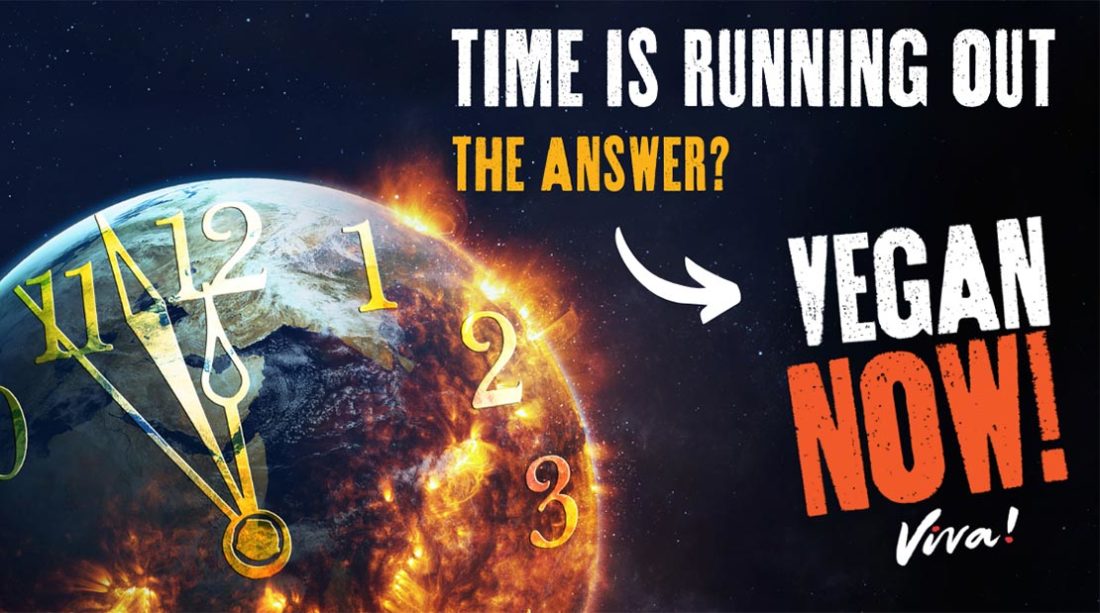 Today, International Earth Day, sees the relaunch of Viva!'s ground-breaking campaign 'Vegan Now'.
We are in the midst of an environmental emergency and a global pandemic. Our forests are burning, our air is being polluted, our oceans are being poisoned, our wildlife wiped out and millions of people are dying each year from diseases which have jumped from animals to humans. Never before in human history have we seen ecological devastation on this scale.
Animal farming is at the heart of these catastrophes – reaching far beyond just the species we consume. It is contributing to the world's sixth mass extinction and hurtling us towards a catastrophic temperature rise of up to 5°C by the end of this century.
Time is running out but we still have time to, and that's exactly why Viva! are relaunching the Vegan Now campaign. Going vegan is the SINGLE biggest action an individual can take to combat climate change – switching beef for beans can literally save our planet.
Why has the campaign been relaunched?
Given the devastating impact of Covid-19 and the continued threats the climate crisis poses, Viva! feel it is their duty to reignite the Vegan Now campaign and demonstrate that veganism can make our world a better place.
The original campaign was launched in 2019 and hit national headlines when  Viva! patron, Michael Mansfield QC, stated meat could need to be banned to save the planet.  His comments were covered by every UK national newspaper and over 100 other papers, including major columns in the USA and Russia.
The campaign launch brought together some of the most influential thought-leaders in environmentalism and veganism, Daniel Capurro (The Telegraph), Joseph Poore (Environmental Researcher, University of Oxford) and Kerry McCarthy MP, Labour MP.
Viva! are determined to reach the masses and have an exciting year ahead. Watch out for these events during 2021:
26 April – 2 May Week of Action: During this week Viva! will focus all of their social media on raising awareness of the detrimental impact animal agriculture is having on our planet.

19 July – 1 August Viva! La Burger Tour: This will visit 5 UK cities offering free vegan burgers to the public showcasing how meat alternatives are so much better for the planet, and delicious!
1

 -12 November COP26: Viva! will join thousands of others campaigners at this momentous event in Glasgow, asking world leaders to go vegan and promote a plant-based economy. Stay tuned for marches, banner drops and eye-catching events.
Speaking about Vegan Now, Will Sorflaten Viva! campaigner said:
"There has never been a more important time to talk about animal agriculture and the devesting impact it is having our health and our planet. Going vegan is the SINGLE biggest action an individual can take to combat climate change. Vegan Now is a campaign designed to inform, inspire and empower people. Our aim is to make going vegan as easy and delicious as possible. Its time to go vegan, now!"

If we don't all change soon it will be too late. If not now, when? If not you, who? Find out more at vegannow.org.uk.