Media release published at December 6, 2018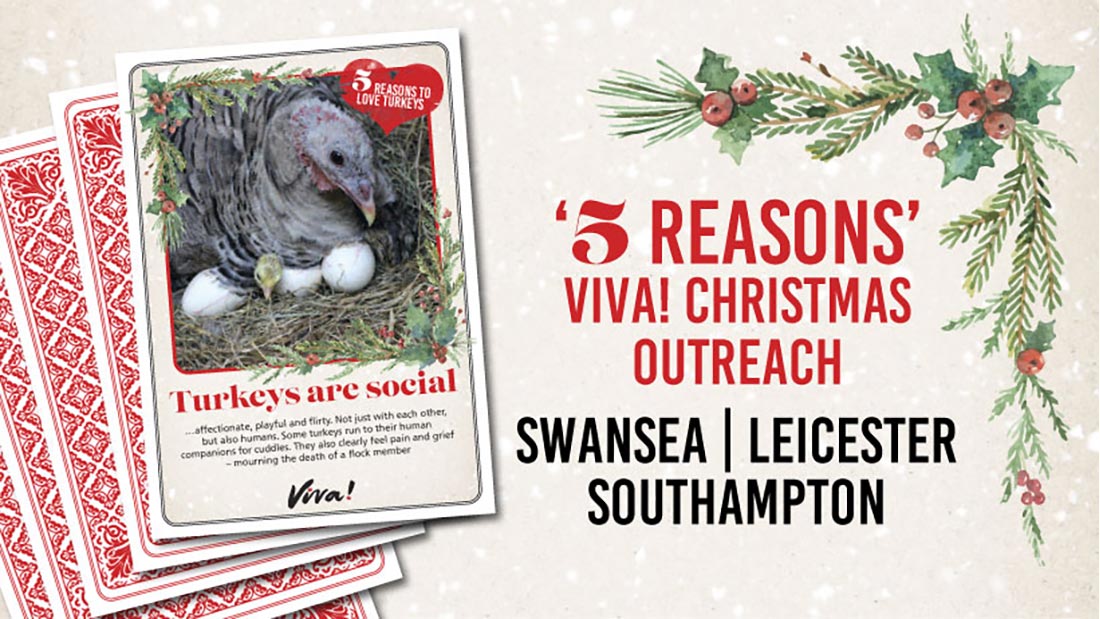 Vegan Charity Urges Consumers to End Turkey Suffering This Christmas
This December, animal welfare charity Viva! is visiting three cities to raise awareness about the emotional intelligence and complex behaviour of turkeys and to hand out FREE vegan turkey samples.
Viva! are visiting three cities in the run up to Christmas to highlight the '5 Reasons' to love turkeys and ask people to try vegan this festive season. The outreach events take place in Swansea, Leicester and Southampton, and will feature free samples of vegan turkey supplied by VBites, the pioneer of plant-based meat and cheese alternatives, owned by Viva!'s patron Heather Mills.
Each year in the UK, two million turkeys die in the month of December alone. Most turkeys will never see the outdoors, instead living in cramped, dirty sheds, unable to display natural behaviours. Mutilation is standard practice on many farms; slicing off the end of their beaks to prevent stress-induced behaviour such as feather-pecking and cannibalism.
Despite the brutal reality behind the turkey industry, Viva!'s Christmas outreach events will have a positive message. Vegan campaigners will invite the public to test their turkey knowledge with specially-designed playing cards and will demonstrate how individual and intelligent turkeys are.
Juliet Gellatley, Viva! founder and director discusses the street action events:
"Turkeys are incredibly complex, social creatures who can live for up to 10 years of age in the wild. Over 90 per cent of turkeys that are bred for meat are factory farmed. Their short lives are filled with misery and pain. They are selectively bred to grow faster and bigger than their bodies can possibly sustain, and so many suffer agonising leg disorders leaving them unable to reach food or water. The turkeys that survive these brutal conditions are killed at only a few months old.
The farming and slaughter of turkeys goes against everything that Christmas should represent. It is a season of peace and goodwill, and so we believe there is no better way to celebrate than to extend your compassion to all animals. We are calling on consumers to go vegan and bring peace to all this Christmas.
Our '5 Reasons' campaign aims to expose the secret lives of turkeys. There is an endearing and unique side to turkeys that the meat industry is desperate to keep hidden from the public. So whether you love turkeys because of their snoods or their complex vocalisation now is the time to go vegan. We have all the resources you could possibly need, including our Deliciously Vegan Christmas Guide, making it even easier to celebrate a compassionate Christmas."
You can join the outreach events at the following locations:
Learn more about the campaign: www.viva.org.uk/xmas
ENDS information:
For interviews or quotes please contact Roisin McAuley on 0117 944 1000 or email roisin@viva.org.uk.
Claire Palmer will be managing the street action events, please call her on 07851497827 to arrange interviews or photo opportunities.
Twitter @vivacampaigns
Facebook: /vivavegancharity