Media release published at November 10, 2022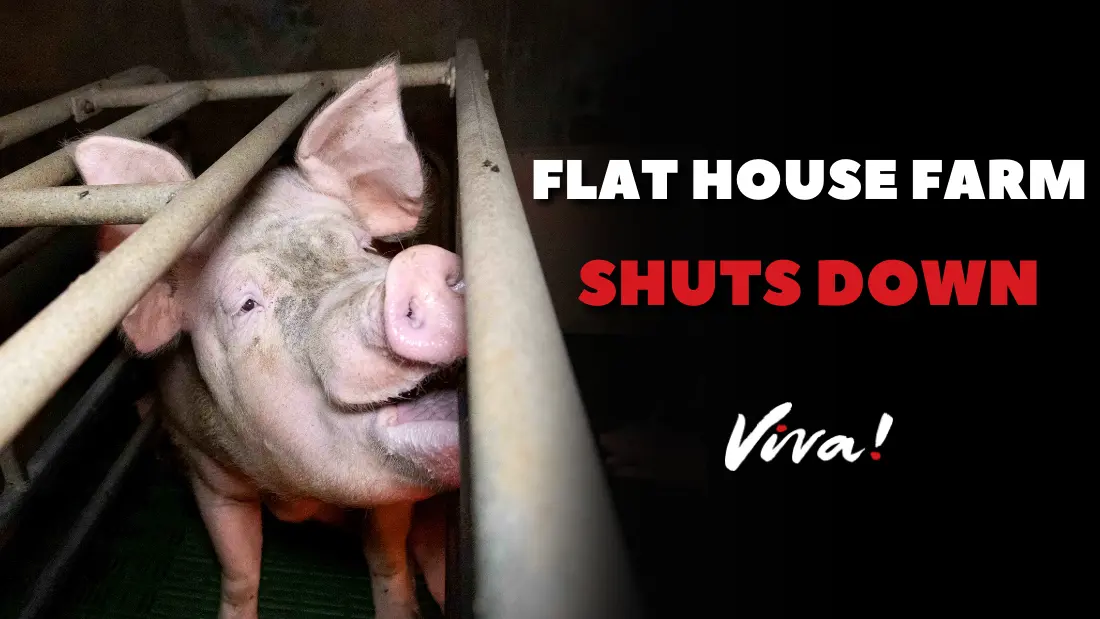 Elvidge Farms Ltd pleaded guilty to one count of breaching the Animal Welfare Act, but face only a minor penalty 
Despite extensive video footage of appalling cruelty, including feral cats eating living piglets, all but one of 68 charges were dropped by Trading Standards 
The district judge said the case collapsed on day one but had Trading Standards pursued their original allegations, the outcome would have been considerably more serious  
A district judge at Leicester Magistrates Court ruled yesterday (8 November 2022) that directors of Flat House Farm – a pig farm that kept thousands of animals in "disturbing" conditions – would face no jail time or community service for the abject cruelty Viva! investigators witnessed on their farm.
Farm owners, Elvidge Farms Ltd, pleaded guilty to just one count of breaching the Animal Welfare Act 2006 (Section 9 – duty of person responsible for animal to ensure welfare). The farm had been condemned by the RSPCA and Red Tractor following Viva! Campaigns' investigation, which triggered a separate investigation by Trading Standards.
A total of 68 charges were brought by Trading Standards: 17 each against company directors Alan Elvidge and Rachel Elvidge, 17 against Elvidge Farms Ltd and 17 against Jane Froud, who managed Flat House Farm at the time of the investigation. Charges ranged from failing to supply adequate drinking water to failing to ensure that faeces, urine and food were cleaned up in a timely manner.
Flat House Farm in Leicestershire first garnered media attention in 2020 when leading vegan campaigning charity Viva! Campaigns released undercover footage of the farm. This footage revealed grotesque conditions, including rotting corpses and emaciated, sick pigs, squalid conditions that provided a breeding ground for disease and posed a public health risk and showed a distinct lack of appropriate care for sick and dying animals.
As a result of Viva! Campaigns releasing this footage – that Conservative MP Henry Smith described as "disturbing" – Red Tractor dropped Flat House Farm, stating that they were "appalled" by the footage. Red Tractor CEO Jim Moseley admitted live on BBC Radio 4 that Red Tractor's reputation had been damaged as a result of Viva!'s exposé.
Trading Standards' own investigation then led to the prosecution of Flat House Farm but at the start of the trial, Trading Standards offered no evidence on all but one of its charges – despite having conducted a full investigation at the public's expense. They said there were no grounds for disqualification and sought no costs.
District Judge Nick Watson sentenced Elvidge Farms Ltd to pay a £4,500 fine, along with a maximum surcharge of £181 within three months. A 10 per cent discount was awarded due to the company's guilty plea. As it was Elvidge Farms Ltd that pleaded guilty – and a company cannot go to prison or be disqualified from rearing animals – no jail time or community service was given.
However, the court proceedings revealed that Flat House Farm is no longer farming pigs.
Speaking about the result, Viva! Founder and Director, Juliet Gellatley said: "On the one hand I am delighted that no pigs are now suffering in the filthy slum that was Flat House. I am truly proud of Viva!'s role in this outcome. On the other hand, it is appalling that the UK legal system has deemed that those running a farm with a mountain of evidence against it will face no jail time, instead paying a measly fine. I witnessed firsthand the tragedies that took place inside Flat House Farm: from severely ill pigs left writhing in agony, to decomposing corpses lying next to distressed pigs, it really was like something from a horror film.
"Today's sentencing just proves that farmed animals in the UK have almost no legal protection. If organisations such as Trading Standards aren't prepared to protect these animals, who will? People are under the false impression that farmed animal welfare standards in the UK are amongst the best in the world, yet those responsible for the tortuous conditions of Flat House Farm are free and have not been punished. If the extreme cruelty metered out at this farm doesn't constitute grounds for a jail term, what does? The public cannot rely on anyone but themselves to stop this cruelty. Flat House is just one of many and we must stop funding factory farming and go vegan now."
ENDS
Notes to Editors
Viva! is a registered charity 1037486
Viva! is the UK's largest vegan campaigning charity www.viva.org.uk
For comments, interviews or more information please contact rachel@viva.org.uk
Section 9 of the Animal Welfare Act 2006 refers to the 'duty of person responsible for animal to ensure welfare'.
About the sentencing 
The £181 surcharge was the maximum amount District Judge Watson was able to impose under sentencing guidelines. £32 would have been the minimum.
The fine was £5,000 but Elvidge Farms Ltd was given a 10 per cent discount for the guilty plea and ordered to pay within three months. The farm will therefore pay £4,500. The defence pushed for two years so the district judge dropped his initial offer of six months to three months.
District Judge Watson also stated he: "I accept it's a small amount but am constrained by the plea and their current finances"