Media release published at October 17, 2019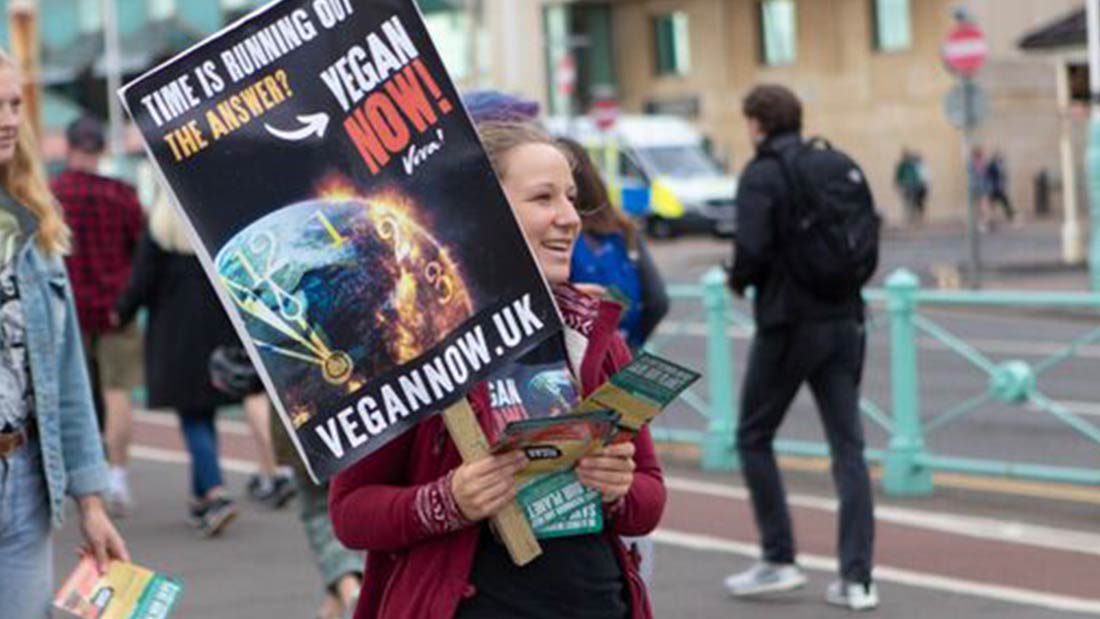 This weekend, vegan campaigners are descending on Exeter high street to promote their new 'Vegan Now' campaign. The group will be holding an outreach events right on the high street, accompanied by a 3D optical illusion centre-piece.
On Friday 18 October, activists from the vegan campaigning charity Viva! are coming to Exeter to hold an outreach event as part of their new Vegan Now campaign. The charity launched the campaign at the Labour Party Conference, bringing together some of the most influential thought-leaders in environmentalism and veganism. The launch was fronted by Michael Mansfield QC, a leading barrister. Addressing the conference room, Mansfield called for new legislation to prosecute Ecocide — the wilful destruction of nature. Relating this to animal agriculture, Mansfield stressed the connection between eating meat and environmental destruction.
This Friday, campaigners will take to the city's streets to educate people on the urgency of the climate crisis and present veganism as the clear solution to our most pressing environmental issues. Vegan Now will focus on the climate emergency and habitat destruction as a result of intensive meat and dairy farming.
The event will be complete with a 3D optical illusion which illustrates the impact that animal agriculture has on biodiversity.
Lex Rigby, Viva! Campaigns Manager said:
"Time is running out. The climate emergency and habitat destruction have become the most profound challenges of our age. If we don't act now, we will pass the point of no return. Vegan Now aims to tackle these challenges head on. Veganism is the clear solution to the climate crisis and so we are stressing the urgency in choosing a vegan diet, now. Our team will be there to answer any questions about veganism and to show the public how easy is to make the switch."
EVENTS
ENDS information: 
For media interviews and opportunities, contact Roisin McAuley, PR & Marketing Manager on 0117 944 1000 or email roisin@viva.org.uk
Viva! is a registered charity 1037486
Viva! is an established animal and environmental campaigning charity that has been promoting veganism since 1994. Our street actions and events have helped thousands of people change to a kinder, healthier diet. All are welcome