Media release published at March 23, 2016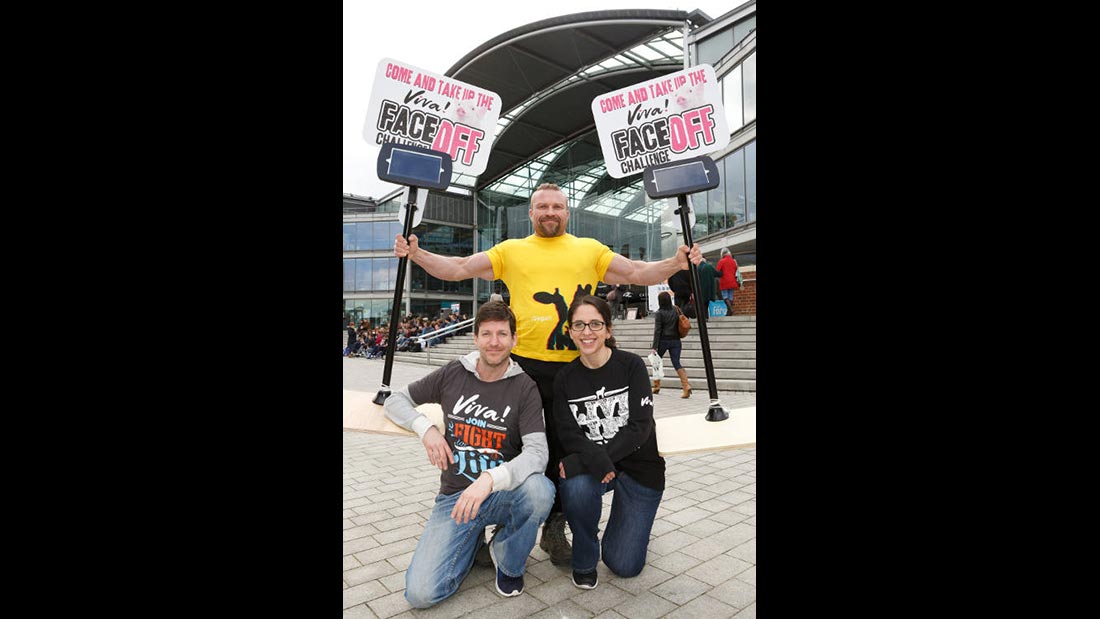 Undercover film taken by Viva! at Necton Hall near Norwich viewed more than 202,000 times
Celebs including |Jerome Flyn, Peter Egan, Martin Shaw and Michaela Strachan condemn the conditions
National campaign taken to the streets of Norwich reveals this is how 90 per cent of UK pigs are farmed
Barny du Plessis – aka Mr Universe – was one of many locals who joined a national campaign in Norwich town centre yesterday (Tuesday March 22) to 'Face Off' to the region's factory farming methods.
UK animal welfare charity Viva! was in Gentleman's Walk to show a film of the inside of a Norfolk pig farm at the centre of the Face Off campaign, which aims to open the doors on the lives of British factory farmed animals.
The Viva! team, led by charity's founder and director Juliet Gellatley, investigated Necton Hall near Swaffham in October 2015 and the footage went online at the end of February. It can be seen here: http://www.viva.org.uk/faceoff
Since it was aired, more than 202,000 people have viewed it and faced off to the conditions the pigs at Necton live in and also a separate farm near Hull that is Red Tractor approved and supplies supermarket Morrisons.
Barny, who has followed a vegan diet, said: "Mass farming methods are disgusting, shameful, inhumane and barbaric. It is totally unsustainable and ecologically disastrous.
"These animals have to endure a life of misery, suffering and torture from the very minute they are born until their brutal death. Mass farming is heart breaking and wrong on every level. People need to watch this film and 'Face Off' to these realities."
He was joined by other local residents and celebrities who watched the film.
Natasha James, aged 18, from Mile Cross said: "I can hardly bear to watch it. It really upsets me to think this is happening only miles away. It's vile the way they treat these poor animals and the conditions are terrible."
Paul Kerton, 42, from West Earlham said: "People wouldn't personally do that to an animal, so paying another to do it is equally as bad as doing it yourself."
Emmy Bradshaw, 21, from Cringleford, said: "It's shocking. You know it happens but when you see it yourself it hits home and you have to think about what you're actually paying for."
Actor Gregg Lowe who is from Norfolk and is famous for films such as X Men took the challenge. You can see his reactions to the film: https://www.youtube.com/watch?v=H-YlF1MOFwU
Gregg is visibly shaken by the footage. He said: "It's time to end this cruelty and face off to the British meat industry.
"Compassion will win so you may as well join us now. Come on Norwich I expect you to lead the way."
The films shows:
Piglets' tails discarded in an aisle (piglets have their main teeth and tail chopped off without anaesthetic)
Mother pigs incarcerated in crates so small that they can barely move
Female pigs trapped in cages called 'rape racks' (where they are made pregnant)
Young pigs cannibalising a dead pig
Young piglets stacked in cages in almost completely barren conditions
Numerous celebs and high profile people have taken the Face Off Challenge and expressed their views on Twitter also using the hashtag  #VivaFaceOff.
Although the Viva! Face Off campaign launched with the Norfolk footage, the charity stresses that Necton is not alone and that these kinds of conditions produce 90 per cent of the country's pig meat.
The charity also points out that the animals being shown in the film are being kept in legal conditions under UK Government and EU-set welfare standards. Despite this, people are still shocked at what they see. Viva! previewed the footage in Bristol city centre and the reactions of people who watched it can be seen here: www.viva.org.uk/faceoff.
Even with more than 30 years' experience campaigning on animal issues, Viva! Director Juliet Gellatly said she found filming the scenes hard to take – but with already 202,000 people having watched the film, the UK is waking up to the suffering involved in an average bacon sandwich.
Juliet said: "Necton Hall Farm has been singled out as part of the launch of our Face Off Campaign but it is by no means unique in using these so-called farming methods and we are going to be taking our campaign on tour to all regions of the UK to uncover the conditions factory farmed animals are living in.
"There has been overwhelming support for the campaign online and also on the streets of Bristol where we first took the film to the public. You can see the disbelief and horror at the realisation this is the true cost of a bacon sandwich.
"So, it's time for people to vote with their wallets and to choose a kind diet. A vegan diet involves no animal cruelty and reduces the chances of contracting Western diseases such as cancer, diabetes type 2 and heart disease."
The Face Off Campaign comes at a timely juncture as the World Health Organisation placed processed red meat alongside smoking as a cause of cancer with retailers reporting a big decrease in sales of sausages and bacon following the announcement.
The pig industry is now claiming it is under threat to encourage people to buy British pork, however, DEFRA's Agriculture in the UK 2014 report shows that imports are significantly lower that year than in 2010, while exports of pig meat from Britain are growing [1].
Juliet said: "We have heard over the years from the meat industry the reasons they believe these staggeringly low standards are necessary and the most recent version is that the UK is becoming commercially uncompetitive. But, actually government figures do not bear this out. The industry will always try to make excuses for cruelty. It is time for the British nation to stop supporting something that is inexcusable.
"Our simple aim is for people to see the truth and not be caught out by the lies they are being told about what their money is actually paying for.
"The intelligence of pigs surpasses that of dogs and you can see the suffering and pain in the faces of these animals. It's time to take the doors off these industrial sheds and look inside – and to Face Off with the meat industry."
Join Viva! in the Face Off challenge – go to http://www.viva.org.uk/faceoff
Join the campaign on Facebook as it tours the UK on  https://www.facebook.com/vivavegancharity  and follow the hashtag #VivaFaceOff on Twitter to see people's responses.
Celebrity endorsement for the Face Off Campaign
Jerome Flynn, Actor, Games of Thrones, Ripper Street: "It is shocking, horrific. Yet again it has been left to Viva! to expose the brutal truth of how farmed animals are treated. The campaigns Viva! undertakes are responsible for many thousands – millions – of us becoming vegan or veggie. Britain is Facing Off a brutal industry."
Jasmine Harman, TV presenter 'A Place in the Sun – Home or Away': "It is hard to believe that farms in this country are still forcing mothering sows into metal crates and mutilating their babies without anaesthetic. That is why I'm supporting Viva!'s campaigns to end such barbarism and expose the dark underbelly of factory farming in Britain today. Please take the Face Off challenge and see for yourself the truth about British pig farming."
Peter Egan, Actor: "The intensive rearing of pigs in this way is inherently cruel and inhumane.  This video shows these intelligent, social, animals are destroyed, even before they are slaughtered, by the way in which they are treated.
"Pigs are intelligent, they need stimulation but they are condemned to a life of utter boredom and frustration. In these terrifyingly confined conditions it has led them to cannibalising each other.
"People are, quite rightly, shocked by this footage. It shows them the reality of how bacon and ham slices arrive on the supermarket shelves. I think we all need to know, and think about, the terrifying price animals have to pay for the meal that lands on our plates.
"Those people involved in the intensive rearing of pigs, and its marketing, should feel embarrassed and shamed by this video. There is no kind way of delivering meat to our plates. I can no longer accept the cruelty, it's why I now have a plant based diet. I can recommend it and nobody gets hurt."
Martin Shaw, actor  "It occurred to me 45 years ago that I didn't need meat to sustain my health and wellbeing. It therefore followed that the only justification for my contributing to the mass killing of animals was to satisfy my taste buds. The taking of an animal's life to enjoy the taste of it is inhuman in itself, but to do so with the casual cruelty apparent in Viva!'s film demonstrates a descent into barbarity. I wholeheartedly support their Face Off campaign."
Wendy Turner Webster, TV presenter and producer: "Call ourselves a nation of animal lovers? What a joke! From birth to death, in their short lives they suffer. You won't believe what happens on Britain's pig farms every single day. Please join me in Viva!'s Face Off to the British meat industry."
Gregg Lowe, actor: "It's time to end this cruelty and face off to the British meat industry. Compassion will win so you may as well join us now. Come on Norwich I expect you to lead the way!" Plus Gregg watching the campaign https://youtu.be/H-YlF1MOFwU
Jethro Sheeran, musician (tweet): @vivacampaigns have shown me the conditions of factory farmed animals in the UK, take the #vivafaceoffchallenge www.viva.org.uk/faceoff please click and watch this! http://www.viva.org.uk/faceoff#yes
Michaela Strachan, TV presenter and nature specialist tweeted her reaction to the film to her 48.6K followers. She said: "I may not be vegan but having watched this shocking video, I'm very pleased I'm vegetarian! ‪http://www.viva.org.uk/faceoff  ‪#vivafaceoff"
ENDS information:
Notes to editors
The Face Off film includes footage taken on 4 October 2015 at Necton Hall Farm, Swaffham, and demonstrates the barbaric daily surroundings of millions of animals in the UK as they are reared for human consumption.
The footage of caged piglets at Poplar Farm, near Hull taken on 2 September 2015 shows how assurance schemes such as Red Tractor, and supermarket reassurances of high animal welfare, cannot be trusted.
Both farms were reported to the government's Animal & Plant Health Agency, no reply was received.
Contacts
Media enquiries:
Viva!: Juliet Gellatley, founder & director or Justin Kerswell, campaigns manager 0117 944 1000 juliet@viva.org.uk campaigns@viva.org.uk
(Juliet mobile 07549 943222; Justin mobile 07960 245858)
Sarah Rice: 07944 798380; sricer2075@gmail.com
References
(1) DEFRA (2014) Agriculture in the United Kingdom. Department for Environment, Food & Rural Affairs https://www.gov.uk/government/uploads/system/uploads/attachment_data/file/430318/auk-2014-28may15.pdf