Media release published at August 4, 2017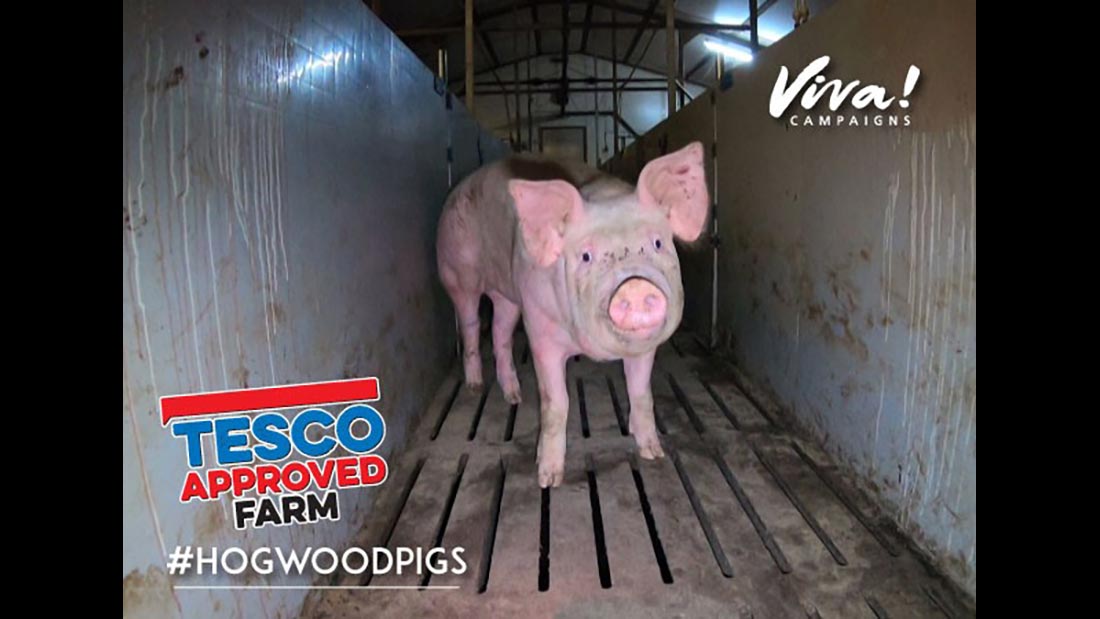 [Please adapt to suit your event. For help contacting local press please email siobhan@viva.org.uk]
Date: Saturday 12 August 2017
Time: [insert]
Location: [insert]
---
Local campaigners have been shocked and disgusted by a recent investigation carried out by animal welfare organisation, Viva! Campaigns, in to Hogwood pig 'Horror' Farm. Viva! Campaigns' investigation made national headlines in June when horrifying scenes of extreme overcrowding; routine mutilations; filthy and waterlogged floors; sick and dying pigs; piles of decaying, maggot-infested piglets; and skulls and bones in nearby were found.
Shortly after the initial media coverage of the investigation it transpired that the farm was supplying UK supermarket giant, Tesco, with pig meat (as confirmed by The Sunday Mirror).
The full investigation video can be viewed here: www.youtube.com/watch?v=PeJemNLPAwI 
Locals are so outraged they are participating in a nationwide Day of Action against Tesco and will be holding a demonstration at [INSERT LOCAL TESCO STORE] asking them to dump Hogwood Farm as a supplier. Local groups will assemble outside Tesco stores nationwide on Saturday 12 August where they will have placards, leaflets and petitions available for the public to sign asking Tesco to dump Hogwood Farm. All petitions will be handed in later this year to the government's Animal & Plant Health Agency (APHA) asking them to close the farm down. This national Day of Action includes over 100 regional demonstrations across the UK – making it the biggest Viva! Campaigns' Day of Action yet!
Despite demonstrating countless examples of unnecessary suffering Tesco claims that they are satisfied with the conditions on this farm and are confident that the animals are treated well. Hogwood Farm has also been approved by the Red Tractor 'assurance scheme' as well as the government's APHA.
Unfortunately, these conditions echo the lives of most pigs in Britain (and elsewhere), who endure short and brutal lives on farms where their welfare is of far lower importance than production.
[Insert your name] from [insert your area of residence] explains why they are supporting the Day of Action "As a consumer I am disgusted that Tesco have so far refused to drop Hogwood pig 'Horror' Farm. I am taking action today because I want Tesco to know that they cannot continue to turn a blind eye, by doing so they are condoning cruelty and suffering. Our message to Tesco is simple: DUMP HOGWOOD PIG FARM. We encourage consumers that are shocked by this investigation to choose kind and try a vegan diet!"
For more information or to request photos from the event please contact [insert your name] from [insert group if applicable] on [insert telephone number/email].
ENDS information:
Founder & Director of Viva! Campaigns, Juliet Gellatley, who investigated the conditions at the farm herself described the scenes she witnessed:
"Pigs were so tightly crammed into a disgustingly dirty industrial unit that it was hard to walk through them. Many were covered in lacerations and all were smeared in filth. In another shed, pigs were kept in groups in bare concrete cells with slatted wooden gangways. There was the cynical addition of a chain with plastic sheathing for biting hung limply, its novelty value long gone. This, it is claimed, are the best animal welfare conditions in the world."
Over several years Animal & Plant Health Agency have failed to adequately respond to Viva! Campaigns' reports of widespread and serious animal welfare issues on factory farms. They are more concerned with protecting farmers' profit than investigating our reports of serious animal welfare breaches.
In 2016, there were only 31 farmed animal welfare convictions in Britain and, as in 2015, these were mainly for 'visible animals'. In other words, sheep and cattle housed outside. There appears to be no prosecutions for large scale pig or poultry producers.
This disturbing lack of prosecutions points to a failure by the UK government to treat the welfare of animals on factory farms with the seriousness it deserves.
Hogwood Farm press coverage June 2017
The Sunday Mirror double page spread – hwww.mirror.co.uk/news/uk-news/pig-farm-horror-rotting-piglets-10682183
The Sunday Mirror full page article exposing Tesco – www.mirror.co.uk/news/uk-news/piles-pig-bones-found-woods-10805783
BBC News – www.bbc.co.uk/news/uk-england-coventry-warwickshire-40446025
London Economic – www.thelondoneconomic.com/must-reads/shocking-undercover-footage-factory…
The Bristol Post – www.bristolpost.co.uk/news/bristol-news/pigs-reduced-cannibalism-shockin…
The Coventry Telegraph – www.coventrytelegraph.net/news/local-news/shocking-footage-warwickshire-…