Media release published at August 12, 2019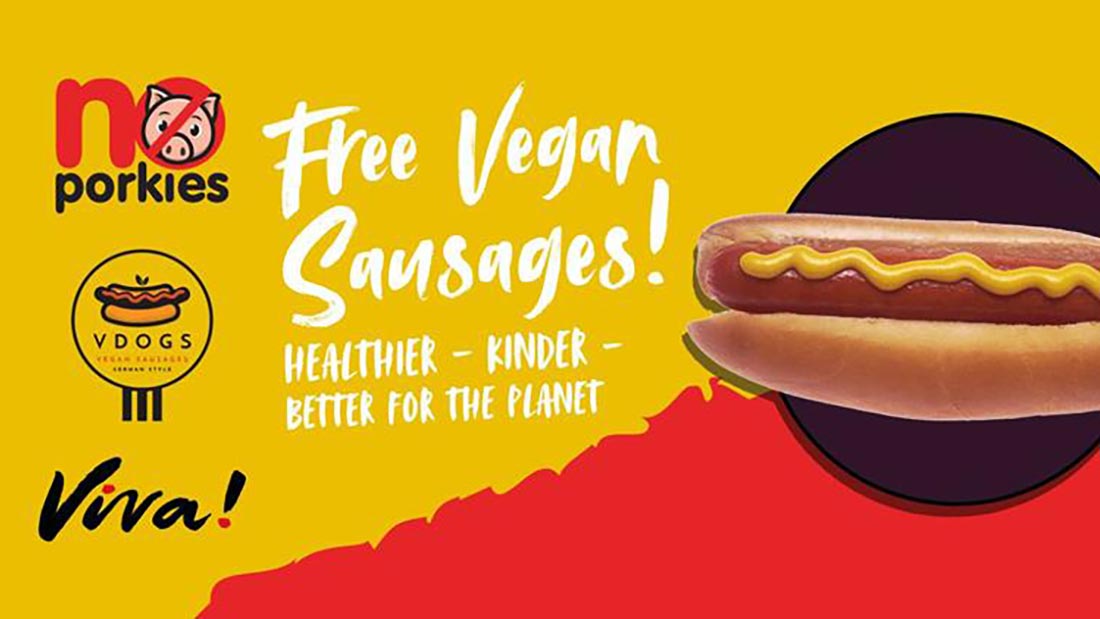 On Wednesday 14 August, vegan campaigning charity Viva! will be hitting the streets of Manchester to give out free vegan hotdogs as part of their 'No Porkies' campaign.
Viva! – the UK's leading vegan campaigning charity – are visiting three major cities to give out free vegan hotdogs, as part of the new No Porkies campaign. The vegan activists will be stationed on New Cathedral Street from 12pm on Wednesday 14 August to encourage the people of Manchester to try plant-based foods.
The No Porkies campaign aims to highlight the realities of modern pig farming whilst showing how delicious and accessible vegan diets are, working in collaboration with V-Dogs Hotdog Company.
Tayana Simons, Viva! Campaigner explains the reasoning behind No Porkies:
"We're coming to Manchester to educate the public about where their pork products come from. Consumers are routinely led to believe that the UK has the highest welfare standards in the world and yet time and time again, our investigations have revealed the shocking reality of intensive factory farms.
Pigs are kept in barren, filthy conditions, in crammed pens with no enrichment, unable to express their natural behaviours. This systematic abuse is shocking, considering how intelligent and emotional pigs are. Pigs recognise each other's voices and can learn their own names – just like dogs! In fact, pigs have been shown to be more intelligent than our canine companions.
With this event, we are hoping to reach people who may have never considered plant-based alternatives. Manchester is an amazing venue for our No Porkies campaign as it has a booming vegan community. Our team will be there to answer any questions about veganism and to show the public how easy and delicious it is to make the switch to vegan products. We're expecting queues so make sure that you get there early to enjoy some free tasty treats!"
ENDS information: 
We can provide photos on the day. For media interviews and opportunities, contact Roisin McAuley, PR & Marketing Manager on 0117 214 1071 or email roisin@viva.org.uk
Viva! is a registered charity 1037486
Viva! is an established animal and environmental campaigning charity that has been promoting veganism since 1994. Viva!'s events have helped thousands of people change to a kinder, healthier diet. All are welcome!