Media release published at January 22, 2021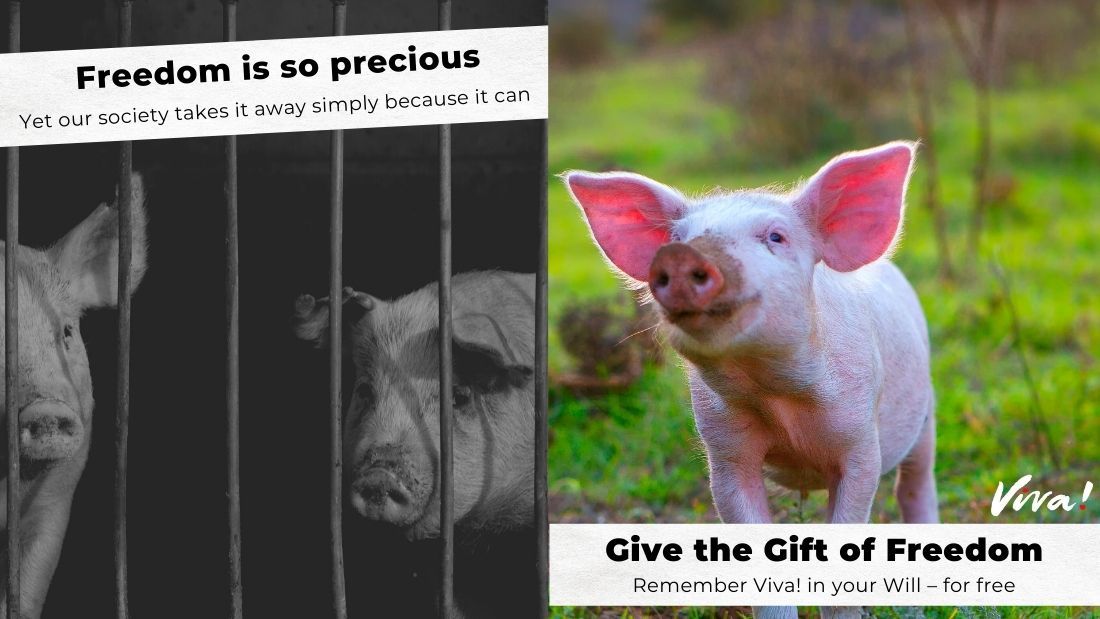 Release date: January 22 2021
The UK's leading vegan campaigning charity Viva! is encouraging supporters to leave a FREE legacy in their Will to support its fight for animal and human rights.  
Partnering with two ethical Will providers – The Goodwill Partnership and Farewill – Viva! is calling on its supporters and members of the public to pass on something positive to future generations, by leaving a legacy for the animals. 
To make it as simple as possible, the Will writing services can be completed online, over the phone, in person or with a personal solicitor. 
Juliet Gellatley, Viva! founder and director said: 
"Leaving a legacy is a promise to the animals that need us most — a promise that no matter what, Viva! will be there to help them. Many charities rely on people leaving a gift in their Will and Viva! is no exception. Legacies provides stability for future activism and work, ensuring that we can keep on campaigning for the animals. Every gift truly does make a difference." 
"We believe that all animal lovers should have the opportunity to leave a gift in their Will. More often than not, Will writing is complex, daunting and inaccessible to many people. It is a subject that we avoid or feel uncomfortable discussing. We want to change all that by offering veggies, vegans and animal lovers everywhere the opportunity to leave a lasting legacy." 
"We are immensely grateful to everyone who leaves a legacy to Viva!. In return, we promise to handle your legacy with the utmost respect and care. We promise to respect your wishes and to use your gift efficiently and effectively, so that your gift can do the greatest amount of good for the animals." 
To get started with your FREE Will, visit viva.org.uk/will 
ENDS
Viva! is a registered charity 1037486. As Viva! is a charity, bequests will be entirely free of Inheritance Tax. 
Please see our promotional 'Give the Gift of Freedom' video: https://www.youtube.com/watch?v=83C5Ui1B1tA 
About the Goodwill Partnership 
The Goodwill Partnership was launched in 2009 to offer low-cost, home-visit Will-writing services (in addition to video and phone appointments) for charities' donors. The service also provides a detailed reporting structure of legacies left to charities, allowing them to plan financially for the future with far more confidence.  
Farewill is the largest will writer in the UK, and has won multiple awards for its service, including National Will Writing Firm of the Year 2019 & 2020 at the British Wills and Probate Awards.  By blending smart technology with outstanding customer service, Farewill are making everything to do with Wills easier, faster and fairer for people all over the UK.