Media release published at August 18, 2019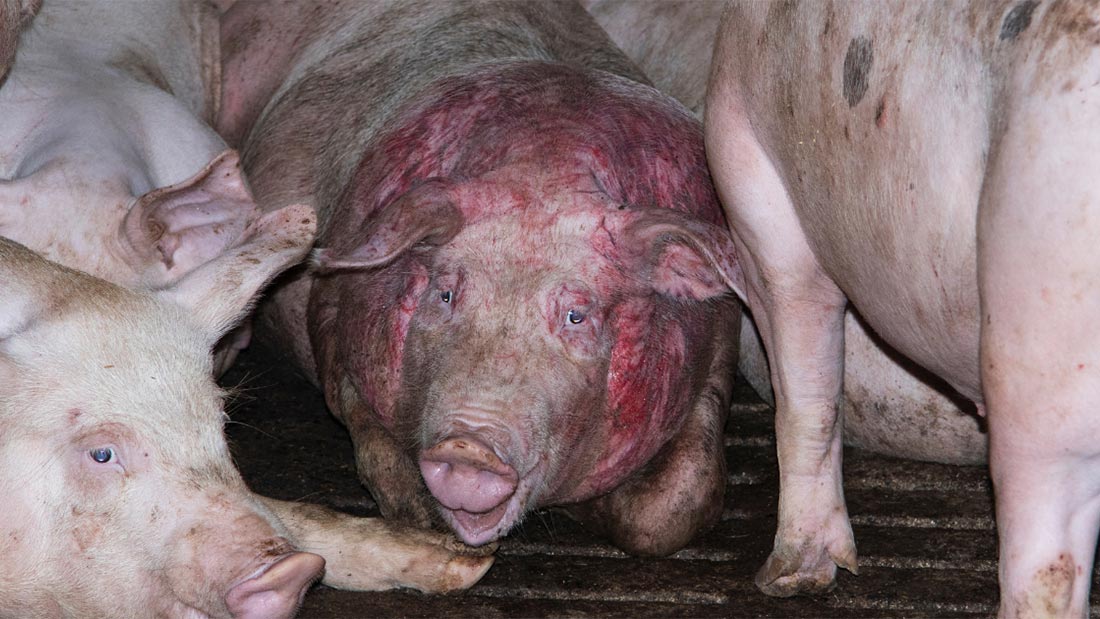 Animal welfare group Viva! has investigated Hogwood Pig Farm, which supplies Tesco, for the third year in a row. Hidden cameras have shown farm workers slapping pigs, hitting them with solid bars and metal riding crops, slamming sick piglets onto concrete floors, pigs kept in horrendous and filthy conditions, tail biting, dead piglets piled into buckets, and distressed animals routinely attacking each other.
HOGWOOD 2017 – 2019
Viva! investigated Hogwood Pig Farm, Warwickshire, for the first time in 2017. The disturbing footage revealed the widespread neglect and abuse of pigs, including overcrowding, filthy and barren conditions and animals abandoned to die. Viva! found piles of pig bones dumped on land registered to Hogwood Farm, some skulls still with ear tags.
Viva! returned to Hogwood in 2018. In difficult-to-watch scenes, a pig that had been dumped in a gangway was cannibalised alive by others, her entire body trembling.
Despite appalling conditions revealed inside Hogwood in 2017 and 2018, Tesco refused to drop it as a supplier – reassuring customers that it takes animal welfare 'extremely seriously' and that it expects producers to meet 'stringent, industry-leading requirements'.
In January 2019, Channel 4 Dispatches aired a documentary called The Truth About Vegans which featured the owner of Hogwood Farm, claiming that his farm is "better than most nursing homes".
Viva! returned to Hogwood in July 2019 – the third consecutive year – this time with hidden cameras. Little has changed despite persistent reassurances from Red Tractor, Tesco, Trading Standards and the Animal and Plant Health Agency.
The 2019 investigation footage shows piglets kicked and thrown by farm workers, terrified pigs struck with metal riding crops and hand tools, confined pigs being painfully injected and dead pigs dumped into rotting piles. Shockingly, pigs were still being brutally bitten and bullied by others, unable to escape the constant attacks.
2019 INVESTIGATION
Animal welfare group Viva! have published disturbing undercover footage taken inside Hogwood Pig Farm in Warwickshire. The footage shows systematic animal abuse and extreme cases of animal suffering, including piglets being roughly handled and hit by farm workers and one pig being brutally attacked and bitten by others.
Despite this being the third consecutive investigation of Hogwood Farm, the farm continues to supply Tesco and is still approved by the Red Tractor assurance scheme. In previous years, Hogwood hit the headlines with cases of severe overcrowding, pigs covered in excreta, and barren, filthy conditions and dead pigs left to rot amongst the living. Most shockingly, the team filmed one piglet being eaten alive.
During both investigations, the farm was reported to the government's Animal and Plant Health Agency (APHA), Trading Standards, Red Tractor, the RSPCA and Tesco. Despite clear breaches of the Animal Welfare Act – including failure to provide a suitable environment, soft bedding and protection from suffering, disease and injury – all denied that there was anything wrong with the farm.
Viva! Founder and Director, Juliet Gellatley, explains the importance of this investigation:
"It is absolutely appalling that after three investigations of Hogwood Farm, this hell-hole continues to supply Tesco and be approved by Red Tractor. Consumers are repeatedly told that the UK has the highest welfare standards in the world and yet time and time again, our investigations have found serious welfare breaches. There have been no repercussions for the people keeping these animals in such horrific conditions.
"Since our investigation, the farm owners have invested thousands of pounds into increasing security at Hogwood. Rather than improve conditions for these poor animals, they invested in making it more difficult for the public to see the truth. If Hogwood is an outstanding example of animal welfare, why hide it from your consumers? Against all odds, we made it back inside Hogwood and found that little has changed. Dead and dying pigs are still ruthlessly dumped in gangways and mothers are still forced to give birth onto hard concrete floors.
"Our hidden cameras show little pigs dumped in gangways, ruthlessly kicked out of the way by farm workers and struck with metal riding crops. We filmed pigs screaming in terror as farm workers slammed gates on them and hit them with metal tools. Most shockingly, we saw one pig unable to escape constant attacks from others, being bitten and bullied by those locked up with her. This behaviour is incredibly rare in the wild and is caused by frustration, stress and boredom. Clearly, the claim that Hogwood is 'better than most nursing homes' is ludicrous.
"Enough is enough. Why is it routinely left to animal welfare charities to expose the abuse taking place on farms? All we receive are meaningless assurances that corporations are working to improve standards. Instead, we see money being funnelled into advertising and marketing campaigns – a shallow attempt to mislead the public. Their complete failure to make improvements on Hogwood Farm and blatant disregard for animal welfare calls into question the integrity of Tesco and Red Tractor. Their animal welfare schemes can no longer be trusted."
ENDS information
For media interviews and opportunities, contact Roisin McAuley, PR & Marketing Manager on 0117 944 1000 or (out of hours) 07804830994 email roisin@viva.org.uk