Media release published at January 9, 2023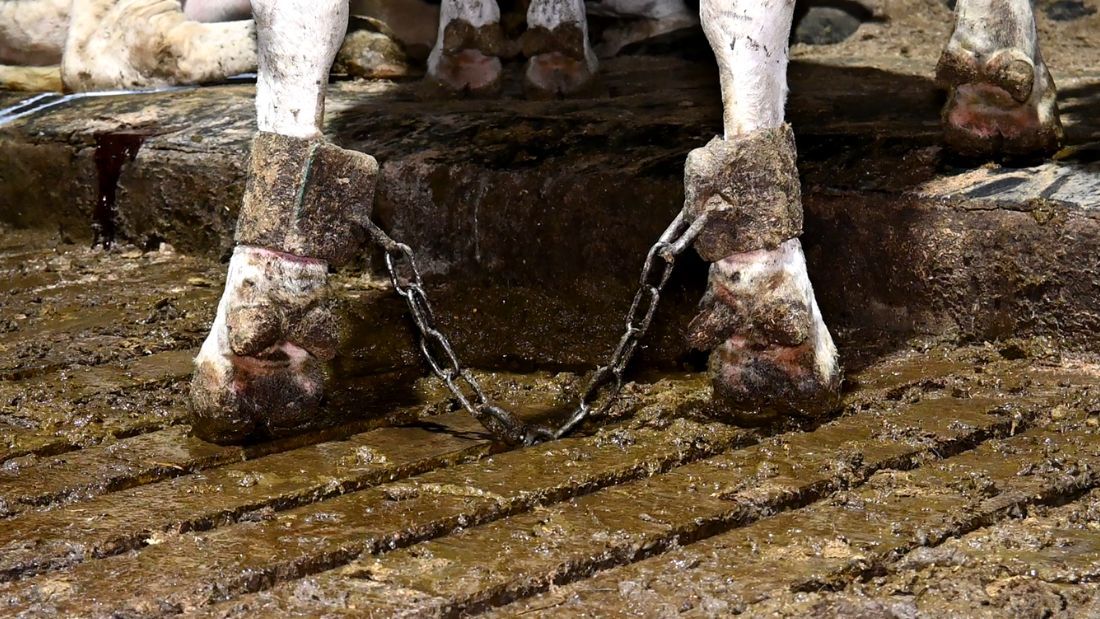 An undercover investigation by Viva! Campaigns exposes shocking conditions at a Red Tractor approved Kent dairy farm, including: 
Emaciated cows, hobbled and struggling to walk 

Cows with oversized udders – with one cow's teat burst and another with an udder ulcer 

Workers kicking and slapping animals

Dead calves found dumped in wheelie bins and a dead cow left outside
Barn floor covered with faeces and urine

 
BREAKING NEWS: Multiple instances of systemic animal abuse have been found at a farm in Kent with links to Costa Coffee via Freshways, a new investigation has revealed. 
Secretly recorded footage by Viva! Campaigns uncovered appalling conditions at Home Farm, a dairy farm in Kent with a milking herd of just over 500 cows. Workers were filmed rough handling, slapping and kicking cows.  
The cows were emaciated, with many shackled and limping. Some had pressure wounds and sores. Furthermore, the floor was soaked with faeces and urine, providing an unhygienic environment for diseases to flourish. 
Home Farm is a supplier of Freshways, the "UK's largest independent processing dairy". Freshways supply several big-name British brands, including Costa Coffee, Nisa, British Airways, Londis and Budgens. 
Rough handling of cows 
The footage reveals several instances of rough treatment of animals. In one incident, a cow is kicked and slapped while she is struggling to walk due to severe lameness. The cow in question is clearly in desperate need of medical attention. In another incident, a different worker slaps several calves while they are feeding. Footage also shows a cow being hit close to her udder in order to move her into the milking parlour.  
A small number of cows were hobbled, preventing them from moving around properly. Multiple cows were limping due to lameness and injury.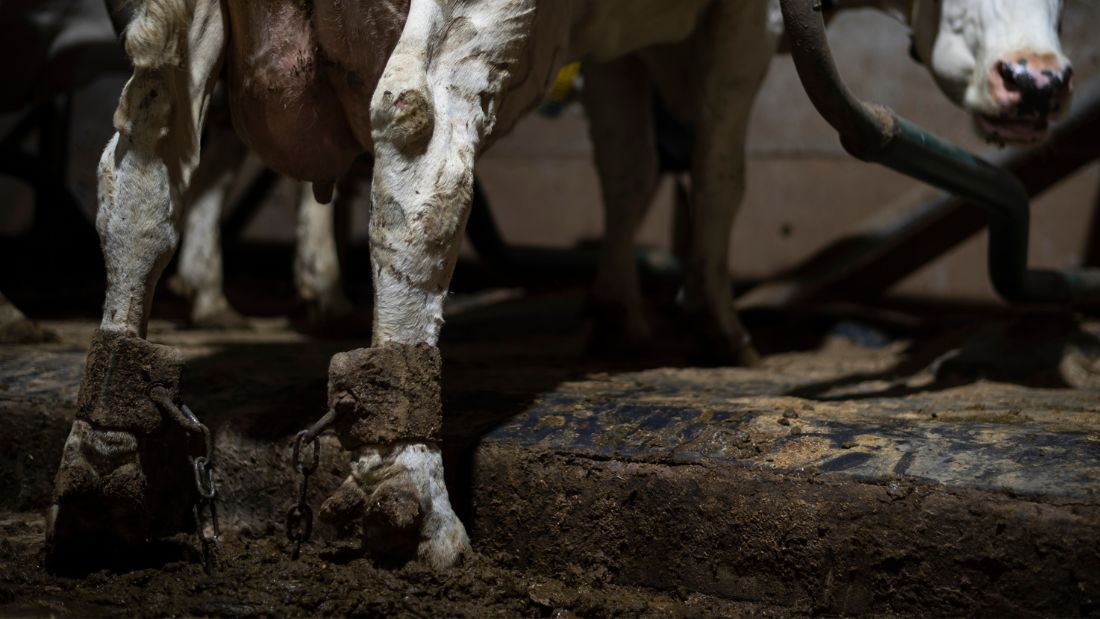 [Cow wearing hobbles on top of a faeces-sodden floor] 
Cows found with burst teats and udder sores

      [Cow with burst udder]                                                                   [Cow with ulcer on her udder] 
The team of investigators discovered cows at Home Farm with oversized udders due to the colossal weight of the milk inside them – a sad reality for all cows in the dairy industry. Concerningly, investigators found a cow with a burst and bloodied teat, causing her immense pain and distress. This is a medical situation that should have been dealt with immediately. Similarly, another cow had a gruesome sore on her udder, indicating poor health.  
Calves manhandled and tube fed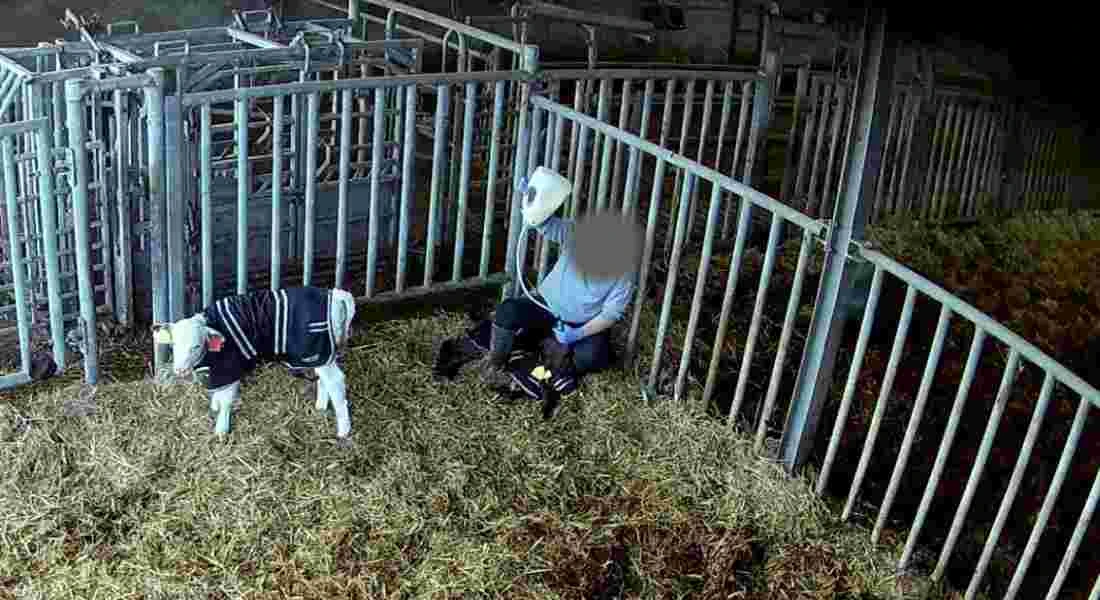 [A calf is tube fed while lying down] 
Workers were seen rough handling newborn calves and tube feeding one whilst lying down: a practice that should be avoided according to the AHDB, as "milk can enter the lung, which can cause death." This shocking practice causes confusion and stress to the animals, who are already nervous having been snatched away from their mothers just after birth. 
Animals dumped with disregard    
Dead calves were also found dumped in wheelie bins: a process that is legal until the deceased animal can be collected by an approved transporter and taken for disposal. Another fully grown cow was found dead outdoors – a breach of the law that states "while waiting for fallen stock to be collected, you must ensure that animals and birds cannot access the carcass". This is a huge biohazard breach that poses massive health risks.

              [Cow disposed of in wheelie bin]                                                                                                                     [Cow shot in the head and left outside] 
The true Costa dairy  
The horrors of Home Farm may be closer to consumers than they think, even if they don't reside in Kent where the farm is located. Investigators discovered proof that Home Farm supplies Freshways, the UK's largest independent processing dairy, which in turn supplies milk to Costa Coffee. A staple of the British high street, Costa is the UK's favourite coffee shop with over 11,000 stores in the nation. This means that the average consumer could opt for a cow's milk latte at Costa, totally unaware that they are paying for the cruel treatment of cows on this farm and others like it. To help consumers understand the true cost of dairy, Viva! will be organising two nationwide days of action outside Costa Coffee shops on 28 January 2023 and 11 March 2023. Campaigners will be raising awareness of the reality of dairy farming and urging shoppers to swap to plant-based alternatives. More details can be found here.
Viva!'s founder and director Juliet Gellatley, who investigated the farm said: "The suffering that is taking place at Home Farm is abhorrent. From cows with ulcers and a burst udder, to repeated rough handling, it's clear that the dairy industry has blood on its hands.  
What I found particularly harrowing was witnessing a lame cow who was struggling to walk get slapped and kicked, when she was clearly in need of medical attention. This type of treatment is part-and-parcel of factory farming: an industry that profits from neglect, overworking animals until their bodies give out and they physically cannot go on. It must stop. 
I urge the British public to pay attention to what is happening here: extreme exploitation of the female reproductive system. Like humans, cows must endure a nine-month pregnancy in order to produce milk. Once the calf is born, he or she is cruelly snatched from their mother, and will become property of the animal agriculture machine. 
Very young, hours old calves were isolated in metal pens, desperately trying to suckle my fingers and calling for their mothers. 
It doesn't make sense that these animals should endure short lives experiencing misery and pain, when dairy alternatives such as soya or oat milk are widely available and better for your health.  
The only way that we can end this suffering and treat animals with kindness is to stop factory farming and go vegan." 
ENDS
Notes to Editors
Viva! is the UK's leading vegan campaigning charity www.viva.org.uk
For comments, interviews or more information please contact Rachel@viva.org.uk