Media release published at August 11, 2021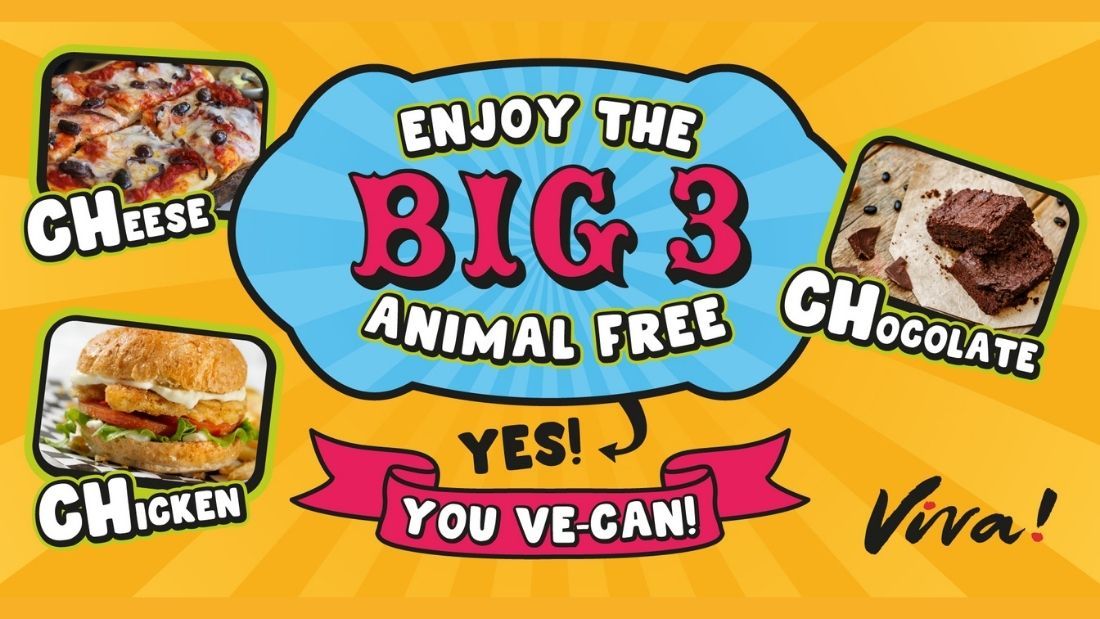 This August, Viva!, is back on the streets to show the British public just how easy it is to swap chicken, cheese and chocolate for cruelty-free alternatives, without compromising on taste!
As part of their End Factory Farming campaign, Viva! are travelling around the South East giving away FREE delicious alternatives to chicken, cheese and chocolate to show just how easy it is to 'Enjoy The Big 3 – Animal Free!'
Viva! have taste-tested the best vegan alternatives in cheese, chocolate and chicken and are excited to showcase them to the public. The products include Taste & Glory's seriously epic BBQ chicken, VBites' super delicious VDeli sliced chicken, and the famous vegan Applewood cheese. Viva! is very pleased to collaborate with VBites and Taste & Glory on this campaign, the two leading companies in meat and cheese alternatives.
From zero-grazing to industrial US-style chicken sheds, factory farming is responsible for some of the worst cases of animal cruelty, inflicting suffering on approximately one billion land animals raised for consumption in the UK every year. We're on the edge of an antibiotic resistance crisis, an increase in zoonotic diseases and a climate catastrophe – and animal agriculture is the main driver for all of this.
The Viva! team will be on hand to talk about how making simple vegan swaps is one of the most impactful things you can do for the planet, while also promoting their super-easy one week vegan meal plan – V7.
Watch out for the van in a city near you:
13 August – London, Leicester Square, 3-6pm
14 August – St Albans, High Street, 1-4pm
15 August – Slough, High Street, 12-3pm 
18 August – Luton, Town Hall Square, 2-5pm
19 August – Oxford, Cornmarket Street, 1-4pm
Speaking about the tour, Laura Hellwig, Viva!'s Campaigns Manager said:
"One of the biggest barriers to trying veganism is the difficulty of giving up cheese, chocolate or chicken. That's why we're hitting the road this August to show the people of Britain just how tasty and easy it is to swap out 'the big 3' for delicious alternatives.
"We will also expose what really happens on dairy and broiler farms and explain why factory farming is one of the most destructive industries in the world.
"There is no better way to speak to the public about going vegan than over some delicious cruelty-free food!
"All major supermarkets have an incredible range of vegan food now, there's never been a better time – so go on, give it a go!"
Watch 'The Big 3' campaign video here.
Stay tuned and follow Viva! on social media for updates on the tour!
ENDS 
Notes to editor
For press enquiries please contact Viva!'s Campaigns Manager Laura Hellwig on 07481485618.