Media release published at June 18, 2022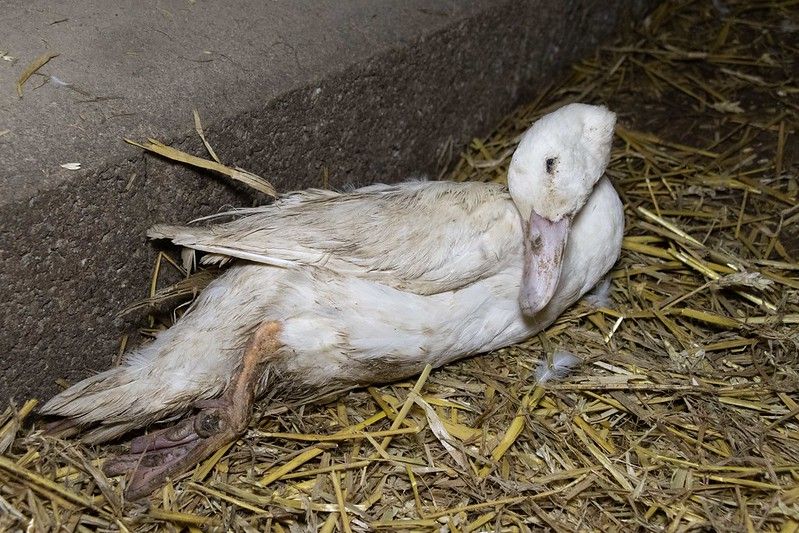 Workers filmed brutally killing birds by dislocating their necks
Farm waste illegally dumped
Sick and lame ducks left to suffer in pain
Ducks denied access to water for preening and bathing
Ankle-deep layers of sodden litter covered in faeces and urine
Quack Duck Eggs brand in Lincolnshire Co-Ops. The farm in question also supplies Stonegate, one of the UK's leading producers and suppliers of duck eggs who claim to operate "the most sophisticated free-range and organic farms" . Stonegate supplies some of the UK's biggest supermarkets including Waitrose and M&S. Field Farm also supplies Noble foods eggs producers who boast "welfare is central to everything they do".

June 2022: Viva! has released damning footage from a large-scale duck egg farm in Lincolnshire.   Viva!'s investigation exposes Field Farm – a business in the heart of Lincolnshire [1] – where a complete lack of regard for basic animal welfare is seriously failing animals supposedly in their care. Field Farm proudly claims their ducks "enjoy the best in life" and sells their eggs under the 
Ducks endure systemic cruelty and filthy conditions 
Following a tip-off from an ex-worker, who reported extreme acts of animal cruelty and horrendous living conditions, Viva! decided to investigate Field Farm. Their investigation footage reveals disturbing conditions inside industrial-sized sheds, where thousands of ducks are forced to live on layer-upon-layer of decaying straw, faeces, and urine without access to water baths to preen. Footage from hidden cameras at Field Farm captured workers brutally killing ducks by dislocating their necks – a shockingly legal practice – and leaving lame, sick and blind birds to suffer in pain.   Ducks were filmed as they struggled to walk, using their wings to slide along the sodden floor of the filthy barns. Drakes repetitively mated with lame females found in prone positions as they were unable to stand and get away.  Stonegate supply Clarence Court and Clarence Court's website declares that their birds enjoy the 'pinnacle of health and welfare' and are 'free to roam on acres of green land'. The picture painted by this 'luxury' brand is a stark contradiction to the squalid and unsanitary conditions Viva! discovered at Field Farm, where sick ducks are left to suffer and confined to filthy barns.
Illegally dumping farm waste 
Workers were filmed dumping eggs unfit for human consumption onto the surrounding land. These eggs are classed as a Category 3 animal byproduct, meaning they are a potential risk to human health and are legally required to be incinerated. By failing to adhere to this government requirement, Field Farm is illegally dumping dangerous waste, creating a significant risk to both humans and wildlife.   Pigeons, mice and rats were also filmed accessing the barns, indicating the farm's poor biosecurity. In environments like this, diseases can easily spread between animals, which can result in outbreaks of illnesses like bird flu.  This behaviour is particularly shocking as this winter the UK announced the highest number of Avian Influenza outbreaks on record, which resulted in a mandatory housing order for all poultry including ducks and millions of birds being culled.
Duck egg farming – an unregulated industry failing to meet basic animal welfare standards
The UK government's Animal & Plant Health Agency (APHA) egg marketing guidelines require all large-scale egg producers who produce and package eggs to be graded and stamped.

This labelling protocol ensures free range eggs are clearly labelled as such and allows consumers to make informed choices on the type of egg they purchase.   all our eggs are produced on UK farms, which adhere to the stringent British Lion Quality and RSPCA welfare standards". Stonegate supply duck eggs to Clarence Court, who also make bold claims about their high standards of animal welfare. Despite duck eggs being a common sight in major supermarkets, little is known by consumers about them and their production. Larger in size than hens' eggs and marketed as a luxury food, duck eggs are sold as high-end, quality products but are not certified assurance schemes such as British Lion or Red Tractor. Birds roaming free across lush green pastures, bathing in sparkling pools of fresh water – idyllic scenes such as this are used to trick buyers into believing that egg-laying ducks live long, happy lives. This couldn't be further from the truth.   Viva!'s investigation categorically demonstrates that these ducks do not have access to outside space and reveals the inauthenticity of these brands and their marketing practices.

Stonegate foods' website clearly states they specialise in 'free-range and organic" and "

Viva!'s investigation revealed that duck eggs stocked in Morrison's, Co-Op, Waitrose and Tesco had no stamp or grading marks. Given APHA's clear egg marketing requirements, this raises serious questions about the regulation of the duck farming industry. With no regulations or welfare guidelines to adhere to, it appears that this industry is a law unto itself and has a total disregard for the welfare of the egg-laying ducks.  If duck producers are not required to adhere to the same grading and stamping procedures as chicken eggs, Viva! asks how this industry is being regulated and why ducks are being left to suffer.
Systemic failures in duck farming 
Almost 20 years after Viva!'s release of the UK's first investigation into British duck meat farming, which documented similar living conditions and welfare problems, this new investigation demonstrates that sadly little has changed in the duck industry.
Ducks are semi-aquatic animals who would naturally spend a large amount of their time in water. From their webbed feet to their bills, their entire anatomy is built for life on water. Ducks naturally use open water for head-dipping, swimming, dabbling and bathing – something they have no access to in factory farms. In this particular farm, the only water the ducks had access to was water pumped to a bell drinker, which was covered in muck and likely contaminated by the thick layers of waste litter. An ex-worker at Field Farm said: "I was a worker at Field Farm and my experience there will haunt me forever. 
"When I started, I asked the manager why so many ducks were lame and struggling to walk. He said the cause was some kind of bacterial infection but that they didn't want to give them antibiotics. If they did, it would make their eggs unsellable. So, they were left untreated.
"It shocked me that the ducks weren't given access to water to swim on or even allowed to go outside. The most disturbing thing I saw there though was birds being killed by swinging them around by their necks. 
"What I've seen and what they are doing is absolutely disgusting."   Head of Investigations Lex Rigby commented: "The conditions that these ducks live in are appalling. They spend their entire lives on dirty piles of straw, never getting to swim or bathe in water. Our investigators witnessed lame and injured ducks left to suffer, denying them their most basic freedoms covered by the Animal Welfare Act.
"Unable to walk, these ducks were left with little option than to push themselves along the floor on their bellies. Duck eggs are marketed as a luxury food but the way that these intelligent animals are treated is repulsive – British consumers are being sold a lie."
UPDATE: More lies in a response from Quack Duck Eggs
Following the release of our investigation footage, Quack Duck Eggs have responded with a statement. A spokesperson said: "As a family-owned and run business, our number one priority is to provide our ducks with the highest standards of care and welfare. With this in mind and with issues identified, these have been rectified alongside veterinary advice.
"Since this footage was taken, last year, every poultry house on the farm has been inspected by our customers, an independent vet and the APHA notified. Each of these inspections concluded the farm is operating to good standards including the health and welfare of the birds."
Not only is this statement ludicrous, it is factually incorrect. The footage from Viva! Campaigns was shot in between March 2022 and May 2022, and there are timestamped images to prove this.  Clearly, they are simply looking to sweep the fetid standing water down the drain rather than acknowledge the systemic cruelty inherent in factory farming semi-aquatic birds.
To stop the horrors of factory farming, the number one thing you can do is go vegan.
ENDS
Notes to Editors
Viva! is a registered charity 1037486www.viva.org.uk

Viva! is the UK's leading vegan campaigning charity 

[1] Simon Lamyman is the owner of S. Lamyman & Sons Limited which owns Quack Duck Eggs and are sold in Lincolnshire Co-op.  The farm's address is Walcott Road, Billinghay, LN4 4EP.
[2] Field Farm supplies eggs to egg-processing firm Stonegate and Noble Foods. Stonegate supplies Clarence Court eggs. Clarence Court brands are listed on Companies House as being owned by Adrian Gott.

[3] Lincolnshire Co-op have temporarily suspended egg purchases from Field Farm, but Viva! is calling on the supermarket to declare that they'll permanently cut ties.

Video footage and images from the investigation can be found here.    Quack Eggs were featured on the BBC's Great British Menu, Season 16.