Media release published at July 22, 2022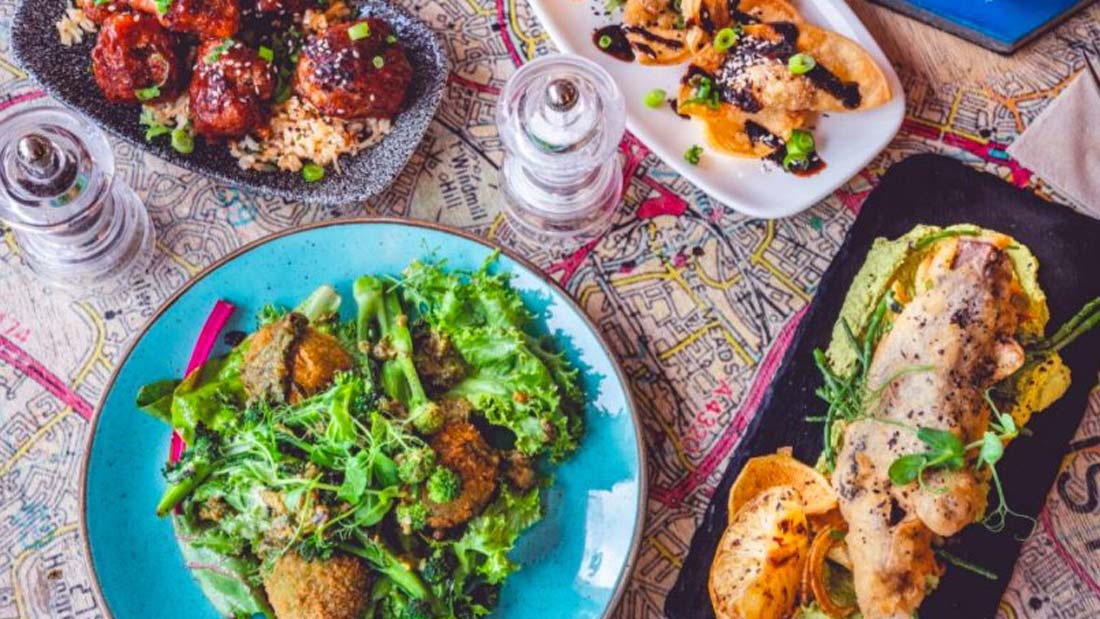 This week, Bristol restaurant, The Canteen, has introduced menus that prioritise meals' carbon footprints over calories. As part of a first-of-its-kind trial in Bristol, the menus encourage diners to consider the impact that their food choices have on the planet. 
In partnership with the UK's largest vegan charity, Viva!, and carbon calculations and labelling provider, My Emissions, The Canteen's trial follows the recent legislation that requires restaurants around the country to include calories on their menus in a bid to combat obesity.  
Viva!, is calling for menus to prioritise carbon footprint labelling over calories as a matter of urgency as the climate crisis grows. With meat, dairy, fish and eggs having a considerably higher negative impact on the planet than vegan alternatives, Viva! demands for more awareness of the link between our food choices and the environment.   
The urgency to act, coupled with controversial debate arising in the hospitality sector, suggests displaying carbon calculations on menus is significantly more important to the health of the UK and the planet than calories at this pivotal moment in time. 
As seen with calories becoming mandatory on menus, the government can implement industry wide rules to inform people on their eating habits. Given the urgency of the climate and wildlife extinction crises, Viva! is calling on the government to step-in and make carbon labelling mandatory, starting with local restaurants to demonstrate the positive impact that awareness can have.  
"It is imperative that we act now if we want to save our planet, and it's clear that a vegan diet is the best way for an individual to make a difference" said Laura Hellwig, Managing Director at Viva! 
"Raising awareness of the carbon footprints from the production of meat, dairy, fish and eggs is crucial – a lot of people have no idea that eating one beef burger can be as damaging as driving the average UK petrol car for 10 miles.  
"We've partnered with My Emissions, as well as The Canteen, to understand just how much impact carbon labels on our menus can have and to help diners realise the connection between what they're eating and the environment.  
"We're really pleased to have partnered with The Canteen. It's been interesting to see the responses from different restaurants. Unsurprisingly, those with meat on the menu have so far declined to take part which, we believe, is due to them knowing that meat-based dishes will have a considerably higher carbon footprint than vegan options." 
Matthew Isaacs, Co-Founder of My Emissions, said: "Climate change is the problem of our generation, and eating more low carbon food is one of the best ways we can reduce our impact on the planet.  
"We hope our partnership with The Canteen will inspire more local businesses to adopt food carbon labelling and help their customers make more sustainable choices." 
Dr Matthew Harris, Head Chef at The Canteen, said: "Including carbon footprints on menus is a positive step in encouraging people to be more aware of the impact of their choices. 
"We are delighted with the carbon calculations of our menu, made up of predominantly vegan dishes, showing the importance of sustainable choices. 
"If carbon labelling was rolled out across the UK, we'd see restaurants and customers encouraged to make better decisions around the food they consume." 
The Canteen's new summer menus have a great selection of deliciously fresh vegan food available. All sourced as locally as possible from small market gardens and farms. Lunch is served Tues – Sun from midday, and dinner Mon – Sat from 5pm. It's a great venue for every occasion, from relaxed dinning with friends and family, to late night dancing with live music six nights a week.  
To find out more about The Canteen, including menu, opening hours and address, please visit https://www.canteenbristol.co.uk/food/.   
Ends.  
Note to editors: 
About Viva!  
Viva! is the UK's leading vegan campaigning charity, specialising in undercover investigations and high-profile animal campaigns. Founded in 1994 by Juliet Gellatley, we have spent more than 25 years creating a kinder, more sustainable world for humans and animals alike. 
About Viva!'s Eating the Earth campaign  
Currently one million species are threatened with extinction worldwide. Help Viva! to save the world's wildlife by acting now! It's urgent! 
Viva!'s new campaign will be revealing how eating meat, dairy, fish and eggs is the number one driver for wildlife loss and will highlight what this means for humanity's future survival. 
Wildlife is running out of space to live. With vast expanses of habitats being rapidly converted into grazing land for livestock, alongside huge swathes of crops grown to be fed to farmed animals – it's clear that meat and dairy demand is at fault. In the UK alone, if everyone was to switch to a vegan diet, this land demand could be reduced by up to 74 per cent – freeing up land for forests to regrow and wildlife to flourish once more.  
At Viva! we believe it's crucial to save the world's wildlife and agree with numerous renowned experts, such as Chatham House, that the UK's dietary habits must move away from meat, dairy, fish and eggs. This campaign will highlight that the solution is clear – going Vegan Now is the only way we can save the world's wildlife and ensure our own survival. 
About My Emissions  
My Emissions offers a simple and intuitive carbon label that makes it easy to see whether a product has a low or high carbon footprint, fosters transparency, and cements a brand's sustainability credentials. Each food product is rated from A (Very Low) to E (Very High) on a traffic light colour system and can be combined with the total carbon footprint (reported in kgCO2e). The rating is based on the per 100g carbon footprint of the item. 
The My Emissions carbon label calculations follow a consistent system boundary covering emissions from "cradle-to-store", including analysis of processing, farming, packaging and transport. They rely on a mix of primary data and data from peer reviewed life cycle assessments, and all calculations align with the GHG Protocol (Product Standard). 
About The Canteen  
If you've not been to The Canteen for food recently – why? Our head chef, Matt now has a brand new, much bigger, open plan kitchen! And he's been working hard in the shiny new space to bring you our tastiest menus yet. 
Lunchtimes start at midday during the week, and 11am on the weekend. With a tempting selection of dishes, that mean you can spend many more lunchtimes with us. Once you've worked your way through the menu, start all over again! 
Take out is also available across their food and drink menu – bring your own lunchbox or cup and get a discount too. Hooray for lunchtimes.  
And for dinner, we've put together an array of gorgeous small plate dishes, meaning you can try lots of flavour combinations all in one meal. Pick as many or as few as you like, although we recommend 2-3 per person.  
We're sourcing as much as we can from some of our favourite suppliers, including our mates at Tempeh Meades, Hodmedods, Mara, and Bristol Fungarium. And we aim to continue introducing new, smaller suppliers as the menu develops.  
With our flexible menu we can work more closely with our suppliers in rhythm with their produce. Meaning the ingredients are as seasonal as you'll get, making them mouth-wateringly fresh.