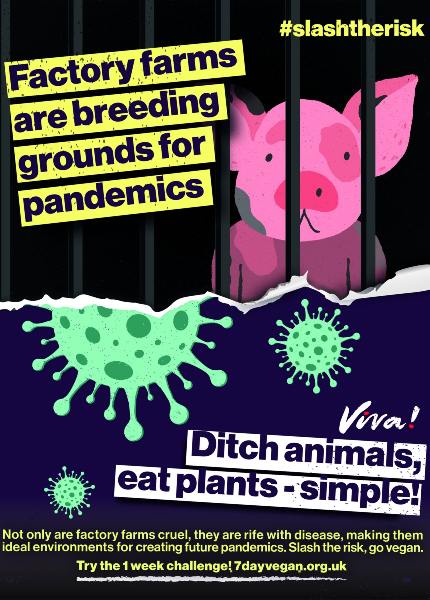 The singular set is free of charge and available at a maximum of 1 set per person. Get the stall pack with 100 leaflets and 4 posters (2x A4 and 2x A2).
The pack includes:
10 x Slash the Risk leaflet
2 x A4 Posters (one describing the risk presented by factory farms and one urging people to go vegan to protect their health).
Neither the Government nor media is advising us how to avoid the worst health effects coronavirus nor are they telling us how to avoid future pandemics. Well, Viva! is!
Our Slash the Risk campaign involves placing huge billboards in the West Midlands and Bristol in November and December which will reach 12 million people. One reveals the risk from factory farming and urges people to try Viva!'s new V7 and go vegan for one week; while another urges people to protect themselves from severe covid-19 symptoms by going vegan.
Find out more about our slash the risk campaign.