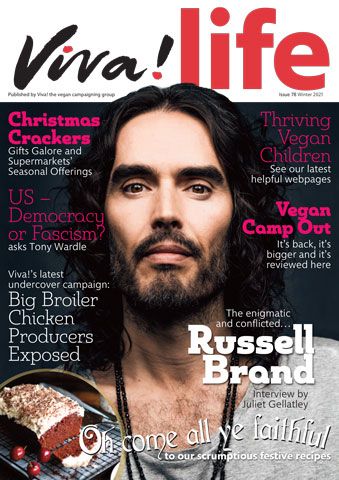 Welcome to Viva!Life issue 78; We speak to the charming and erudite – but decidedly divisive – comedian, actor, presenter and podcast host, Russell Brand, about his love of animals, remaining veggie throughout years of tumult and chaos and why he thinks Viva! is great!
We unveil our latest undercover exposé of UK broiler farms, showcase our Big 3 outreach campaign both at UK Freshers' Fairs and street actions, outline our involvement with international climate conference COP26 and celebrate the success of our Viva! La Burger burger van tour.
We also catch up on Viva! Poland's achievements, Kerri Waters explores the issue of food justice in the future with the Youth4Food Festival and Tony Wardle looks at fascism vs democracy.
Viva! Health's Dr Justine Butler discusses biodiversity loss, and examines the latest vegan health news in Life Science and Veronika Charvatova introduces our brand new webpages on children's health and nutrition.
And, finally, the festive party season is upon us so check out our decadent Christmas recipes and top picks from the supermarket offerings this yuletide – Belgian Chocolate and Salted Caramel Log anyone?! And don't forget our Christmas merchandise and lifestyle gift ideas to help get your Christmas all wrapped up.