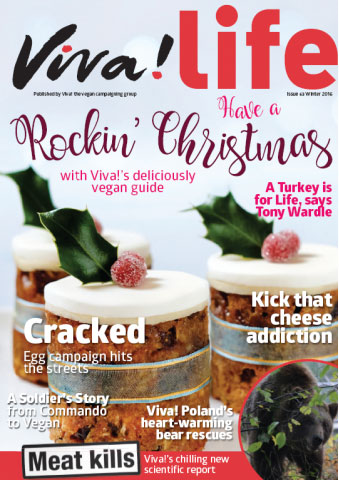 This festive issue of Viva!life is, I'm sure you'll agree, a superb read.
Our perseverance in going undercover into several egg producing 'farms' has paid off with some truly shocking footage of the conditions which over 35 million hens are forced to endure in Britain – in many ways the forgotten victims of animal abuse. Starting on page 11, you can see what we discovered.
Our London demo on the tube, and dozens of regional demos carried out by local groups, took the results of our investigation to thousands of people while media coverage took it to millions. A really fascinating read is Veronika Powell's explanation on page 21 of why people can easily become addicted to cheese – and how to give up the hard (and soft) stuff. And in his column (page 30), John Robb raises a fascinating question as veganism comes in from the cold: "What are we going to do now we're respectable?"
This issue sees the launch of our new report on the links between meat consumption and ill health (page 42). Authored by Dr Justine Butler, Meat The Truth, is a staggering read as it goes through all the major diseases in the West and looks at the part meat plays in killing us – and believe me, it is a huge part!
What would Christmas be without a little over-indulgence in delicious foodie treats. Well, we can certainly help with that! There are some truly delicious recipes starting on page 25 but there's more. On page 45 you'll find details of our new Deliciously Vegan Christmas guide – 20 pages of superb recipes for main dishes, sides, vegetables and stunning desserts. The front cover picture of this edition of Viva!life is one of them – individual little Christmas cakes. It is yours for just £1.50 plus £1 p&p (full details on page 45).
Viva! Poland has also been extremely busy and Tony Wardle writes about two recent rescues on page 38 that I promise will warm your heart. With absolute determination, our Polish colleagues swung into action when they were informed of two bears being horribly abused, one in Poland and the other over the border in the Ukraine. The fact that we have no jurisdiction in the Ukraine could have been an insurmountable problem but… well, read the outcome for yourself! I wish everyone a compassionate Christmas and an animal-saving new year.