Advertise in Viva!Life magazine
The sure way to reach vegans and dedicated ethical readers!
Viva!life is the perfect title to promote your business and products. Our expert team of vegan journalists, nutritionists, health scientists, campaigners, lifestyle influencers and recipe gurus lovingly produce engaging and unique content for each issue of Viva!life.
Viva! is the UK's biggest vegan campaigns charity. We do innovative investigations into save animals, protect human health and the planet, and help people go vegan.
We run popular festivals across the UK, produce groundbreaking reports and research covering all vegan issues, and run a successful ecommerce and mail order Viva! Shop.
Viva!life, our tri-annual vegan magazine encompasses our passion to promote a compassionate and cruelty-free lifestyle in a colourful, friendly and interactive way. But don't take our word for it – read the latest issue here.
Advertise
Download our Media Kit for further information about our readership, rates and artwork specifications.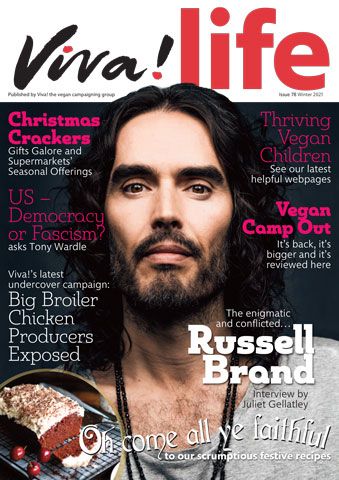 Book your advert in Viva!life now!
Promotional Opportunities
The Lifestyle pages of Viva!life are a great way to increase your sales and build interest in your new product. We review exciting vegan/eco products. If you are interested in being part of the Lifestyle pages, please contact business@viva.org.uk to discuss.
Here's an example of the Lifestyle section in the December edition of Viva!life, p46-47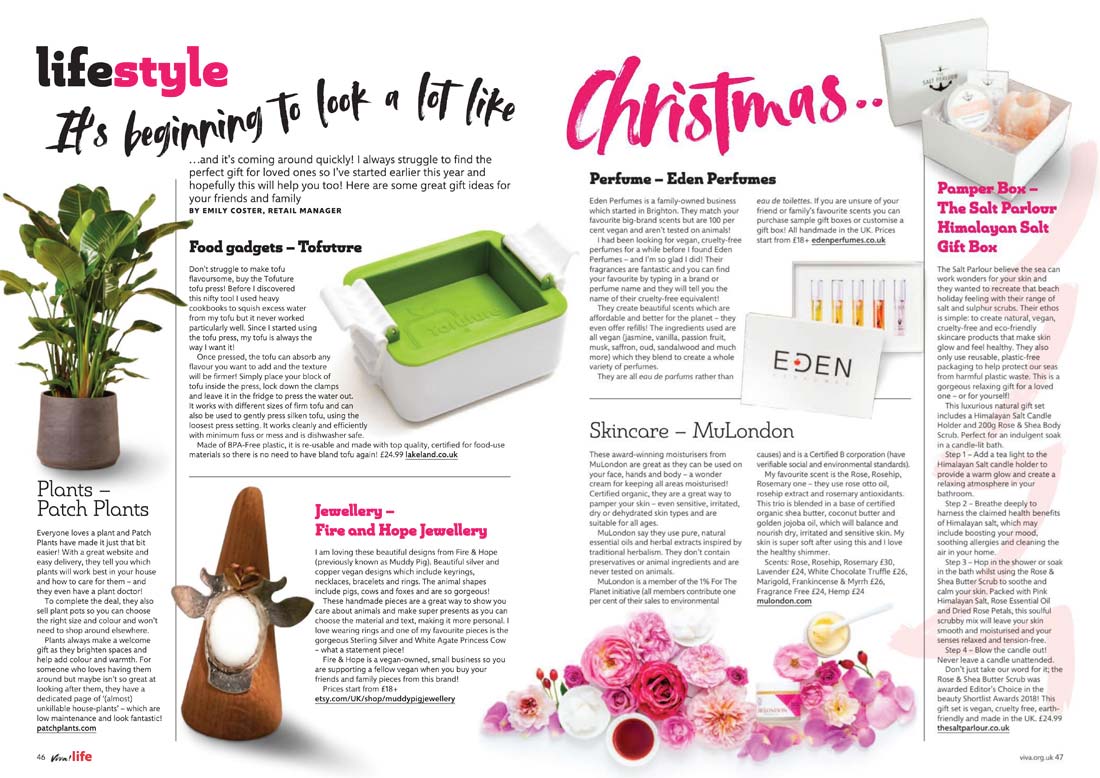 Issue
Editorial meeting
Final copy deadline
To printers
Sent out (onwards)
Spring
2022
VL 79
Mon Dec 13
Mon Jan 10
Fri Feb 4
Fri Feb 11
Summer
2022
VL 80
Mon Mar 21
Mon Apr 11
Fri May 6
Fri May 13
Autumn
2022
VL 81
Mon June 20
Mon Jul 11
Fri Aug 5
Fri Aug 12
Winter
2022
VL 82
Mon Sep 19
Mon Oct 10
Fri Nov 4
Fri Nov 11
Contact Emily Coster on business@viva.org.uk or 0117 944 1000 (Mon-Fri, 9-5) to book an advert or for any information about advertising in Viva!life.
Scroll up