Viva! Freshers' Tour 2022
Viva! campaigners are hitting the road again for our third annual Freshers' Tour as part of the Eating the Earth wildlife campaign!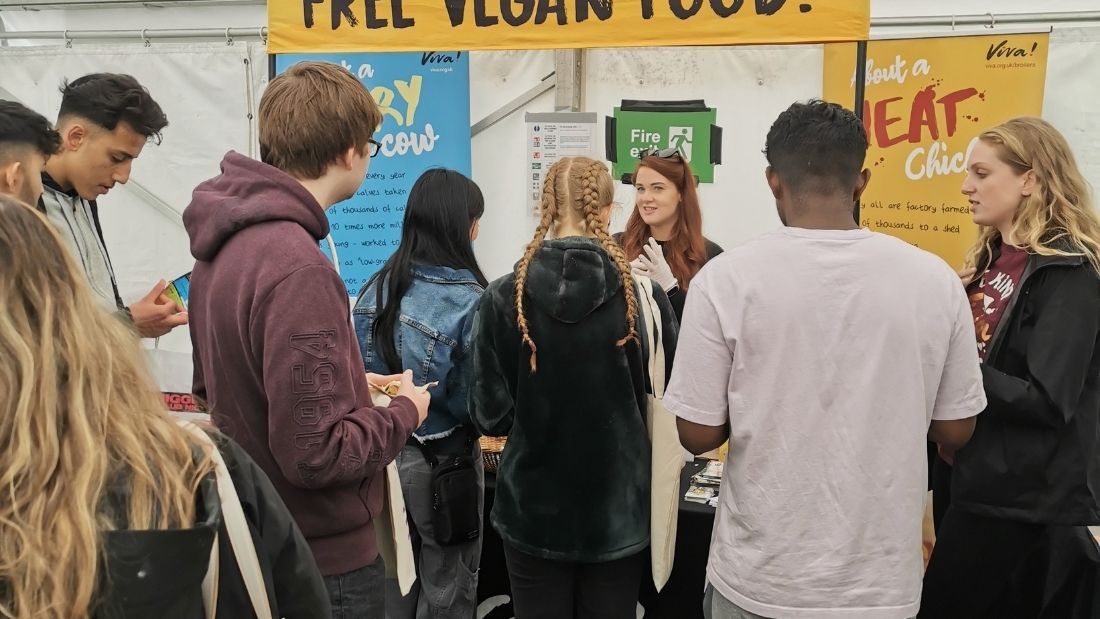 Viva! campaigners are hitting the road again this September and October 2022 to give out free vegan cookies and talk to students about all the myriad positive impacts that veganism can have on our planet, as well as on animals and human health.
This year's Freshers' Tour is a part of our latest Eating the Earth wildlife campaign, spreading awareness around the fact that eating meat, fish, dairy and eggs is the leading cause of biodiversity loss worldwide – a fact that has major implications for the current and future health of our ecosystems.
If you are about to head off to university, then congratulations! We hope you settle in well and that you find yourself able to make the most of the next few years. Speaking of which, did you know that going vegan is "the single biggest way to reduce your impact on planet Earth", according to Oxford researcher Joseph Poore? Simply put, going vegan while at university is the very best thing you can do – and, better still, universities are some of the best environments in which to go vegan!
In fact, university students are six times more likely to be vegan or vegetarian than their parents are.
If you are going to the University of Reading, Bristol, Cardiff, Bath, or Oxford and would like to chat to us at Viva! about why and how to go vegan, then simply drop by our stall at your Freshers' Fair on the dates listed below:
| | |
| --- | --- |
| 21 September | University of Reading |
| 23 September | University of Bristol |
| 27 September | Cardiff University |
| 30 September | University of Bath |
| 6 and 7 October | University of Oxford |
In addition, if you are going to any of the universities listed below, then your university's student Vegan Society (or equivalent) will be at your Freshers' Fair with many of our Viva! materials:
University of Aberystwyth
University of Birmingham
University of Bristol
Cambridge University
University of Glasgow
Loughborough University
University of Strathclyde
Swansea University
University College London
Please do swing by and say 'hi!' to any of our campaigners or volunteers!
Universities are fantastic places to go vegan. Perhaps it is your first time living independently, so you are now free to eat as you wish. Perhaps it is the student VegSoc that helps you along the path to plant-based. Perhaps it is the sheer number of other students that are moving from omnivore to flexitarian to vegetarian and, increasingly, to vegan.
According to a 2019 YouGov poll, 55% of UK students would like to see more plant-based options in their cafeterias – that's around 1.3 million students!
To help with this, we have published a Student Guide to Eating Vegan and a Budget Guide to Eating Vegan, as well as sections on our free app – Vegan Recipe Club – specifically for student-friendly simple budget meals! As a university student, you may be interested in our guide on 'How to Improve Vegan Options at Your University' as well as our 'Vegan-Friendly University Catering Guide', designed specifically for your university caterers.
You might also like...
Scroll up