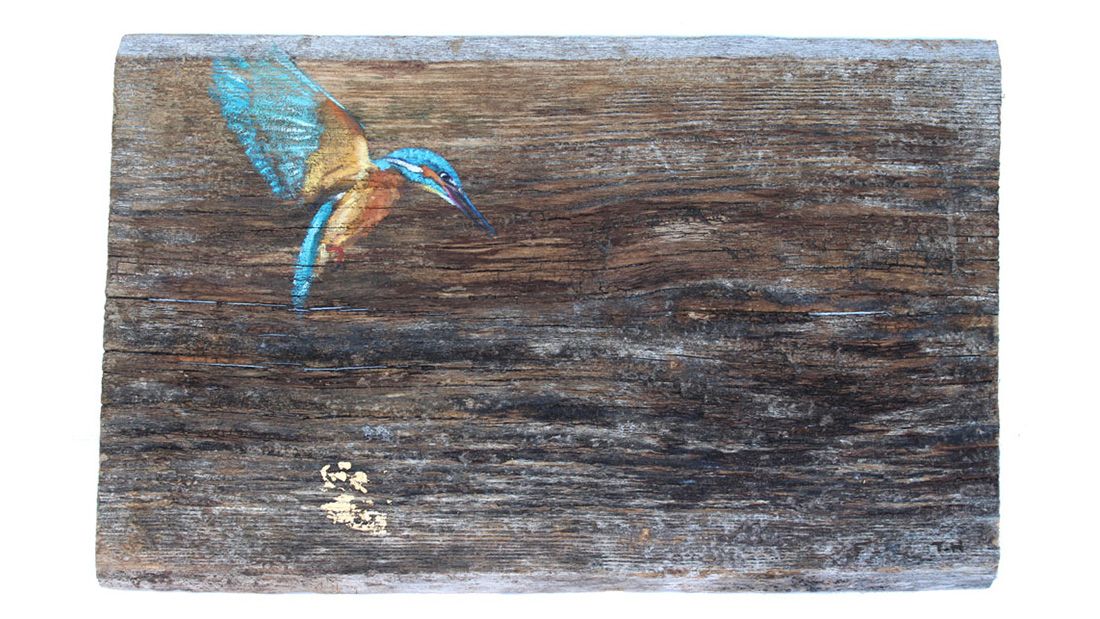 Legends, mythology, Norse myths especially inspire me. Sometimes there is a direct link between the animal I paint and the legendary character I name them after, other times I just feel the essence of such a character is suggested in a certain creature.
I was brought up in a very creative 'Bohemian' household . My father was an artist, who established a highly successful business, sculpting and manufacturing model soldiers. Under his guidance, I learned about handling paint, colour mixing and attention to detail at a very early age. My mother was an artists model and many creative friends of my parents would visit. Often left to my own devices in our ramshackle and rundown house by the Thames, I learned to entertain myself and that has stayed with me. Certainly not a conventional upbringing by any stretch of the imagination!
Since then, I have always been involved in creative work: painting, ceramics and as an artists' model myself.
Having painted on canvas for many years, I discovered working on wood around six years ago and have not looked back. Each piece is a ready made landscape. I take the wood, see the landscape presented and paint what I feel is appropriate for the wood. A habitat for a wild and beautiful animal. Whilst many of the creatures I paint are British, I am increasingly inspired by the Arctic and by Norse legends.
The wood is all found, discarded or donated. Some pieces hundreds of years old. Whilst the animals could possibly be painted again, each piece of wood is unique with its own history. This means every piece is a complete one off!
Why I am vegan
I was vegetarian for years but after a few close calls I finally transitioned to becoming a vegan. I honestly don't know what took me so long but finally it made sense and I "got it"! I think Earthling Ed explains things really well and after watching a few of his videos it all became clear. I really thought chickens lay eggs, that's natural, i hadn't realised practically all male chicks are killed at birth! Milk too I believed to be a natural process, not realising male calves were an un-required byproduct that are either shot at birth or sold off for veal. The more I looked into it the more I learned and realised it's not ok. I loved cheese but not enough to make an animal suffer for it. I love baking but eggs are not necessary for this. There are so many options, one does not need to use animal products at all! Then when one hears how the dairy industry contributes to global warming, it's a no brainer really…
Why I support Viva's Art for Animals project
I think Viva is great! There is so much information on their site, everything from animal rights to recipes, nutrition to education. And art! Seriously, what's not to like!
How to raise money for Viva!
WHAT YOU HAVE TO DO IF YOU BUY TANYA'S ART
1. Tell Tanya your Viva! membership number; email her tanyahinton@btinternet.com
2. Let us know the receipt number, date and total amount of purchase; email jess@viva.org.uk
3. Viva! will then receive 30% per cent of the sale price from Tanya
Contact Details:
My website is tanyahinton.jimdo.com
Facebook page: @tanyahintonart
Instagram: tanya.hinton