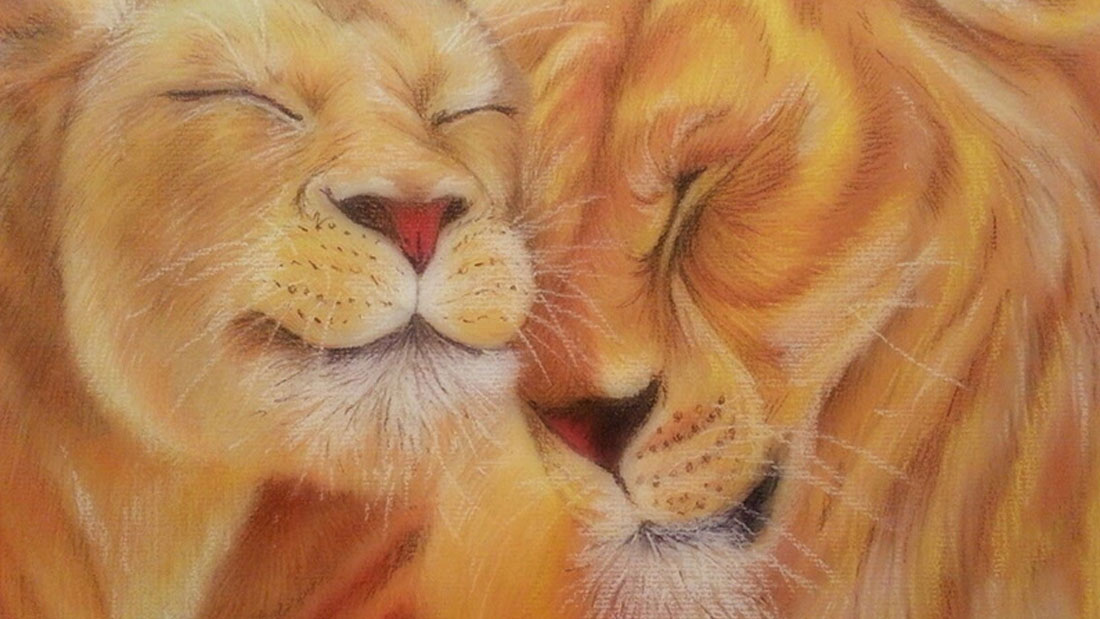 I live and work as an artist in the south east of England in a lovely seaside town with my partner, our children and our dogs.  I have always felt most at home when surrounded by nature, I truly love animals and nature and all of my paintings are inspired by these things.
I have painted ever since I can remember, I am very fortunate to have a creative mum, and the support she gave me certainly encouraged me on my art journey.
The majority of my work is animal portrait commissions; I absolutely adore all of the wonderful animals, that I have the privilege of painting.  I work mainly in oil or coloured pencil, and all of my materials are vegan and ethically sourced.  In addition to freelance work I teach a range of art workshops for children, as I believe they are the key to improving the world we live in, young minds need to be creative in order to bring about positive change.
Why I am vegan
I get asked this question more than I thought I would, and to me the answer is simple 'Why, in a world that claims to be compassionate, educated and medically advanced, would you not be vegan'.
I have been vegetarian since I was 14, and recently turned vegan as I could no longer deny what really happens in dairy farming, and although I consumed very little milk I had to face the reality that even a little was too much.  As a society we are programmed to believe we need meat and dairy to live healthy lives, living as a vegan has taught me this is untrue.  This has also started me on a journey of self-discovery, and every day I make a conscious effort to live the best life I can by being as kind as I can to myself and all others that share this Earth with me, I give as much as I can and try to reduce the negative impact I have on my environment.  I am very passionate about saving lives as I believe all life is equal and has a right to live peacefully.
How to raise money for Viva!
Buy any of my prints or cards and I will donate 10% of my profits to Viva!, or buy any original and I will donate 20% of the sale to Viva!, you can purchase via the contact page at samanthawing.co.uk, or by contacting Samantha directly.
WHAT YOU HAVE TO DO IF YOU BUY SAMANTHA WINGS' ART
1. Tell Samantha your Viva! membership number
2. Let us know the receipt number, date and total amount of purchase; e-mail jess@viva.org.uk
3. Viva! will then receive 10-20% of the sale price from Samantha
Contact Details:
Web: www.samanthawing.co.uk
Telephone: 07432662501
Email: Samantha.wing.sw@googlemail.com
Facebook: Samanthawingart
Instagram: Samanthawing.veganartist