Episode: 64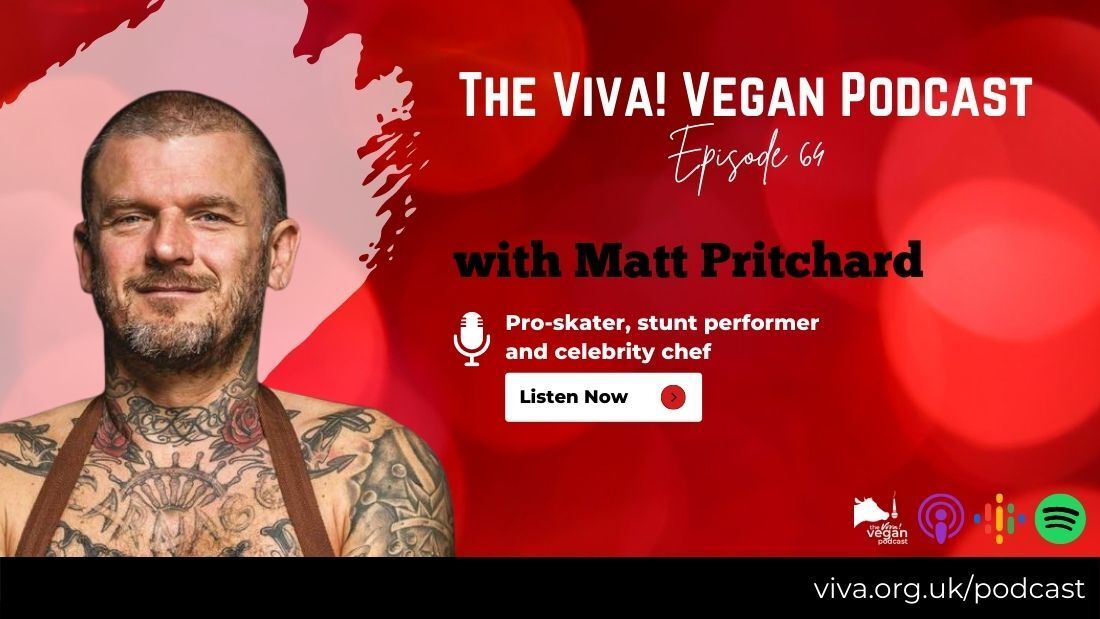 The Viva! Vegan Podcast, FebruaryEpisode #64: Matt Pritchard – Celebrity chef, pro skateboarder, and "wild man–turned–Ironman" vegan. 
Matt Pritchard has achieved a lot in his 48 years. He shot to fame as a professional skateboarder and stuntman for MTV's hugely successful programme Dirty Sanchez, before reinventing himself as a celebrity chef in 2019 – hosting the first vegan cookery TV show, Dirty Vegan, on BBC.  He's also released two vegan cookbooks: Dirty Vegan and Dirty Vegan: Another Bite. 
In recent years though, it's his transformation into an ultra-fit Ironman that has been his main focus and preoccupation. 
Viva!'s Faye Lewis caught up with the "wild man-turned-Ironman" and chatted vegan stereotypes, having an addictive personality, and, of course, his love of food and journey to veganism. 
Following the interview, Faye is joined by Viva!'s head of investigations, Lex Rigby, to talk about Matt's incredible story.
Please don't forget to rate, review and subscribe to our podcast. 
About Our Show
You can hear this show via Apple Podcasts, Google Podcasts and on lots of other apps and websites. Spread the word! Don't forget to share on Facebook and Twitter!
Subscribe to our emails and get the latest episode every month, straight to your mobile device or computer. It's automatic and completely free.
Copyright owned by Viva! Bristol 2022. Not for re-use without our written agreement. All featured music and content used by permission.
This podcast is sponsored by Beer 52 who are offering Viva! supporters a FREE case of eight vegan craft beers. That is eight craft beers, free from any animal products, sourced and curated from the best breweries on the planet for FREE! (excl. delivery). Go to beer52.com/veganviva to find out more.