Episode: 70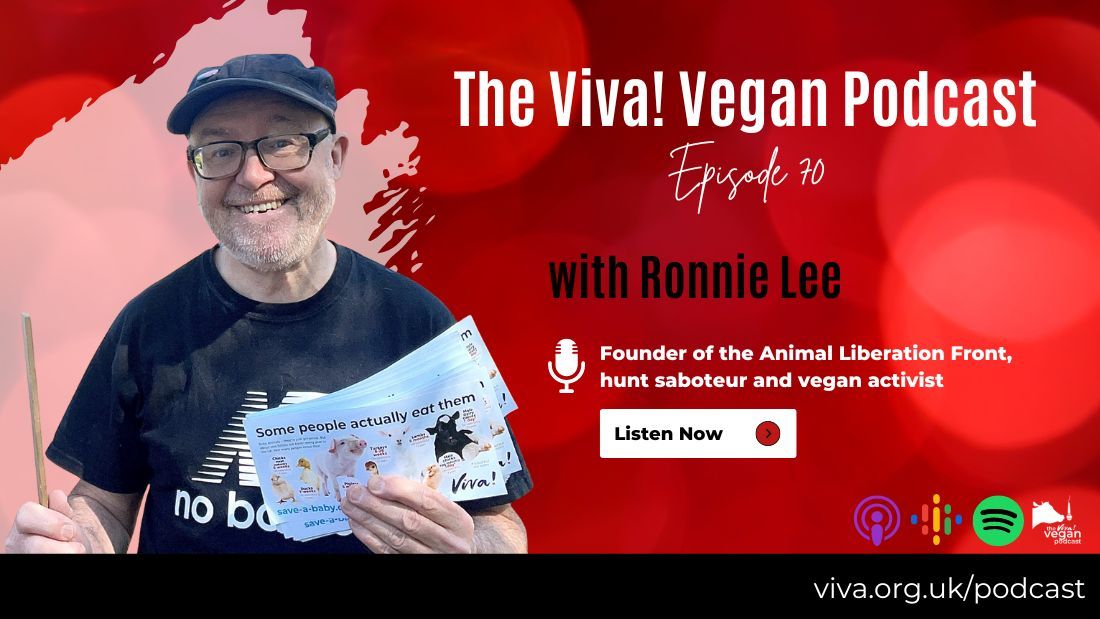 The Viva! Vegan Podcast, AugustEpisode #70: Ronnie Lee – Founder of the Animal Liberation Front, hunt saboteur and vegan activist
Born in 1951, Ronnie stopped eating meat aged 19 when his sister's vegetarian boyfriend convinced him that it is wrong to eat animals. Two years later, he became vegan and got active with the Hunt Saboteurs Association to disrupt hunting activities and save lives.
In his pursuit to carry out direct action against all forms of animal oppression, the Animal Liberation Front was born.
In this interview, Viva!'s head of investigations, Lex Rigby, gets to ask Ronnie what it was like being vegan in the 70s, what happened to the rescued guinea pigs he stuffed up his jumper and whether he really thought a gallon of petrol was going to burn down an animal research laboratory.
Following the interview, Lex is joined by Viva!'s head of comms, Faye Lewis, to discuss Ronnie's uncompromising commitment to the animal rights cause.
If you enjoyed the show, please don't forget to rate, review and subscribe to help new listeners discover us. 
About Our Show
Listen now by clicking the play icon below. We're also on Apple Podcasts, Google Podcasts, Spotify and lots of other apps and websites.
Get the latest episode every month, straight to your mobile device or computer. It's automatic and completely free.
Copyright owned by Viva! Bristol 2022. Not for re-use without our written agreement. All featured music and content used by permission. Produced by Faye Lewis and Lex Rigby for Viva!.
This podcast is sponsored by Beer 52 who are offering Viva! supporters a FREE case of eight vegan craft beers. That is eight craft beers, free from any animal products, sourced and curated from the best breweries on the planet for FREE! (excl. delivery). Go to beer52.com/veganviva to find out more.