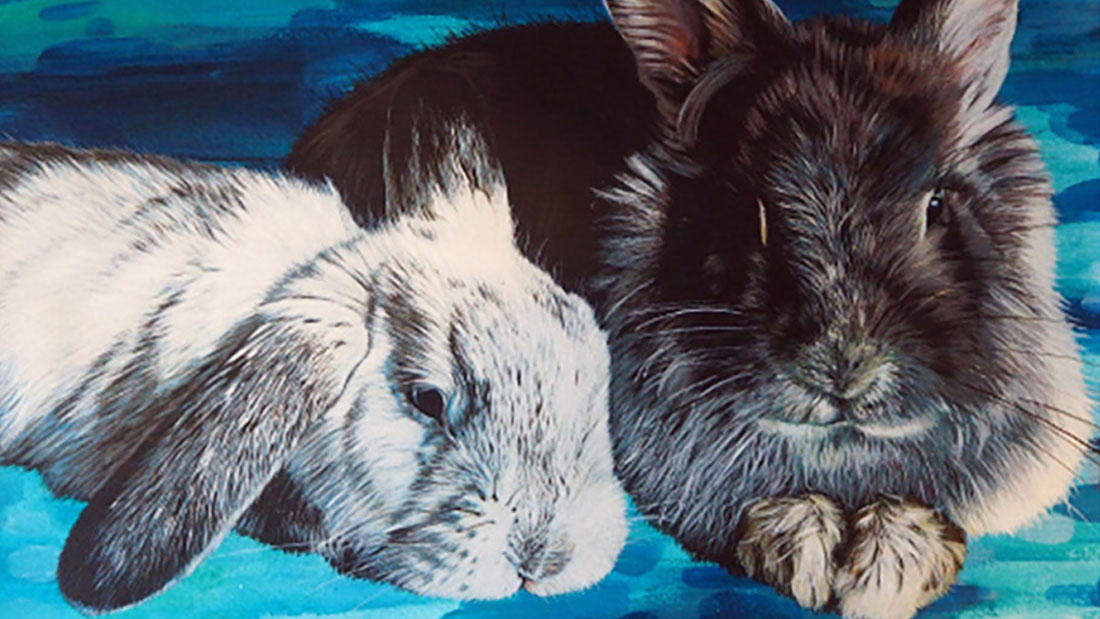 Hi! I'm Naomi Joy and I'm an animal Artist from Bristol. I have loved creating art and crafts since I could hold a pencil and love tiny details. I studied Illustration at Hertfordshire University, where I worked in such a variety of ways that when I left I felt a bit lost what I was doing with my art. However, I started to paint animals and realised that bringing my love of animals and art together was the perfect solution! I truly enjoy all the art I create. I mainly paint people's companion animals these days, which is amazing as I get sent lovely pictures of dogs, cats and bunnies and sometimes even get to meet them when delivering work. When I get time I love to create pieces from photos I have taken at animal sanctuaries and, when these sell, try to give back some money to the places helping these wonderful creatures. I also paint for different exhibitions as I like to challenge the way I work and try new things. I have two beautiful rescue cats who like to hang out under my desk as I paint and I very much enjoy walking in nature.
Why I am vegan
I became a vegan roughly four years ago when I realised there were no excuses to continue to consume or use any animal product and that I didn't want to continue buying into any of those industries. I had been mostly vegetarian for a few years before that and was already lactose intolerant (milk is for baby cows it turns out) before that. So luckily for me I already knew a lot of the products to use but since then it's been amazing to see the boom of new vegans and vegan products that are available! It's really so easy to be vegan these days. When people ask why I am vegan I have so many reasons I could tell them, but my main answer is: if you can live and truly thrive without causing unnecessary harm and cruelty to living creatures, why wouldn't you?
Why I support Viva's Art for Animals project
I am so excited to be able to help Viva! out through my art work with Arts for Animals. It gives my work a whole extra purpose knowing that I can help in a small way through a service I am already providing. I have also thoroughly enjoyed Viva!'s vegan fairs and hearing the founder, Juliet, speak at events. We need charities like Viva! to help unite us in our fight against all forms of cruelty.
How to raise money for Viva!
Naomi willing be generously donating 5% of every animal portrait sold to Viva!, and if you tell Naomi your membership number that will increase to 10%!
WHAT YOU HAVE TO DO IF YOU BUY NAOMI JOY'S ART
1. Tell Naomi your Viva! membership number; email her contact@naomijoyart.com
2. Let us know the receipt number, date and total amount of purchase; email jess@viva.org.uk
3. Viva! will then receive 10% per cent of the sale price from Naomi
Contact Details:
Website: www.naomijoyart.com
Facebook: Naomi Joy Art
Instagram: @naomi.joy.art