Joanne Molinaro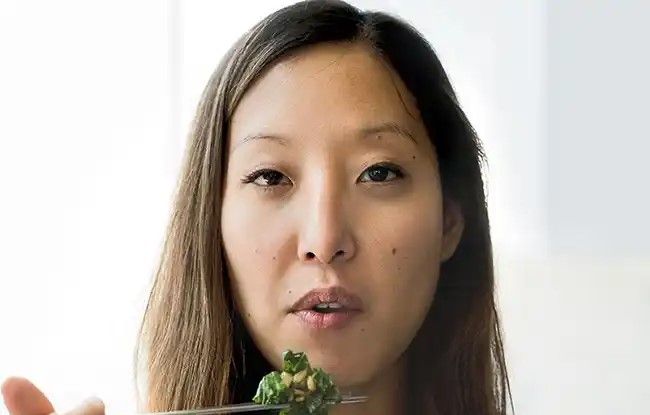 Joanne Molinaro is a vegan author, blogger, social media influencer, and American attorney. Widely known as the Korean Vegan, Molinaro started her food blog back in 2016 after adopting a plant-based diet and by 2017 expanded her online presence to sharing videos of her cooking adventures and personal anecdotes. Fast forward to June 2023, she boasts an impressive online community with over 1 million subscribers on YouTube and a staggering 3 million followers on TikTok1Wikipedia. Profile: Joanne Lee Molinaro. Available: https://en.wikipedia.org/wiki/Joanne_Lee_Molinaro. [Accessed 19 October 2023].
Within her New York Times best-selling cookbook, Molinaro unveils a treasure trove of more than 80 captivating plant-based recipes, interwoven with poignant narrative snapshots that offer a glimpse into the culinary heritage that has defined her family. These recipes range from cherished childhood classics such as Jjajangmyun, the luscious black bean noodles that graced her birthday celebrations, to the unassuming yet heartwarming Gamja Guk, a potato-and-leek soup crafted by her father. Delving even deeper into Molinaro's personal realm, her signature Chocolate Sweet Potato Cake is a culinary tribute to the two foods that played a pivotal role in saving her mother's life.2The Korean Vegan. Cookbook. Available: https://thekoreanvegan.com/the-korean-vegan-cookbook. [Accessed 19 October 2023].
Molinaro has made appearances on various prominent platforms, including The Food Network, CBS Saturday Morning, The Today Show, and many more. Her work has been featured in respected publications like the Los Angeles Times, The Washington Post, and CNN.
Furthermore, her debut cookbook was recognized as one of "The Best Cookbooks of 2021" by The New York Times and The New Yorker, among others.
"When I went vegan, I was so nervous that I wouldn't be able to eat Korean food anymore, and I couldn't find any other real blogs out there that did what I needed. So I was like, 'This is an opportunity for me to understand Korean cuisine better, to ensure that I actually get to continue eating the way that I want."3Thrillist. The Korean Vegan Interview. Available: https://www.thrillist.com/eat/nation/the-korean-vegan-joanne-molinaro-interview. [Accessed 19 October 2023].
Scroll up