Eddie Garza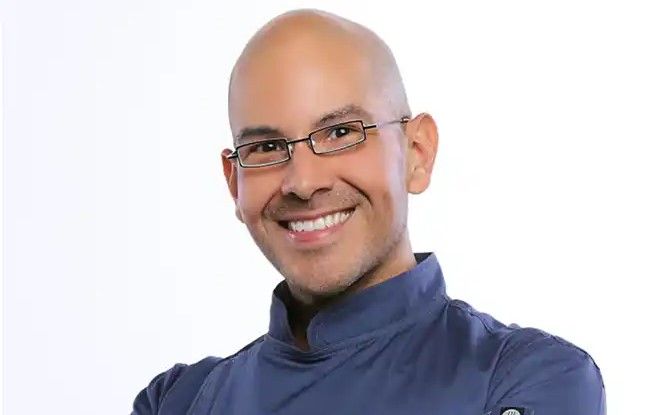 Eddie Garza is a plant-based chef, cookbook author, and a leading figure in the movement to reform food systems in Hispanic communities. He is also the charismatic host of "Global Bites with Eddie Garza"1Imdb. Global Bites with Eddie Garza. Available: https://www.imdb.com/title/tt18116338/. [Accessed 19 October 2023]. and garnered extensive recognition and media coverage both within the United States and internationally.
Eddie's formative years were spent in Brownsville, Texas, a Mexican-American border town grappling with pressing health issues, notably childhood obesity, diabetes, and heart disease.2National Library of Medicine. Physical activity and overweight among adolescents on the Texas-Mexico border. Available: https://www.ncbi.nlm.nih.gov/pmc/articles/PMC1525222/. [Accessed 19 October 2023].. Much like his contemporaries during his youth, Eddie struggled with severe weight challenges from a young age, reaching a peak weight of 310 pounds by the age of 21. His pivotal transformation occurred when he adopted a plant-centered diet, which enabled him to organically shed over 150 pounds and reclaim his deteriorating health3NBC Los Angeles. Chef Loses 150 Pounds. Available: https://www.nbclosangeles.com/california-live/chef-loses-150-pounds/2384262/. [Accessed 19 October 2023]..
Since then, Eddie has showcased his knowledge and culinary talents to an impressive roster of celebrities spanning the realms of television, film, music, and sports. His clientele includes renowned figures such as world boxing champion Saul "Canelo" Alvarez, television host and model Daisy Fuentes, singer-songwriters Richard Marx and Rob Thomas, Latin American television luminaries Marco Antonio Regil and Ximena Córdoba, as well as actors Cybill Shepherd, Harley Quinn Smith, and many more4Eddie Garza. Homepage. Available: https://www.eddiegarza.com/. [Accessed 19 October 2023]..
His book ¡Salud! Vegan Mexican Cookbook features 150 plant-powered recipes (representing the 150 pounds he lost on his vegan journey) while Eddie simplifies plant-based versions of global comfort classics in his latest book: The 30-Day Vegan Meal Plan for Beginners5Amazon. Author Profile: Eddie Garza. Available: https://www.amazon.co.uk/stores/Eddie-Garza/author/B01M32BK1H. [Accessed 19 October 2023]..
"Completely eliminating animal products can feel extremely overwhelming, but thanks to vegan culinary innovation, you don't have to give up the tastes and textures you love—just swap it for a vegan version. There are plenty of quality vegan alternatives in most supermarkets."5VegNews. 31 Tips for Going Vegan by Eddie Garza. https://vegnews.com/vegan-guides/vegan-tips-eddie-garza.[Accessed 19 October 2023].
Scroll up