Sarah Jane Honeywell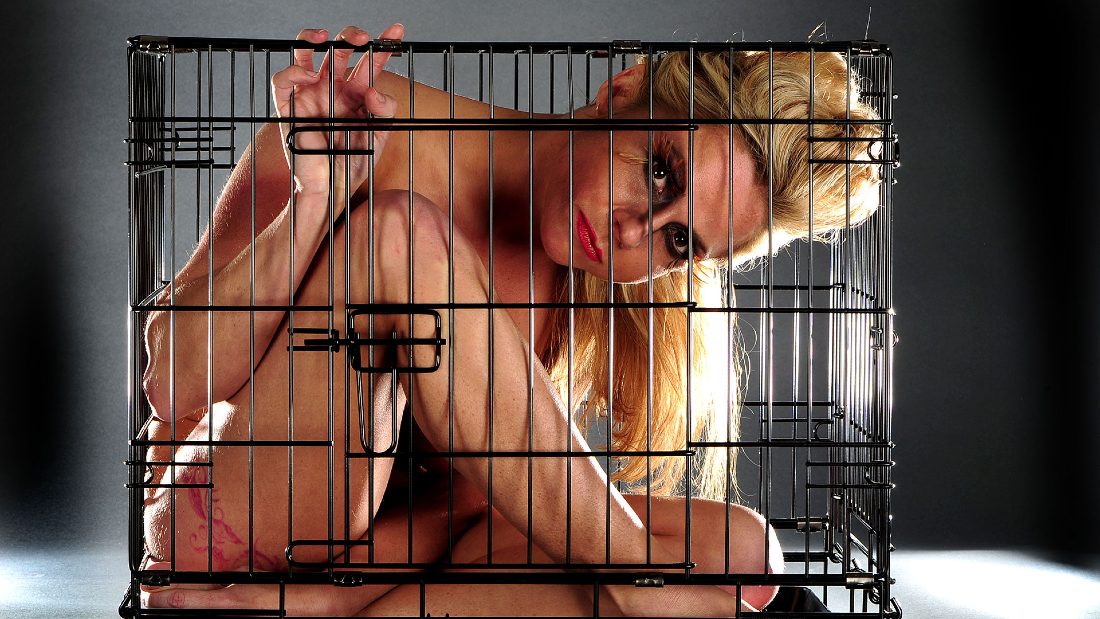 Sarah-Jane Honeywell is an English television presenter, actress, dancer, acrobat/aerialist best known for her work on the CBeebies television channel.
As well as appearing on pre-school TV, Honeywell is a supporter of Bristol City F.C. and writes a regular column in the Ashton Gate Stadium match day programme 'Well Red'. Sarah-Jane is a vegan, and does charity work for Dogs Trust.
"I became a vegetarian because of Viva!'s magazine, Viva!life and I then became a vegan because of Viva!'s Not In My Name Video. Viva! have changed my life for the better."

Sarah Jane Honeywell
Interview with Viva!'s Tony Wardle, 2012
Sarah Jane told Viva!: 'I became a vegetarian because of Viva!'s magazine, Viva!life and I then became a vegan because of Viva!'s Not In My Name Video. Viva! have changed my life for the better and I will always be grateful to them for showing me the reality of how animals are mistreated and I will always support this wonderful vital organisation. While watching the horrific scenes on the Viva Video I realised that if I found animal cruelty footage hard to watch then meat eaters would find it even harder to seek out and watch. I wanted to create a way so everyone could see the truth about the meat, dairy, fur and vivisection industries but in an artistic way. My partner and I had already written the song 'Karma' with our band As Above So Below and we realised it was the perfect way to spread the awful truth about life and the consequences of how we live it. I don't want to upset people but I do think everyone should see what's really happening and then make their own choices about how they live their lives.' Young, Gifted and Veggie By Tony Wardle Taken from Viva!LIFE (Viva!'s supporters' magazine), issue 29, summer 2005.
When I first saw Sarah Jane Honeywell she was popping out of an impossibly small box on stage at the BBC's CBeebies show in Cardiff. Trick box maybe, I thought, but when she then performed immaculate cartwheels across the stage, I was doubly impressed. Then I got to meet this lively, passionate and diminutive little 32-year-old woman with her trademark bunches and discovered she is probably the most bendy presenter and continuity announcer on children's TV – actually, in the whole of television. As a kid at dance school, Sarah Jane discovered that she was impossibly supple, with very stretchy skin and ligaments and so began her working life as a contortionist in Malta after seeing the Great Kovaks in Doncaster then followed by a job in Malta. Now there's a conversation stopper if ever I heard one! "It was too much like hard work", she says. Perhaps it was fortunate, then, that Sarah Jane went for an audition in a musical – a musical she adored and had always dreamed of appearing in but, because she wanted it so much, believed it could never happen. It did and she became a kitten in the hit West End show Cats, where she remained for three years. After leaving Cats, Sarah Jane play a variety of roles in theatre, including an acrobatic flying nun in Falstaff at the Royal Opera House, Covent Garden. Clearly, the mundane has little appeal to Sarah Jane. She returned to Cats for a further 18 months and played Etcetara is the very last performance of the show, something she terms a 'great privilege'. It's satisfying to know that our magazine, It's Time to Go Veggie, was instrumental in getting Sarah Jane to go vegetarian – and apart from an occasional small piece of cheese and slab or two of chocolate, vegan. Both she and her photographer partner, Tim, made the decision to give up meat at the same time. It was joint cry of: "Let's go for it!" Both were already horrified by cruelty and those responsible for it and having the facts set out for them, knew there was no escape. "Because we now had the facts, we knew that if we carried on eating meat we would be the very people we hated", explains Sarah Jane. This wasn't her first stab at going vegetarian, having previously made an attempt at just 13. Unlike so many parents, hers were very supportive and her mum even took a vegetarian cookery course. But beneath it all was a fear that her daughter's decision to give up meat might simply be a way of cutting down on food and this, combined with the reality of cooking two different meals each day proved the clincher and meat was back on the menu. Now, when Sarah Jane talks about her vegetarianism, she bubbles with enthusiasm and is overjoyed that she has done what she wanted to do 20 years ago. It is clearly a life changing, life-enhancing decision of which she is joyously proud – no doubts, no thought of recanting, just delight that she can now face animals and know that they will not be killed for her. The family is now totally accepting and last Christmas her mother cooked two meals – one meat, one vegan – but this year Sarah Jane and Tim are staying at home: "We're so pleased that there won't be any meat in the house let alone on the table". Her sister Sharon isn't quite so enthusiastic of the whole veggie concept, it has to be said. "When I was visiting, one of my nieces asked why I was vegetarian so I told her it was because I liked animals and didn't want them to be killed for me … but before I could go on, I looked across the table and Sharon's raised eyebrow said clearly … 'don't even go there!'" Sarah Jane Honeywell (and her trade mark bunches) is known to kids everywhere from her children's TV role in CBeebies Higgledy House and doing the links between programmes. This Christmas she's seriously looking forward to playing Peter Pan at Wimbledon with the world famous Henry Winkler (you're right – the Fonze) and Bobby Davro. But ironically it isn't fame and fortune she's seeking: "I want the second half of my life – after I've paid off my mortgage and I'm financially independent – to be spent helping to save animals. In the meantime, I love Viva! and everything it does and I will do anything I can to help it and the animals", Thanks for that Sarah Jane. Make no mistake, we'll take you up on it.
Scroll up