Phil Manansala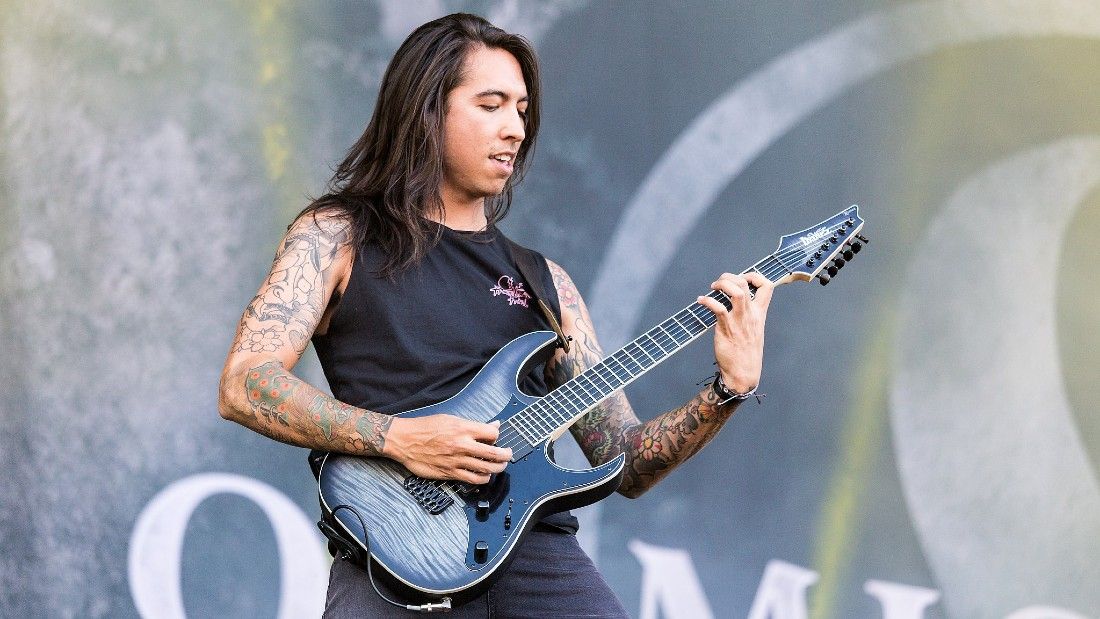 Phil Manansala is the guitarist in American alternative metal band Of Mice and Men (OM&M). In 2013, the band won the Kerrang! Award for Best International Newcomer and in 2014 Manansala was voted best guitarist by the Alternative Press Music Awards.
Of Mice and Men have released seven studio albums since their formation in 2009, they have played huge international festivals and have shared the stage with bands such as Slipknot, Rise Against and In Flames. Their 2014 album, Restoring Force, reached number one in the Independent Billboard Album charts.
Manansala began his vegan journey in 2016 although he wasn't yet ready to call himself a vegan.1Giliver, L. 2020. 'Of Mice And Men' Guitarist Philip Manansala Asks Followers To Try Vegan Diet In 2021. Available: https://plantbasednews.org/news/celebrities/philip-manansala-asks-followers-to-try-vegan-diet/ [Accessed 3 February 2022].
Manansala grew up eating a standard American diet, refusing to eat veggies, but challenged by his wife, he decided to go plant-based. Although he found it difficult to initially acclimatise to his new dietary plan, he found some go-to recipes which helped his transition. He soon noticed the health benefits, and his love for animals also went through the roof, in part thanks to his dog companion. After six years of being vegan, Manansala states his love for animals as his motivating factor for staying vegan – alongside his love of food.
At the end of December 2020, Manansala turned to Twitter to dare people to go vegan for a month in time for Veganuary.
"I smell barbeques going on and it smells good but I think I would never eat that because that poor animal … even though you want something… you have to have more self control over yourself… yeah it smells good but at the same time I think more of it …. that poor animal, if someone cut my leg off and made a steak I'd be mad as hell." – from the Viva! Vegan Podcast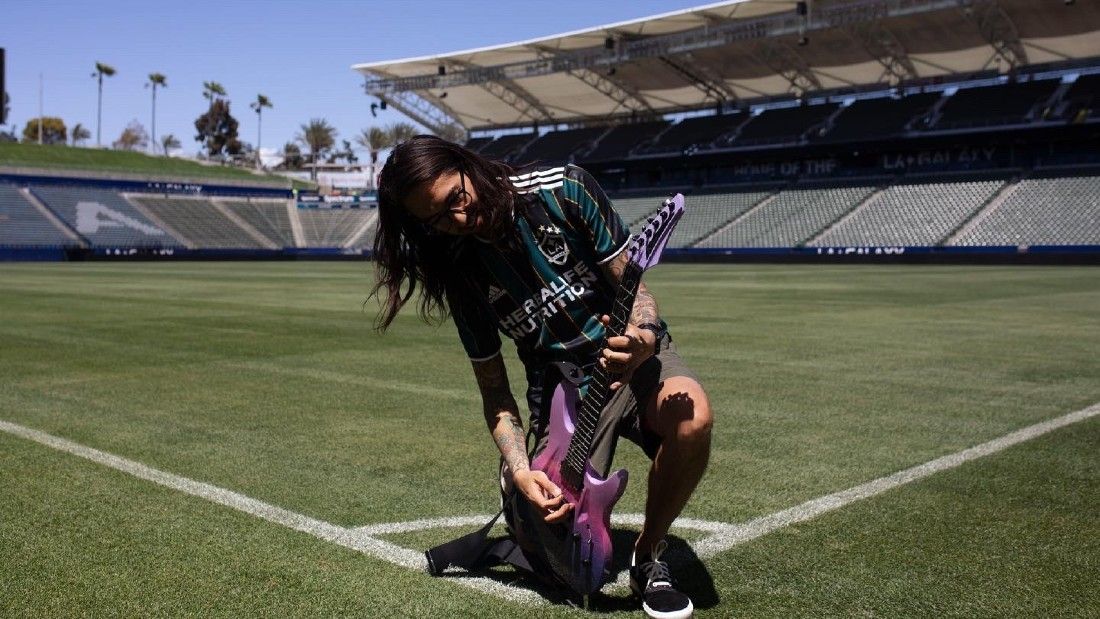 Of Mice & Men are back with their new album Echo. Their guitarist Phil Manansala discusses the new album, breaking his hands – and his journey into veganism.
In 1998, Phil Manansala decided he wanted to play guitar. He was 10 years old and right in the midst of the nu-metal explosion. Watching punk bands like Blink-182, Metallica, Linkin Park, Deftones and System of a Down (SOAD) was a clarion call that woke up outcast alternative kids across the world, and Phil was no exception.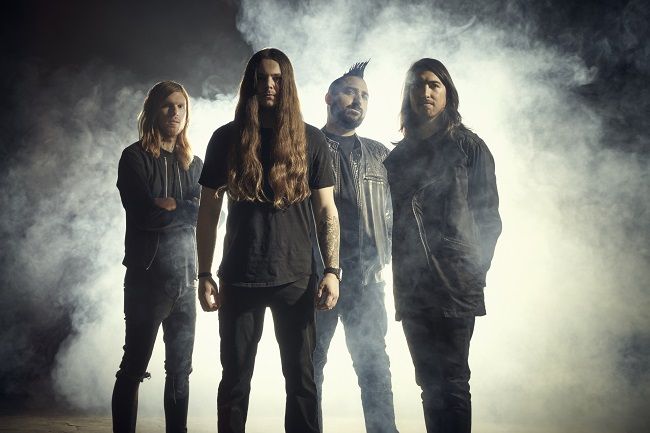 "Watching all of those bands, made me just want to play guitar," Phil reminisces. "So, I guess at 10 years old the dream started. My mum ordered me a $25 guitar and the crappiest amp you could ever have out of the back of a magazine, and I had fun," he laughs.
His beginnings may have been humble – a talent show where he performed a cover of SOAD's Sugar – but by 2008 he was playing guitar in the post-hardcore, alternative-rock outfit A Static Lullaby. Initially formed in 2001, in Chino, California, they were the epitome of a local circuit buzz band that had made it big, with major label endorsement from Columbia Records and four albums under their belt.
"They were my hometown band which was really cool. They were the band that got signed, that were playing all the big sold-out shows, to 250-500 people. They sold 50,000 demos by themselves… so filling in for them was a dream come true."
While A Static Lullaby were plauded by critics for their own brand of alternative rock, it is their cover of Toxic, by Britney Spears for which they will always be best remembered – a classic that's stood the test of time.
For Phil however, A Static Lullaby was way more than a band in which to cut his teeth. Touring led to the development of some great friendships, on which the foundations for Of Mice & Men were built.
"I did three or four tours with A Static Lullaby, and that was where I met our drummer Tino (Arteaga), who was in Lower Definition, I met Austin (Carlile, singer) who was in Attack! Attack! and Aaron who was in Jane is Elsewhere. So, it's pretty insane that the story of Of Mice & Men goes back that far. A lot of people don't know that, but I had an awesome relationship with these guys before we worked together."
Forerunners of the metalcore and post-hardcore genre, between 2009 and 2019, the band released six studio albums, with 2014's album Restoring Force, and 2016's Cold World reaching number one in the US hard rock charts, while their other albums all charted in the top 10.
The band also scooped up Kerrang!'s Best International Newcomer in 2013, and in 2014 Phil won Alternative Press' Best Guitarist Award. To top this off, the band went on tour worldwide, playing international music festivals – including numerous Vans Warped Tours and Soundwave Music Festivals in 2013 and 2015.
"All the years of being on the road and drinking and smoking and letting things slide – it took its toll."
Of Mice & Men were in a period of fantastic innovation when a new generation of musicians found their own voice. Their music was part of a broader wave of metalcore and hardcore all coming from labels such as Rise, Ferret, Roadrunner, Century Media and Metalblade. Their fan base grew, the band were sharpening their craft and seemed unstoppable, but then, in 2020, disaster struck. "I broke both my hands and had to have surgery," recalls Phil. "I had a mental breakdown."
While Covid-19 ravaged the world, Phil was undertaking physical and mental therapy, and for the first time, he was forced to take stock of his life.
"All the years of being on the road and drinking and smoking and letting things slide – it took its toll. And the last two years I had to readapt and understand what I have with being a musician. I broke my hands, what if I couldn't play guitar again? Those things went through my mind when recovering from surgery. It really made me think about what's important," he says soberly. "It took me being home for two years to understand that, but when you're living on the road and call a tour bus your home, it was different and I was used to living a certain way. The mental capacity of someone who lives like that, then has to adapt, it's different."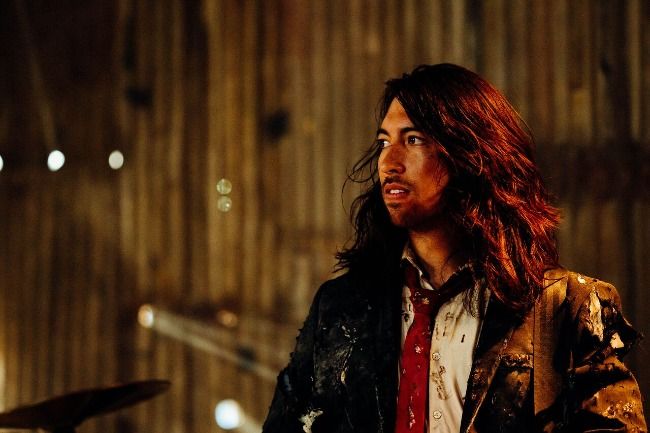 Phil emerged from his injury chastened and self-aware, owing a lot to the therapy he received during this time. But he wasn't the only one to have transformed, the band as a collective had shifted their priorities and mindsets, highlighting a newfound maturity.
They released their seventh studio album Echo at the end of 2021, through record label SharpTone (parting ways with Rise in early 2020). The overall tone of Echo is more serious, more focused, and perhaps, more polished than ever.
"We recorded the album on Twitch. Our fans got involved, and they saw the truth of how ideas suck at first until we turn it into something creative," Phil laughs. "I am from the garage scene; you wait for the drummer to kick a sick beat and I play guitar. You hear something, you feel it, and I had to adapt from my creative ways, because when you're not in a room, you can't capture music. It's difficult without the jam room and feeling pumped."
But adapt he did, and the result  is the combination of gargantuan hooks and melodies with an atypically strong punk rock backbone, which you would expect from a band of their credentials. At its heart is a darkness though, which Phil attributes to the stresses and strains a long-term and heavy bout of solitude put on the personal lives of himself and friends.
Of Mice & Men have come a long way from the scrappy metalcore kids that emerged from Chino back in 2009; they've flourished into a band who have overcome people's expectations – true professionals with a solid work ethic – but on an individual level, Phil has also matured and grown as a person too.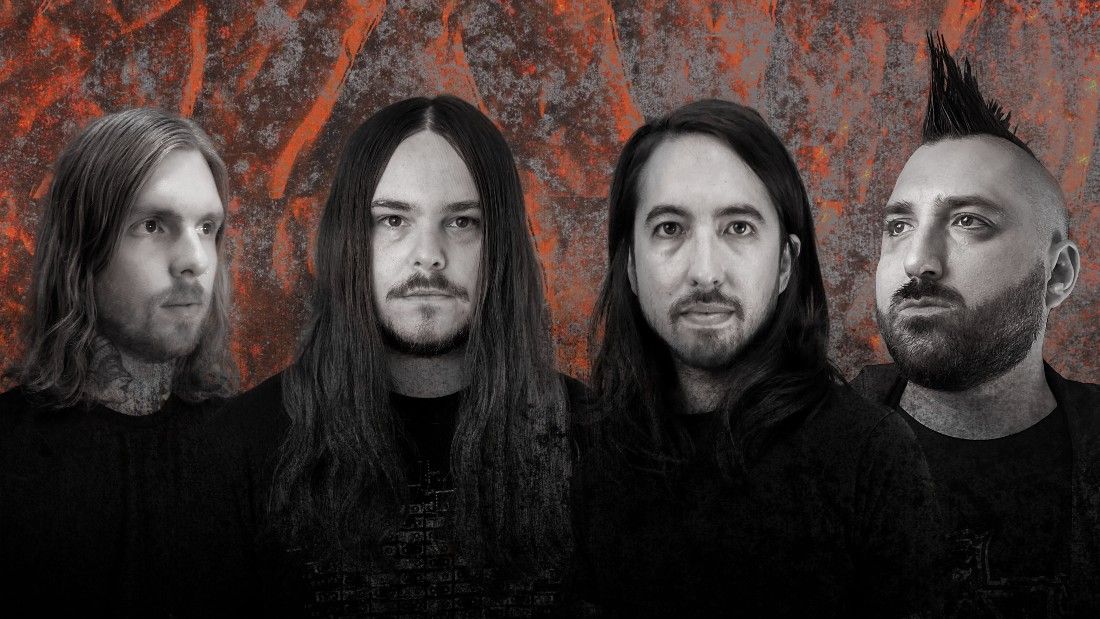 "I am actually really siked to get to talk to you about what I really care about, which is veganism," he enthuses.
"Being an American, meat is such a huge part of the dietary requirement. It's the base of the food pyramid, it's everywhere, you can't escape that. And I grew up as a kid saying 'no vegetables on my hamburger'. I was that kid."
"In America people need re-educating on the nutritional and dietary system because it has been turned in to a big corporation…"
While there is an unstoppable rise in veganism in places like the UK and Western Europe, Phil believes America is still behind.  The belief in the potential for positive change has been a struggle in America, despite its wealth – and what you would assume – would be corporate interventions looking to cash-in and commodify on the increasing popularity of veganism.
"In America people need re-educating on the nutritional and dietary system because it has been turned in to a big corporation where meat owns the market and it manipulates and tricks people into thinking they need it and they don't," Phil counters. "That's the unfortunate reality, not just in America, but across the world. It is such a valuable market having meat as an enterprise, for people to have it on their plate."
In fact, it was Phil's wife, who is from the Netherlands, that encouraged him to consider his relationship with meat and dairy.
"She has always been vegetarian, but when she came to America, she said; 'I will try meat', and having tried it, she said; 'okay, I am going back to veg'," he laughs. "She then asked me to try to see if I liked it."
It turns out he did. However, as Phil openly admits, that was not always the case.
"I was always that person who said 'no, I need fish, I need protein.' I would laugh at people and say; 'You're an idiot, you need to eat a fucking steak'. Little did I know that when I got the information, and my wife challenged me to be plant-based, I would change so quickly," he says.
"In the first month I could see my body was transforming, just from cutting out flesh protein. It was hard for the first couple of months, because I had to get used to a new diet and cooking. But I got new cookbooks, and really got into it. I found five to 10 things that I really liked and ate all the time, because it made me feel comfortable."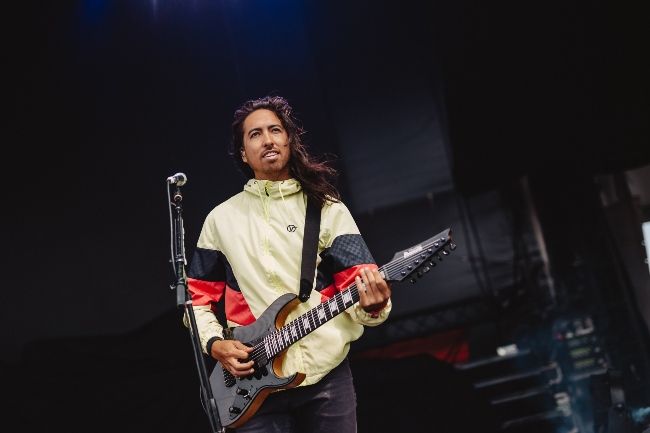 There was also an inevitable knock-on effect to the successes of going vegan for Phil when touring.
"Sometimes, depending on where I am in the world, I don't even know what the veggies are, so I would just say; 'well, that looks like a mushroom, so I am just going to eat it'," he laughs.
Speaking about other motivators for veganism, Phil admits; "My love for animals; it's a pure passionate love, and it has grown. I live near dairy farms, and I am surrounded by animals, and I will sing to them. They come to me and run towards me to see me, it's so cute. But it breaks my heart, because they're dairy cows and I know what happens to them when their job is done. So, it's sad to see, but I try to make them happy by singing to them which sounds really silly, but they need compassion too."
On the topic of his love of animals, the conversation turns to how much more compassionate people would be if they understood the extent of cruelties that animals face before they reach our plates. Phil says everyone has the capacity to understand the harm that is caused to an animal when killed for meat, but that people don't make that connection.
"I was driving through Texas in a van and I will never forget the smell of driving through cow slaughter spots. It smelled so disgusting, and knowing how terribly these precious little animals are being treated, in these little cages being slaughtered for mass use, for nothing," Phil says visibly emotional. "People don't even eat the meat! it's just waste. Seriously, if you go to an American market there's a whole wall of a store filled with meat and I think those poor animals, you died just to be thrown away. Nobody can consume that much food; it's thrown away and millions of people are starving too."
"I've learned you can't slam this message aggressively into people's faces, it is baby step by step."
Phil believes that meat-eaters enjoy the taste of meat, but dislike the harming of animals. "The perspective alone of taking a life, being handed a knife and told to kill something, clean it and eat it. That's terrifying for people. Humans are not hunter-gatherers we've lost that, everything is so easy for us in our lifetime now, why do we choose to make decisions from facts that don't make sense in today's society."
The ambivalence meat-eaters have with killing animals for food, and the moral conflict – or meat paradox – as it is known, comes back to a form of cognitive dissonance in which there's an emotional or intellectual disassociation between meat and its animal origin. Something Phil believes can be overcome with better education.
"I hope for everyone in the world to get the re-education of a nutritional system that actually benefits your body, not just what the mainstream tells you to eat," he states. "It's so overwhelming for a consumer. But you can make decisions for yourself and re-learn what is best. Maybe you start with a switch to meat only once a week, and it makes a difference, it does something beneficial and you're adapting to something new. Then if it works, go fully vegan and that can be more meaningful and impactful than anyone realises," he considers.
Despite the pushback against veganism Phil has faced, he shows no signs of tiring his message and beliefs. He is a huge advocate for veganism, and for those fans looking to him as their guitar virtuoso, there's potential to get a whole generation of people thinking about their choices and the world around them
"I've learned you can't slam this message aggressively into people's faces, it is baby step by step. When I see athletes go plant-based, it's like there you go! That's the right education and decision and I can't wait for more people to join this movement which I am proud to be a part of."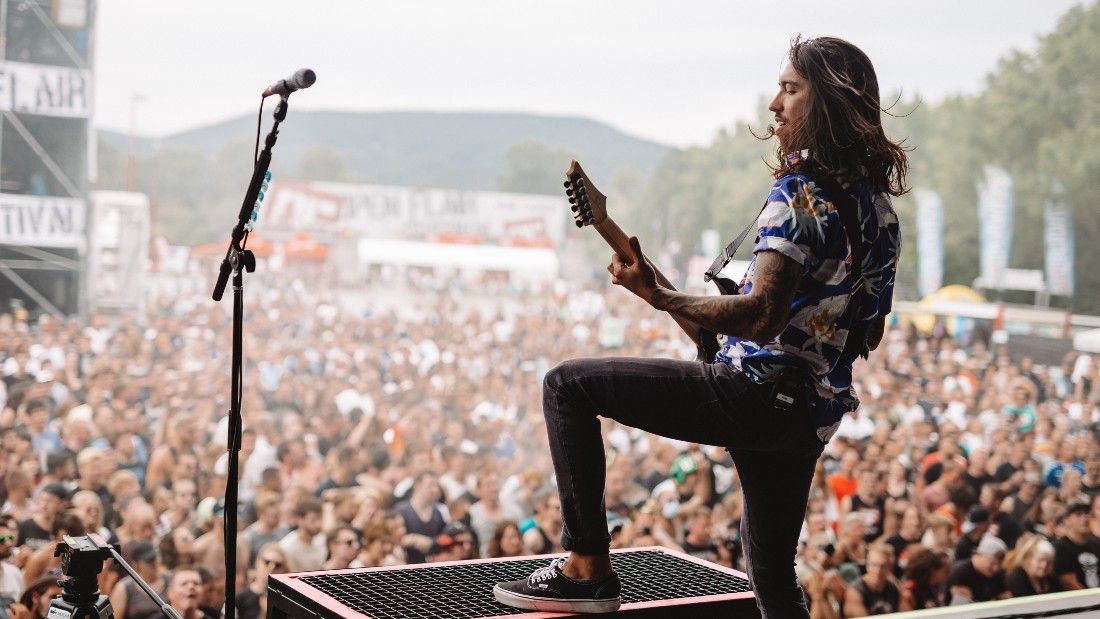 Scroll up