Matt Donnelly – Don Broco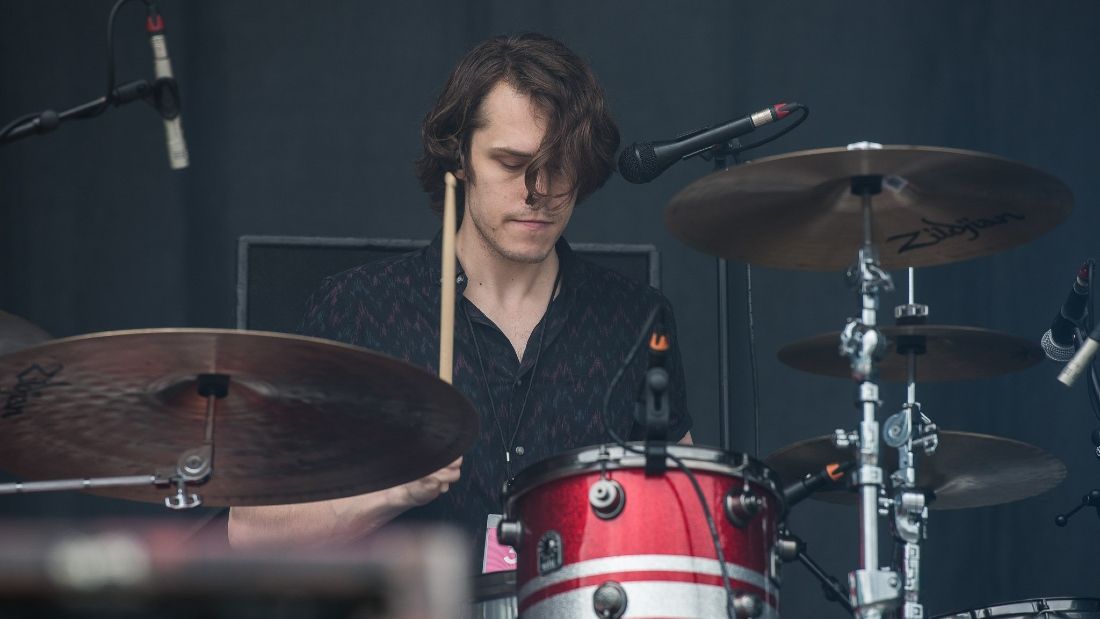 Matt Donnelly is an English musician. He is the drummer in Don Broco, featuring alongside Rob Damiani (lead vocals), Simon Delaney (guitar) and Tom Doyle (bass and programming). The band has released three studio albums: Priorities, Automatic, Technology. and their fourth album, Amazing Things is imminent.
Matt became vegan to improve his health after being diagnosed with a condition called Aceruloplasminemia. You can read more about his vegan journey in his interview with Faye Lewis for Viva! Life below.
Two top-10 UK albums, famed for their conceptual, high-production music videos, which rack up millions of views, they are one of the biggest rock bands in the UK. Now, back with their fourth album, Amazing Things, it's …
Don Broco
The band's drummer and backing vocalist, Matt Donnelly, talks to Faye Lewis about his journey into veganism.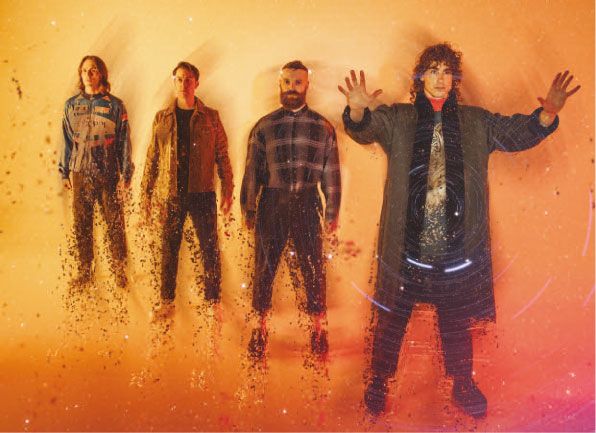 Matt Donnelly caught up with Viva! to tell us what it's like to be a touring band that can't tour and his 'non-traditional' route into veganism. He is a warm-hearted guy and when we discussed his latest album Amazing Things, he is definitely in an upbeat frame of mind.
"I've really learned to take each year as it comes," he laughs, "because if you make too many detailed plans, at the end of the year, you look back and laugh because they didn't happen. It's the same with music, which is so unpredictable and you never know what's around the corner – but that's also the beauty of it."
Matt's desire to make music was seeded long ago and took root with the band when they were still in school. They grew coltishly from teenagers who travelled to London together to watch gigs, to becoming one of the most exciting hard rock bands in the UK. Anyone who has listened to Don Broco's musical canon will hear three-to-four-minute reasons why people love them and their songs.
"We are a heavy guitar, rock band but when you watch us you'll see our sense of fun, hope and joyfulness. There is a seriousness behind our lyrics but our music is essentially about uniting and bringing people together."
They seem to play something for everyone – the angry and cheerful alike. Despite having catapulted to the major-league rock stratosphere, Matt reflects on how very grounded they are as a band. In fact, increased popularity has only made them appreciate what's really important. And to Matt, health and veganism are two of those things.
His route into veganism was anything but traditional. In September, 2017, the band were on tour, playing sold-out shows across Europe and the US, when suddenly Matt found himself experiencing cramping and abdominal pain.
"If I was playing energetic shows or if I was going for a run, basically anything which caused my heart rate to be elevated, I would experience these pains," he says. "After I returned to the UK, I went to get myself tested and was diagnosed with a rare blood condition called Aceruloplasminemia, a disease which is horrible to  spell  and even more horrible to have.
"There was a period of six to eight weeks where we weren't sure of my eligibility for certain treatments so I went on a personal journey… I had already wanted to cut down on my meat consumption and this was the real motivation for me to do something about it."
Matt was supported on this journey by his then girlfriend, Lauren, now his wife. "It became fun – our friends and family got us a lot of cookbooks and we became adventurous in cooking, finding new recipes and veganising existing ones. I didn't transition through vegetarianism but decided to  go  straight  to  veganism and I've never looked back."
For the band, the changes made were subtle, but sensible; keeping the international touring schedule in place but incorporating better planning around where they would source food in each city.
"Even though I'm the only vegan in the band, when on tour we go for Thai, Ramen, Mexican and Japanese places where I can eat comfortably and the band support that. I can't imagine as a touring musician how hard it must have been in the 90s to find vegan food and still today, some countries have difficulty appreciating what veganism is."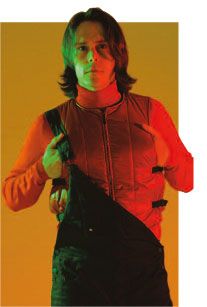 Of course, the conversation turns from Don Broco's previously hectic touring schedule – supporting bands like Linkin Park – to life offstage, fitting in song-writing whilst adapting to 'the new normal'.
"The last year has brought a really unique set of challenges. At the start of the pandemic, we had plans to go into the studio to record so thankfully our touring schedule wasn't disrupted like many other bands. But after months of Zoom sessions we were [finally] able to get into the studio."
They decamped to Suffolk's Decoy Studios at the end of last summer and enlisted the help of producer Jason Perry (McFly, Fatherson), who had produced the band's second album Automatic in 2015.
"It was a welcome oasis being in the studio. We formed our own bubble and had our own feeling of safety in the countryside and were really able to just focus on the album," says Matt.
Listening to the new album, Amazing Things, reveals an escape route from the world so what emerges is  the  music. "There's a greater sense of letting off steam in the  lyrical  content, which is natural as we were all using music as an outlet  and  therapy  for the madness of what was going on. Early on in the pandemic, I lost three uncles in a short period of time and other people I know were hospitalised. It felt like we were receiving daily phone  updates  on their health. It was a tragic time for my dad who  lost  three  brothers  in the space of a few weeks."
Death is a raw material of life itself and the impact of this can be felt on the track, Easter Sunday.
Unsurprisingly, it's a suitably poignant song even if you can – shock horror – hum along to some of it.
"Rob, our lead singer, was watching an online church service and for the lyrics and song idea, he was struggling with the juxtaposition of the sermon, God having a plan and the tragedy befalling my family. He was finding it difficult to put the two things together and was searching to find a way of remaining optimistic in that situation."
"The younger generation will grow up not really knowing any different and that's brilliant"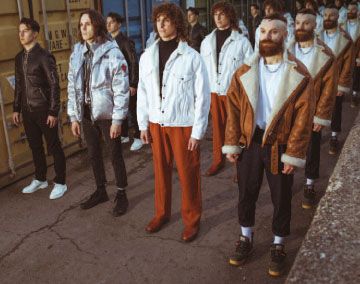 Despite the tragic events of Matt's personal life, the album is coloured with different emotions and sounds – anthem-loud choruses, the raw aggression of Rob's vocals, softer, lilting moments on tracks like Anaheim. Plus we mentioned the remarkable creative flair in their videos, right? But don't take our word for it, Google 'Don Broco, Manchester Super Reds No. 1 Fan', and see for yourself.
"The younger generation will grow up not really knowing any different and that's brilliant"
The album is a full-bodied work and in my view their strongest to date. Looking back fondly on their time in the studio, Matt laughs:
"One of the highlights was that when we were recording, one person took on the cooking duties each day, so we played Come Dine With Me and secretly scored and rated each other's dishes." And how did the band rate Matt's dishes?
"Well, I didn't come first," he laughs, his affability shining through again. "But they were all happy to be fed vegan food. Veganism isn't as niche as it once was because even mainstream restaurants now have the word 'vegan' on the menu – it's regarded as a commonplace lifestyle choice. What's even better, the younger generation will grow  up  not  really  knowing  any different and that's brilliant. That's why I'm really supportive of what Viva! are doing because of the important message they're spreading!"
We concur on that.
Scroll up