Ricky Gervais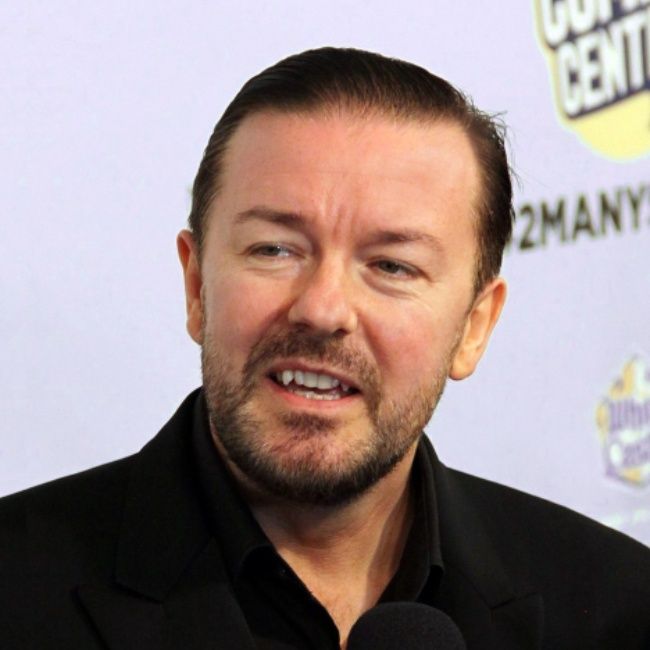 At long last Ricky Gervais, the comedy genius behind The Office, Extras, Derek and After Life, has publicly announced he is vegan! Perhaps it had something to do with his bond with canine co-star Anti (a German Shepherd), who played Brandy in After Life.
Although it's been a long time coming, the announcement is no surprise as the writer, actor and comedian has long espoused his love for animals, using his wide-reaching public platform to advocate for animal rights causes. Over the years he has been especially outspoken about animal testing, trophy hunting, the fur trade and the Yulin dog meat festival. In 2021, Gervais lent his voice to Humane Society International's animation Save Ralph about animal experimentation.
Ricky had been vegetarian for some time but officially announced that he had gone vegan on The Tonight Show Starring Jimmy Fallon. When Fallon asked Gervais who he'd eat if he had to be a cannibal, Gervais replied: "Well I'm vegan so it's even worse for me. I wouldn't…"
"What about Paul McCartney? He's vegan," Fallon quipped. (Actually McCartney is vegetarian.)
"Well that doesn't make any difference. If you eat someone who's vegan, you're still eating meat, aren't you? If you eat a cow that doesn't make you vegan because you're eating an animal that's vegan," countered Gervais.
Gervais has 14.5 million followers on Twitter and following the hugely successful release of the third and final season of After Life in 2022 (featuring fellow vegan and friend of Viva!, Peter Egan), he garnered more attention than ever. It was a great time for Ricky to confirm his vegan status as millions of people will have heard the message.
"Animal cruelty is wrong. 'But, it's tradition', doesn't make it right, 'It's part of my religion', doesn't make it right, 'It's my culture', doesn't make it right, and 'people are more important', doesn't make it right either. You know why? Because it's just f***ing wrong."1Gervais, R. 2019. Twitter. Available: https://twitter.com/rickygervais/status/1162011297925517314?lang=en [Accessed 27 Januray 2022].
"Sport is fair. Sport is consensual. If Trophy Hunting was a sport the animal would know it was involved. It would also shoot back. Cowards."2Gervais, R. 2015. Twitter. Available: https://twitter.com/rickygervais/status/591176409562931200 [Accessed 27 January 2022].
Scroll up