Alicia Silverstone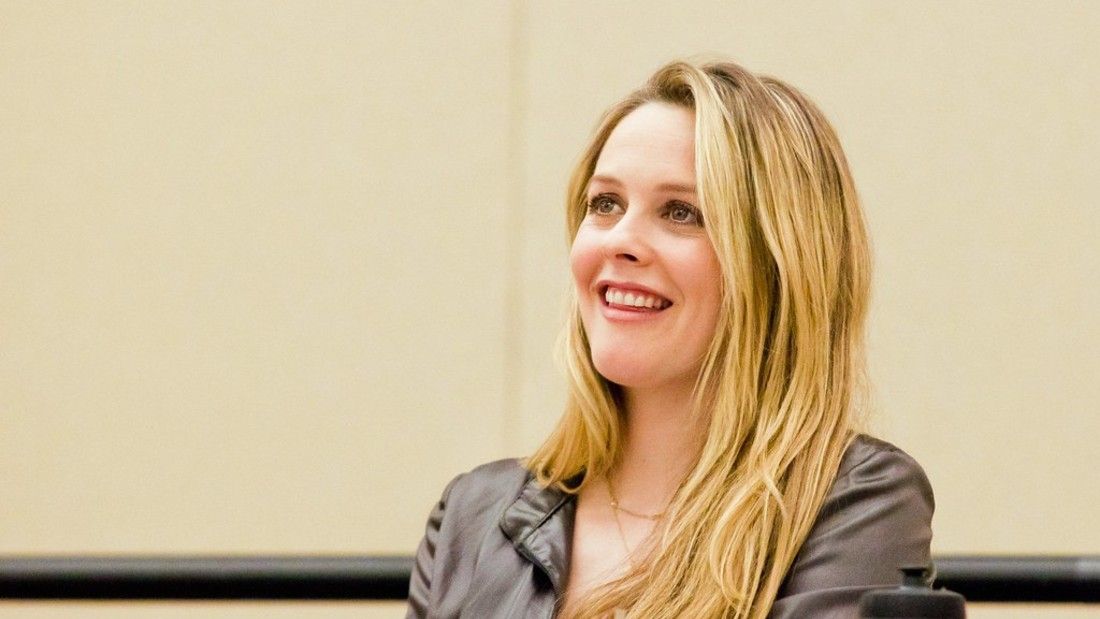 Meeting with a vegan superwoman
Hollywood film star and vegan, Alicia Silverstone, speaks exclusively to Viva!life editor Helen Rossiter about why everyone should be moving towards a meatless lifestyle with her new book The Kind Diet.
A WOMAN of ageless beauty and acclaimed international fame, actress Alicia Silverstone has represented a glowing face of veganism on the big screen, magazine covers and now on Broadway.
Beyond the household familiarity she gained from her role in Clueless (1995) and her rebellious teen-romance appearances in three music videos for the rock band Aerosmith in the 90's, the 33 year old actress has become a passionate and vocal advocate for environmental and animal causes.
A vegan for the last 10 years, writing her new book The Kind Diet: A Simple Guide to Feeling Great, Losing Weight and Saving the Planet was not a shot at leaping onto the 'green' band wagon but more like a 'heart opening' experience from an animal-loving child who became vegan, she tells me.
"My brother would make animal noises of the creature I was eating and I thought 'I have to go vegetarian'. But it wasn't until I was 21 that I really started to understand the puzzle of the whole thing. I realised if I wanted animal cruelty to end, it would have to start here, with me. I never went back after that."
"I don't think there were many stumbling blocks in becoming vegan, it was just adjusting and learning what ingredients are actually vegan that took a little effort…having to think 'does this have dairy in it, or gelatin from cow bones? But that little effort, compared to the reasons I was doing it, was nothing. I found the experience really exciting as I was so passionate about what I was doing. It was a fun adventure for me."
As we talk, Alicia has completed a small US tour promoting The Kind Diet and recently appeared on Oprah championing the vegan cause, with a guided tour down her macro-shopping list.  She is now appearing in a Broadway play called Time Stands Still.
She has also launched Eco Tools, a cruelty free, 100 per cent green line of makeup brushes and bags. All are made with hemp, bamboo, recycled PET lining, recycled metals and plant-based inks (www.parispresents.com click on Eco Tools).
According to Vegetarian Times magazine, 3.2 per cent of the American population are now vegetarian (2008), a growing trend which Alicia may have keyed into with her dietary theories.
"When I first started this lifestyle it was still being viewed as something extreme or rebellious. But in recent years I feel as if there's been a shift. As we're becoming more aware of how our food systems are broken, the idea that adopting a plant-based diet is something that can make us all healthier has really been gaining traction. People are coming to this from many different places – meat-eaters who just want really great skin to junk-food lovers looking to save the planet."
The Kind Diet carefully caters for all – from the veggie curious through to vegans looking to step things up a notch and eat macrobiotic. It's what Alicia calls 'flirting' – "it's simply sticking your toe in the pool…".  Experienced flirts come under the title 'vegan', whilst 'superheroes' take things to a different level with whole grains, organic vegetables and sea vegetables.
Nearly 100 recipes are presented in a wholesome, honest and delicious manner, surrounded by well-grounded information and motivational tips on how eating a plant-based diet will give you tons of energy, mental clarity and a zest for life.
"The Kind Diet doesn't ask people to freak out about calories, carbs or the glycemic index," says Alicia. "It will change their relationship with food and their bodies, transforming the whole idea of dieting while helping them to lose weight easily, attain glowing skin and increase energy and strength as well as a more efficient immune system."
For someone who spends a large percentage of her down-time cooking, the book persuaded me to try 'superhero' and reach beyond my vegan staples to experiment with miso soup for breakfast; scrambled tofu with kale for lunch… and then further into the world of umboshi plums, kombu and sushi mats. And it did feel great.
Alicia was full of encouragement: "Macrobiotics give superhero powers. It is just so much better than a vegan/vegetarian diet. They are still amazing but any health issue you want to improve upon in your life can be addressed through macrobiotics."
It's plain to see throughout The Kind Diet that a love of animals remains a large motivation for Alicia – it's not all about human health and aesthetics for her.
"It is so unbelievably horrible what animals go through…the cow, the chicken or the pig have the same desire to live, the same ability to make you laugh and the same capacity for pain.
"My goal is to seduce readers into understanding that they can have the life they want, the life they dream of – one free of illness, full of vitality and looking their best. I want them to be moved by the animals' plight and the state of the environment and to be excited and inspired to take action for themselves, the animals and the world," she told me.
"The best thing about writing The Kind Diet was that my heart opened up everytime I worked on it.  It felt so true and so right, like nothing I've experienced before.  I got to organise all the thoughts and ideas that had been swimming in my head for years and put them into one place.  It feels very good in my brain right now."
For more information about The Kind Diet, please visit www.thekindlife.com.
Alicia's
favourite

recipes from The Kind Diet
Maple-Roasted Lotus Root,

Sunchokes

and Leeks
Artichoke, Mushroom and Leek

Crostini

with Pesto Artichoke Dip
Chocolate Peanut Butter Cups
Moroccan Couscous with Saffron
Traditional English Breakfast

Mochi

Waffles Drizzled with Lemon-Walnut-Rice-Syrup
Scroll up