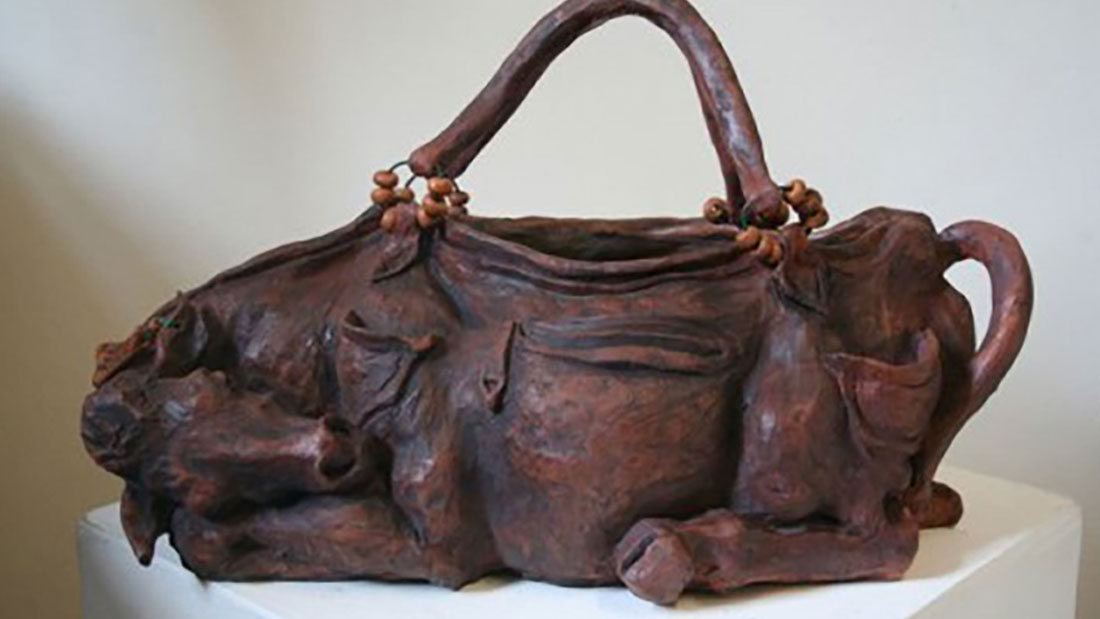 I have been a sculptor and painter for the past 30 years, although my subject matter has only in the past few years turned to the relationships we have with the animals we share our amazing planet with. When I was eight, my eldest sister's interest in Hinduism introduce the idea of vegetarianism into our animal loving household, and this held for many years and then eventually became veganism. For me this was cemented by reading Jonathan Safran Foes's book 'Eating Animals'.
When dealing with this emotive subject matter, I try not to use graphic shock and horror imagery, as I have found that people recoil and will not engage, as the truth really is too horrific and the blind eye is instantly turned to protect the viewer!
One minute we are reading to our children 'The three Little Pigs' and the next we are saying 'Eat your Bacon!!' We are brought up to disassociate the two, we all say and believe that we are animal lovers, but the objectification of them into food, clothing, furniture, entertainment or as scientific tools is tragically the norm. Also intense selective breeding, at it's worse probably in dogs. Encouraging us to value unnatural traits which often accompany terrible health problems.
I hope to make things that are thought provoking and challenging, to initially fascinate or make curious the viewer. A shoe that is a pig! A handbag that is a cow, 'Second (hand) Skin' a sculpture depicting, the epitome of cool; the leather jacket, for what it really is – secondhand skin!
I feel that to get the message to the widest audience, T-shirts, tote bags, mug designs, maybe calendars are the best vehicles and with this in mind, I have done a T-shirt – 'Love, Eat , Wear, Hunt or Experiment' to raise money for an animal shelter. With good results. I am hoping to do more of this and will happily donate designs to Viva! for whatever they need or request, for the cause of animal liberation and welfare. If I sell my 'Art For Animals' work through Viva! I will give 50% (minus my expenses) to the cause!
How to raise money for Viva!
WHAT YOU HAVE TO DO IF YOU BUY LISA DELARNY'S ART
1. Tell Lisa your Viva! membership number
2. Let us know the receipt number, date and total amount of purchase; e-mail jess@viva.org.uk
3. Viva! will then receive 50 per cent of the sale price from Lisa
Contact Details:
Tel: 01207 544753 or 07897 805169
F: https://www.facebook.com/lisadelarnyartforanimalsandviva
List of works
'Second(hand)Skin' Lifesize. Jesmonite cast, painted with oil paint
'Cow Couture' 15″ long 13″ high. Terracotta
'Pig caught shoe' 12″ long. Stoneware
'Dog Eat Dog' 24′ square. Ciment Fondu cast
'insatiable' 14″ diameter. Resin, steel and plastic farm animals
'Form B4 Function' 24″ high. Stoneware
'Hog Eat Hog' 8″ across. Stoneware
'Love Eat, Wear. . . ' T-Shirt